Our evaluations and opinions are not influenced by our advertising relationships, but we may earn a commission from our partners' links. This content is created independently from TIME's editorial staff. Learn more.
Updated
September 7, 2023
When you think of the term tennis shoe, it conjures images of virtually any type of athletic shoe. But the specific needs of the sport demand further scrutiny. Quick, lateral movements, pivoting, and varied play surfaces all contribute to the specific design of tennis shoes.
How to pick a tennis shoe 
Selecting the best tennis shoe for you depends on a few things, including how often you play and at what level, plus your age and size. Here's a look at some of our top picks for best tennis shoes for women.
Our picks for the best tennis shoes for women
The latest addition to Wilson's most popular line, the Rush Pro 4s are lightweight, versatile, and comfortable. Minimal layering on the upper portion of the shoes, accented with engineered mesh, keeps them light and breathable, while offering support and cushioning specifically for women. Also available in a model for clay courts. Shopping tip: Wilson also made our list for the best tennis rackets and the best tennis balls.
Specifications: 
Support: High-density foam provides maximum cushioning; low-density ethyl vinyl acetate (rubberlike) foam improves comfort and agility.
Sizes: 5.5-11
Durability: High-density compound provides traction and durability on all surfaces.
Colors: 6, from white to beet red
Price on publish: $135
Pros:
Versatile for varied court play
High durability
Cons:
Most versatile tennis shoe for women
Wilson Rush Pro 4.0 Women's Tennis Shoe
For an all-around comfortable, supportive and durable shoe, it's hard to top the Gamecourt line. Supportive ethyl vinyl acetate offers cushioning while signature outsole provides traction and lasting durability. Bonus points for its partial construction from recycled materials. 
Specifications: 
Support: Supportive foam midsole; signature Adiwear outsole ensures traction on hard courts.
Sizes: 5-11.5
Fit: Some customers report a snug feel, so consider a half-size larger.
Durability: Signature Adiwear outsole with a herringbone pattern offers traction and durability on hard court surfaces. 
Colors: White, Black
Price on publish: $70
Pros:
Made with sustainability in mind
Affordable
Cons:
Best budget tennis shoes for women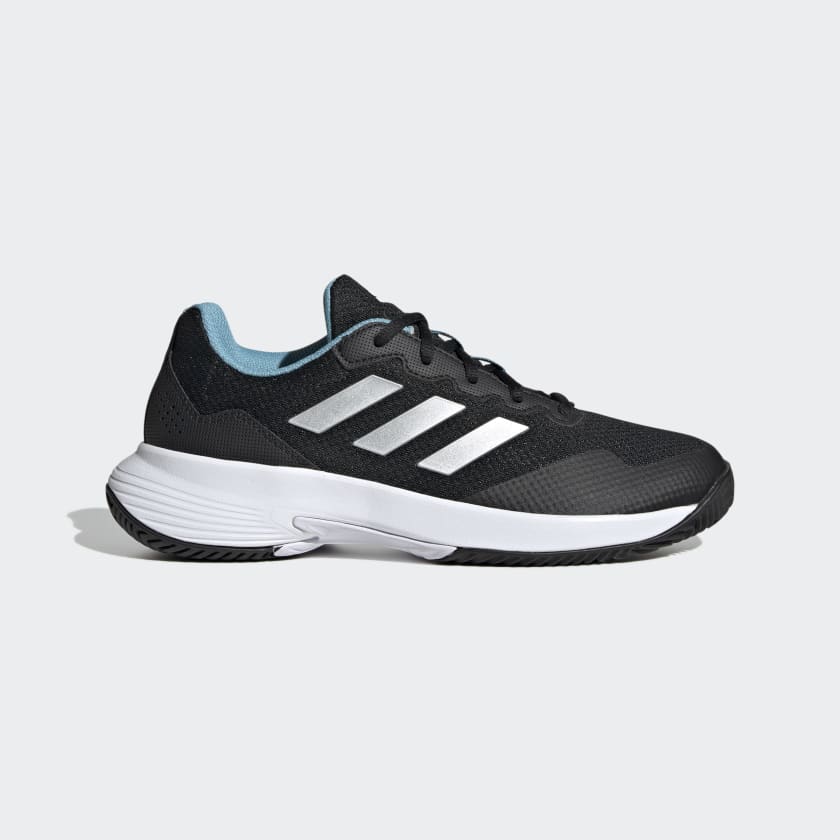 adidas Gamecourt 2.0 Tennis Shoes Core Black 6.5 Womens
Best tennis shoes for women with plantar fasciitis: Asics Gel Resolution 9
For players who live with the pain of plantar fasciitis—the inflammation of the band of tissue at the bottom of your foot that runs from your heel to your toes—finding the right cushioning in a tennis shoe is crucial. With high marks for cushioning, durability, and responsiveness, the Gel Resolution 8 is a solid pick.
Specifications: 
Support: Advanced stability and cushioning; upgraded from prior models, signature midsole technology extends into the heel for added stability while moving laterally.
Sizes: 5-12
Fit: True to size
Durability: Signature outsole rubber offers durability and signature technology increases durability in otter toe and heel.
Colors: White, Purple, Neon Green, Sea Blue, Garnet
Price on publish: $150 
Pros:
Customers note true-to-size fit
Signature colors
Cons:
Best tennis shoes for women with plantar fasciitis
With a springy feel, an outsole that's great for traction, and a comfortable fit, the NikeCourt Air Zoom Lites update the previous model's leather version for a streamlined, more minimal construct to keep things feeling light and airy. Shopping tip: Nike also made our list for the best sports bras and the best running shoes for women.
Specifications: 
Support: Signature Zoom Air unit keeps things feeling springy while offering cushioning and ample support.
Sizes: 5-12
Colors: White, Gray, Pink, Black
Durability: Smooth, durable leather
Price on publish: $49.97 on sale
Pros:
Cons:
Sizes and colors often sell out fast, so you have to keep an eye out for restocks 
Best lightweight tennis shoes for women
Nike Women's Court Air Zoom Lite 3 Tennis Shoes in White, Size: 7 | DV3279-100
Nike generally reports its shoes run about a third narrower than regular-width shoes, making the brand appealing for women with a narrower heel or foot.  
Specifications: 
Support: Asymmetrical laces hug the foot for a snug feel during lateral movements; Zoom Air unit delivers responsive cushioning; full-length foot frame helps with support during quick cuts.
Sizes: 5-12
Colors: Two-toned black, blue, red, white, gray
Durability: Designed for durability on hard-court surfaces; outsole is designed to grip without affecting sliding.
Price on publish $120
Pros:
Vetted, popular shoe in second version
Cons:
Best tennis shoes for women with narrow feet
NikeCourt Air Zoom Vapor Pro 2
K-Swiss's best-selling shoe comes in a wide model for those who need a little more room. The latest version is more lightweight.  
Specifications: 
Support: Signature Durawrap Flex provides support while custom midsole technology provides comfort for all-day training. 
Sizes: 5-11
Colors: 5 colors, in white, gray, pink, lavender, black
Price on publish: $87.96-$109.95
Pros:
Cons: 
Tongue of the shoe is thick and can move while you play
Best tennis shoes for women with wide feet
K-Swiss Womens HYPERCOURT EXPRESS 2 BARELY BLUE/WHITE/HIGH-RISE
Designed with New Balance's signature REVLite midsole foam and breathable mesh, the 1007 model offers the high-level cushioning that older players look for while maintaining an ultra-light feel.
Specifications: 
Support: Signature midsole foam is central to the extra cushioning in this updated model. 
Sizes: 5-12
Durability: Specialty NDurance outsole reinforcement for high-wear areas 
Colors: White, black 
Price on publish: $99.99
Pros:
Signature design cushioning offers more support
Cons:
Best women's tennis shoe for older players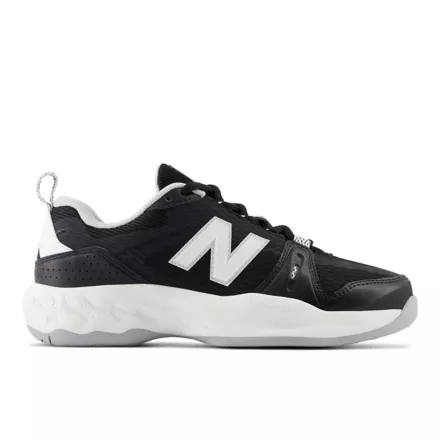 Best women's tennis shoes for stability: Prince T-22
Consistently ranked as a staple for quality and stability, the T-22s are a well-respected and affordable route for players who need a little more stability on the court.
Specifications: 
Support: TPU shank keeps the foot stable during lateral movements, herringbone outsole tread provides traction   
Sizes: Medium-width, 6-11
Durability: Made to be ultra durable and comes with a 6-month durability guarantee. 
Price on publish: $59-$99
Colors: White, silver
Pros: 
Well-established and highly rated
Often goes on sale
Cons:
Takes time to break in
A little on the heavy side
Best women's tennis shoes for stability
Prince T22 Wom's Wh/Silver 8.0
How we selected the best tennis shoes for women
Just like choosing the best tennis shoes for men, we made our picks for women based on extensive research that included interviews with tennis experts to understand what features matter most when playing. From there, we researched the top brands and models, then searched through countless reviews.  
Frequently asked questions (FAQs)
Do tennis shoes make a difference in tennis?
Tennis shoes, versus other athletic shoes, are engineered specifically for the distinct movements and physical requirements of the sport, such as pivoting quickly and lateral motions.
Is it better for tennis shoes to be tight or loose?
The right tennis shoe should fit snugly without feeling too tight, which can cause foot and toe pain. Too loose, though, and your shoe can slide and cause blisters. Experts suggest roughly a half an inch between your big toe and the tip of the shoe. A trained professional can help you determine the best size for you. 
Should tennis shoes be heavy or light?
Lighter shoes provide more agility during play, while heavier shoes may offer higher durability and support. Both can work for players, depending on age, size, weight, and play level. 
Should I wash my tennis shoes?
Sports retailers generally do not recommend washing tennis shoes in the washing machine, as it will break down the shoe's special construction over time, decreasing efficacy. Rather, try hand-washing your shoes with a mild detergent and brush and allowing them to air dry. This will prevent unnecessary wear and tear and extend shoe longevity.
How can you tell you need new tennis shoes?
A few clues can help indicate when you should consider purchasing new tennis shoes. Depending on how often you play or wear the shoes, over time they will start to wear down in key areas, losing traction in the outer sole and shock absorption in the midsole. Often, physical symptoms, like shin splints or ankle soreness, could signal that it's time to consider new shoes. Podiatric sports experts recommended swapping out shoes after a year, even if they don't appear worn.
The information presented here is created independently from the TIME editorial staff. To learn more, see our About page.