Our evaluations and opinions are not influenced by our advertising relationships, but we may earn a commission from our partners' links. This content is created independently from TIME's editorial staff. Learn more.
Shopping for carry-on luggage or travel totes to bring on your next adventure? Consider exploring backpacks. "[Backpacks] leave you able to move more freely without worrying about a tote or shoulder bag sliding around and throwing you off balance," explains Justine Miller, a journalist, photographer, and founder of digital storytelling platform JetsetJournalists. We spoke with female travel experts to identify the best backpacks for women, which are listed below and span 10 different categories. 
Our top picks
Here, the top travel backpacks for women across a number of categories, ranging from the best carry-on pick to the best budget buy. These backpacks are all available for instant purchase online.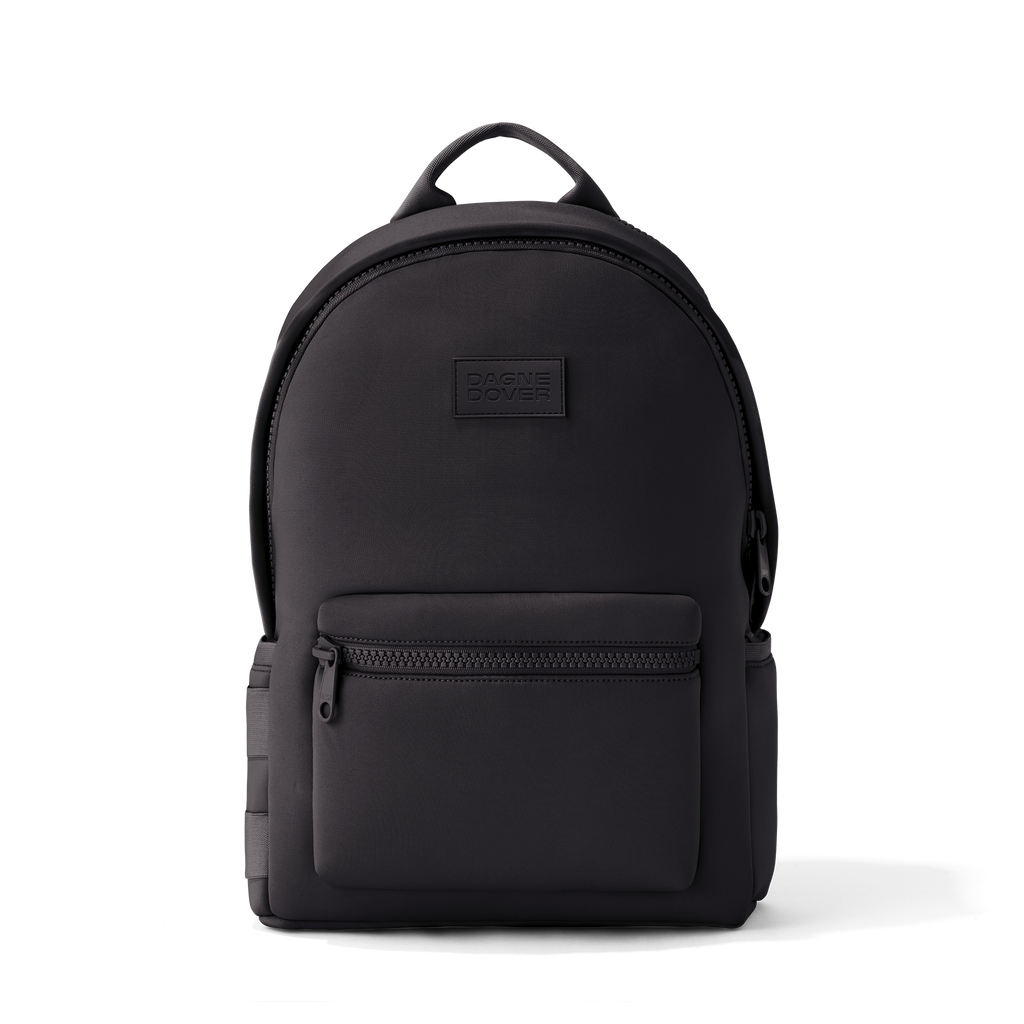 Travel content creator Laurie Ferraro finds her Dagne Dover Neoprene Backpack never fails to come in handy during plane travel, particularly while traveling through airport security. "My two favorite features are the detachable shoe bag—whether I'm using it for shoes or to separate my liquids—and the easy access phone pocket on the top," she says. "I'm notorious for setting my phone down somewhere in an airport and forgetting it, so this pocket has been a game changer." Christane Darline, travel expert and lead content creator of the Journeys With Kris solo travel blog, agrees that this backpack is a must. "What I like is that the bag is water resistant with a dedicated spot for every travel necessity: socks, wallet, phone, lip balm, passport—and an interior sleeve locks in your laptop, as well," she says. 
Available in six classic colors as well as a seasonal hue, this backpack comes in three sizes and is easy to clean at home using mild detergent under cold water. The interior lining is made from recycled plastic bottles, meaning you can feel good about the eco-friendly aspect of this purchase, too. 
Specifications:
Material: Neoprene
Dimensions: 13.25 inches x 5.25 inches x 17.5 inches
Capacity: 20 liters
Weight: 2.6 lbs
Pros: 
Chic design
Tons of pockets
Eco-friendly
Cons: 
A bit spendy for a neoprene backpack 
Those in the market for a petite backpack that houses just the essentials should consider Patagonia's Atom Sling backpack, which features one over-the-shoulder strap and contains several small zippered pouches. Jen Tenzer, founder of The Soloist, deems it her "go-to daypack for a short day of exploration." The travel planner adds, "I can fit everything I need for the day—including a water bottle and light extra layer—without weighing myself down." The backpack is water-resistant, comes in seven different colorways, and is Fair Trade Certified™ sewn.  
Specifications:
Material: Polyester
Dimensions: 13.5 inches x 9 inches x 3 inches
Capacity: 8 liters
Weight: 12 ounces
Pros: 
Wallet friendly
Comes in six colorways
Provides a more fashionable alternative to a belt bag
Cons: 
It holds less relative to other travel backpacks on this list. 
Not ideal for multi-day travel. 
The Briggs & Riley Essential Backpack is equal parts efficient and stylish, making it an excellent pick for a fashion-forward traveler. "To take advantage of [the brand's]complimentary monogramming to add a personal touch," urges Arianna Sartzetakis, founder of Uncover More. Sartzetakis adds that the backpack, which comes with a lifetime guarantee, offers plenty of pockets for day-to-day necessities, as well as secure compartments for valuables. Padded neoprene backpack straps make the backpack comfortable to carry, while mesh padding promotes air circulation. 
Specifications:
Material: Lightweight micro weave nylon outer fabric 
Dimensions: 16 inches x 11 inches x 5.5 inches
Capacity: 16 liters
Weight: 1.5 pounds
Pros: 
Reviews attest that this backpack will withstand years of travel
Stylish, minimalist design
Comes in three colorways 
Cons: 
It's a little pricey for a non-leather backpack, but it does stand the test of time according to reviewers. 
Briggs & Riley Essential Backpack
Christy Woodrow, founder of the blog Ordinary Traveler, is assured her belongings are safe with the Venturesafe® Anti-Theft Carry-On Travel Pack. "I love this brand for its anti-theft features," she comments. "It includes interlocking zippers and stainless steel cables for enhanced security, in addition to slash proof stainless steel wire mesh. I love the locking system for added protection." Available in two sizes, the backpack, made from recycled polyester, offers a padded sleeve for laptops up to 15 inches, features many side and interior pockets, and can even be carried as a briefcase. 
Specifications:
Material: Recycled polyester
Dimensions: 21.7 inches x 13 inches x 7.9 inches
Capacity: 45 liters
Weight: 4.3 pounds
Pros: 
Recycled polyester material makes this travel backpack easy to clean
Water-resistant
Cons: 
At 4.3 lbs, it's a bit heavier than the other travel backpacks on this list 
Venturesafe® EXP45 Anti-Theft Carry-On Travel Pack
Weighing in at just half a pound, this nylon backpack easily folds up into a small square when not in use—travel coach Heather Markel likes to place one in her suitcase before hitting the road. "Once traveling, it serves as a hiking day-pack, with plenty of room for water, snacks, extra clothing, and more," she explains. But the bag makes for an excellent personal item, too. "For longer travel periods, it ends up as my 'purse' on the plane," Markel adds, noting that she places her laptop and camera gear inside.
Specifications:
Material: Nylon
Dimensions: 18.5 inches x 13 inches x 7.5 inches  
Capacity: 33 liters
Weight: 8 ounces
Pros: 
Super light 
Lots of pockets 
Folds up into a tiny square for easy portability 
Cons: 
A bit more casual looking in style, so many travelers might find it to be less versatile.
Outlander Ultra Lightweight Packable Water Resistant Travel Hiking Backpack
Valerie Joy Wilson, the content creator behind Trusted Travel Girl, swears by the Lo & Sons Westholme backpack for a number of reasons: For starters, it's ultra durable. "I pack mine like crazy with camera gear and laptops—tons of heavy equipment—and it always holds up," says Wilson. She also appreciates the bag's padded insert, its soft leather, and the open slit in the back, which makes it easy to sit the backpack on top of a suitcase handle when traversing through the airport. The bag strikes the right balance of being both subtle and stylish, Wilson adds, noting, "It looks sleek and is super high end, but being a block backpack, it's nondescript enough to not draw too much attention or make you a target." 
Specifications:
Material: Sheepskin leather
Dimensions: 11.5 inches x 15.5 inches x 4 inches
Capacity: 11.6 liters
Weight: 2.5 pounds
Pros: 
Elegant style
Expensive, but looks low-key (won't attract too much attention during travel) 
Valet strap makes it easy to wheel it with your suitcase
Cons: 
The price is steep, but this backpack is well made and should last many years. 
The Westholme - Sheepskin Leather - Black / Black / Grey
Hiking enthusiasts will fall for the Oasis 18L Hydration Pack from TETON Sports, designed for braving the elements. Featuring everything from bungee-shock storage to a safety whistle, this pack is designed to make outdoor excursions as seamless as possible. "The numerous pockets and compartments ensure that all your essentials are organized and within reach, whether you're packing camera gear or just some snacks for the trail," notes Jessica Morrobel, travel content creator at Traveling with Jessica.
Specifications:
Material: Polyester
Dimensions: 18.5 inches x 10 inches x 7 inches
Capacity: 18 liters
Weight: 2 pounds
Pros: 
Waterproof
Features hydration ports on both sides of the backpack to keep you healthy on the go 
Comes in seven colorways
Affordable
Cons: 
Has a sportier look that may make it less versatile for some travelers
Multiple compartments may be annoying to deal with in a TSA line
OASIS 18L HYDRATION PACK WITH 2L BLADDER
Best budget travel backpack for women: Matein Backpack
Ringing up at well under $100, the Matein Backpack is a budget favorite of Adriannea Smith, travel content creator and founder of the travel agency Standby With Adrie. Smith notes this backpack opens up to function as a suitcase, holding just as much as your typical carry-on. Despite its capaciousness, the backpack is still comfortable to wear for long periods of time. "The Matein backpack prioritizes ergonomics with its padded shoulder straps and back panel, reducing strain and providing a comfortable carrying experience, even during long journeys," Smith comments. It can easily fit under airplane seats and contains an interior organizer compartment, luggage strap, strategically placed handles, and more. 
Specifications:
Material: Water-repellent and durable nylon
Dimensions: 20 inches x 13 inches x 8 inches
Capacity: 40 liters
Weight: 2 pounds
Pros: 
Wallet-friendly price tag
Expandable to accommodate on-trip purchases
Ergonomically designed for comfort
Includes a shoe compartment
Cons: 
One reviewer mentioned it quality issues after a couple of years of use 
Matein Weekender Backpack, Durable Large Capacity
Those who like to keep a range of camera lenses and other photography equipment on hand while traveling should check out the WANDRD Gear All-New Prvke backpack, available in three sizes and allows for customization options.. You can purchase the bag solo, or add on the photography bundle or pro photography bundle, for example. "I was comforted knowing my tech was well-protected within thick foam-lined pockets and compartments," shares Chesley McCarty, a design and portrait photographer who recently spent several months traveling abroad. "It can take on quite a bit of volume, but I always found it to be comfortable and easy to wear for long stretches moving through the city," she adds. McCarty made use of a hidden pocket to store her passport, and the bag also offers a water-bottle pocket, removable chest strap, and fleece-lined phone pocket, among other features. 
Specifications:
Material: Waterproof Tarpaulin and Robic 1680D Ballistic Nylon
Dimensions: 19 inches X 11 inches X 6.5 inches
Capacity: 21 liters
Weight: 2.8 lbs
Pros: 
Sleek, futuristic look 
Four colorways to choose from
Secret pocket in which to stash your passport
Cons: 
A little pricey for nylon
WANDRD Gear All-New Prvke backpack
Travelers who like to keep a laptop in tow will want to look into the ONA Camps Bay Backpack, which contains a padded pouch and also provides plenty of storage space for camera equipment. "It is hard to find an aesthetic backpack that is designed to hold camera gear, but the ONA Camps Bay backpack does exactly this," notes Nicola Easterby, founder of travel and food blog Polkadot Passport. Easterby appreciates the bag's high-quality, water-resistant waxed canvas material. The backpack's interior dividers for camera and lens organization can be removed as desired, making it a versatile accessory. 
Specifications:
Material: Waxed canvas
Dimensions: 15 inches x 10.5 inches x 6 inches
Weight: 3.3 lb
Pros: 
Believable leather look 
Water resistant
Cons: 
Pricey 
Somewhat heavy to begin with if it's going to be filled with heavy camera equipment 
ONA Monterey Backpack (Black) ONA5-082BL
What to consider when buying a travel backpack
When shopping for a travel backpack, it's important to take into account your individualized priorities and travel patterns. For example, frequent hikers or photographers will want to purchase backpacks specifically designed for  those needs. Those who often travel by air may wish to focus on backpacks that fit easily under plane seats. Keeping your lifestyle  in mind as you shop ensures you'll source the best backpack for your needs. 
How we chose the best travel backpack for women
We spoke with a wide range of travel experts to select the backpacks featured here, including content creators, photographers, travel guides, and more. These individuals drew on their wealth of travel experience to select products that have served their needs over the years. 
Frequently asked questions (FAQs)
What size backpack is best for a plane?
A backpack that can easily fit under an airplane seat is best for flight travel, as this can serve as a personal item, making it easy to bring a small carry-on suitcase on board for no additional cost. Briggs & Riley compiled an exhaustive list of carry-on bag size limits, but refer to your carrier for the most up-to-date information.
What size pack is best for travel?
You will want to consider your needs and travel preferences to determine the size of backpack that is best for you. Avid photographers and hikers may wish to choose a backpack with ample room for gear, while those who choose to explore by bike may wish to opt for a lightweight backpack.
What is an unhealthy backpack weight?
Any backpack that's uncomfortable to wear for a lengthy period of time is too heavy—you want to fill your backpack so it contains your essentials, yet travel is still manageable. 
What is better for travel, a backpack or suitcase?
Backpacks and suitcases have different benefits and drawbacks, but backpacks are ideal for circumstances in which rolling a suitcase may be cumbersome. Additionally, backpacks can fit more easily into crowded vehicles and under plane seats. Many also fold up and can be placed inside a suitcase as needed.
The information presented here is created independently from the TIME editorial staff. To learn more, see our About page.