Our evaluations and opinions are not influenced by our advertising relationships, but we may earn a commission from our partners' links. This content is created independently from TIME's editorial staff. Learn more.
The humble hoodie has come a long way since its gradual emergence as a style statement in the 1970s. By the '90s, they were already ubiquitous, and have remained so, which makes sense: They're warm, comfortable, and can be dressed up or down as appropriate. What's not to like? If you're on the hunt for the perfect one, check out our list of the best hoodies for men and discover which one's right for you.
Our picks for the best hoodies for men
"I'll go with Champion for a classic hoodie," says fashion expert and retail executive Todd Hanshaw. "They have a durable, trustworthy fit that's built to last." "It's an iconic brand offering timeless yet durable classic hoodies, suitable for casual events of any kind," agrees celebrity business strategist and stylist Nina Vargas. Champion's reverse weave hoodie, in particular, offers classic hoodie style combined with over 80 years of experience in making comfortable, functional athletic (or, y'know, lying on the couch for an entire weekend without showering) wear. You can also look to Champion for some of the best sweatpants for men on the market, too.
Specifications:
Materials: 82% cotton, 18% polyester
Fabric Weight: 12 oz 
Colors: 26
Price on publish: $33-$65
What we like:
Tons of color options
Classic style
What we don't like:
Some customer reviews say they expected something softer
Champion Reverse Weave Hoodie, C Logo Steel Blue Ink XL Men's
"Carhartt really has a great quality, great fit hoodie," enthuses Hanshaw. Indeed, the brand's zip up hoodie, while deceptively basic-looking, will do anything you expect of a hoodie, whether that's keeping you warm, making you feel cozy, or simply looking great under a leather jacket. "Carhartt is well known for producing heavyweight cotton hoodies that offer warmth and durability, providing customers with excellent value," says Vargas. Carhartt has also been quietly expanding their product line beyond durable clothes to include accessories, including one of the best laptop backpacks. 
Specifications:
Materials: 50% cotton, 50% polyester
Fabric Weight: 10.5 oz
Colors: 12
Price on publish: $54.99-$59.99
What we like:
What we don't like:
A minority of customer reviews mention trouble using the zip
LOOSE FIT MIDWEIGHT FULL-ZIP SWEATSHIRT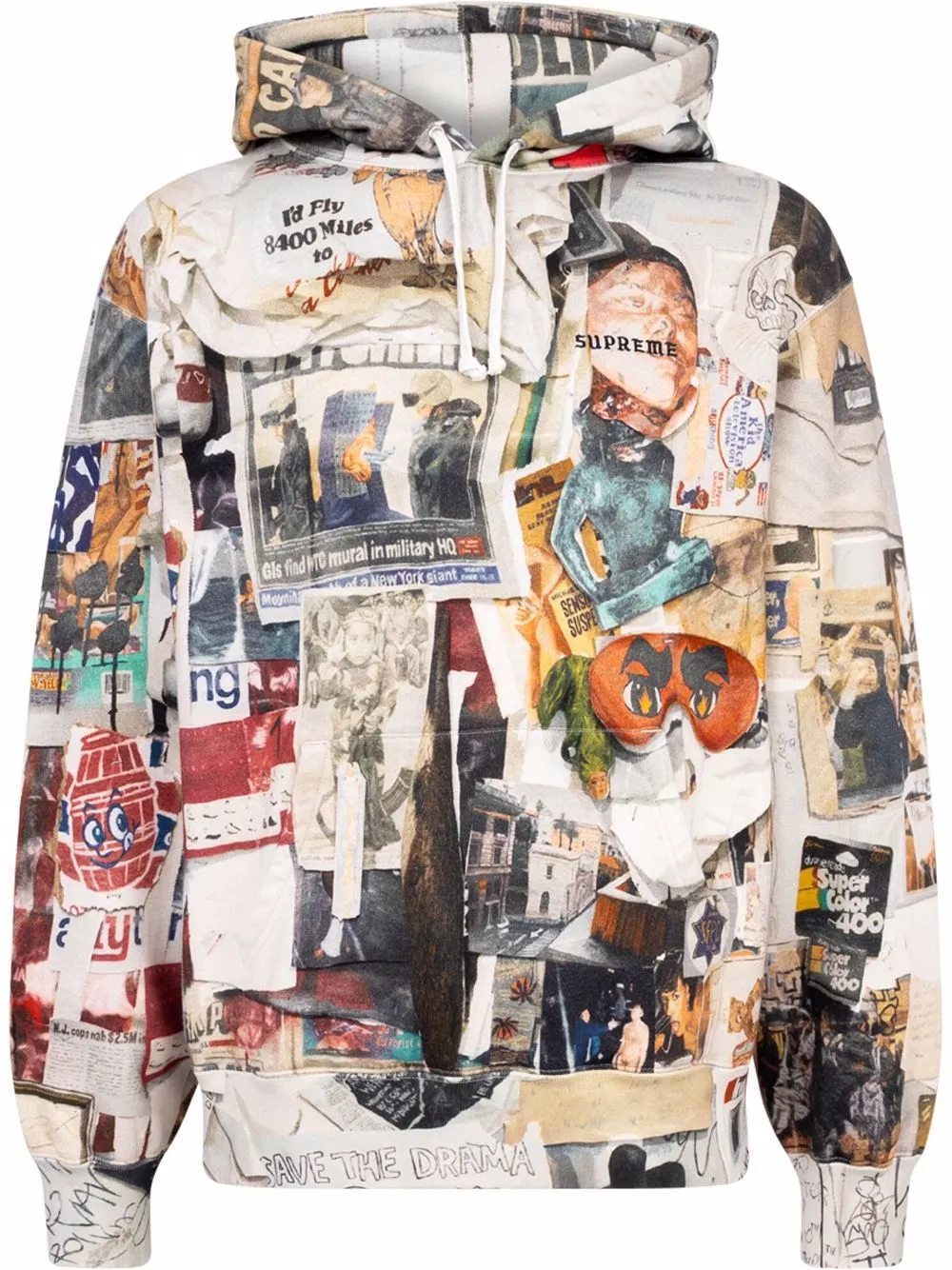 For graphic hoodies, you can't go wrong with Supreme, provided you've got the cash on hand. "Independent streetwear labels like Supreme have earned themselves an exceptional reputation for producing graphic hoodies with striking prints that make an immediate statement," says Vargas. This one, printed all over with the work of artist Dan Colen (specifically, a 2004 work depicting the apartment decor of Colen's artist friend Dash Snow), is made from 100% cotton.
Specifications:
Materials: 100% cotton
Fabric Weight: Not listed
Colors: 1
Price on publish: $278
What we like:
What we don't like:
Supreme Dash's Wall Hoodie
"Who doesn't love a good Nike hoodie? It's a reliable brand," comments Vargas about the brand that made our list of the best men's workout shirts, best men's running shorts, and best men's sweatpants. "Nike really gives you a lot of options in performance hoodies, and all stand up to the tests," agrees Hanshaw. In terms of a hoodie for working out, we've gone with one made from Nike's beloved dri-FIT material, which helps keep you dry by wicking sweat away from your body. It's loose enough to let you move, but soft enough to be comforting when you fall off the treadmill in front of the whole gym (that's happened to other people too, right?). 
Specifications:
Materials: 92% polyester, 8% spandex
Fabric Weight: Not listed
Colors: 5
Price on publish: $48.97
What we like:
What we don't like:
Men's Nike Yoga Dri-FIT Lightweight Hoodie in Grey, Size: L Tall | DQ4886-068
"I'm going to go with Patagonia for the best fleece hoodie," says Hanshaw. "They have so many styles and so much variety. Fleece is about staying warm, and functionality is a cornerstone of Patagonia: Their hoodies add a layer of warmth and comfort to keep you feeling comfortable, no matter the cold outside." This hoodie features a fun, stylized mountain graphic, and is made from 100% recycled materials, so you can feel good about doing your part for the planet you're admiring while you hike. Good to know: Patagonia made our list of the best men's clothing brands for their high quality outerwear.
Specifications:
Materials: 55% post-consumer recycled polyester, 45% recycled cotton
Fabric Weight: 24 oz
Colors: 4
Price on publish: $89
What we like:
What we don't like:
Ridge Rise Moonlight Uprisal Hoody
"The Cole Buxton 'Warm Up' hoodie is an absolute classic in terms of a high-end, incredibly heavyweight hoodie that's worth the investment," says Josh Herbert, founder of fashion publication Captain Creps. Pre-faded to look like it's been part of your closet for years, this hoodie has the added bonus of being reversible, so you can flip it inside out and wear the fleece on the outside. It's two hoodies for the price of one!
Specifications:
Materials: 100% cotton
Fabric Weight: 12.4 oz
Colors: 2
Price on publish: $129
What we like:
What we don't like:
COLE BUXTON CLASSIC WARM UP HOODY
"Brands like Vuori use soft, breathable materials like bamboo and modal to craft highly comfortable hoodies," says Vargas. Vuori's Austin hoodie features stretchy terry material with a brushed interior to make it extra soft and relaxing—almost like a pair of men's pajama pants. It's certainly nice enough to wear out of the house, but once you put it on, you probably won't want to go anywhere. Sidenote: Vuori has grown to be one of the top names in athleisure, and their yoga pants are especially popular.
Specifications:
Materials: 84% Polyester, 8% lyocell, 8% elastane
Fabric Weight: Not listed
Colors: 1
Price on publish: $120
What we like:
Super comfy
Moisture-wicking
What we don't like:
A small number of customer reviews say they wish it was thicker
Only one color option
Vuori Austin Hoodie | Charcoal Heather | Large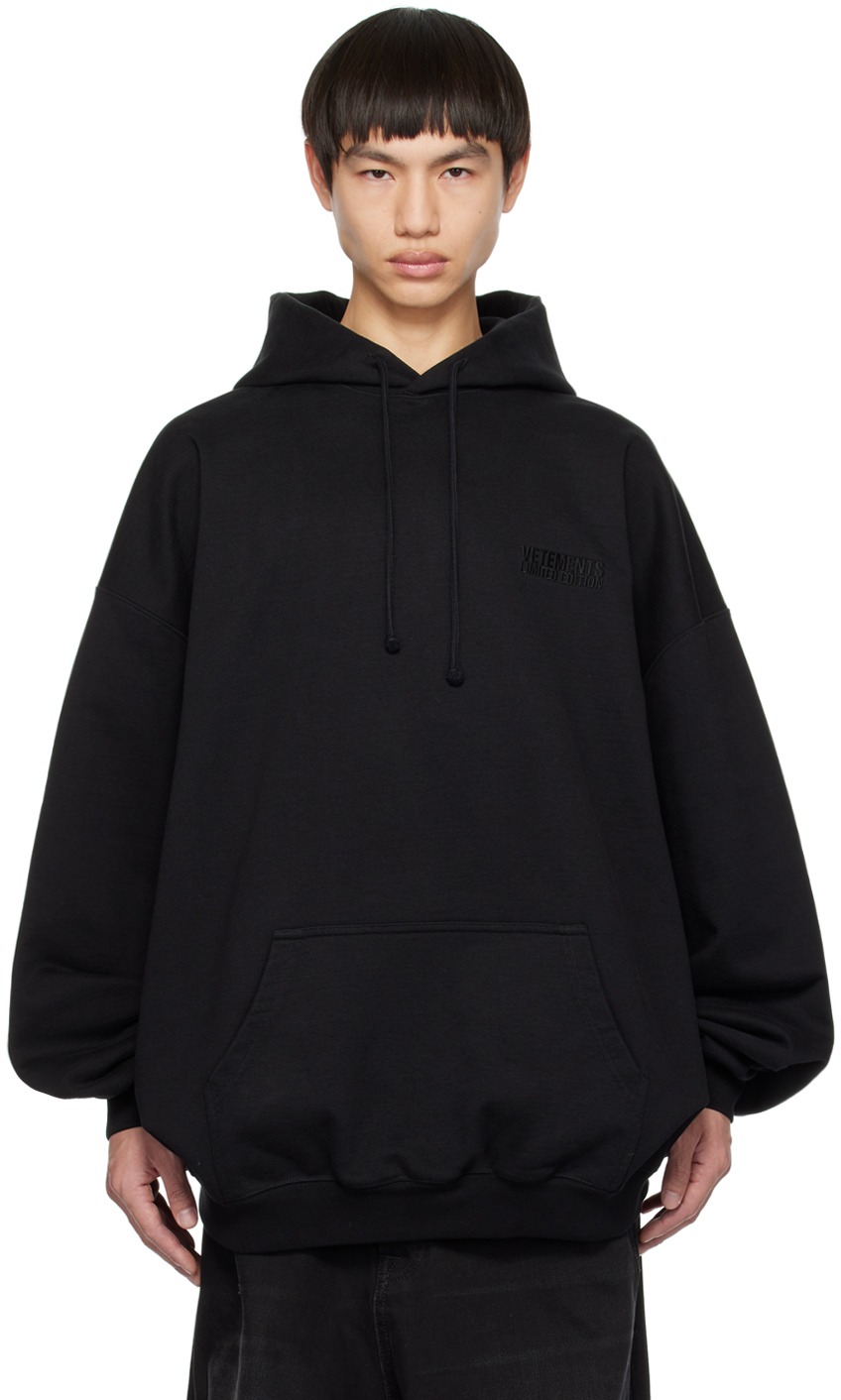 "Vetements is well-known for creating avant-garde designs and stylish hoodies, making them my top pick," says Vargas. This oversized hoodie will stand out in a crowd, thanks to its eye-catching silhouette. We also love Vetements' even more goth offering, the Black Zip Hoodie, with its absurdly, but brilliantly oversized hood. Hey, if you're going to wear something called a hoodie, why not take it to its logical extreme?
Specifications:
Materials: 80% cotton, 20% polyester
Fabric Weight: Not listed
Colors: 1
Price on publish: $700
What we like:
What we don't like:
Ridiculously expensive
Only one color option
Black 'Limited Edition' Hoodie
What makes a hoodie a hoodie? 
"A hoodie is a type of sweatshirt that has a hood attached to it—it's exactly what it says on the tin!" says Herbert. "Hoodies are typically made of cotton or a cotton blend, and can come in a variety of weights—this is often also what dictates the price, particularly high-end hoodies, which have a heavier feel than their cheaper counterparts."
How to style a hoodie
"A hoodie is versatile: You can wear a sweat jersey hoodie to the gym; a more refined cashmere or merino hoodie under a suit or jacket; or the newest trend, if you want to show off your abs, is a lightweight T-shirt jersey cropped hoodie to the beach," says Hanshaw. "The most practical way to style a hoodie if you live in a colder climate is layering it under a coat or jacket, where it looks both functional and cool."
"The beauty of a hoodie is that it can be styled a number of ways, however I would always recommend straight-leg chinos and slip-on sneakers," says Herbert. "Essentially, the classic skater look that seemingly never goes out of style."
What to consider when shopping for hoodies
"The first priority is purpose," says Hanshaw. "Is it for casual wear, or maybe the gym? Or do you want a designer hoodie to wear out, or maybe a cashmere hoodie for a casual Friday? Once you determine the use, the fit is the next decision (do you want a slimmer or fuller body style?) and after that, whether you want plain or printed."
"Make sure that you actually try the hoodie on so you can feel the weight of it and get an idea of the 'true' size," says Herbert. "For example, brands like Carhartt and Cole Buxton will have a weightier, heavier construct with an oversized look, in comparison to cheaper 'blanks' like Fruit of the Loom and Gildan."
How we selected the best hoodies
We made our selections through a combination of expert advice, personal experience, and customer reviews.
Frequently asked questions (FAQs)
Which is the best hoodie brand?
"Champion is the brand that brought the hoodie style we recognize today onto the market, back in the '30s, and they remain a well-respected, quality athletic brand," says Hanshaw. "This brand is the base for many of the athletic and university logo'd hoodies. There are thousands of hoodies out there from almost all brands that sell a full line of men's clothing, so whether you like H&M or Gucci, chances are your favorite brand has a hoodie that is right for you."
"I love Nike and Champion for hoodies, personally, but there are now fashion brands that make quite the selection,' says Vargas. "Brands like CMFRT, Reformation, even Alo Yoga and Hotel Collection." 
What is the best color hoodie for men?
"Black or gray is always a staple color to have," says Vargas. "If you're feeling adventurous, then start moving into the neutrals like browns or camel."
"Hoodies come in pretty much every color, so it makes sense to find a color that works back to your wardrobe," says Hanshaw. "Or, since you probably have a few in your closet, you might want to pick a tone that would add a pop of color to your wardrobe."
What is the highest quality hoodie material?
"There are hoodies made from cashmere and other luxury fabrics, but the vast majority of hoodies are made from a cotton polyester blend, so you need to look at two aspects when determining the quality," says Hanshaw. "First, the weight of the fabric, the proportion of cotton, and how soft and comfortable it is. The cotton allows the fabric to breathe and not hold odors and perspiration as much as a polyester fabric."
"Then, look at the quality of the construction," Hanshaw continues. "Does it have grommets or sewn openings for the drawstring? Does the drawstring have aglets in metal or plastic, or just a knot? Is there a banding in the collar to reduce seam stress? If it has a zipper, what is the quality of the zipper? These are all things to look at when determining the highest quality hoodie."
What looks good under a hoodie?
"A tee shirt looks best under a hoodie, but anything that doesn't cause bumps and bulges where they shouldn't be is a good idea," says Hanshaw.
"A slightly oversized T-shirt looks great under a hoodie," suggests Herbert. "You're giving that added pop of color to the outfit whilst remaining true to the style of the hoodie."
The information presented here is created independently from the TIME editorial staff. To learn more, see our About page.