Our evaluations and opinions are not influenced by our advertising relationships, but we may earn a commission from our partners' links. This content is created independently from TIME's editorial staff. Learn more.
Welcome to adult life, everybody: That magical time when even just going to sleep hurts. This can be especially true for side sleepers, since sleeping on your side puts your body—specifically your neck and spine and, in some cases, hips—under a certain amount of stress. To alleviate or avoid this, you need to find a pillow that is comfortable enough to let you fall asleep, but supportive enough to keep everything properly aligned. (The same is true for finding a good mattress for side sleepers.) With that in mind, we've rounded up our picks for the best pillows for side sleepers.
How to choose a pillow for side sleepers
Like finding the best bed sheets, ultimately, finding a pillow that works for your specific needs requires some trial and error. Speaking from personal experience as a side/stomach sleeper with neck issues, after trying several high-end pillows, the one that ended up alleviating my neck pain was just an ordinary, thin-ish pillow I bought on a whim at Target for four dollars. All of that said, you can narrow down your search by knowing what features will generally be helpful to a side sleeper.
"Side sleeping, which is the most popular sleep position, can make it difficult to keep the head and neck in a neutral position, which can lead to pain," explains Byron Golub, vice president of product and merchandising at Saatva. "Finding a pillow that offers the right blend of comfort and support is essential for sleeping comfortably. The key things to think about include loft, size, as well as fill, which also plays a role in temperature regulation."
"When referring to pillow height/thickness, manufacturers use the term 'pillow loft,'" Golub continues. "Loft is important because it's largely responsible for making sure your spine is in proper alignment when you sleep, by supporting the natural curvature of your neck. If a pillow is too thick or too thin, your head will be either too high or too low relative to your spine, meaning you may wake up with neck and back pain. Pillows are generally classified as low loft, medium loft, and high loft."
Here are the differences between each type of pillow:
Low loft pillows are up to three inches thick
Medium loft pillows are between three and five inches thick
High loft pillows are five or more inches thick
"As pillows come in a variety of shapes and sizes, finding the right one that properly fills the gap between your neck and head is key for proper support each night," says Golub. "The fill helps to keep your neck and spine in proper alignment as you rest and can also address allergy issues and preferences such as temperature regulation. To determine whether a pillow is right for you as a side sleeper, you might need to first evaluate how far you sink into the mattress while lying on your side. Your pillow's appropriate thickness will need to take into account that distance to support your head to stay in line with your spine."
Our picks for the best pillows for side sleepers
The best value pillow for side sleepers: Purple Cloud Pillow
While $60 might not seem too budget-friendly, the Purple Cloud pillow is cheap compared to everything else on this list, while boasting many comparable features. Stuffed with hypoallergenic, super-fine gel fibers that are designed not to stick together, overheat, or squish down flat, it will remain soft and supportive even after washing. It also comes with a breathable, 100% cotton cover.
Specifications:
Fill: 100% gel fiber
Firmness: Plush
Loft/Height: 6 inches
Care instructions: Wash on delicate, tumble dry low
Trial period: 100 days
Price at publish: $59 (Standard) or $79 (King)
Highlights: Hypoallergenic; filling designed not to flatten or clump; breathable
Purple Cloud™ Pillow - Standard/Queen
Side sleeping can come with side effects, with neck pain being one of the most common. One of the best ways of mitigating this is choosing a pillow that keeps your head and neck properly aligned with your spine. Filled with cooling, graphite-infused memory foam, this pillow is intended for people who want their head and neck supported, but without the overheating that can come with traditional memory foam.
Specifications:
Fill: 100% CertiPUR-US certified memory foams
Firmness: Medium
Loft/Height: 5 inches
Care instructions: Removable, machine-washable cover
Trial period: 45 days
Price at publish: $165 (Queen) or $185 (King)
Highlights: Cooling; supportive; contouring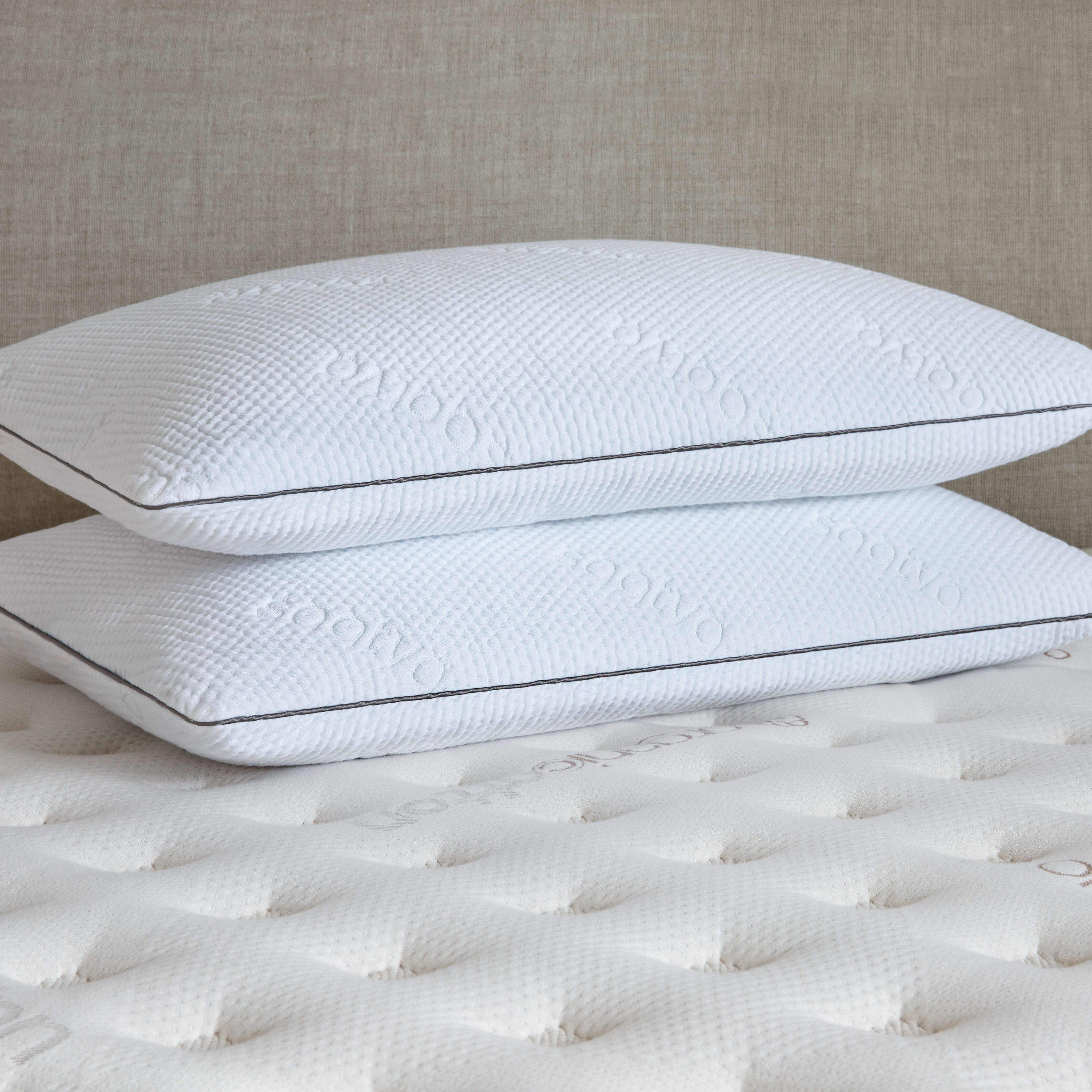 The Saatva Memory Foam Pillow - Queen - White - Graphite Infused Gel Foam - Cool And Comfortable Neck Support - Eco-Friendly
Again, as comfortable as side sleeping is, it can play hell with your neck, so making sure it's supported correctly is vital to a good night's sleep. Luxome's LAYR pillow is ideal for people looking for the perfect neck support, as it's actually adjustable, letting you choose between–and combine–three different inserts: One soft, one medium, and one firm. This way you can control both the firmness and loft of your pillow. Sidenote: The cooling bamboo cover may make you want to upgrade your bedding to bamboo sheets.
Specifications:
Fill: Gel-infused and CertiPUR-US certified memory foam, or down alternative, depending on the insert
Firmness: Variable
Loft/Height: Variable
Care instructions: Outer and insert covers can be washed on gentle cycle and tumble dried low
Trial period: 30 days
Price at publish: $120
Highlights: Adjustable loft; adjustable firmness; soft, cooling bamboo cover
LUXOME LAYR Adjustable Firmness & Loft Pillow - Completely Customizable - Memory Foam - Cooling Cover - Standard/Queen
Because we truly can't have anything nice in this world, a glorious night of side sleeping can also result in shoulder pain. The good news is, there's a pillow for that, too: Eli & Elm's side-sleeper. Thanks to its admittedly unusual U-shaped design, it helps to support the neck and keep the spine aligned, thereby reducing pain in related areas, including your shoulders. You can also adjust the pillow's loft and firmness by adding or removing the filling as desired. Guess we can have nice things, after all!
Specifications:
Fill: 75% latex noodle, 25% polyester fiber
Firmness: Variable
Loft/Height: Variable
Care instructions: Cover can be removed and machine washed on cold, then tumble dried low
Trial period: 45 days
Price at publish: $104.99
Highlights: Unique, helpful shape; adjustable loft and firmness
ELI & ELM COOLING SIDE-SLEEPER PILLOW
If you're the kind of sleeper who runs hot–and you've already tried cooling sheets–then it's time to give a pillow designed to chill out hot sleepers a try. This one was recommended to us by Brad Smith, interior designer and CEO at Omni Home Ideas, who remarks that it's "high-end and known for its comfort and cooling properties." Featuring a layer of cooling gel on either side of its memory foam filling, it sounds pretty cool to us.
Specifications:
Fill: TEMPUR memory foam between TEMPUR-Breeze gel layers
Firmness: Firm
Loft/Height: 6.4 inches
Care instructions: Removable, machine-washable cover (wash cold, tumble dry low)
Trial period: No returns
Price at publish: $199
Highlights: Supportive; cooling
Tempur-Pedic TEMPUR-Cloud Breeze Dual Cooling Pillow - Queen size
It's not unusual for side sleepers to use more than one pillow, most commonly one under the head, and another between the knees, to help keep the hips aligned and comfortable. But many of us also sleep with a third pillow tucked alongside our bodies, something that could—entirely theoretically, of course—prompt a person's wife to repeatedly tell them that they "sleep like a hamster." In my own experience, Saatva's hypoallergenic down alternative pillow works perfectly in this context, being large and firm enough to rest my free arm on, but soft enough to snuggle into like, well, yeah, a hamster.
Specifications:
Fill: Hypoallergenic down alternative fibers (polyester), shredded latex
Firmness: Medium
Loft/Height: 6.5 inches
Care instructions: Spot clean
Trial period: 45 days
Price at publish: $115 (Queen) or $135 (King)
Highlights: Vegan; hypoallergenic; cooling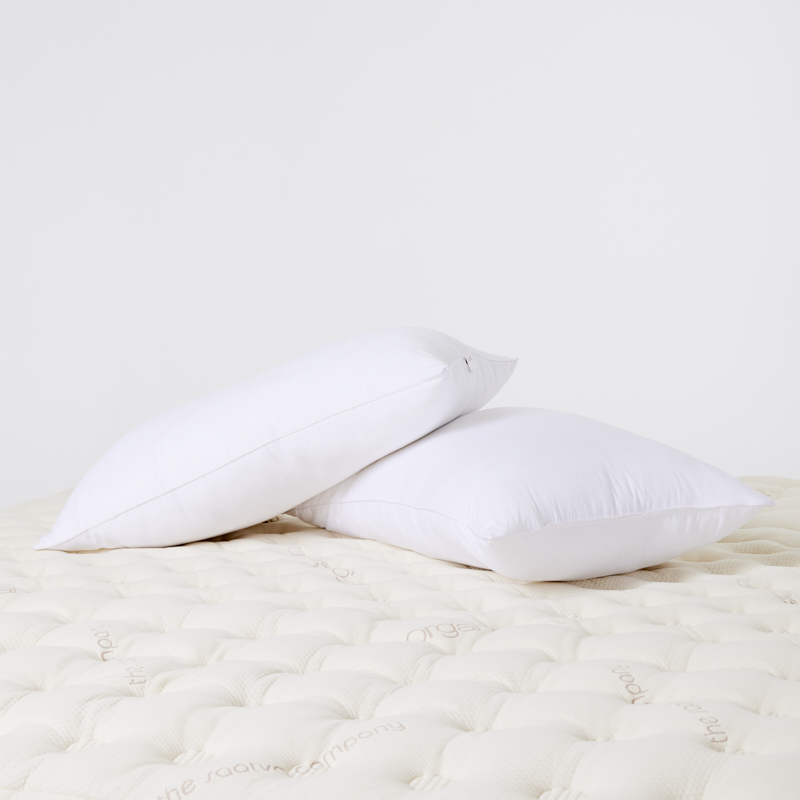 Down alternative pillow - King - White | By Saatva
"Sleepy's Coconut Bliss Pillow is a comfortable and breathable memory foam pillow option for side sleepers that's soft yet supportive, with superior breathability and temperature regulation," says Sydney Decesare, accessories category manager at Mattress Firm. "The memory foam gently conforms to your head and neck for proper alignment, and it's constructed with a special open cell foam that's temperature and pressure neutral, meaning that no matter what the temperature is, the foam will not change and lose its feel. Plus, it's infused with a soothing, natural coconut scent to help them relax even more."
Specifications:
Fill: Memory foam
Firmness: Medium-firm
Loft/Height: 6 inches
Care instructions: Removable, washable cover
Trial period: No returns for pillows
Price at publish: $179.99
Highlights: Conforming; breathable; good for coconut-lovers
As mentioned earlier, many side sleepers like to have a pillow alongside them for a little extra body support, and if that's you, you may well want to go all out and get an extra-long body pillow. Filled with a mix of medium-firm memory foam and microfiber, Coop's body pillow is soft, yet supportive. And at 54 inches long, it can do a whole lot of supporting.
Specifications:
Fill: Memory foam and microfiber
Firmness: Soft
Loft/Height: 7 inches
Care instructions: Machine wash cold, tumble dry low; due to pillow's size, commercial washer and dryer recommended
Trial period: 100 days
Price at publish: $99
Highlights: Huge; supportive; hypoallergenic
Coop Original Body Pillow
How we selected the best pillows for side sleepers
We made our selections through a combination of expert advice, personal experience, thorough research, and ensuring all picks had glowing customer reviews.
The benefits of side sleeping
Side sleeping has a surprising number of benefits, including reducing the chances of snoring and sleep apnea, relieving back pain, and even improving your digestive health. All of which helps explain why it's such a popular way to sleep, with around 74% of all adults nodding off each night like this.
Tips for side sleepers
Though it's tempting to curl up into a ball or sprawl into a position reminiscent of the "running man" dance, it's best to try to keep your body as symmetrical as possible while sleeping, in order to keep your neck and spine aligned. Placing a small pillow between your knees can also be helpful to relieve pressure on your hips.
Frequently asked questions (FAQs)
What type of pillows are best for side sleepers?
"Side sleepers need a thick enough pillow to fill in the space between your head and shoulders, making sure you keep your neck in a neutral position," says Golub. "Medium loft pillows with memory foam and gel or latex are good options for side sleepers to maintain spinal alignment during sleep and stay comfortable throughout the night. As a side sleeper, you need a slightly thicker, firmer pillow for optimal alignment. An extra-wide gusset—the band of fabric joining the top and bottom panels together—can be helpful by adding to the pillow's overall thickness."
What density pillows are best for side sleepers?
"When it comes to buying a new pillow, fill density and weight are some of the most important considerations, as they determine the durability, comfort level, and lifespan of your pillow," says Golub. "Fill density determines the firmness level and responsiveness of your pillow. Materials like memory foam and latex foam will have a medium firmness and density. Down and down alternatives have a lighter density and tend to be softer. Wool and cotton pillows are usually firm, with a higher density. Fill weight determines how much filling is in your pillow: A higher fill weight can make your pillow more durable and ensure your neck has the proper support throughout the night."
What pillow type is best for side sleepers with neck pain?
"If someone is suffering from neck pain, a flatter pillow made of foam or latex may be their best option, because these materials have proven to be effective in helping with neck pain and discomfort," says Decesare. "It's all about the neck and spine alignment, too. If a stomach sleeper buys a pillow that has too high of a loft, it's going to cause their neck to elevate much higher than needed during sleep. Throwing off the alignment can lead to an increase in neck pain."
Should your shoulders be on your pillow?
"Your pillow should support the natural curve of your neck, but it shouldn't be placed so high that it causes muscle strain in your neck, back, and shoulders," says Golub. "You'll also want to avoid placing your pillow too low. You don't want it underneath your shoulders because this can also lead to pain. When sleeping on your back or side, your pillow should rest underneath your head and neck but not your shoulders. A good rule of thumb is that your pillow should always keep your neck parallel to your mattress, no matter what position you're in. Your neck shouldn't be bent forward or to one side, which is why experts don't recommend sleeping on your stomach."
What happens if your pillow is too high?
"The best pillow for you should be filled enough to keep your head straight," says Golub. "Without a pillow's support, your head will drop toward the mattress, bend your neck, and cause stress on muscles, nerves, and tendons—a recipe for waking up with neck or back pain, tingling arms or legs, or even developing sciatica. The opposite is also true—if a pillow is too high, it causes the neck to flex forward and the head to be pulled out of alignment."
Is sleeping on your left side bad for your heart?
While sleeping on your left side is fine if you don't have any underlying heart conditions, the AARP warns that people with congestive heart failure or other heart problems can experience breathing difficulties and discomfort, recommending the right side instead.
The information presented here is created independently from the TIME editorial staff. To learn more, see our About page.