Our evaluations and opinions are not influenced by our advertising relationships, but we may earn a commission from our partners' links. This content is created independently from TIME's editorial staff. Learn more.
If you like to spread out in your living space, a sectional sofa offers multiple seating (and lounging) options in one hardworking piece. There are few standard shapes for sectionals, like U-and L-shaped, but most manufacturers offer a wide variety of sizes and styles and fabrics that allow you to customize your perfect sectional. A practical piece of furniture, some sectionals are roomy, others are more structured, and you can often make them as "big" or "small" as needed for your space.  
How to choose the best sectional sofa for you
The best sectional sofa for your space depends on the room size, sectional size, fabric, and how you need the sectional to function. If you're buying one to snuggle with your kids and pets, a sectional with easy-to-clean fabric and deep seats for extra coziness might be your best bet. If your sectional is in a guest room, you may want to purchase one with a convertible sleeper option. 
Because you build your own sectional using different components—like a loveseat or chaise lounge-like chair—and even add-in features like blanket storage, cup holders, and even Bluetooth speakers—your budget will likely play a role in the type of sectional you purchase. You can find affordable, great-quality pieces for under $1,000, but you will have to shop around, and it may be wise to look for sales. 
The upside to having so many sectional choices out there is that there are plenty available at multiple prices, colors, sizes and styles for you to start designing the sectional of your dreams.
Top sectional sofa picks
A timeless classic leather sectional that seats five plus a corner seat, this sofa can be joined with other Burrow sectional pieces if you want to expand its footprint. It has received five-star reviews from customers who call it a "high quality" and  "great investment" piece. 
Dimensions:  114 inches long and 88 inches wide and 35 inches deep, with 33-inch height
Shape: Corner sectional
Design: Classic
Fabric/material: Leather
Color options: Camel, slate, chestnut
Seat height: 17 inches
Pros:
The classic design
Easy to clean
Reviewers say it is easy to assemble
Cons:
Can get pricey if purchasing other pieces
Best leather sectional sofa
Burrow Modular Nomad Leather 6-Seat Corner Sectional in Camel, Oak Legs
If you want to customize your sectional, APT 2B is the way to go. Offering a variety of styles (we like Harper) and colors, you can build your sectional the way you want it to look. Create a larger seating area or enjoy a snug two-piece Harper; it's up to you. A larger piece will cost more, and a smaller sectional, less.
Dimensions: 91 inches long and 36 inches wide (in-L-shape)
Shape: L-shape, but you can build your own and make it a U or other shape
Design: Contemporary
Fabric/material: Tailored woven fabric
Color options: 43 color options
Seat height: 20 inches
Price: Depends on the piece/configuration
Pros: 
Fully customizable
Comfortable
Cons:
Best customizable sectional sofa
APT 2B Build Your Own Harper
This hand-crafted, comfortable U-shaped sectional allows you to pick your fabric or material and choose from a wide range of creative color choices, like kale green or lagoon blue. Featuring ultra-plush back pillows but with an upright frame, it's created for couch potatoes who love luxury. 
Dimensions: 151 inches long and 80 inches wide
Shape: U-shape
Design: Contemporary
Fabric/material: Performance, velvet or leather
Color options: 75 colors from aubergine to basil green
Seat height: 20 inches deep
Pros:
Extremely deep and plush cushions
Multiple color choices
Con: 
Best luxury u-shaped sectional sofa
Couch Potato U-Shaped Bumper Sectional (Extra Deep)
If you have a small space or only need comfortable seating for two, this sectional should do the trick. The fabric is velvet, which is beautiful but not removable, so if kids' spills are a concern, you might want to investigate another sectional.  Otherwise, this comfortable option is stylish, affordable, and comes in over 15 colors. 
Dimensions: sofa section: 34 inches high and 84 inches wide and 37 inches deep; chaise is 18 inches high and 26 inches wide and 63 inches deep
Shape: L-shape
Design: Mix of mid-century modern with a nod to Victorian 
Fabric/material: Velvet
Color options: Blush pink, olive, emerald green, copen blue, platinum, plus 16 other colors
Seat height: 18 inches
Pros: 
Affordable
Attractive design
Multiple color options
Cons: 
Cushion covers are not removable
Velvet may not handle stains as well as other fabrics/materials
Best sectional sofa for small spaces
Geo 2 - Piece Upholstered Sectional
This high-end modular sectional can be configured in many shapes and sizes. With a seat depth of 25.2", it's beautiful and provides deep, comfortable seating. There are many options for fabrics and materials, so you can design your modular sectional to suit your palette. 
Dimensions: 133.4 inches wide/long and 78.7 inches deep and 31.5 inches high  (basic two-seater with chaise)
Shape: L or U-shaped - depending on how many sections you purchase
Design: Luxury modern
Fabric/material: Multiple options, including suede, leather, linen, or velvet
Color options: 11 colors, mainly shades of gray, beige, and blue
Seat height: 17.7 inches 
Pros: 
Cons:
Some people may not want such a deep seat
May be too large for some spaces
Best modular sectional sofa
Burrow's sofas and sectionals are made to curl up on. Chic yet cozy, with a classic mid-century modern design sensibility, this five-seater is easy to clean, making it a great choice for a family. You can also purchase add-on accessories for your sectional, including a sleep kit to transform it into a sleeper sofa,  or add an ottoman or moveable chaise. It even includes a built-in USB charger and power cord. 
Dimensions: 88 inches long and 88 inches wide and 33 inches high  
Shape: L-shape or configure your own
Design: Classic meets mid-century
Fabric/material: Tight olefin fiber weave, as per Burrow's website
Color options: Ivory, brick red, crushed gravel (gray), navy blue, and charcoal
Seat height: 17 inches
Pros:  
Extremely comfortable
Well-designed
Offers add-on features
Cons: 
Only fabric material available for this model
Burrow Modular Nomad 5-Seat Corner Sectional in Crushed Gravel, Walnut Legs
This chic design is contemporary and looks more expensive than it is. Designed in rich velvet colors, the contrast piping makes this a solid statement piece for your home. You can choose your piping color to contrast with your cushions, plus pick from a standard depth 40" depth or a deep 44" for ultimate lounging. 
Dimensions: Varies on your selection
Shape: L-shape
Design: Contemporary
Fabric/material: Performance velvet or performance plush velvet
Color options: 25 color choices from royal blue to sage green and fawn to chartreuse
Seat height: 19 inches
Pros: 
Con:
May not be good for people who prefer a less deep seat
Best statement sectional sofa
James 3-Piece 4-Seat Corner Sectional with Contrast Piping
Albany Park is known for its comfortable and contemporary furniture that ships in what they call apartment-friendly and space-conscious  boxes, so you don't have to worry about your back when your pieces arrive. This design has removable seat cushions that are easy to spot-clean, and it's extra deep and wide for maximum comfort and cuddles with your pet or partner. Great for families, too, who like to pile into a deep-seated sofa together.
Dimensions: 120 inches wide and 39 inches high and 78 inches deep 
Shape: U-shape
Design:  Comfortable contemporary
Fabric/material: Plush fabric or velvet
Color options: Nine available colors, including soft gray to mustard gold
Seat height: 19 inches
Pros:
Extremely deep seating for comfort and cuddling
Removable cushions
Con:
Only available in plush or velvet fabric
Best deep-seated sectional sofa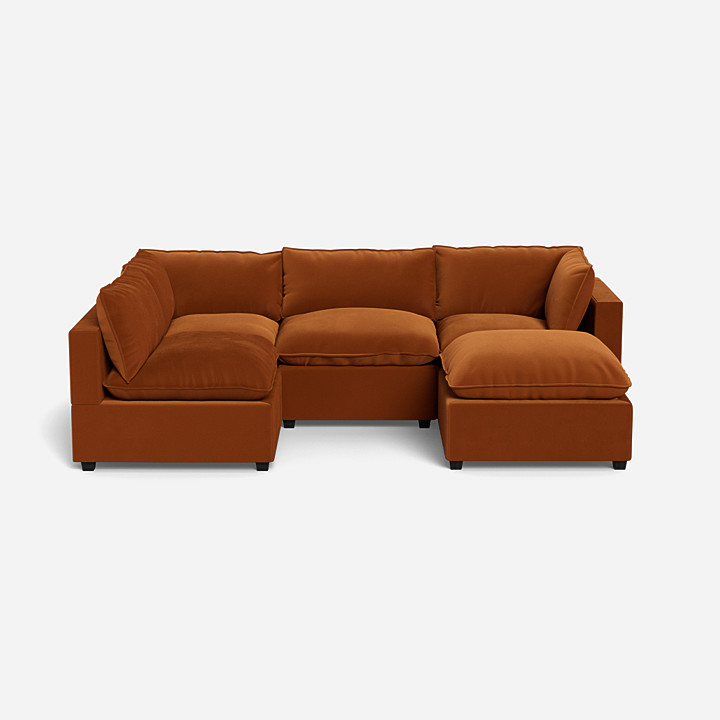 This beautiful sleeper sofa has its own air mattress or you can pay extra for springs. Designed in a comfortable, classic contemporary style, the Filmore is easy to set up for sleep and put back together for seating. The frame is supported by no-sag suspension and built from recycled steel by USA-based builders. 
Dimensions: 98 inches wide and 63 inches deep and 37 inches high 
Shape: L-shape
Design: Contemporary
Fabric/material: Linen
Color options: Off-white with a touch of gray
Seat height: 18 inches
Pros: 
Comes with air mattress
No-sag engineering 
Cons:
Limited color choice
Linen is the only fabric choice
Best sleeper sectional sofa
Signature Design by Ashley Jarreau Sofa Chaise Sleeper Chofa with Pull-Out Cushion, Blue
Maiden Home offers distinctive sectionals with comfortable, deep seating in a modern style. With luxurious performance tweed or leather fabric and options for additional seating sections, the Varick sectional is available in a chaise L or U-sectional. 
Dimensions: Varies; overall dimensions are 40 inches deep and 30.5 inches tall (as per its website)
Shape: U- or L-shape 
Design: Modern contemporary
Fabric/material: Performance tweed or leather
Color options: Grayish off-white
Seat height: 17 inches
Pros:
Easy to add additional sections
Beautiful design
Con:
Fabric color may show dirt 
Best modern sectional sofa
This U-shaped three-piece sectional is attractive, comfortable, and the upholstery is removable and machine washable so it can stand up to high traffic seating in your home. Built with sofa and chaise components, you do have to put together this piece yourself, but testers and reviewers say it only takes around 30-to 45 minutes to put together. 
Dimensions: 35 inches high and 106 inches wide and 56 inches deep 
Shape:  U-shaped
Design: Conventional 
Fabric/material: Fabric and foam
Color options: Blue, beige, and gray
Seat height: 17 inches tall 
Pros:
Affordable
Machine washable covers
Cons:
Cushions may too firm if you prefer softer seats
Polyester fabric may attract pet hair and lint
Best budget sectional sofa
Zoila 3 - Piece Upholstered Sectional
This corner sectional from Serena & Lily is custom-built in the USA and delivered to your home in six weeks. It looks high-end, but its comfort level is high. At over $10,000, it belongs in the splurge category, but its durability and attractive style may make it worth it. The best part? It's customizable. Choose from five fabrics and four color options. 
Dimensions: 10 inches wide and 108 inches deep and 35 inches high 
Shape: L-shaped
Design: Modern, classic 
Fabric/material: Cotton, leather, performance, linen and velvet
Color options: Over 134 combined colors and patterns
Seat height: 19 inches
Pros:
All the available fabric colors and prints
Customizable
Cons:
Best splurge sectional sofa
How we selected the best sectional sofas
We asked interior designers, sectional owners, and scoured online reviews to gather information on the best sectional sofas. Design, price points, and comfort each played a role in our decisions, and the author herself sat on several sectionals to influence some of the final choices as well. 
What is the most popular sectional sofa design?
An L-shaped sectional sofa with a chaise design is a popular choice for consumers mainly because it can usually fit in a small or large room and is easy to add pieces.  Jennifer Parsons, interior designer and principal of Context Design in Brooklyn, New York, shares that her go-to for solid, yet budget sectionals are Burrow and Ikea, which offer affordable, great pieces. 
What is the standard size of a sectional sofa?
Sectionals can be many sizes depending on the furniture maker and how the sectional is built. Lengthwise, it could be anywhere from 103" to 130" inches or longer, but this is just an estimate. For example, a three-seat sectional with a chaise could be 103.25" long. 
How tall should your sofa be?
The standard height of a sofa is between 30 to 36 inches, although a custom-designed and built sofa or sectional could vary in size (taller or shorter) depending on the size ordered. 
Frequently asked questions (FAQs)
What is the best time of year to buy a sectional sofa? 
The best time of year to buy a sectional sofa is usually during holidays like Memorial Day and Labor Day. It's worth checking Black Friday sales as well. 
How do you know if a sectional is of good quality?
A good quality sectional will not sag or rip easily, and often custom-made sectionals, like most furniture, are often of higher quality than those made in a large factory.  A sturdy frame and a strong interlocking system are also signs of a high-quality product. 
What is the average lifespan of a sectional sofa?
The average lifespan of a sectional sofa depends on the care and maintenance you give it. A sectional sofa could last 10 years or more if you buy a high-quality product and treat it well. 
How much should a quality sectional sofa cost? 
Parsons says there is a huge range in quality sofas from Ikea and Burrow (anywhere from $1500 to $3500) to really high-end pieces from Serena & Lily and George Smith. A quality sofa doesn't have to be super expensive if you shop around. 
Do sectionals make a room look small?
Not necessarily, shares Parsons, who has done interior design work for clients living in both large and small spaces. "It would, of course, depend on the room, but counterintuitively, rooms look smaller [when it is] empty! You want the furniture scale to be appropriate and work for the layout and sometimes sectionals are the most efficient use of space and maximize seating," she says. 
What is the best material for a sectional sofa?
You should look for materials that can easily be cleaned, especially if you have young children and/or pets. "Most companies offer high-performance velvets or other fabrics that are stain and snag resistant," recommends Parsons ."If your budget allows, I think leather is fabulous."  
What Is the best color for a sectional sofa?
The best color of a sectional sofa really depends on a few factors, like the color of the room itself. Some popular colors that make good foundations for room palettes are neutral-based. "A sectional is a BIG piece, so light and neutral is safe—whereas, with a standard sofa and accent chairs, I might go bolder with a pattern or the rich green, blue or pink—you can always add color and flair with beautiful rugs, curtains, throws, and pillows," says Parsons. 
Where should you place a sectional sofa in your living room? 
It depends on many factors, space of the room, the size of the sectional, and what other pieces of furniture are in the room. Two suggestions: A sectional could divide a large room or act as focal-point seating in front of a fireplace or television.
The information presented here is created independently from the TIME editorial staff. To learn more, see our About page.