Our evaluations and opinions are not influenced by our advertising relationships, but we may earn a commission from our partners' links. This content is created independently from TIME's editorial staff. Learn more.
Updated
September 14, 2023
We all have different bedtime routines. Some people need total silence, blackout curtains, and complete motionlessness to be able to fall asleep. Others require the TV on, music playing, nightlights glowing—and at least three fans blowing. If you're the type who needs soothing sounds, but don't want to irritate partners or roommates, take a look at our picks for the best headphones for sleeping, and see if there's something here that works for you. Remember, if you snooze, you actually win.
Our top picks for the best headphones for sleeping
"The Sony WH-1000XM4 offers excellent noise cancellation and comfort for sleep," says Hafiz Shariff, sleep expert and founder of luxury bedding brand Owl + Lark. While you'd obviously have to be a back sleeper for these to work for you, their touch sensor controls, 30 hours of battery life, and adaptive sound control make these a great option for those who don't roll around too much at night. "These have exceptional comfort, good noise canceling, and wireless convenience for relaxed sleep," agrees Dr. Shelby Harris, licensed clinical psychologist and board certified sleep specialist.
Specifications:
Headphone Type: Wireless
Battery Life: 30 hours
Noise Canceling: Yes
Return Policy: Within 30 days
Warranty: 1 year
Price on Publish: $349.99
What we like:
Active noise cancelation
Five hours of battery on a ten-minute charge
Hands-free calling
Automatically pauses playback when you take them off
What we don't like:
Large
Can't be used while charging
Expensive
Sony - WH1000XM4 Wireless Noise-Cancelling Over-the-Ear Headphones - Black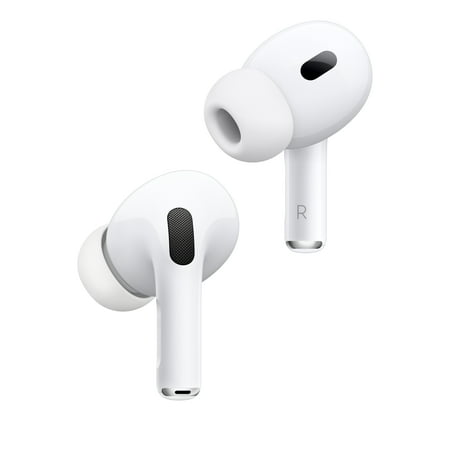 If you're unlikely to drop off with a big pair of cans on your head, some wireless earbuds might be a better option. "Apple AirPods Pro provide a comfortable fit, wireless convenience, and decent noise isolation, to contribute to a good sleep experience," says Harris. Shariff concurs, praising their noise isolation, and secure fit. You're also less likely to lose their little charging case with this generation, since its built-in speaker will make noises to help you track it down. 
Specifications:
Headphone Type: Wireless earbuds
Battery Life: Six hours
Noise Canceling: Yes
Return Policy: Within 14 days
Warranty: 1 year
Price on Publish: $249
What we like:
Touch controls
Four sizes of silicone tip included, for perfect fit
What we don't like:
Only six hours of battery life when using active noise cancelation 
Apple AirPods Pro (2nd Generation) - Lightning
The best wired earbuds for sleeping: Moondrop Chu
While soothing sounds can help lull you to sleep, the price tag on many headphone options will certainly wake you up with a jolt. That's why these $20 wired earbuds are such a pleasant surprise, offering sound quality comparable to many of their much higher-end competitors. When it's time to go to sleep, the included silicone ear hooks make sure they stay comfortably in place, even when you're doing your most intense sleep-headbanging.
Specifications:
Headphone Type: Wired earbuds
Battery Life: N/A
Noise Canceling: No
Return Policy: Within 30 days, if bought through Amazon
Warranty: Not listed
Price on Publish: $19.99
What we like:
Extremely inexpensive
Amazing sound quality for the price
What we don't like:
A minority of customer reviews complain that they don't last as long as they would have liked
No noise cancelation
Moondrop CHU High Performance Dynamic Driver IEMs in-Ear Earphone (Without mic)
The best headphones for sleeping for side sleepers: SleepPhones Wireless
If you sleep on your side (or perhaps more accurately, on your side, but also in multiple other positions as you roll around during the night), even earbuds might have a hard time staying put. This soft headband option could be what you're looking for. "SleepPhones Wireless are designed specifically for sleep and have a headband-style design," says Shariff. "With their flat speakers, they're well-suited for side sleepers." Harris agrees, noting their softness, comfort, and convenience for side sleepers.
Specifications:
Headphone Type: Wireless headband
Battery Life: 24 hours
Noise Canceling: No
Return Policy: Within 30 days
Warranty: 1 year
Price on Publish: $99.95
What we like:
Comfortable
Good for all types of sleepers
What we don't like:
Another good option for those who want to sleep without a big, bulky set of headphones, or something sticking into their ear, this headband features ultra-thin, adjustable-position speakers that nestle gently over your ears. "They have a soft headband design, flat speakers, and a comfortable fit for a peaceful sleep," enthuses Harris, while Shariff also notes how comfy they are. Since the headband is made of breathable, cooling fabric, these could also be a convenient set of headphones for working out.
Specifications:
Headphone Type: Wired headband
Battery Life: N/A
Noise Canceling: No
Return Policy: Within 30 days, if bought through Amazon
Warranty: Not listed
Price on Publish: $19.99
What we like:
What we don't like:
Wired, so you'll have to secure the wire (so it doesn't wrap around you) before sleeping
CozyPhones Sleep Headphones - Over Ear Headphones from Ultra Thin Cool Mesh Wired for Side Sleepers, Meditation, Running, Laptop, and Phone - Black
The best headphones for sleeping with sleep tracking features: Kokoon Nightbuds
If you have trouble either falling or staying asleep, you might well want to monitor your sleep throughout the night to figure out what's going on. Kokoon's nightbuds—recommended by both Harris and Shariff—pair with an app that tracks your slumber throughout the night. The biometric app monitors your heart rate, and gives you a daily summary of your sleep, including how long you slept and how well. The app even knows when you've fallen asleep, gently fading out your chosen audio and turning it off.
Specifications:
Headphone Type: Wireless sleep tracking headphones
Battery Life: 10 hours
Noise Canceling: No
Return Policy: Within 30 days
Warranty: Not listed
Price on Publish: $249.99
What we like:
Innovative
App also offers selection of sleep-friendly audio, including meditations and binaural soundscapes
What we don't like:
Some customer reviews complain that the silicon buds pop off too easily
Best with sleep tracking features
For a set of earbuds coming in under $12, the reviews on these are shockingly good, with 78% of Amazon reviews being in the four- or five-star category. Harris and Shariff also recommend them, citing their soft earbuds and dual purpose design (since you can use them as either headphones or earplugs). They even come with a zippered case to keep them in, which again, is incredible considering the price.
Specifications:
Headphone Type: Wired earbuds
Battery Life: N/A
Noise Canceling: Yes (but see "what we don't like" section below)
Return Policy: Within 30 days, if bought through Amazon
Warranty: 3 months
Price on Publish: $11.99
What we like:
What we don't like:
Although advertised as noise canceling, multiple customer reviews state that they're not truly noise canceling, with some saying they block out a third of outside sound at best
MAXROCK Sleep Earplugs - Noise Isolating Ear Plugs Sleep Earbuds Headphones with Unique Total Soft Silicone Perfect for Insomnia, Side Sleeper, Snoring, Air Travel, Meditation & Relaxation (acid blue)
If you're obsessed with audio quality, even while fast asleep, then Bose QuietComfort is probably the one for you. With world class noise cancelation, touch controls, a built-in microphone, Bluetooth 5.3 compatibility, and comfortable earbuds with three size options included, it's fair to say you're getting a lot here, even if the price tag is admittedly hefty for earbuds. 
Specifications:
Headphone Type: Wireless earbuds
Battery Life: 6 hours
Noise Canceling: Yes
Return Policy: Within 90 days
Warranty: 1 year
Price on Publish: $299
What we like:
Excellent sound quality
Moisture resistant
What we don't like:
Expensive
A minority of customer reviews note that they had issues with pairing
Bose QuietComfort Earbuds II
What you should know about the best headphones for sleeping
"This depends on what you want to use the headphones (or earbuds) for," says audiologist Dr. Clifford Olson. "You could be looking for relaxation, comfort, noise blocking, or tinnitus masking. If relaxation is the goal, you should find headphones that allow you to pick the types of sounds that you want to listen to, often by having bluetooth to connect to a smart device so you can control your media. If comfort is the key, you will want to ensure the headphones have soft cushions, breath well, and are not too large. For these reasons, you may also want to consider using sleep earbuds instead."
"If noise blocking is your priority, it's a good idea to identify headphones or earbuds that have active noise cancellation, that will actually identify and cancel outside sounds like traffic noise, noisy neighbors or snoring," Olson continues. "If masking tinnitus is the priority, you will want headphones that have the capability of playing tinnitus masking sound instead of just blocking external noises, which will typically make the perception of tinnitus louder."
"Comfort is paramount here," adds Shariff. "Your headphones shouldn't cause discomfort or pressure points while lying down. I recommend looking for headphones with a low-profile design and soft padding. Wireless options are a great choice to prevent tangling and allow for movement during sleep. While sound quality should definitely be clear, it's important to prioritize comfort over audiophile-grade sound in this context."
How we selected the best headphones for sleeping
We made our selections through a combination of expert advice, thorough research, and ensuring all our picks had overwhelmingly positive customer reviews.
Alternatives to headphones for sleeping
"White noise machines can create a soothing background sound that masks disturbances, and earplugs can also be effective in reducing any surrounding noise," says Shariff. "There's also sleep masks with built-in speakers that can deliver audio without any pressure on the ears at all"
"Simply running a fan, wearing foam earplugs, or using a sound generator that can play a variety of different masking noises, including white noise, can also help to relax, distract from other external sounds, and mask tinnitus," suggests Olson.
"Aromatherapy with calming scents such as lavender, and using blackout curtains for a dark sleep space can help, too," adds Dr. Raj Dasgupta, a board-certified sleep and internal medicine doctor. "Relaxation techniques such as deep breathing, meditation, and muscle relaxation are effective, as well."
Frequently asked questions (FAQs)
Are sleep headphones comfortable for sleeping?
"Sleep headphones usually feature slim profiles, padded headbands, and soft ear cushions to prevent discomfort while lying on your side," says Shariff. "However, as individual preferences vary, you should shop around for headphones with adjustable features to find the most comfortable fit for you. Everyone has their own preference when it comes to comfortable sleep, and knowing this can help you make the most informed purchasing choice for you."
"Generally, using headphones for sleeping is only good for individuals who sleep on their back," says Olson. "If you're a side sleeper or a stomach sleeper, they're generally not a good idea. In addition, they tend to get hot while wearing, which can make it harder to fall asleep and even wake you up in the middle of the night."
What is the difference between noise isolation and noise-canceling sleep headphones?
"Noise isolation headphones will physically block out external noise by creating a seal around your ears, while noise-canceling headphones reduce ambient noise by generating sound waves that cancel out unwanted sounds," explains Shariff. "For sleeping, noise isolation can usually be enough, as it's less complex and tends to be more comfortable for extended wear."
Are wireless sleep headphones better than wired options?
"Wireless headphones are great for sleeping because the wires don't get in the way of your movements, like rolling over, which may even cause the wires to come unplugged from your headphones or the device they're plugged into," says Olson. "However, wireless headphones can also run out of battery and have the possibility of losing connection with your streaming device."
Are there any potential health risks associated with wearing headphones during sleep?
"While sleep headphones are generally safe, there are potential health risks to consider," warns Shariff. "Wearing headphones that are too tight or have a hard headband could lead to discomfort or headaches, and listening to music at high volumes during sleep could impact your hearing over time. To mitigate risks, I recommend choosing headphones with a comfortable fit and use a volume level that allows you to hear your surroundings. Whilst you can choose to sleep with earbuds in, and there are products designed for just this, users should be aware of bacteria build up from having these in overnight, and as such may want to factor this into their purchasing decision if the possibility of infection is a concern."
"If sound is played at too high of a level, then permanent hearing damage can occur," reiterates Olson. "This is incredibly risky if the device that you're connected to doesn't warn you about the decibel level. You also have to consider safety concerns, such as sleeping with consumer electronics that use a lithium battery, as well as concerns of not being able to hear alarms such as smoke detectors, carbon monoxide detectors, and possible home intruders."
The information presented here is created independently from the TIME editorial staff. To learn more, see our About page.