Our evaluations and opinions are not influenced by our advertising relationships, but we may earn a commission from our partners' links. This content is created independently from TIME's editorial staff. Learn more.
Updated
September 21, 2023
Walking: Most of us do it without giving it much thought, whether we're taking the dog out, running errands, or just meandering around the neighborhood. We don't spend much time thinking about the shoes we wear, until, of course, we make the mistake of spending an entire day tooling around town and end up with unhappy feet. Walking shoes include boots and sandals, as well as athletic style shoes. There are dressier styles, so you don't have to tie yourself to a pair of trainers or sneakers. Here are our top walking shoe picks that will keep your feet comfortable and supportive all day long, no matter the situation or environment. 
What to consider when buying walking shoes
A good pair of walking shoes will fit right out of the box without any need for breaking them in. Beyond that, pay attention to the following features.
Cushioning
Most walking shoes come equipped with a well cushioned, shock absorbing foam midsole. Many use EVA (ethylene vinyl acetate) for this purpose which provides a plush, soft base under your feet. Shoes that are more running oriented than walking often use even lighter weight materials for cushioning that have some propulsion or bounce.
Stability
Walking shoes should feel stable. Your feet shouldn't wobble around when they're in them. That said, extra space in the toe box will allow your toes to spread out naturally as you walk which is ultimately more stable. If you overpronate or have plantar fasciitis issues, look for a shoe with arch support and a midsole that mimics the shape of the bottom of your foot.
Well-made uppers
You don't want your favorite pair of walking shoes wearing out over just a couple months. You also want them to look good. After all, you'll be less inclined to wear them if you think they're unattractive. Good breathability is also a feature to look for that helps keep your feet from getting too sweaty while out walking for hours at a time.
Our top walking shoes picks
Best walking shoes for women: Dansko Brook
These Dansko low boots may seem an odd choice for a "best walking shoes" accolade but, as a person with knee issues and high arches whose second career as a film and television pattern maker and costume designer involves a good deal of walking and standing, these are one my top  footwear choices. I'm a longtime Dansko fan because of the dual density EVA foam bed and excellent support featured in all their shoe styles. These short boots are no exception. Plus, they go well with everything from jeans to flowy dresses to smart trousers. This means I can wear them while shopping, standing over my cutting table, running from fitting to fitting, and into meetings with producer types. If a pair of boots was ever made for walking, it's these. 
Specifications:
Support: Neutral
Width: Medium
Materials: Leather, polyester
Weight: 16 ounces
Cushioning type: Dual density EVA foam bed
Closure: Slip on
Price: $185
What we like:
EVA foam bed
Stylish
Excellent support
What we don't like:
May be a bit warm in the summer
Dansko Brook (Black Burnished Nubuck) Women's Shoes
The plush cushioning of these shoes makes them exceptionally supportive and comfortable. You might even feel as if you're floating through your day. They fit snugly around the ankle and heel while offering ample room in the toe area. They're also impressively water-repellent with a grippy tread, so even getting caught out in the rain won't cramp your style. 
Specifications:
Support: Neutral
Width: Medium, Wide
Materials: Polyester, recycled materials
Weight: 10.1 ounces
Cushioning type: Plush; smooth and floaty
Closure: Laces
Price: $160
What we like:
Wide toe box
Plush cushioning
Water repellent
What we don't like:
Many colors are unavailable in wide sizes
Brooks Men's Glycerin 20 Running Shoes, Size 14, Black/Blue | Holiday Gift
With its dual foam midsole and contoured heel collar, the Lululemon Chargefeel 2 wraps around your feet like a second skin. You put them on and almost forget you're wearing anything at all on your feet. It's one of my favorite pairs of shoes for running errands in my neighborhood or spending hours on a layover.
Specifications:
Support: Neutral
Width: Standard
Materials: Synthetic
Weight: 9.1 ounces
Cushioning type: Dual density midsole
Closure: Laces
Price: $138
What we like:
Dual foam cushioning
Designed for a women's foot
Upper feels like a sock
What we don't like:
Chargefeel 2 Low Women's Workout Shoe
Best shoes for treadmill walking: Hoka Clifton 9
Hoka is a brand that comes up over and over when talking about comfortable walking shoes. The Clifton 9 features a compression-molded EVA midsole that absorbs shock while also providing enough cushion to give your step a little bounce. It earned two spots on our list because of its comfort, cushioning, lightness, and versatility—making it the shoe of choice for everything from treadmill walking and jogging to wandering around a new-to-you cobblestoned city.
Specifications:
Support: Neutral
Width: Regular/standard
Materials: Polyester, nylon
Weight: 7.3 ounces
Cushioning type: Balanced (symmetrical cushioning bed)
Closure: Laces
Price: $145
What we like:
Lightweight
Bouncy cushioning
Available in a variety of colors
What we don't like:
The Fuelcell midsole cushioning of New Balance's 990 V6 provides a propulsive feel that gives each step a little more oomph which, let's face it, many of us could use. The good thing is, these shoes are classically stylish enough to wear everyday. The iconic New Balance logo overlays "flow from heel to toe across the mesh underlay," which is designer lingo for "these shoes look as good as they feel." 
Specifications:
Support: All day
Width: Narrow, standard, wide, extra-wide
Materials: Mesh, pigskin suede, synthetics
Weight: 10.5 ounces
Cushioning type: Fuelcell midsole cushioning
Closure: Laces
Price: $199.99
What we like:
Comes in multiple widths
Durable
Stylish (if you're a sneaker person)
What we don't like: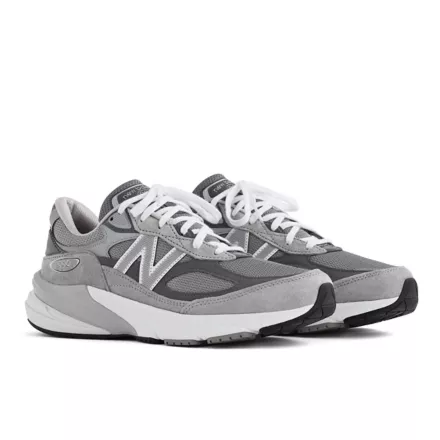 New Balance Men's FuelCell 990 V6 Sneaker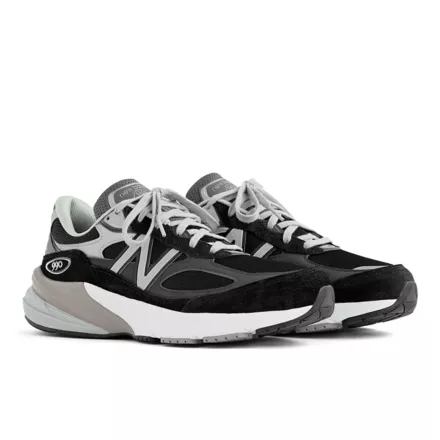 New Balance Women's FuelCell 990 V6 Sneaker
I've been wearing Nike shoes since the 1980s, back when I used to run 25-35 miles a week—and it was always in a pair of Nikes. These days, my knees have more of a say in how long and often I'm able to run, but they're still partial to Nikes when it comes to walking (or even hiking). The Pegasus model has been around for years and this latest version is just as cushiony and bouncy as its predecessors. They deliver a wonderful "off the ground" feel as you move through your day whether or not that involves running. 
Specifications:
Support: Flywire and midfoot band for total support
Width: Standard
Materials: Polyester, nylon, mesh
Weight: 8.3 ounces
Cushioning type: Zoom air provides an "off the ground" feel
Closure: Laces
Price: $135
What we like:
Great for narrower feet
Iconic Nike design
Good support
What we don't like:
Not as breathable as some others
With excellent cushioning and shock absorption, the Asics Gel Venture is a great choice for walking on pavement as well as gravel and woody trails (as long as they're not too rocky) at a very reasonable price point. The gel cushioning throughout the midsole provides support and easily absorbs bumps from uneven terrain, especially in the heel area. They also feature a breathable mesh upper, adequate wiggle room in the toe box, and an outsole with notable traction, even when the ground is wet. 
Specifications:
Support: Neutral
Width: Standard
Materials: Mesh upper, gel technology
Weight: 8.8 ounces
Cushioning Type: Amplifoam medium
Closure: Laces
Price: $80
What we like:
Excellent value
Lightweight
Good shock absorption
What we don't like:
Best walking shoes for plantar fasciitis: Hoka Bondi SR
The Bondi SR is the most cushioned shoe Hoka offers. Made from water-resistant leather with an EVA midsole and grippy rubber on the bottom, they're an ideal workplace and all-day shoe for everyone, especially those that suffer from plantar fasciitis—one of the reasons they have an American Podiatric Medical Association (APMA) Seal of Acceptance.
Specifications:
Support: Neutral
Width: Regular, wide
Materials: Leather, foam, rubber
Weight: 11.5 ounces
Cushioning type: Plush, highest level of cushioning
Closure: Laces
Price: $175
What we like:
Excellent cushioning
Great for professional use
What we don't like:
Not a big color selection
While it may be a bit surprising to see a pair of clogs (as opposed to sneakers) earn our "best walking and standing all day" label, the Dansko Professional clog is no ordinary pair. They're a popular shoe among medical professionals who spend hours a day on their feet, and you'll see why when you slip them on. They feature a protective heel counter that provides the lateral support you need while also allowing your heel to move freely vertically. Plus, they have a supportive, contoured footbed with a sturdy sole that supports your feet through days that require long periods of standing.
Specifications:
Support: Contoured PU midsole
Width: Narrow, medium, wide
Materials: Leather, rubber
Weight: 15 ounces
Cushioning type: Anti-fatigue rocker bottom
Closure: Slip on
Price: $135
What we like:
Classic style goes well with a variety of outfits
So many colors
What we don't like:
Dansko Women's Professional Clogs
Dansko Men's Professional Clogs
I've always been more of a boot person than a sneaker person when it comes to everyday footwear and exploring new places. With shock absorption soles, Blundstone boots are a perfect alternative to the sneaker scene. There's virtually no break-in period and, while they're obviously not as light as many of the sneaker options, they're not clunky or heavy either. I've worn mine during long days of museum hopping and neighborhood exploring all over Europe and my feet were always comfortable. And I looked rather stylish. 
Specifications:
Support: SPS Max Comfort system (excellent shock absorption)
Width: Medium
Materials: Leather
Weight: 960 grams, 33 ounces
Cushioning type: Midsole
Closure: Pull-on
Price: $219
What we like:
Great alternative to the sneaker
Good shock absorption
No significant break in period
What we don't like:
Can be warm during the summer
Women's Originals High Top Boots, Rustic Brown #1351
Men's Originals Suede Boots, Tobacco #1911
Best shoes for walking on concrete: Kuru Roam
Made from eco-friendly leather, the Kuru Roam offers a classic, understated shoe style with excellent cushioning, a dynamic flexing sole, and support to protect your joints. The Kurusole features a design with a cushy heel pad that hugs your heels and a built-in insole that delivers arch support. We like that they don't look like your typical athletic shoe. In fact, you'll likely get lots of compliments on your stylish and cute shoes when wearing them. 
Specifications:
Support: Ultimate insoles that adjust to shape of your feet
Width: D
Materials: Leather, canvas, rubber
Weight: 13 ounces
Cushioning type: Kurusole
Closure: Laces
Price: $135
What we like:
Stylish look—can easily dress them up
Excellent cushioning
Ample room in toe box
What we don't like:
Not as breathable as some others
Designed for maximum arch support, these shoes from Aetrex help to keep your joints properly aligned (something my chronic runner's knee appreciates). Aetrex shoes differ from other brands with their removable insole that positions the high point of its arch support farther back on the footbed nearer your ankle, which is more in line with how the bones of your foot are shaped.  
Specifications:
Support: Stabilizing arch support
Width: Standard, wide
Materials: Mesh, polyester, rubber
Weight: 12 ounces
Cushioning type: Lightweight Ultrasky cushioning
Closure: Laces
Price: $150
What we like:
Minimal, low-key look
Excellent arch support
APMA Seal
What we don't like:
May need time to break in and properly mold to your feet
Aetrex Women's Danika Arch Support Sneaker
Aetrex Men's Chase Arch Support Sneakers
The Fresh Foam X 1080s offer a nice, wide fit that allows your toes some wiggle room while helping prevent the formation of blisters and bunions with a snug fit around the ankle area. The upper is made from a breathable fabric that reduces moisture accumulation (which is also a plus when preventing blisters). There's also a plush foam midsole that provides excellent cushioning. Shopping tip: New Balance made our list of the best running shoe brands—and their Fresh Foam X 1080 model is one of their most popular shoes.
Specifications:
Support: Neutral
Width: Standard, wide
Materials: Polyester, rubber, recycled materials
Weight: 10.3 ounces
Cushioning type: Plush; fresh foam X midsole
Closure: Laces or unlaced
Price: $160
What we like:
Lightweight
Good for preventing blisters
What we don't like:
Not a lot of lateral support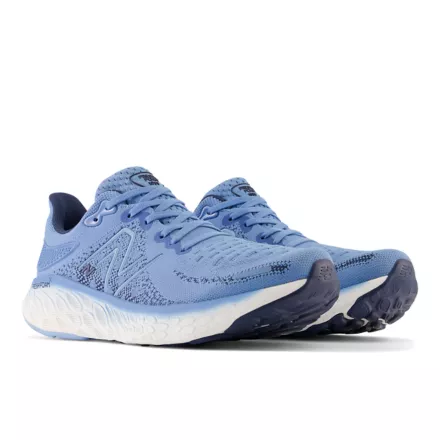 New Balance Fresh Foam X 1080
Featuring a midsole made with a lightweight, responsive foam (PWRRUN PB foam), these shoes from Saucony almost feel as if they're gently propelling you forward with each step—thanks to the propulsive nature of the foam. They also have an EVA frame that molds around your foot's unique shape. This helps your feet settle deeper into the shoe, making for a cradle-like cushioned fit. 
Specifications:
Support: Contoured frame "hugs" your feet
Width: Regular, wide
Materials: Polyester, nylon, recycled materials
Weight: 8.9 ounces
Cushioning type: Full-length core of ultralight PWRRUN PB cushioning
Closure: Adaptive lacing
Price: $160
What we like:
Lightweight
Great for overpronators
APMA seal of acceptance for foot health
What we don't like:
Cushioning is more firm than some others
How we chose the best walking shoes
To choose the best walking shoes we spent a good deal of time researching and reading reviews from experts as well as consumers. I'm also a pretty active person who lives in a major city so most things I do involves walking. My second career (aside from journalism) entails significant periods of standing and long days that often include a lot of walking. I've worn the majority of the shoe picks included here personally and found them comfortable and supportive for my complaining knees and occasional foot pain. 
Frequently asked questions (FAQs)
How many hours a day should you wear a walking shoe?
Walking shoes are designed for all-day comfort, so you can wear them as many hours a day as you want. If your job involves a lot of standing and moving from place to place (such as a doctor or nurse in a hospital), you'll probably find wearing your walking shoes for the duration the most comfortable option. 
Should walking shoes be heavy or light?
In general, walking shoes should be on the light side to help mitigate fatigue when wearing them for many hours at a time. Most of the shoes on this list weigh very little; the heaviest are the Danskos and the Blundstones.
Is it OK to wear running shoes for walking?
Absolutely. The best running shoes work just as well for walking. The only thing to look out for is using a pair of running shoes geared toward eliciting faster paces. (This is true whether you're shopping for running shoes for men or running shoes for women.) These shoes are often constructed with a more aggressive rocker shape on the sole which provides more propulsion than some people will find comfortable when just walking. You want to make sure that you're not altering your natural gait by wearing shoes with technology not suited to your needs.
How often do you need to replace your walking shoes?
Generally, the rule of thumb is to replace walking shoes every 400 to 500 miles or 6 to 8 months, whichever comes first. If you're walking over rough terrain or carrying heavy loads your shoes could wear out more quickly. Check your shoes regularly for wear and tear signs such as holes or a worn down sole or heel.
The information presented here is created independently from the TIME editorial staff. To learn more, see our About page.