Our evaluations and opinions are not influenced by our advertising relationships, but we may earn a commission from our partners' links. This content is created independently from TIME's editorial staff. Learn more.
Updated
September 7, 2023
While the term "tennis shoe" has become a catch-all for any athletic shoe, the sport requires footwear made specially for performance on the court. Long lunges, quick pivots, and back-and-forth movements all add to the footwork needed to play the game well, and without the proper support, injuries can occur. The best way to test any shoe is to seek out a professional to measure your foot, but here's a start to looking into buying tennis shoes for men.  
How to select the best tennis shoes for men
When it comes to selecting the best shoe for you, consider a combination of support, fit, and durability. For support, pay close attention to reinforced soles. "This helps keep you from rolling on lateral moves, such as stops and starts," says Mary Jean Lopez, retail manager at the Atlantic Club Tennis Center in Manasquan, New Jersey. 
Also, keep in mind the surface you most often play on. Different shoes are better for clay versus hard court and vice versa, she adds.  
As for fit, shoes that are too wide in the box or too large overall can cause blistering in the heels or jammed toes. If a shoe is too small, though, you might face bloody or bruised feet. Whenever possible, try on the shoes in person and be sure to simulate the on-court motions to avoid unwanted sliding.
For durability, keep in mind that the shoes are made for tennis and shouldn't be used for walking around the house or yard or running errands. "Use them only for tennis, let them air out, and have two pairs to rotate," says Lopez. "They'll last longer."
Our picks for the top tennis shoes for men
These durable options are great for the recreational tennis player looking for a cost-effective shoe that doesn't compromise performance.
Specifications:
Price on publish: $80
Support: Specialty support unit and wrap-up outsole improve stability, great for side-to-side movements; Asics signature gel technology for cushioning and shock absorption
Sizes: 6-14 
Weight: 11.9 oz
Colors: Various options in white, gray, black, blue and combinations
Pros:
Cons:
Some customers report a stiff fit
LImited colors 
Best budget tennis shoe for men
Customers and industry pros alike call the NikeCourt Air Zoom Vapor models a go-to for overall performance, support, and comfort. The Cage 4 version offers a low-to-the-ground design and the springy cushioning with specialty lacing that hugs to your foot while you move. 
Specifications:
Price on publish: $105.97-$150
Support: Zoom Air technology adds a bounciness to each step; signature lacing for stability; covered eyestays for added durability while sliding.
Sizes: 6-15
Weight: 15.48 ounces
Colors: Five multi-tone options with white, gray, or black
Pros:
6 month sole guarantee
Durable 
Cons:
On the heavier side
Pricier than others 
Limited colors 
Best tennis shoes for comfort
Nike Men's Court Zoom Vapor Cage 4 Rafa Men's Hard Court Tennis Shoes in Brown, Size: 11 | DD1579-104
Best tennis shoes for older players: New Balance 1006
Hard courts and fast footwork are hard on the body, and  older players need even more comfort and stability to protect them from injuries. New Balance brings extra cushioning with this model, but with a breathable mesh upper, it still feels light and springy. Also available for players with wide feet.
Specifications:
Price on publish: $99.99 on sale 
Support: Signature Revlite foam weighs less than standard foams but still delivers ample padding and stability for more mature players with foot or knee issues
Sizes: 7-15
Weight: 13.9 ounces
Colors: White/black, black/silver, pigment/UV blue
Pros:
Good cushioning
Comes in wide widths
Cons:
Cushioning can wear out quickly if you play regularly 
Best tennis shoes for older players
New Balance MC1006v1 (Black/White) Men's Tennis Shoes
Asics teamed up with Hugo Boss for the player who's looking for a solid performance shoe, but with an added level of flair.  
Specifications:
Price on publish: $160
Support: Created with stability and cushioning in mind, specialty technology in the midsole adds stability during lateral motion, and signature Dynawrap technology gives it a snug feel for quick movements
Sizes: 6-15
Weight: 14.8 ounces
Colors: Camel/black
Pros:
Stability
Adds personality to your game
Cons: 
Limited colors
Pricier than most 
Best designer men's tennis shoes
Asics Gel Resolution 9 x Hugo Boss
Offering both wide and extra-wide sizes, New Balance blends durable materials with lightweight synthetics and mesh for a combination of support and breathability. The herringbone pattern outsole is designed for multicourt play and prevents marking.
Specifications:
Price on publish: $119
Support: Signature foam cushioning in the midsole and signature rubber outsole technology adds durability for areas of high wear
Sizes: 7-14 
Weight: 15 ounces
Colors: White or black
Pros:
Good option for wide and extra-wide feet
Cons:
On the heavier side
On the pricier side
Limited colors
Best tennis shoes for wide feet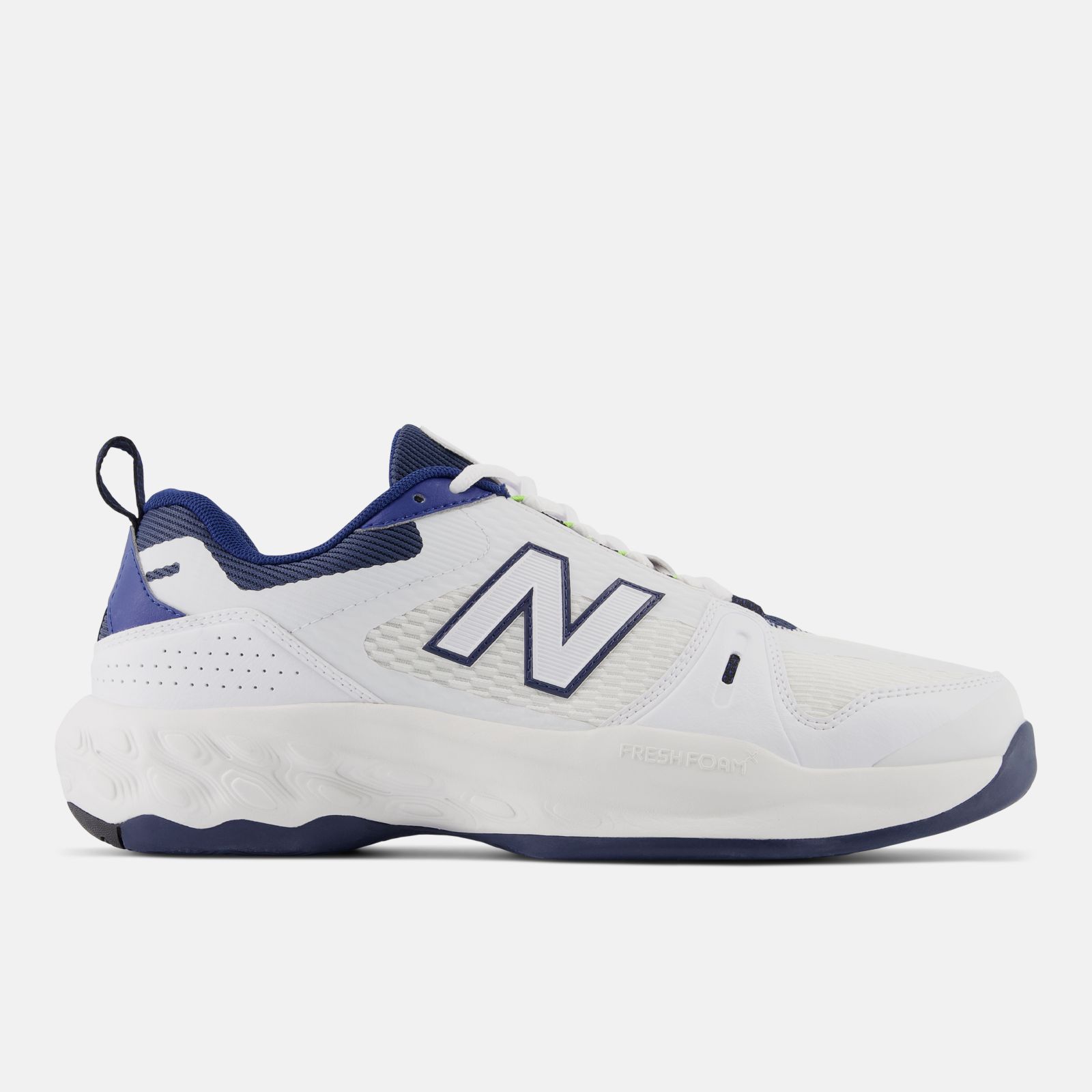 New Balance Fresh Foam X 1007
Best time-tested tennis shoes: Prince T22
One of the more popular tennis shoes on the market for over a decade, the T22 blends practical stability with comfort. Mesh panels are great for breathability, and some customers note a weightier feel than other styles. 
Specifications:
Price on publish: $59-$99
Support: Midsole shock-absorbing heel; herringbone tread gives durable traction, Thermoplastic polyurethane shank keeps foot stable during lateral movements. 
Sizes: 6.5 - 15 
Weight: 16.7 ounces
Colors: Black, white, green 
Pros:
Low price
Comes in wide and extra-wide
Cons:
On the heavier side
Limited colors 
Best time-tested tennis shoes
Prince T22 Men's Navy/Grey 9.0
Blending comfort and support with breathable mesh, with a generous toe box, they're also a solid choice for wide feet. 
Specifications:
Price on publish: $99
Support: Signature support frame provides stability for control during pivots movements
Sizes: 7-14
Weight: 12.3 ounces average
Colors: 8 colors, including vibrant lapis blue 
Pros: 
Color options
Lightweight
Good price
Cons: 
Soles can wear through quickly if you play regularly 
Best tennis shoes under $100
Wilson Rush Pro Ace Men's Tennis Shoe
This lightweight, airy shoe is made for play on all courts. High-density rubber in a herringbone tread makes for high durability and performance, while a heat-welded, seamless construction method bonds layers of Thermoplastic polyurethane onto tech mesh to add support and keep your feet cool. 
Specifications:
Price on publish: $109.95
Support: Padded interior ankle collar coupled with a molded Ortholite sock liner offer stability and comfort
Sizes: 6.5-15
Weight: Average 13 ounces
Colors: Gray/white, black/white
Pros:
Cons:
Best tennis shoes for breathability
K-Swiss Hypercourt Express
Best tennis shoes for cushioning: Asics Court FF 3
The Court FF 3's a popular pick for stability. A signature outsole grip support system means pushing off with more force and getting into position faster. The only downside is the hefty price tag. 
Specifications:
Price on publish: $170
Support: Asics signature interior foam technology provides lightweight cushioning and solid impact absorption; a mono sock on the tongue helps support ankles
Sizes: 6-15
Weight: Average 15.3 ounces
Colors: Five two-tone options available (white, black, red, blue)
Pros:
High stability
Good cushioning  
Cons: 
Best tennis shoes for cushioning
Frequently asked questions (FAQs)
What is the top brand of tennis shoe?
Tennis industry experts tend to point to some of the same time-honored brands, including Asics and K-Swiss.
Can I use running shoes for tennis?
While you can use running shoes for a casual pick-up game once in a while, if you hit the court regularly, you should use sneakers designed for tennis. This is because tennis shoes have flatter soles with more grip, features that help improve safety when it comes to a sport where you are starting and stopping suddenly on a hard court surface. 
What is the difference between tennis and running sneakers?
Mainly, it's all in the soles. Running sneakers are designed with soles that prioritize cushioning and help stabilize your foot when encountering terrain that may be uneven. Tennis sneakers have flatter soles with materials/design features that add "grip" on hard court surfaces, which adds stability when starting and stopping. Running sneakers also tend to be heavier than tennis sneakers. 
Is it OK to wear tennis shoes for walking?
If you're walking to/from the car to your favorite tennis court, or had to run an errand before you could change out of your tennis sneakers, yes. But overall, non-uniform surfaces tend to wear down the soles of your tennis sneakers faster so you should not wear them when you're not playing tennis. 
Should you buy tennis shoes a half size bigger?
Some tennis shoe brands run slightly small or even large, so it depends on your foot and the particular shoe you're interested in. You want to be sure you have enough room in the toe box to prevent injury or pain, but you don't want too much room where you could find yourself sliding or developing blisters. It's always ideal to seek out a trusted professional and have your foot measured for the right fit. 
How often do you need to change tennis shoes?
How often you need to change tennis shoes depends on wear. If you play tennis daily, you may need to change them in as few as 6 months. If you play once a week, changing them annually is probably OK. Pro tip: Conserve your shoes by purchasing two pairs and alternating use to prolong their durability. If you start noticing that you're sliding a little more, or start to feel strain in your shins or ankles, that also could be a sign that it's time for a new pair.
The information presented here is created independently from the TIME editorial staff. To learn more, see our About page.