Our evaluations and opinions are not influenced by our advertising relationships, but we may earn a commission from our partners' links. This content is created independently from TIME's editorial staff. Learn more.
If you've ever sat down to play a game for a few hours, only to feel a nasty crick in your neck and stone-stiff shoulders, it's definitely time to consider buying a dedicated gaming chair for the lasting comfort and ongoing health benefits that come with owning one. Although the gaming chairs that topped our list can be particularly expensive, an ergonomic design that aligns your spine while supporting your body will pay for itself, especially for anyone who spends most of their day sitting down. With that said, we completely understand that gaming isn't a cheap hobby, so we found the nicest budget-friendly chairs available as well.
Not only will a great gaming chair keep your body relaxed and ache-free long after you've powered down your Xbox, these special chairs are an excellent choice for students and movie buffs, and are easily the best chairs money can buy for your home office. With so many cool styles and impressive features available, it can be daunting to select the best gaming chair for your body type and gaming needs, but we've researched, tested, and compared countless options to identify the best options you can buy online.
What to consider when buying a gaming chair
There are a few important things to think about before you buy a gaming chair to ensure that it suits your body type, gaming preferences, and budget, among other factors:
Your body type
Everyone is built differently, and your new gaming chair should reflect that. Taller and heavier gamers should look for models with a higher back to comfortably accommodate their head and neck, as well as a larger maximum weight limit. Other physical features to consider for maximum comfort include a mesh-backed chair for maximum airflow, an array of adjustable options to match your coziest positions, and an ergonomic design to cradle your spine, neck, and shoulders while you play.
Design and style
Gaming chairs are available in a staggering array of design types and eye-catching styles, ranging from plush and cozy leatherbound models to streamlined, ergonomically designed chairs to keep your spine perfectly aligned. Some may prefer a classic wheeled desk chair, while others may appreciate an overstuffed beanbag-like chair to sink into.
In addition, gaming chairs are offered in a dazzling collection of colors, styles, and fun limited edition models that incorporate elements from things such as fan-favorite video game characters and race car manufacturers into their designs. When you find a gaming chair that suits your body type and preferred list of features, double-check to see if it's offered in a few alternate color schemes before you buy.
Features
Although some may be satisfied with a bare-bones gaming chair as long as it's comfortable, it's worth comparing and contrasting features if you're considering multiple options. Some features that greatly enhance the overall value of a gaming chair include the ability to recline, adjustable armrests, a supportive and cushioned headrest, and lumbar support.
Price
The cost of a great gaming chair varies wildly, from as low as under $150, to well over $1,000. If you need a simple, yet comfortable gaming chair and tend to not play for too long when you do sit down, there are many solid picks in the $200 and under range. However, if you need a gaming chair to prevent back pain while keeping your body in an ergonomic sitting position for hours on end, spending $500 or more is a worthy investment in your ongoing health and comfort while you play, study, or work at your desk.
Warranty
If you're investing in a high-end gaming chair, be sure to note how long its warranty lasts and what it covers, for peace of mind before you buy. For example, the Razer Iskur includes a rock-solid three-year warranty that covers defective parts and components.
Our top picks for the best gaming chairs
Although some gaming chairs are as impressive as they are expensive, you don't need to break the bank to get a nice chair. At just $160, the X Rocker Chimera features many innovative design choices that are rarely found in other models, such as the ability to fold up for easy storage, bright, customizable RGB lighting, and a set of headrest-mounted speakers for in-chair surround sound.
The comfortable Chimera is also more versatile than you may expect, as it doubles as both a rocker and a recliner, with a wide range of motion. We were also impressed at how loud and crisp its on-chair speakers are, and how easily its 3.5mm Aux cable port works with Nintendo Switch, Xbox, and PlayStation consoles. RGB lighting is as popular as ever, and with 30 dazzling combinations to mix and match, it's fun to swap out its colors to suit your mood.
While taller gamers may not appreciate sitting so close to the floor, this flexible and affordable option is worth the price of admission, especially for kids and teens.
Price on publish: $160
What we like:
Integrated speaker connects with most gaming consoles
Vibrant custom RGB lighting system
Comfortable rocker/recliner combination
What we didn't like:
Not everyone wants to sit this low to the ground
X Rocker Chimera RGB LED Floor Rocker Gaming Chair for Kids, Youth Aged 5-9, Built in Audio System, Foldable, 5110101, 29.1 x 16.5 x 26.7", Black
Designed to comfortably seat gamers weighing up to 395 pounds and standing 6 feet, 8 inches tall, the Kaiser 3 XL edition is easily the most accommodating gaming chair for big and tall video game fans. Its lumbar support is easily adjusted to suit the height, angle, and firmness level for gamers of all sizes, making it a top pick for extra-tall players who have a difficult time finding a chair that supports their spine in all the right places.
In addition, the Kaiser 3 XL's solid steel frame was designed for maximum stability and durability, making it a top pick for anyone looking for a gaming chair to last for years to come. Some other key features we appreciated include its flexible 4D armrests, and how simple it is to move them in all directions to comfortably fit every body type; its wide, 165-degree reclining option for those times when you want to kick back; the plush, reinforced, molded foam seat; and a collection of slick color options to choose from.
Price on publish: $500
What we like:
XL edition is optimized for gamers up to 6 feet, 8 inches tall
Highly customizable back rest, arms, height, etc.
Available in many color options
What we didn't like:
The Kaiser 3 may be too firm for some gamers
Best gaming chair for tall or heavy gamers
AndaSeat Kaiser 3 Series Premium Gaming Chair XL - Creamy Pink Premium PVC Leather
Some may be surprised to learn that several of the all-around best gaming chair manufacturers specialize in office chairs, and Herman Miller's Sayl is a prime example, especially for gamers suffering from back pain. At just over $1,000, we're the first to admit that the Sayl is a seriously expensive gaming chair, but its innovative webbed backrest molds to the natural curvature of your spine while naturally bending to prop you up, as well as providing support exactly where your body needs it the most.
In addition to its futuristic, elastomer webbed back-supporting design, the Sayl's wide reclining angle practically allows users to lay back on it. It also sports a plush molded seat, and its tilt, angle, and armrests are all a snap to adjust to match your most natural posture so you'll comfortably sit through extra-long gaming sessions. The Sayl is also extremely durable, crafted with over 90% recyclable materials, and is offered in a number of bold color options.
Price on publish: $1,020
What we like:
Mesh backing supports the spine's natural shape
Wide variety of adjustability options
Available in six vibrant hues
What we didn't like:
Especially expensive model
Best gaming chair for back pain
The high-priced Humanscale Freedom Task Chair looks like "just another office chair" at a glance—that is, until you sit in this deceptively comfortable model. Unlike most office chairs, the Freeform's weight-based reclining mechanism automatically moves, twists, and supports your body as you adjust your posture. That unique design also applies to its armrests, which pivot alongside your natural movements for constant arm and shoulder support. (Fun fact: The Humanscale Freedom Task Chair also made our list of the best ergonomic office chairs.)
Its coziness-focused design doesn't stop at its flexibility, as the Freedom's seat, backrest, and armrests are all covered in a generous layer of supple foam for additional support. Yes, the Freeform may have been designed for the workplace, but its core design goal was to produce a chair that will keep its user reliably comfortable for hours, and since its spine-cradling design moves alongside your every gesture, it's easily the most comfortable gaming chair on the market. 
In addition to being the most relaxing gaming chair money can buy, the Humanscale Freedom includes an impressive 15-year warranty, was created in an environmentally-friendly manner, and each chair sports a huge range of customization options, so your premium chair is sure to match your entertainment room's unique aesthetics.
Price on publish: $1,377
What we like:
Automatically reclines as your body moves
Cradles your spine in any position for maximum comfort
Massive collection of customizable options
What we didn't like:
Best gaming chair for comfort
Humanscale Freedom Task Chair with Headrest | Graphite Frame, Corde 4 Black Fabric Seat | Height-Adjustable Duron Arms | Standard Foam Seat, Hard Casters, and 5" Cylinder
Best budget-friendly big and tall gaming chair: Chill Sack 
If you need an accommodating gaming chair but you aren't able to spend several hundred dollars, the versatile Chill Sack is the best bet for larger, thrifty gamers. Available in sizes up to eight feet wide, and stuffed with form-supporting shredded memory foam, the Chill Sack is a top pick for anyone who needs a supportive seat that won't squish or deform after sitting on it.
No matter which of the many color, fabric, and size options you choose to customize your Chill Sack, these unconventional gaming chairs feature a three-year warranty, a removable, machine washable cover, an ultra-soft but durable exterior, and are a dependable, yet thrifty option for gamers of all sizes to comfortably play for as long as they want.
Price on publish: $165
What we like:
Available in many sizes to suit all body types
Plush and cozy memory foam
Rugged and offered in a rainbow of colors 
What we didn't like:
Best-suited for spacious rooms, as the Chill Sack is a wide gaming chair
Can be difficult to get in and out of 
Best budget-friendly big and tall gaming chair
Chill Sack Bean Bag Chair: Giant 5' Memory Foam Furniture Bean Bag - Big Sofa with Soft Micro Fiber Cover - Lemon
While many gaming chairs have a reclining feature, the Corsair TC200 stands apart from the pack due to its unmatched reclining range of 180 degrees. This extra-wide reclining range allows users to sit at any angle they want, or even lay flat on their back in a bed-like position if you need an extended break. The comfort doesn't stop there, as it also features highly adjustable armrests and ergonomic lumbar support, to keep your spine aligned no matter how far back you recline.
In addition to its impressive reclining range, this relatively affordable and easy to assemble gaming chair sports a dependably rugged and stable steel frame, an adjustable pillow for additional neck and shoulder support, and your choice of a plush fabric or a breathable leatherette material to keep you cool while you play.
Price on publish: $400
What we like:
Reclines up to 180-degrees to lay flat
Highly adjustable
Supportive, ergonomic design
What we didn't like:
Best reclining gaming chair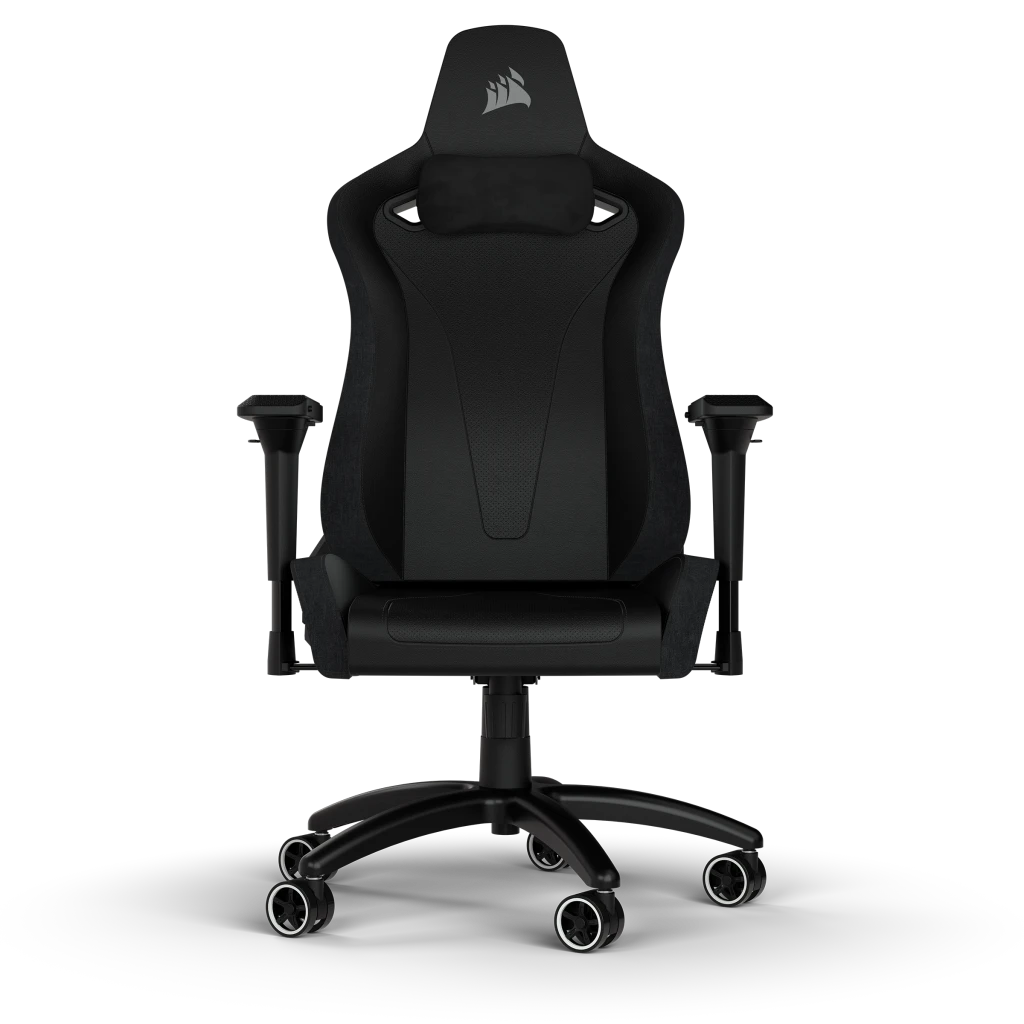 TC200 Gaming Chair – Plush Leatherette – Black/Black
Some are content to sit in a gaming chair that feels "good enough." The highly rated Razer Iskur's fine features and array of customizability options, though, come together for a genuinely luxurious seat. While many high-end chairs include lumbar support, the Iskur gives its user full control over its curvature to ensure that your spine is supported, and you're as comfortable as humanly possible. In addition, the Iskur includes a wide reclining angle, highly adjustable armrests, and soft, yet supportive foam cushioning along its seat and back that cradle your body.
The Iskur sports a sleek design, reinforced steel frame, and a magnetic memory foam neck pillow for extra support. Anyone on the hunt for a gaming chair that effortlessly adapts to your natural body positions to sidestep the aches and pains that come with marathon gaming should consider the Razr Iskur as a posture-preserving investment.  
Price on publish: $599.99
What we like:
Highly adjustable lumbar support, arm rests, backrest, etc.
Soft and supportive cushioning
Comfortably promotes a healthy posture
What we didn't like:
At $600, it's on the expensive side
The vast majority of gaming chairs are designed to be parked in front of your desk or TV, but we found a particularly versatile seat that works just as well at the beach, poolside, or patio, and the best part is that it's under $200. The Aero chair is available in regular and XL sizes, and while it's inflatable, it's not even close to the cheap blow-up novelty you may be imagining: Its rugged PVC exterior shrugs off bumps, kicks, and controllers hurled by recently-vanquished friends.
If you don't mind sitting close to the ground, this featherweight, multipurpose chair is easy to bring to your next outdoor event, hose down, and bring back inside for gaming again. Some other perks of this unconventional chair include the ability to deflate and store it practically anywhere; its well-cushioned and comfortable feel; and its optional magnetic cupholder attachment. Between its durability, multipurpose design, and budget-friendly price, the Inflatable Aero Chair is hands-down the most value-packed gaming chair out there.
Price on publish: $169
What we like:
Lightweight and easy to deflate for storage
The most comfortable recliner in this price range
Available in XL edition for taller and heavier gamers
What we didn't like:
Air pump and cup holder sold separately
Bote Inflatable Aero Chair
Some may appreciate the plush feel of memory foam, but if you play in a warmer climate, it's best to go with a breathable mesh gaming chair to keep you cool, like the X-Chair X-Basic. Its flexible mesh backrest and integrated automatic lumbar support feel airy and comfortable, and while there's a huge variety of accessories and add-ons to choose from, its Elemax unit is worth the upcharge due to its integrated cooling fan, two massage modes, and a heating option to soothe sore backs.
We were particularly impressed with the X-Basic's tough and breathable flex mesh fabric, and how its lumbar feature moves alongside your body for maximum support. Although stocking up on extras will add up quickly, fully customizing your personal mesh-backed gaming chair to your exact specifications will feel anything but "basic." For an even more in-depth look at this chair, check out our X-Chair X-Basic DVL Task Chair review.
Price on publish: $559
What we like:
Breathable and flexible design
Many customization options available
Excellent lumbar support
What we didn't like:
Additional customizations will add up quickly for a pricier gaming chair
X-Chair X-Basic DVL Task Chair
Herman Miller teamed up with Logitech and 30 physicians to develop the ultimate ergonomic chair, designed to address the needs of gamers. Tey succeeded with flying colors: For starters, the Embody gaming chair utilizes an advanced backrest that automatically molds to match your position and the curvature of your spine, to provide the most natural and comfortable seating position possible. Its many other ergonomic features come together to promote healthy blood flow, evenly distribute pressure on your body, and provide a consistently cozy place to sit and play for a long time.
Some of the Embody's other key features include a copper-infused foam seat that actively wicks away heat from your body, an array of adjustability features (armrests, height, tilt, etc.), and an incredible 12-year warranty. If you have deep pockets, absolutely need to feel your best after sitting for a few hours, and gaming is your passion, an Embody gaming chair is worth every penny.
Price on publish: $1,695.00
What we like:
Premium ergonomic design promotes healthy blood flow and posture
Plush cushioning
Highly adjustable design
What we didn't like:
Best ergonomic gaming chair
With its extra-tall back, plethora of stylish color options, and professional-grade four-way lumbar support, Secretlab's TITAN Evo looks and feels like a throne worthy of a pro esports player. Available in three sizes (small, regular, and extra-large) to easily fit gamers of all heights and weights, the TITAN Evo was designed for buyers to customize everything, from the position of its magnetic memory foam pillow and 4D armrests, to your choice of many themed chairs designed after pop culture icons, such as the villainous Stormtroopers from Star Wars, to representing the heroic Scout Regimen of Attack on Titan, and everything in between.
Incorporating your favorite films, games, or anime into your gaming chair's breathable fabric cover is cool, but its wide and supportive seat, swappable magnetic armrest covers, wide reclining angle, and ultra-durable construction prove its premium feel isn't just skin deep.
Price on publish: $549
What we like:
Huge array of fabric, size, and style options
Premier back support
Built to last
What we didn't like:
Not particularly breathable, so it's best for cooler climates
Best customizable gaming chair
Best gaming chair under $200: Big Joe Lotus
At just under $100, the huge, teardrop-shaped Big Joe Lotus chair is the top choice for gamers on a budget. Each of these sizable seats are filled with shredded memory foam, which gives it more cushioned support than you may expect at this low price point. Sure, it lacks the enhanced ergonomic lumbar support built into pricier gaming chairs, but if you need a plush, colorful, and lightweight chair that's a breeze to set up and wash as needed, these dependably cozy, foam-filled chairs are a steal.
Price on publish: $99
What we like:
Reliably soft, yet supportive
Available in multiple colors
Especially affordable
What we didn't like:
Its big and wide design may be too much for small spaces
Can be difficult to get in/out of
Best gaming chair under $200
Big Joe Lotus Foam Filled Teardrop Bean Bag Chair with Removable Cover, Teal Plush, Soft Polyester, 4 feet Big
How we selected the best gaming chairs
We considered a wide range of factors to find the best gaming chairs available today, including extensive research, testing out multiple models, and our lengthy experience with gaming accessories. An ergonomic design, various adjustability features (seat height, recline, arm rest height, etc.), overall comfort, multiple style options to choose from, and price are some of the most noteworthy factors we noted while comparing the gigantic collection of gaming chairs on the market to identify the best options you can buy today.
Frequently asked questions (FAQs)
Do you play better with a gaming chair?
Although it's still up to you to claim the high score and beat the final boss, there are certainly noticeable benefits that come with playing from a quality gaming chair. These include the ergonomic back, shoulder, and neck support to keep you from feeling stiff from sitting for hours at a time and an extra-plush design and many adjustable settings for a more comfortable sitting experience. In addition, a cozy chair that cradles your body and supports your pressure points may help you to become more immersed in your game, allowing you to focus more closely on in-game threats instead of sore or stiff muscles from marathon gaming sessions.
Are normal chairs better than gaming chairs?
Your average chair is not better or worse than a gaming chair, they're just designed for a different purposeIf you feel uncomfortable after gaming for a few hours in a normal chair, it may be because it lacked the enhanced lumbar support, adjustable armrests, back, and height, and ability to recline that are all commonly found in gaming chairs. Gaming chairs are designed to make you feel comfortable after multiple hours in the seated position, which makes them not only an excellent option for PC or console gaming, but for movie fans, students who study frequently, and home offices.
How much should I spend on a gaming chair?
The price of gaming chairs ranges from as little as under $150 to well over $1,000, so the answer depends on how often you play videogames, and for how long you usually play per sessionIf you tend to play for a relatively short time, or pick up the controller once a week or so, you may not want or need to invest hundreds of dollars into a high-end gaming chair.
However, if you play frequently and enjoy marathon gaming sessions, a pricier model is absolutely worth it for the enhanced ergonomic support you will need, as well as the many adjustability options and overall comfort that come with a nicer gaming chair. 
Are gaming chairs good for long hours of gameplay?
Absolutely! A good gaming chair will keep your spine aligned, support your head and neck, and will be ergonomically designed to keep your body comfortable for extra-long gaming sessions, so you can concentrate on defeating enemies instead of worrying about neck strain and back pain. The average chair simply doesn't feature the lumbar support and range of adjustable positions necessary to sit comfortably for hours on end, and while a solid gaming chair may seem pricey, it's worth the cost to prevent lingering neck, back, and shoulder pain while getting the most from your hobby.
The information presented here is created independently from the TIME editorial staff. To learn more, see our About page.