Our evaluations and opinions are not influenced by our advertising relationships, but we may earn a commission from our partners' links. This content is created independently from TIME's editorial staff. Learn more.
Updated
September 19, 2023
Shapewear has a long history. In the 1300s, it's believed people wore leather belts to cinch in their waists. Corsets came later, made from stiff paste, metal, then linen and whale bones. The desire to smooth out lumps and bumps while adding contour to our silhouettes has existed for—almost as long as we've been getting dressed.
Shapewear today is less constrictive and painful than the shapewear of yore and is now available in breathable, soft fabrics that feel more like a hug than a vice grip. (It's the more practical cousin of lingerie and the more productive cousin of underwear.) If you're in the market for some shapewear for yourself, here are some things to consider. 
Our top picks for the best shapewear for women
Spanx continues to be a leader in women's shapewear offering a wide range of undergarments in varying weights. The brand's Thinstincts collection is made from a lightweight, single-layer fabric that's both breathable and supportive. The high-waisted shorts extend up to under the bust for a smooth, comfortable fit, with no panty lines anywhere, and tummy control
Specifications:
Sizes: XS–3X
Colors: Café au lait, black, champagne beige, chestnut brown
Material: Lycra
Pros: 
Ultra-thin fabric
Minimal seams
No visible panty lines
Cons: 
Difficult to remove for bathroom needs
Best tummy control shapewear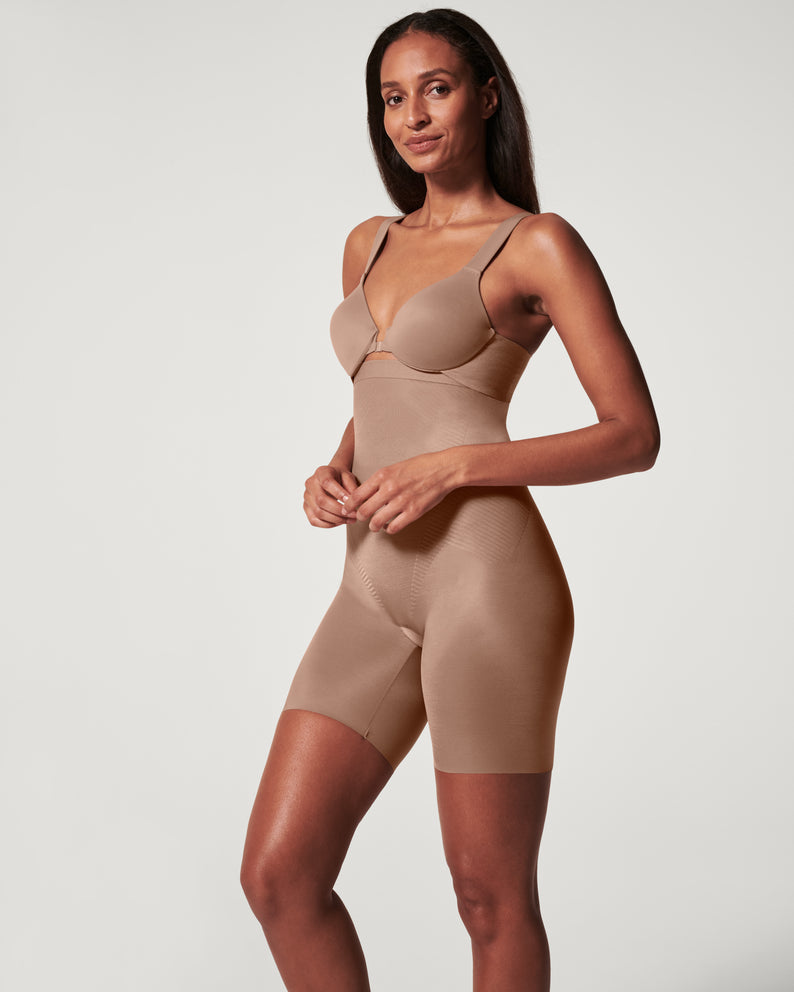 Spanx 2.0 High Waisted Thinstincts Shorts
The Maidenform Cami features a two-ply panel at the stomach area as well as back control for a smooth, sleek shape. The fabric has wicking technology to keep moisture away from your skin. And, it's stylish enough to wear on its own. This is not just another white tank.
Specifications:
Sizes: S–2XL
Colors: Black, latte, white
Material: Nylon and elastane
Pros: 
Enough support that you may not need a bra
Good range of sizes
Cons: 
Not as many color choices as some others
Limited color choices
Maidenform Comfort Devotion Shapewear Tank Top White L Women's
This compression camisole from Shapermint takes care of the dreaded muffin top while also providing compression in the tummy area and support in the bust. It's made from an opaque, supportive fabric that doesn't roll and it comes in a range of fun colors, and can be worn with or without a bra. While shapewear in general may not be as comfortable as your favorite pair of pajamas, reviewers have praised the lightweight fabric for all-day wear. Tip: Choose beige for an option that won't show through under white t-shirts and other light-colored tops.
Specifications:
Sizes: S–4XL
Colors: Black, beige, white, chocolate, pink, green, red, lilac
Material: Nylon, spandex
Pros: 
Holds up well to washings
Stays in place
Comfortable for all-day wear
Good range of sizes
Cons: 
Shapermint Essentials All Day Every Day Scoop Neck Cami
This bodysuit has everything: A scoop neck, low back, adjustable straps, snap closure in the crotch, strong compression in the tummy area, and butt lifting and enhancing features. As one reviewer commented, "it does look totally snatched." Which, if you're not familiar, is something you do want.
Specifications:
Sizes: XXS–4XL
Colors: 10—wide range in variety of skin tones
Material: nylon, elastine
Pros: 
Extremely inclusive size and color range
Cut of the bodysuit makes it work with a wide variety of outfits
Cons: 
Brief rides up occasionally
Options can sell out quickly
Skims Sculpting Bodysuit
This open bust shaper bodysuit from Lane Bryant contours your curves from midsection to thigh. It's seamless in the thigh area with a split gusset design. It's also lightweight and comfortable, though, if you have thinner thighs, the fit can be tricky.
Specifications:
Sizes: 14/16–34/36
Colors: Café, black
Material: nylon, spandex
Pros: 
Supportive
Good plus-size size range
Cons: 
Can be difficult to get on
Limited colors
Lane Bryant Level 3 Contouring Open-Bust Thigh Shaper 26/28 Cafe
The most powerful sculpting Spanx makes, we love this short for underneath any kind of dress. Pull them all the way up and under your bust, then put your bra on over for a smooth, sexy, curvy shape. It features booty-enhancing pockets, so you don't end up with a uni-butt, as well as a bonded tummy panel for a flat stomach. 
Specifications:
Sizes: XS–3X
Colors: Black, soft nude, cafe au lait, chestnut brown, naked 3.0 
Material: Nylon, elastane
Pros: 
Offers super compression for maximum shaping
Double crotch gusset for easier bathroom visits
Cons: 
Can be difficult to take off
Best shapewear for dresses
Spanx Women's OnCore High-Waisted Mid-Thigh Shorts
Maidenform Tame Your Tummy briefs provide control for your stomach, waist, and rear with its smooth, "Cool Comfort" moisture-wicking fabric. The bottom of the panty is made from lace for extra ventilation—great for warm summer days. The waistband stays in place without rolling or digging in.
Specifications:
Sizes: S–2XL
Colors: 15 options
Material: Polyester, spandex
Pros: 
Lots of colors
Lace on bottom offers a nice detail and ventilation
Cons: 
Lace portion doesn't really have any support
Seams can be visible through thinner fabrics
Some report that the briefs run small
Best shapewear for lower belly pooch
Maidenform Firm-Control Shaping Brief Navy Lace XL Women's
This high-waisted, tummy-control shaper brief features full butt shape stitching which tightens and lifts, giving you an hourglass shape. The midsection is equipped with four spiral steel bones for optimal control, while preventing the brief from rolling down, for a corset-like fit. 
Specifications:
Sizes: S–3XL
Colors: beige, black
Material: polyester, spandex
Pros: 
Breathable fabric
Maximum shaping
Affordable price
Cons: 
Not exactly the most comfortable option on the list
Can take longer to put on due to hook and eye closures
Closures and seams may be visible under thin or clingy fabrics
Have to take off the entire shaper to use the bathroom
Best butt-lifting shapewear
Nebility Women Butt Lifter Shapewear Hi-Waist Tummy Control Body Shaper Shorts Waist Trainer Panty (XL, Black Butt Shapewear)
The price may seem a bit high for these light-shaping leggings, but Wolford products do last much longer than other brands. Their tights, hose, and leggings for women are made from some of the strongest fibers available and rarely run, snag, or tear. I only wear Wolford when it comes to legwear and these leggings are a favorite that I go back to year after year. They have a wide panel at the waist that lightly shapes and contours and, like many Wolford products, they are circular knitted, which means minimal seams.
Specifications:
Sizes: XS-L
Colors: 8 options including red, black, and gray
Material: Polyamide, elastane
Price range: $159.00 - $265.00
Pros: 
Great color options 
Durable
Minimal seams
Can be worn as pants
Cons: 
Expensive
Not the widest range of sizes
Wolford Aurora Light Shape Leggings
For this shapewear bodysuit, Wacoal combined its Red Carpet bra and high-waist briefs to create a smoothing, supportive garment to wear under strapless, show-stopping garments. There's a hook-and-eye closure between the legs for convenience and a power mesh front lining for added support.
Specifications:
Sizes: 34B–40DDD
Colors: black, white
Material: nylon, spandex
Pros: 
Includes removable straps
Excellent support in bust
Cons: 
Fit can be difficult in the torso area, make sure to double-check size chart
On the expensive side
Best strapless shapewear bodysuit
Wacoal Red Carpet Strapless Shaping Bodysuit in Natural Nude at Nordstrom, Size 36G
These thong panties sit at the natural waist and feature an inner silicone underband to prevent rolling. Seamless with strong compression, these mid-waist thongs help to smooth and sculpt. That they're available in 10 shades to mimic any skin tone means everyone can find the best shade for them—even under white jeans
Specifications:
Sizes: XXS–4XL
Colors: 10 different colors for a wide range of skin tones
Material: Nylon, spandex
Pros: 
Wide size range
Many colors to choose from
Cons: 
Some reviewers report they roll down at the waist
Skims products tend to sell out quickly
Skims Seamless Sculpt Mid-Waist Thong
If you're in the market for butt-enhancing jeggings and leggings, wearing these Skims Shaper shorts will make any garment you own butt-enhancing. They feature firm compression in the thigh area and a ruched seam in the back. 
Specifications:
Sizes: XXS–4XL
Colors: Cocoa, onyx, sienna, clay
Material: Nylon, spandex
Pros: 
Excellent size range
Comfortable to wear
Cons: 
No compression in the tummy area
Skims products tend to sell out quickly
Best butt-shaping shapewear
Skims Butt-Enhancing Shaper Shorts
What to consider when buying shapewear
What do you plan to wear your shapewear under?
Shapewear comes in many styles and iterations. If you're looking for something to go under a specific dress, take that dress with you to try on options. If you're interested in more everyday type items that can be worn with a variety of garments, look for shapewear camisoles and briefs.
What areas of your body do you want to target?
Many shapewear options are designed to target a specific area of your body, such as your tummy or butt. There are options with mid-thigh length shorts that also contour the upper legs, as well as brief styles that focus on the midsection. 
How much compression are you comfortable with?
Most brands sell items with varying levels of compression from light to very firm. To figure out what's best for you, you'll need to try on your shapewear. Make sure to move around, sit down, and bend to ensure a proper fit.
How to choose the best shapewear for you
Remember that different outfits can require different shaping garments and it's important to try on your shapewear with the clothing that you intend to wear with it. You also want to consider how much compression you want. The stretchier the fabric, the more give it will have. If you're going for a sculpted, smooth look, choose something without a great deal of stretch. Lycra and nylon blends work well, as the Lycra provides the compression and the nylon gives the fabric a soft feel.
How we selected the best shapewear  
In addition to my work as a writer, my other career is working as a tailor and pattern maker for film, television, bridal, and fashion for the past 33 years. I have helped countless actresses, brides, and celebrities look and feel their best. In my decades on film sets and in dressing rooms, I've had actresses try on pretty much every shapewear garment there is and have received enough feedback on fit, comfort, and style to write a textbook—or two.
Frequently asked questions (FAQs)
How do I find the best shapewear fit?
To find the best shapewear fit, you're going to have to try on a range of options. You don't want your shapewear to be so tight it causes stomach issues or pain—there's a reason corsets fell out of fashion. Also, be aware of any places where rubbing or chafing may occur when trying things on. 
Should you size down or size up when buying shapewear?
You should buy your size when purchasing shapewear. Consult the sizing charts for different brands as, like most everything else in fashion, they can differ wildly from label to label. 
What does shapewear do?
Shapewear smooths out bumps and adds contour to the body. Many people use shapewear to hold in a tummy bulge. It also prevents rolling (if you've selected the correct size).
How do you keep shapewear from rolling down?
To prevent shapewear from rolling down, make sure to purchase the correct size. Also, ensure it has a silicone non-slip underband at the openings. This will grip your skin and help the shapewear stay in place.
The information presented here is created independently from the TIME editorial staff. To learn more, see our About page.