Our evaluations and opinions are not influenced by our advertising relationships, but we may earn a commission from our partners' links. This content is created independently from TIME's editorial staff. Learn more.
Few things are quite as hard as a long run on a hot, steamy day. And, yet, choosing the running shoes that fit your skill level, lifestyle and, of course, feet isn't exactly a walk in the park. "The sheer number of running shoes available can be mind-boggling, so to avoid feeling overwhelmed or confused, it can be best to narrow down your choices," notes Indiana-based running coach Amie Dworecki. 
The first way to do that: Focus your search on women's running shoes. Differences between men's running shoes and women's designs aren't just about aesthetics. "Shoe designers are learning that a woman's foot is not just a smaller version of a man's," explains Dworecki. "Women tend to have a more triangularly shaped foot, with a wider forefoot and a narrower heel, with weight more distributed toward the front of their body." Opting for a women's specific running shoe will prevent you from getting one that's too tight in the front and too loose in the back.
For those just starting out or considering a brand switch, a gait analysis is a smart move as well. Dworecki and other pros walked us through the process and other things to look for to find the best running shoe for you.
How to choose the best running shoes for women
Before pounding the pavement, Dworecki, head coach of Running With Life!, suggests hopping onboard a treadmill for a gait analysis that can help determine your degree of pronation, i.e., how your foot tends to roll when you walk or run. "Overpronation occurs when your foot rolls inward too much, whereas underpronation—or supination—occurs when your foot doesn't roll inward enough," she explains.
The test, performed at most running specialty stores, can also determine "whether you land on your heel, whether you're a midfoot striker or whether you're a forefoot striker," notes body performance injury expert and doctor of physical therapy Rami Hashish, Ph.D., "and also the anatomy of your foot—so flat-footed or high arches."
When you match the right shoe to your running style, it can help "balance the work your muscles and joints must do to stabilize your running stride with each step," notes Dworecki, "rather than having your body compensate mile after mile, which can over-fatigue smaller muscles."
The proof is in the purchase for SLT senior master instructor Rani Vance, who leads their SLT Tread classes. "I thought I wanted one brand of shoes," she says, "and after doing the gait analysis, I ended up with something totally different."
Other factors to consider before you hit the road:
Where do you run—and how often?
Just as with tennis shoes for women, what's underfoot matters when it comes to finding the right running shoes. Consider where you plan to run the most, stresses Dworecki. "Trail runners would want a sole with more lugs and grip to handle the terrain they would be running on—in contrast, a treadmill runner may instead wish to wear a comfortable, flat-surfaced shoe that would not wear down the treadmill belt," she adds.
How you run is also important. For instance, a casual runner, she notes, "who may be using the shoe for cross-training or even for social outings may need a less specific or technical shoe than a marathon runner, who would use them for hundreds of miles of long-distance running day after day." 
What level of cushioning do you like?
This one comes largely down to preference, which is why it's best to try on many different styles, brands, and even sizes, which can vary slightly from brand to brand. "Shoe cushioning is the thickness of the material under your foot, as well as the firmness of any foam," describes Dworecki. "Some runners feel more comfortable with 'cloud-like' construction underfoot and feel that shoes with more cushioning offer less impact on their joints with each step. Others don't enjoy the squishy feel of overly softened shoes and prefer less cushioning to feel the ground as they run."
What's your heel drop?
The difference in height between the shoe's heel and forefoot can be instrumental in creating a comfortable running experience. A low heel drop (a difference of 6 millimeters or less) "can be best for runners who land on the middle or front of their foot," says Dworecki. One that's 7 mm or higher "can be best for runners whose footstrike tends to be heel first or who have noticed issues with their Achilles tendon."
Our top picks for the best running shoes for women
Dworecki ran her first marathon in an early version of the brand's longest-running trainer, she says, and each new iteration the Air Zoom Pegasus shows why it's gone the distance. This adaption boasts a midsole comprised of lightweight, springy React foam, with pockets of air in the forefoot and heel meant to provide an increased bounce with each stride. The result, says Dworecki, is "a neutral shoe that is great for everyday road running." Shopping tip: Nike's Swoosh Medium Support Sports Bra made our list of the best sports bras, and their Victory Elite Road Tint Sunglasses made our list of the best women's sunglasses (they're specifically great for running, too!). 
Specifications:
Sizes: 5-12, with wide width
Weight: 9.4 ounces
Heel drop: 10 millimeters
What we like:
A durable workhouse for everyday use
Comfortable fit
What we don't like:
Some reviewers complained about the added weight
Nike Women's Pegasus 40 Road Running Shoes in White, Size: 7.5 | DV3854-100
The best stability running shoes for women: Saucony Tempus
With the brand's focus on stability, notes Hashish, founder of the National Biomechanics Institute, the Tempus is a smart pick for those seeking a little extra structure, or dealing with overuse injuries like plantar fasciitis or Achilles issues. Underfoot midsole contouring and a curved frame offer a nice foundation, while ultralight cushioning provides enough spring to give you max return on your energy output.
Specifications:
Sizes: 5-12, with wide width
Weight: 7.9 ounces
Heel drop: 8 millimeters
What we like:
Good combination of support and bounce
Ultralight cushioning allows you to maximize energy output
What we don't like:
A bit on the pricier side
Best stability running shoes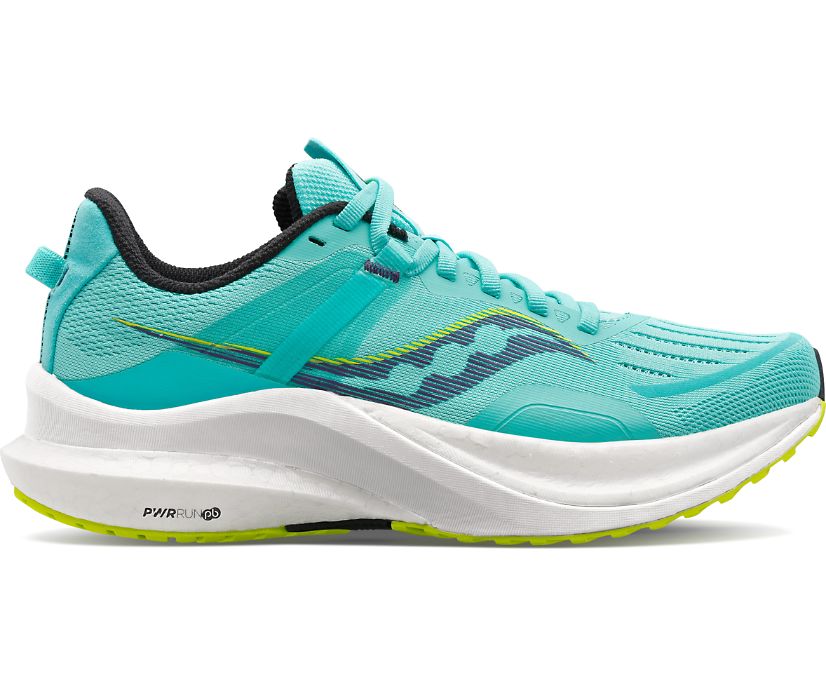 The best women's running shoes for support: Adidas Ultra Boost
Extra support on the inside of the outsole on these kicks help keep feet from rolling inward, which is why Hashish gives them high marks for their "decent cushioning and support." And if that's not enough to leave you feeling good, the shoe's upper is made with high-performance yarn crafted from reimagined plastic waste and recycled polyester. 
Specifications:
Sizes: 5-12
Weight: 9.1 ounces
Heel drop: 10 millimeters
What we like:
Offers great stability and extra support
Sustainably made
What we don't like:
High price point
A little heavier than other shoes
adidas Ultraboost Light Running Shoes Non Dyed 11 Womens
The "very lightweight and breathable" design of this cushioned trainer makes it Dworecki's go-to for marathon prep. A removable insole is designed to mold to your foot and absorb shock, while a cushioned midsole offers a high level of responsiveness. Dworecki also appreciates the "rocker-shaped bottom that enables a comfortable stride." They're also lightweight enough not to weigh down your travel tote, if you're inclined to expand your training horizons. 
Specifications:
Sizes: 5-11
Weight: 6.3 ounces
Heel drop: 4 millimeters
What we like:
Podiatrist-approved arch support
Rocker shape increases comfort
Lightweight, breathable design
What we don't like:
Some reviewers note that the toe box is narrow
Best for marathon running
If you're going to be heading over the river and through the woods, best to turn to this company "with a long history of making quality outdoor gear," suggests Dworecki. This unisex option is crafted with breathable construction and innovative lug geometry designed to handle mud, wet rocks, and other rugged terrain. And, notes Dworecki, they come with an ankle gaiter to help stabilize and keep debris out.
Specifications:
Sizes: 5-16
Weight: 8.1 ounces
Heel drop: 4 millimeters
What we like:
An outsole designed to provide grip in even the roughest terrain
Breathable construction
What we don't like:
Unisex sizing might not work for everyone
The best women's running shoes for sprinting: Saucony Ride 16
Breathable mesh in this pick—thought of as the brand's workhorse shoe—leaves it feeling light, while the PWRRUN foam midsole provides a firm base that makes it easier to push your pace. One reviewer noted that with a fair amount of padding, it's plush, but not heavy for that just right feeling.
Specifications:
Sizes: 5-12, with wide width
Weight: 7.8 ounces
Heel drop: 8 millimeters
What we like:
Cushioning in the foam midsole makes for a comfortable feel
Firmness allows runner to pick up the pace
What we don't like:
Some users noted it felt a little too firm
The best women's running shoe for flat feet: Hoka Arahi 6
These got the nod from both Dworecki and Vance, the latter of whom says she wears Hokas "religiously" for cross-training and general use, lacing up this set—with its breathable mesh upper and stabilizing frame—for runs. Boasting an impressive amount of cushioning for a 7.6-ounce shoe, "the Hoka Arahi 6 can be a good choice for a flat-footed runner," notes Dworecki. "It's lightweight and cushioned while also adding stability." While Hoka is one of the newer names in footwear on our list (they launched in 2009), their commitment to quality and design has earned them a spot on our round-up of the best running shoe brands. 
Specifications:
Sizes: 5-12, with wide width
Weight: 7.6 ounces
Heel drop: 5 millimeters
What we like:
Incredibly lightweight
Provides both stability and cushioned comfort
What we don't like:
One reviewer felt the shoes didn't provide the same bounce as other models
Dworecki recommends this brand "for women with wide feet, due to the added room in the toe box." The Provision 7 is also their highest-rated running shoe thanks to its ability to provide both cushioning, with its signature Altra EGO™ midsole foam, and support (the footpad technology in the outsole encourages natural movement) without feeling bulky.
Specifications:
Sizes: 5.5-12, with three different fits
Weight: 8.2 ounces
Heel drop: 0 millimeters
What we like:
A good mix of supportive cushioning
Extra room in the toe box for wider feet, plus three different fits to mold to the natural shape of your feet
What we don't like:
Some runners might need time to adjust to the signature zero heel drop
Altra Provision 7 (Light Blue) Women's Shoes
How we selected the best women's running shoes
We interviewed experts to find out the features that matter when searching for the best women's running shoes. Then, we researched some of the most popular running shoe brands on the market based on reviews, features, and fit, and considered recommendations from our panel of pros.
Frequently asked questions (FAQs)
Are ASICS better than Nike?
Our experts agree that this is entirely subjective. Hashish notes that a runner could purchase a top-rated shoe "and then not be too happy with it because it's meant for a different type of runner. So it really depends on who you are." Or, as Dworecki puts it, while there are many brands that "make excellent shoes, there may be a brand that makes a better shoe for your specific needs and goals."
Is it okay to run with sneakers?
"It can be okay," says Hashish, "but it's certainly not advised." While some can get away with it, he notes, "if you're actually planning on taking this seriously and you're running regularly, it's not the best idea."
Does the type of running shoe matter?
Very much so. "It is so imperative to have support for your health and safety," explains Vance, noting that she's had to come back from several foot and ankle injuries, "including fractures, stress fractures, and a really significant surgery." For a long time, she explains, she had to deal with a lot of pain after running and increased pressure in the spots where she'd fractured her foot. But once she got the right shoe for her, "I could feel a massive difference."
How do I choose running shoes for me?
Just like a person might be perfect, but might not be perfect for you, the ideal running shoe is very subjective. "Really, the take home is that the best shoe depends on who you are and what your goals are and what your health condition is," explains Hashish, founder of pareIT, an automated medical record analysis platform. "So the easiest way to get a legitimate answer to prevent injury and maximize your performance is just go do an analysis of your running. And then you'll get a full understanding of yourself and you can go from there."
The information presented here is created independently from the TIME editorial staff. To learn more, see our About page.