Our evaluations and opinions are not influenced by our advertising relationships, but we may earn a commission from our partners' links. This content is created independently from TIME's editorial staff. Learn more.
In the pantheon of great inventions, the comfy couch ranks somewhere near the very top, a monument to both human ingenuity and our deep, ingrained need to spend several hours each day in a horizontal position. If you're looking for your new favorite chill spot, take a look through our list of the most comfortable couches and see which one is right for you. Let's get going—sofa, so good.
Our picks for the most comfortable couches
"If you're looking for a large couch, I would choose the Kova Pit by Albany Park," says Mariya Snisar, head of interior design at Renowell. "It's extra deep and has oversized cushions, offering more than enough space for you to kick back and relax. I also appreciate the variety of colors and upholstery types. This means it will be easy to incorporate this sofa into almost any interior." Interesting to note: The Kova L-Shape sofa also made our list of the best sectional sofas.
Specifications:
Dimensions: 120 inches x 78 inches x 39 inches 
Fabric: 100% polyester fiber
Seat fill: Hypoallergenic microfiber blend
Delivery: Free shipping to curbside
Price on publish: $2,790
What we like:
Nine color options
Vegan
Hypoallergenic
What we don't like:
A small minority of customer reviews mention struggling with assembly
Albany Park / Kova Pit - Olive Velvet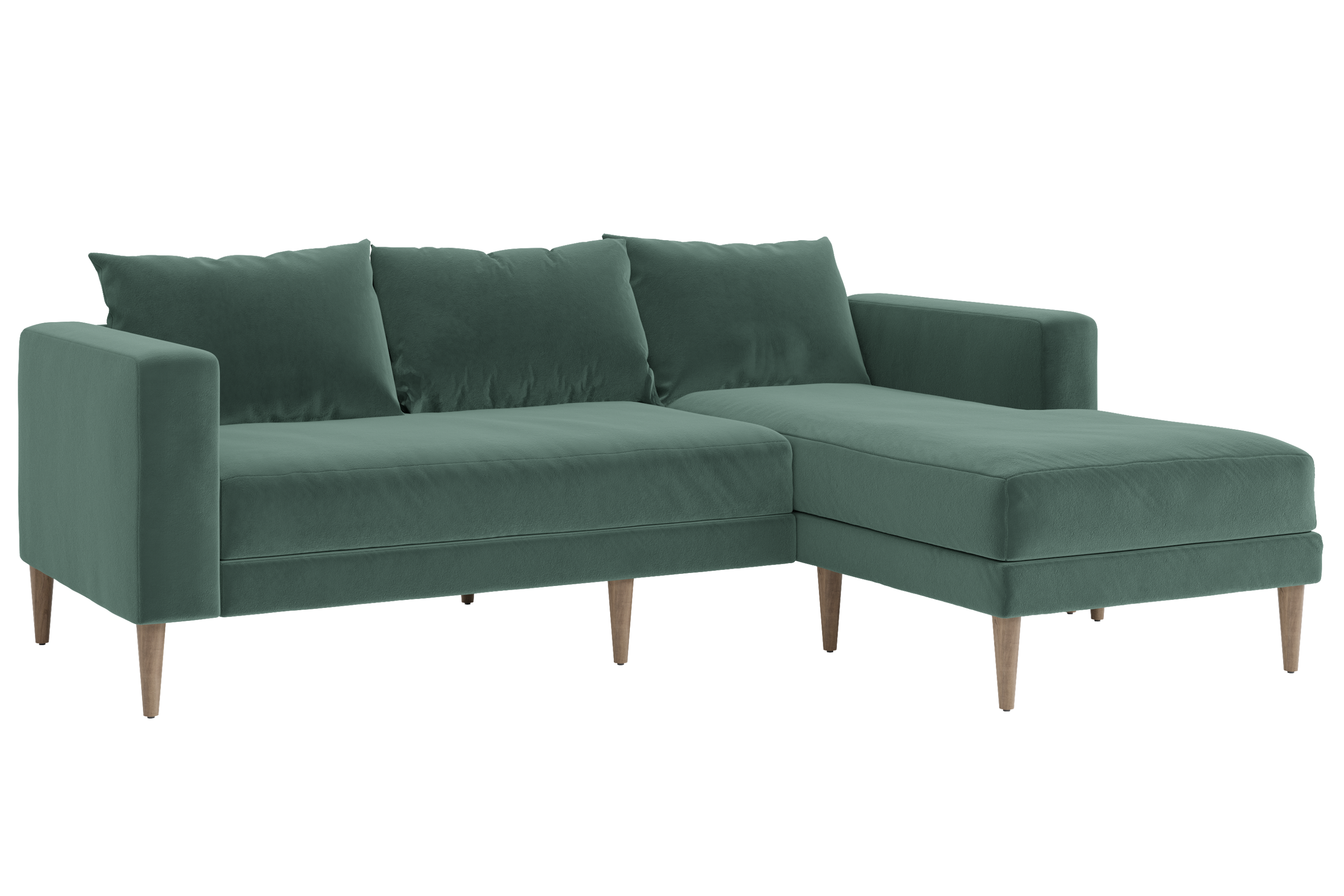 Sectional couches can be incredibly useful if you're moving every year or so (or simply addicted to rearranging your apartment). You can choose, for example, which side the chaise fits best in your new (or rearranged) space. "My top choice among sectionals is the Essential by Sabai," says Snisar. "It looks luxurious and much more expensive than it is. Additionally, it has wide cushions and plenty of space to relax. I'm also sure that many people will appreciate that this sofa is sustainably manufactured."
Specifications:
Dimensions: 85 inches x 34 inches (61 inches for chaise) x 32 inches 
Fabric: Recycled velvet
Seat fill: 100% recycled fiber
Delivery: $115
Price on publish: $1,920
What we like:
Five color options for fabric, three for legs
Eco-friendly construction
What we don't like:
Sabai The Essential Sectional
This couch was recommended to us by Artem Kropovinsky, an interior design expert and founder of Arsight, an award-winning New York City-based interior design studio. With a slim, low profile design and giant, super-soft cushions, it includes a built-in table with storage drawer, to help keep your space uncluttered. We may be past the era of needing nine different remotes to watch TV, but it's still nice to have a space to hide phone chargers, tissues, snacks, etc. With 14 understated colors to choose from, those looking for a hint of modern elegance with their deep relaxation should find something that suits them.
Specifications:
Dimensions: 132.5 inches x 57 inches (44.5 inches for chaise) x 30.75 inches 
Fabric: Polyester fiber
Seat fill: Three-layer high-density foam cushioning topped with premium 100% goose feathers
Delivery: 8% of order value
Price on publish: $4,570
What we like:
14 color options
Four finish options for the table
What we don't like:
Rove Concepts Dresden Sectional Sofa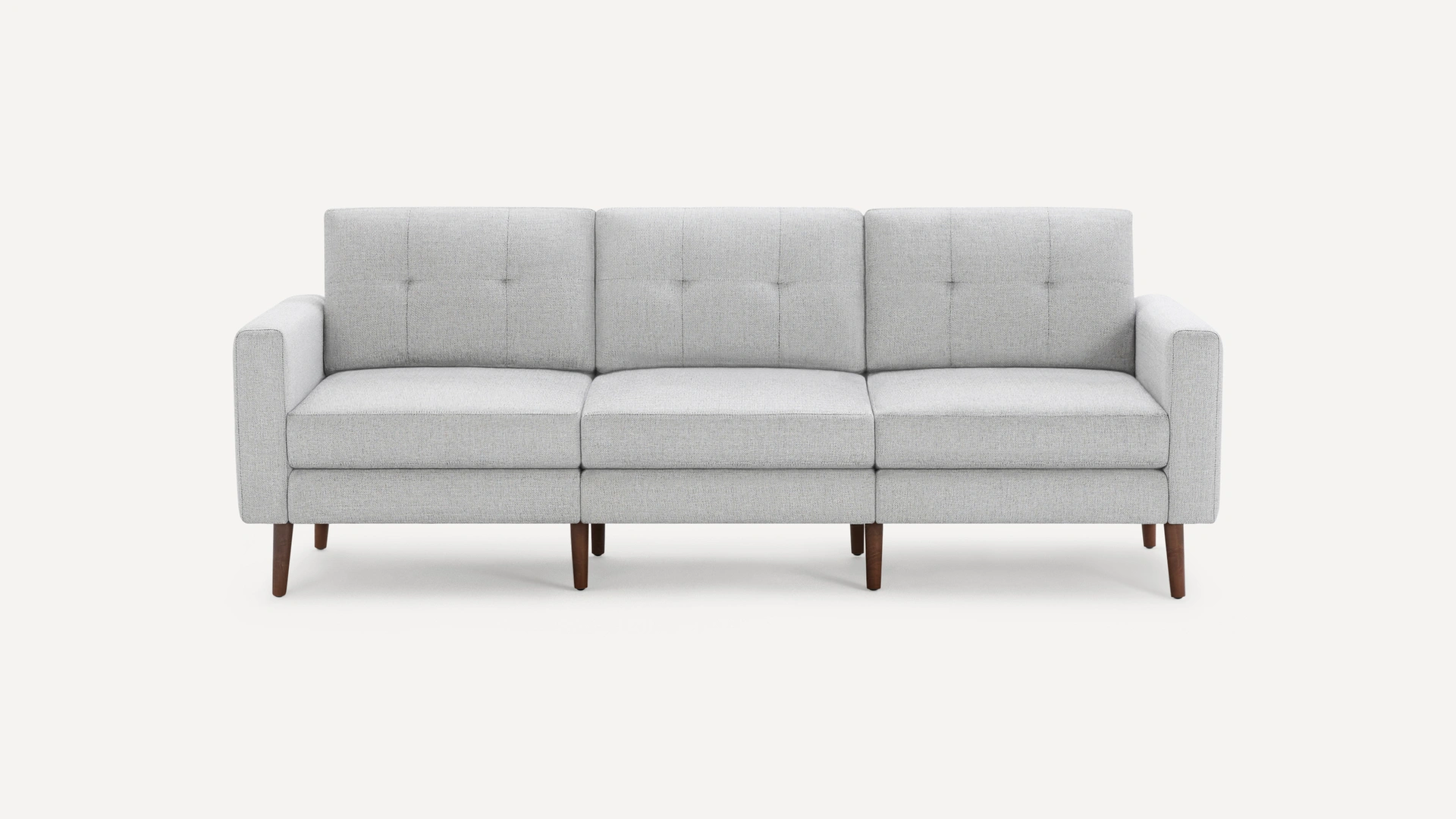 "Burrow's Nomad Collection is perfect for pet owners," says Bree Steele, of RJ Living. "It features high-performing synthetic materials resistant to scratches and tears. The nonporous fibers prevent stains, and easy cleaning with distilled water and bleach keeps it looking new, a godsend for all pet owners." Snisar also likes the Nomad collection, specifically recommending the Block Nomad, adding that, "This model has sturdy, quality upholstery fabric that can withstand pet claws and regular use. Of course, if your kitty likes to sharpen their nails on furniture, there will be marks. But if you cut their claws regularly, the sofa will easily withstand the scratching attempts."
Specifications:
Dimensions: 85 inches x 35 inches x 33 inches
Fabric: Olefin fiber weave
Seat fill: Three-layer foam
Delivery: Free
Price on publish: $2,295
What we like:
What we don't like:
A few customer reviews say it's firmer than they were expecting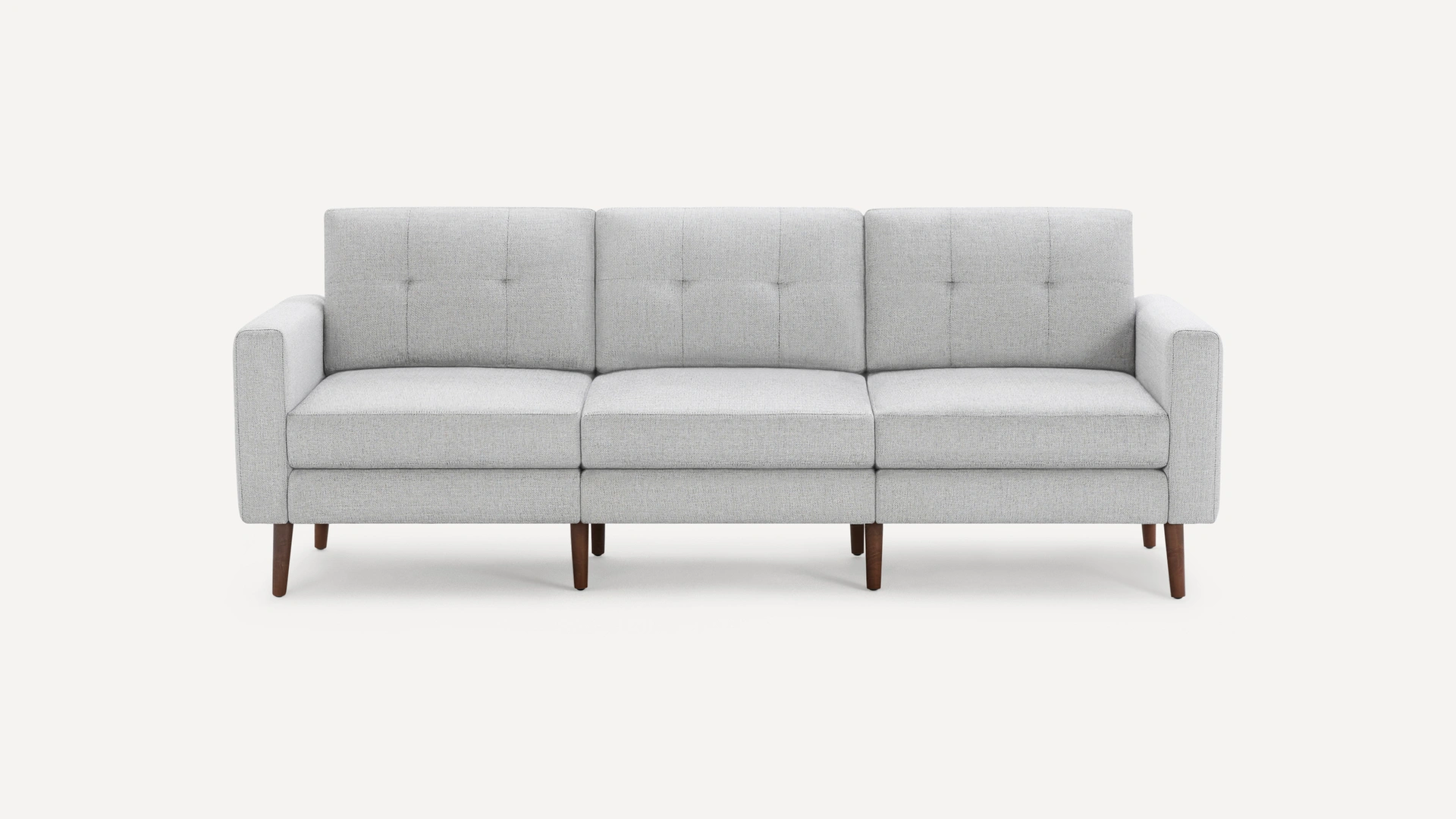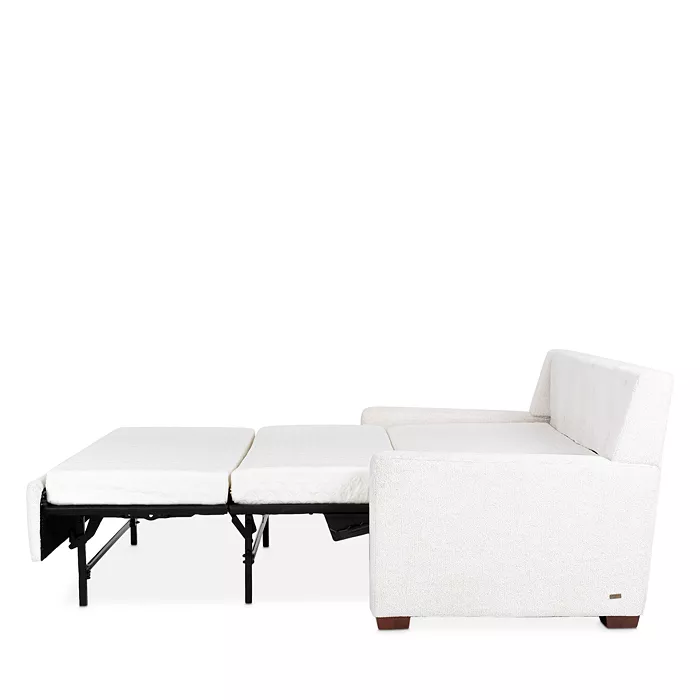 "Pull-out couches in the past have been known to be very uncomfortable—the frame would have had a metal middle bar across the back when sleeping," says Debbe Daley, interior designer, author, and CEO of Debbe Daley Designs. "Today, most manufacturers offer different levels of firmness for the mattress, depending on personal preference. I've personally tested the pull-out sofa from American Leather and it was very comfortable." With a sleeping area 6.5 feet long and a five-inch deep, high density foam mattress, it's definitely not the old fashioned sleeper sofa your spine still has nightmares about.
Specifications:
Dimensions: 75 inches x 39 inches x 36 inches
Fabric: Leather or fabric (75% acrylic, 25% polyester)
Seat fill: High density, high resiliency foam
Delivery: Via UPS, fees calculated at checkout
Price on publish: $4,499
What we like:
An astonishing 94 color options in leather, a further 175 in fabric, from the American Leather site
Can upgrade to a Cooling Gel or Tempur-Pedic mattress
What we don't like:
So far, all reviews are extremely positive, so nothing!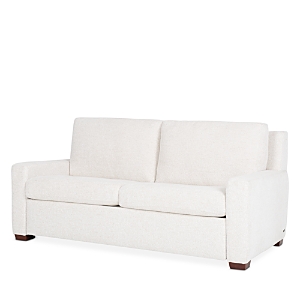 American Leather Lyons Queen Sleeper Sofa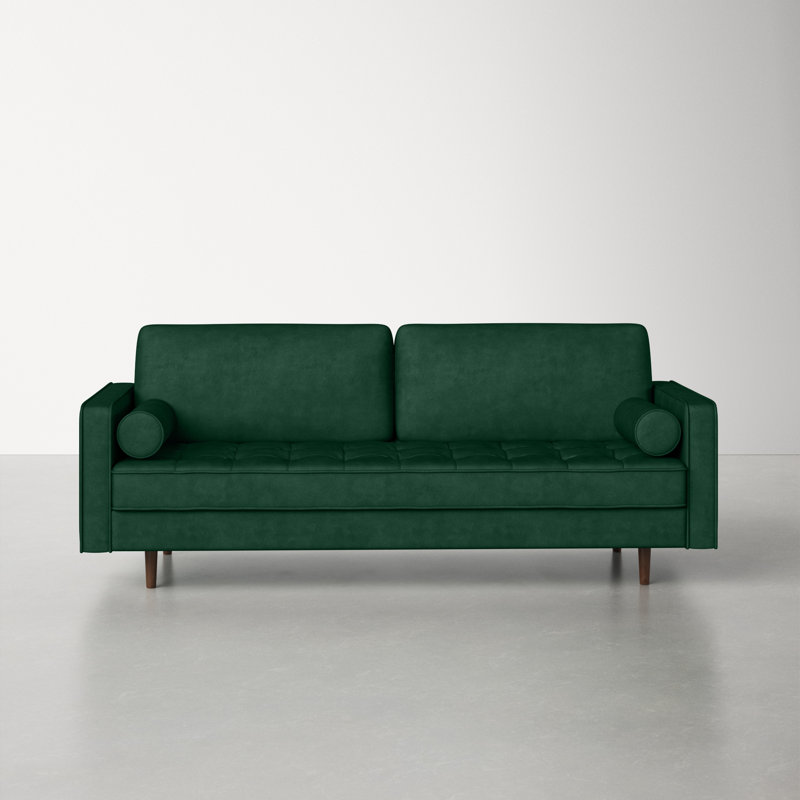 You certainly can find couches for under a thousand bucks, but the vast majority feel not unlike sitting on a large burlap sack full of gravel. If you need a couch on a budget, try Snisar's recommendation: "I love this upholstered sofa by AllModern for its sleek, stylish design, quality materials, and reasonable price," she says. "This model has a solid wood frame, so it should last for years. I also like that the cushions are more on the firm side, but still feel comfortable." Sidenote: AllModern also has a great selection of outdoor furniture, if you're also in the market for an all-weather sofa. 
Specifications:
Dimensions: 84 inches x 37 inches x 34 inches
Fabric: Velvet
Seat fill: Foam, polyester
Delivery: Free
Price on publish: $840
What we like:
Clearly modeled after Article's wildly popular Sven sofa, but for half the price
20 color options
What we don't like:
Some customer reviews note that it's not as durable as other couches
AllModern Geo 84-inch Upholstered Sofa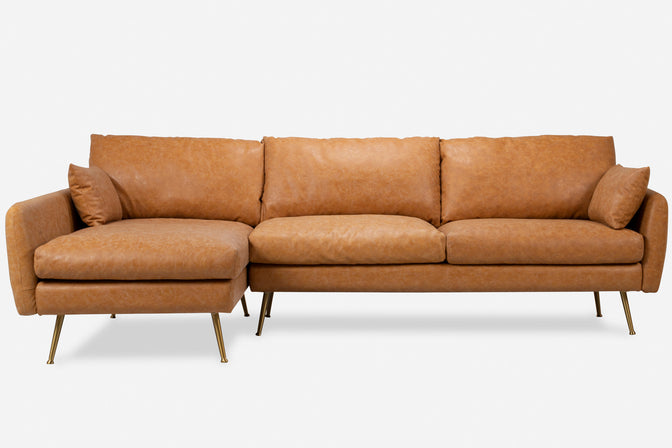 "The Park Sectional Sofa by Albany Park is my favorite leather couch," enthuses Snisar. "It uses vegan leather, making it a more environmentally-friendly option. It's also well made and has a sturdy frame, and I appreciate that the cushions are quite thick and comfortable. The only downside is this model is available in only one color if you want leather. The good news, however, is that brown goes well with countless interior styles and multiple color schemes."
Specifications:
Dimensions: 114 inches x 63 inches x 35 inches 
Fabric: Vegan leather
Seat fill: Mattress-quality foam topped with a layer of feathers
Delivery: Free
Price on publish: $2,199
What we like:
What we don't like:
Only available in one color for the leather option, although there are seven non-leather options
Albany Park / Park Sectional Sofa - Vegan Leather / Gold
Another of Kropovinsky's picks, this couch manages to achieve the tricky double whammy of looking appealingly futuristic, but also incredibly inviting. Handcrafted and coming with four cozy, matching scatter cushions, it could easily be the focal point around which you arrange your living room. Indeed, thanks to its fluffy, off-white appearance, it's one of the few couches that makes the common "like sinking into a cloud" description almost literal.
Specifications:
Dimensions: 86.6 inches x 36.2 inches x 26.8 inches 
Fabric: 63% viscose, 37% polyester
Seat fill: Not listed
Delivery: Free
Price on publish: $5,775
What we like:
What we don't like:
Eichholtz Sofa Malaga Small—Lyssa Off-White
What to consider when shopping for a comfortable couch
There are several things to take into consideration when looking for the best couches for your home, lifestyle, and overall comfort. The following advice comes from Kropovinsky:
Size
"The size of your sofa should harmonize with the surroundings in which it's going to be situated. It should neither dominate the room due to its excessive size, nor become insignificant amidst the room's grandeur. An aptly sized sofa ensures a cozy place to unwind."
Fabric
"The choice of sofa fabric greatly influences the comfort it offers. While leather boasts durability and sophistication, it may not be a perfect match for humid climates. Fabrics such as cotton or linen blends offer softness and breathability, but demand attentive care. Always select a fabric that corresponds to your local weather, your lifestyle, and your preferred comfort [level]."
Cushioning
Unlike an office chair designed to support you through hours of work, a comfortable couch is all about what feels best when lounging around for hours of binge watching. "Seek a balanced blend of feather-down and foam for a cushiony and inviting feel. An overabundance of feathers might give your sofa a saggy appearance, while an excess of foam could make it overly firm."
Frame
"The skeleton of your sofa ought to be robust and durable, ideally crafted from kiln-dried hardwood or a composite of hardwood and high-grade laminates. Sofas with frames composed of metal or plastic might not exhibit long-lasting resilience."
Construction
"Well-constructed sofas possess robust joinery methods, including dowels, corner blocks, and screws. It's best to steer clear of sofas that are primarily held together by glue, staples, or nails."
Springs
"The spring system is another critical aspect that signifies the quality of a sofa. Premium sofas typically employ an eight-way, hand-tied spring system."
How we selected the most comfortable couches
We made our selections through a combination of expert advice, personal experience, and overwhelmingly positive customer reviews.
Frequently asked questions (FAQs)
How can you tell if a couch is good quality?
"It's important to ask the right questions and do the research to determine if a sofa is of good quality," says Daley. Below is her advice on what to look for, ask about, and try:
Frame construction and warranty
"Frame construction is the first important detail. A solid hardwood frame that is glued and screwed will be more durable and will come with a longer warranty—high-end manufacturers will offer a lifetime warranty with a quality constructed frame. Some of the big-box furniture stores market their sofas on the look and not necessarily the construction of the couch, and these couches will not last more than five years max if used on a daily basis."
Cushion testing
"Cushion seat testing is also important. A cushion that has a softer seat and sinks into the frame of the couch is not going to last."
Eight-way hand tied springs
"A quality couch will have eight-way hand tied springs. These are springs that are tied eight different ways, from front to back and side to side, which provide a quality cushion. This frame construction process provides a durable support system for the couch and is a time-consuming process and craft for the manufacturer, which is one of the reasons quality couches have a higher price tag."
Performance fabrics
"Cleanability and wearability is almost always a feature of shopping for a couch. Most manufacturers are leaning toward performance fabrics—stain resistant, mold and mildew resistant, fade resistant, and made with 100% solution dyed acrylic. Crypton is one of my favorite performance fabrics: I actually knocked over a glass of red wine the day our two white, slipcovered couches were delivered. The slipcovers were made with Crypton, so the wine wasn't absorbed into the fabric, instead forming droplets that were easily dabbed away with a dry towel. That was five years ago and still no trace!"
How much should you spend on a quality sofa?
Although everyone's idea of how much to spend is a little different, the general consensus is, a good couch doesn't come cheap—and online furniture stores can vary greatly in terms of price offerings. "If we're talking about larger models or sectionals, I would say anything below $1,500-$2,000 will not have an impressive lifespan, especially if you plan to use your couch frequently," says Snisar.
"Honestly, buy the best you can afford!" suggests Steele. "A sofa is one of the most-used pieces of furniture in the house, so it's worth investing in comfort and durability. A good quality sofa can start at around $1,000, and for great quality, consider spending over $3,000. For custom and designer pieces, the price can go higher."
They certainly can. "A quality sofa starts at around $5,000," says Isfira Jensen of Nufacet Interiors. "Even at that price, you see manufacturers cutting corners in one or more of the elements which make a high-quality upholstery piece. You can expect to be in the $7,000-$10,000 range for a high-quality sofa."
What type of sofa is most popular?
"Although the choice of sofa styles is mostly a matter of individual taste, mid-century modern style sofas have maintained their charm over the years," says Kropovinsky. "Defined by their uncluttered lines, streamlined design, and simplistic allure, they seamlessly blend into a variety of interior decor styles. Nonetheless, bear in mind that your personal comfort and your space's aesthetics should drive your sofa selection, rather than simply going for what's currently in vogue."
The information presented here is created independently from the TIME editorial staff. To learn more, see our About page.