Our evaluations and opinions are not influenced by our advertising relationships, but we may earn a commission from our partners' links. This content is created independently from TIME's editorial staff. Learn more.
Since the fountain of youth can't be bottled up and sold, skincare brands and experts have created the next best thing: Anti-aging serums. As a way to dial back time, reduce fine lines and wrinkles, and give our skin that youthful glow we all crave, many turn to these potent formulas for lasting results. No matter your age or skin concern, there is a blend that will help boost your confidence and improve your overall complexion. But like shopping for eye creams, night creams, tinted moisturizers, and other products for your skin care routine, it can be difficult to really get a sense of what's actually in the bottle. Here, we deep-dived into the best anti-aging serums, testing out some of the most highly-recommended products. Consider this your invitation (or gentle nudge) to start focusing on your skin health ASAP. 
No matter if you're just getting started in your skincare routine or you're looking for a way to upgrade, choosing an anti-aging serum that produces noticeable results is a big motivator. My top pick that has boosted my confidence, added a glow to my complexion, and reduced hyperpigmentation is SkinCeuticals' best-selling C E Ferulic serum. It's my go-to morning serum, applied to a cleansed face, before eye cream and moisturizer. It absorbs super fast, doesn't feel heavy on my skin, and the combo of ferulic acid and pure vitamin C and E protects against environmental damage and free radicals. 
Because of the unique, highly potent formula, it reduces wrinkles and lines while also brightening and firming up the pores. In just a week, I noticed a difference in my overall complexion, a feat few anti-aging serums have accomplished. Although on the pricier side, the small bottle lasted three months, since the daily dose is just a few dots scattered around the face. 
The biggest drawback isn't in the serum itself but in the smell. Since it's pure vitamin C and E, a perfume does not mask it, and you might notice a chemical-like odor. While some reviewers report a sticky residue after application, I always let the serum dry for five minutes before continuing with my getting ready ritual. 
Specifications:
Size: 1 fl. oz.
Skin Type: Ideal for dry, normal and sensitive skin types
Dosage: Apply once a day in the morning, after cleansing and toning skin: Apply four to five drops to a dry face, neck, and chest before your other anti-aging skin care products
Key ingredients: Vitamin C (L-Ascorbic Acid), Vitamin E (Alpha Tocopherol), and Ferulic Acid
What we like:
Helps with hyperpigmentation
Absorbs easily
Boosts skin texture and brightness
What we don't like:
Pricey
Chemical smell
Leaves sticky residue
SkinCeuticals C E Ferulic (1 fl. oz.)
There are plenty of important ingredients to look for when shopping for an anti-aging serum, but Queen Retinol is the highest in the court. This potent blend from Shani Darden features encapsulated retinol, which gradually releases through the night. This matters because traditional retinol can cause irritation, while this approach is gentler on the skin. Lactic acid is also an all-star here, working to reduce the appearance of aging while smoothing and toning the skin. As an award-winning vegan serum that's free of fragrance, parabens, and silicones, reviewers also share that it helps heal acne scarring and promotes soft skin. 
This time-release serum should only be used one to two nights a week to start, and then add another evening each week to build up as often as your skin can tolerate. If you apply too frequently too soon, you may experience redness and dryness. This high-concentration formula also carries a slight odor but is not as strong as others on our list. 
Specifications:
Size: 30 ml
Skin Type: Normal, combination, and oily
Dosage: Start using for one to two nights a week, add a night each week and build up to as often as your skin can tolerate
Key ingredients: Encapsulated retinol, lactic acid, and pyrus malus (apple) fruit extract
What we like:
Reduces acne scarring
Brightens skin
Promotes soft skin
What we don't like:
Shani Darden Skin Care Retinol Reform® Treatment Serum 1 oz / 30 mL
I'd already fallen in love with Charlotte Tilbury's line of makeup products, since they add a subtle, lightweight glow to my face. So, when given the chance to test her cult-followed crystal elixir presented itself, I jumped at the opportunity. As expected, I liked her skincare products just as much. This appropriately-named magic serum offers a boost of hydration that many anti-aging products do not. It features vitamin C, Replexium®, and polyglutamic acid, which is four times more hydrating than hyaluronic acid. 
Since the formula felt a tad heavier than others, I started using this in the evening to quench my pores overnight. Over a week, I noticed a visible texture difference: The skin on my face was softer than ever, and my early signs of aging were not as intense. While this is a big benefit, one seemingly small differentiator for Charlotte Tilbury isn't just the formula, but the design of the applicator. The dropper has a slightly curved end, making it easier to dot the serum on my forehead and cheeks before massaging into my skin. It's a small thing, but it reduces waste and makes the product last longer. 
Specifications:
Size: 30ml
Skin Type: Suitable for all skin types
Dosage: Apply a few drops in the morning or evening
Key ingredients: Niacinamide, vitamin C, polyglutamic acid, Replexium™
What we like:
Reduces fine lines and wrinkles
Softens skin
Pleasant scent
What we don't like:
Sticky when first applied
Heavy feel
CHARLOTTE'S MAGIC SERUM CRYSTAL ELIXIR
While we may all be envious of the radiant complexion of celebrities on magazine covers, runways, and red carpets, it's important to remember that they don't actually look like that, either. There isn't a serum that can result in a real life Photoshop  retouch, but loyal customers say these drops can come close. Made using a concentrated blend of salicylic acid and retinol, they're ideal for those who are acne-prone, as this power couple teams together to heal breakouts, promote skin clarity, shrink pores, and smooth your skin. 
This anti-aging serum is meant to be applied at night, the idea being that it works as  a 'detox treatment' while you sleep. As you catch Zs, it rebalances oil, encourages collagen production and cell renewal, and renews your complexion. Reviewers rave about glowing skin after continued use and a more even skin tone. 
Because of the unique formula, it does have a chemical-like scent, and it can sting after application, as well as potentially drying out your skin. To help reduce these side effects, start using one to two times a week and work your way up. If you notice a breakout rearing its head, apply a few drops to clear it up. If the concentration is too harsh on your skin, consider mixing a drop into your go-to moisturizer for a gentler, yet effective approach. 
Specifications:
Size: 1 fl. oz.
Skin Type: Perfect for all skin types except extremely sensitive skin
Dosage: Apply 4-6 drops to the face 2-7 nights per week; apply 2-3 drops to spot treat concerns like breakouts; mix 2-3 drops to your favorite moisturizer for a balancing boost
Key ingredients: Salicylic acid, retinol, glycolic acid
What we like:
Reduces pores
Promotes smooth, glowing skin
Evens out skin tone
What we don't like:
Can sting initially after application
Unpleasant scent
Can be drying
We all have skincare woes and wishes. Some battle acne and wish for pimple-free foreheads; others struggle with blackheads and wish for a clean nose; many struggle with dark spots, especially with more laps around the sun. Though in-office dermatology treatments are the most effective for dark spots, many swear by this brightening serum from Odacite. In addition to firming and brightening your pores, resulting in a hydrated, even skin tone, it's also been proven to reduce the appearance of dark spots. It uses a combo of highly potent vitamins C and E, squalane, and hyaluronic acid to soothe and heal your aging skin. Plus, adding neroli and floral water results in a lovely, subtle fragrance. 
For best results, apply on your face and neck in the morning and evening before moisturizer. Like other serums, it's important to gradually increase your dose, since some reviewers warn against excess dryness. You may also notice some skin piling—which isn't necessarily a bad thing—as your pores heal over time. Weekly exfoliation can help prevent this from occurring. 
Specifications:
Size: 30 ml
Skin Type: All skin types, especially those prone to dark spots and signs of aging
Dosage: Shake well and apply 2-3 drops in the morning and evening over face and neck, avoiding the eye area
Key ingredients: Vitamin C & E, hyaluronic acid, vitamin complex, squalane, neroli floral water
What we like:
Firms skin
Brightens and evens skin tone
Hydrates skin
What we don't like:
Pilling can occur
Can be drying
Best dark spot correcting
Odacite Brightening Serum
For those who prefer to take a natural approach to their skincare routine, this powerful vegan collagen boost will check all of your boxes. It features a plant-based formulation that turns to sodium hyaluronate and marula oil to plump skin, fill wrinkles, and promote elasticity. Those who use this anti-aging serum regularly report a younger-looking complexion and firmer skin. 
Another bonus is the lightweight yet creamy texture, that feels hydrating. 
One drawback, however, is the long drying time—up to ten minutes—that feels sticky as it seeps into your pores. If you have a sensitive sense of smell, you also might not enjoy the bergamot, patchouli, and cedarwood oil that produces an intense herbal scent. 
Specifications:
Size: 0.5 fl oz
Skin Type: All skin types
Dosage: Apply evenly to face and neck after cleansing and toning
Key ingredients: Vegan collagen, sodium hyaluronate, marula oil, bergamot, patchouli, cedarwood
What we like:
Firms and plumps skin
Lightweight, creamy serum
Affordable
What we don't like:
Can be sticky when first applied
Strong herbal smell
Long drying time
Sonäge Collagen Boosting Serum
Once you see a positive pregnancy test, everything changes in an instant. Not only do you pay attention to the foods you eat but also the skincare products you use every single day. Sadly, not all ingredients are safe to use while you're growing a human, which is doubly unfortunate at a time when hormones may result in inflamed, stressed, and acne-prone skin. Oof. To the rescue—and void of dangerous ingredients—is this all-in-one serum from Orpheus Skin. This lightweight, non-sticky serum resurrects your skin (like the flower the serum is named for) via a botanical concentrate. Retinol-free, reviewers say their skin looks naturally more radiant and smooth.
While it won't have as dramatic an impact as others on our list, it will provide peace of mind and a little glow boost when used regularly with moisturizer. Just be mindful when dispensing your daily application, since some say the pump releases a lot of serum at once. 
Specifications:
Size: 1 fl. oz. (30ml) 
Skin Type: Dull, depleted, acne-prone, stressed skin
Dosage: After cleansing and toning skin, massage 1-3 pumps of serum onto the face, neck, and décolleté; use AM and PM
Key ingredients: Orpheus flower cell peptide complex, vitamin C (ascorbic acid) and vitamin B3 (niacinamide), lactobacillus probiotic-ferment and wild indigo adaptogen extract and dual weight hyaluronic acid, snow mushroom extract
What we like:
Lightweight, non-sticky serum
Brightens skin
Pairs well with other skincare products
What we don't like:
Pump dispenses a lot of serum at a time
Pricey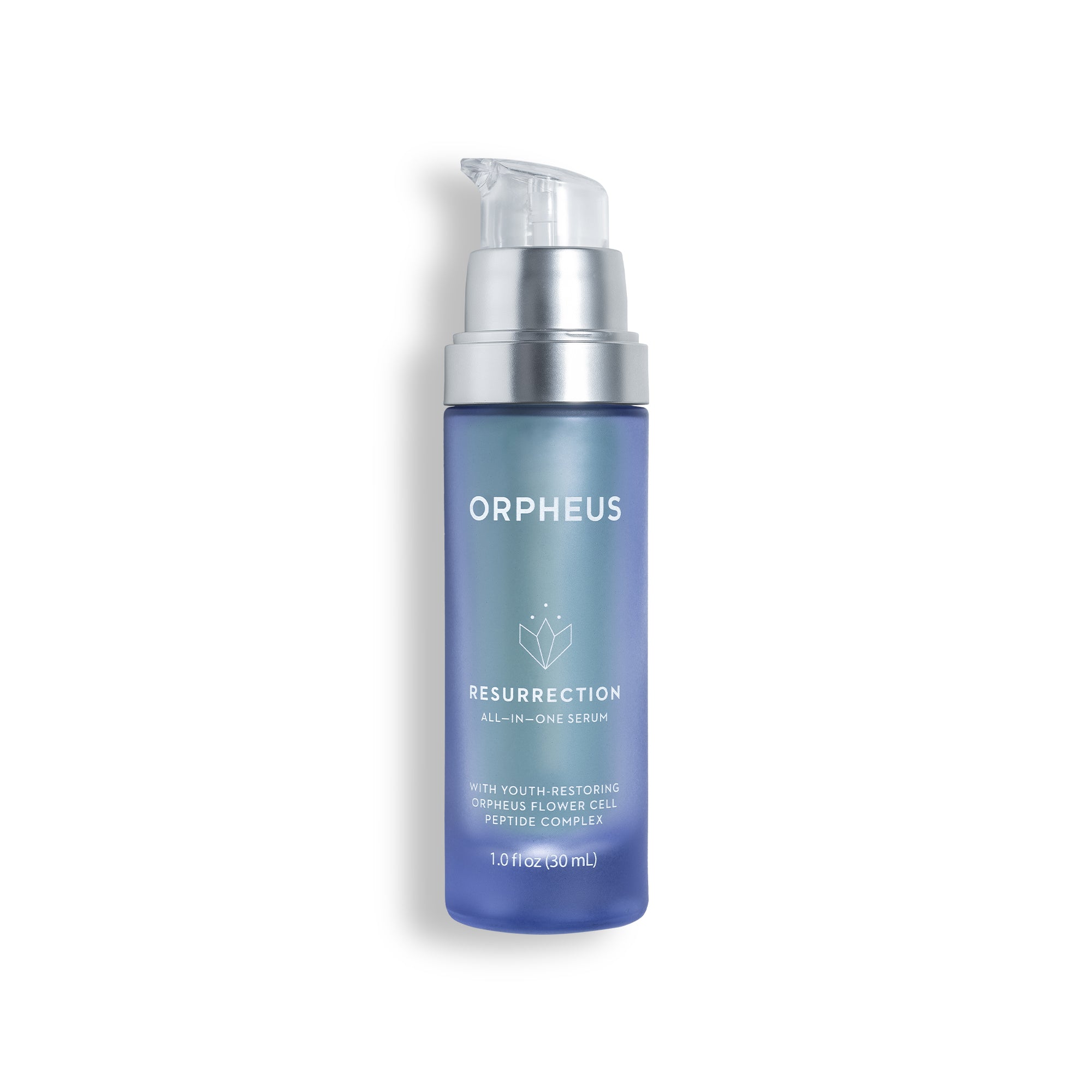 Orpheus Skin Resurrection All-In-One Serum
After a long week (or month, or year), treating yourself to a spa day, complete with a massage and facial, is the ultimate treat. Part of why it feels so relaxing and refreshing is the overall experience: Soft lighting, soothing music, and high-quality products. What we love the most about this anti-aging serum, which wins our pick as a top wrinkle fighter, is the luxurious feel and smell. Not only is it a splurge-worthy item, but it smells luxurious, too. You'll start and end your day feeling (and smelling) like you just left the spa. 
This product carries a steep $350 price tag, but it has the data to back it up: in a clinical trial, 92 percent of participants agreed that fine lines were reduced and skin had a healthy glow after four weeks of use. The serum was created by plastic surgeon Dr. Yannis Alexandrides and features a potent formula that seeps deep into your skin to even tone, boost radiance, and decrease the intensity of wrinkles. The (not so) secret ingredient at play here is NAC: This advanced amino acid promotes the production of glutathione, which protects your skin from free radicals while also repairing it. 
Specifications:
Size: 30 ml
Skin Type: Aging, sensitive, in need of repair
Dosage: Distribute 1-2 pumps and apply to the face every morning and night
Key ingredients: NAC, pink rock rose extract, calendula officinalis, centella asiatica
 What we like:
Evens out skin tone
Gives skin a healthy glow
Reduces appearance of fine lines
What we don't like: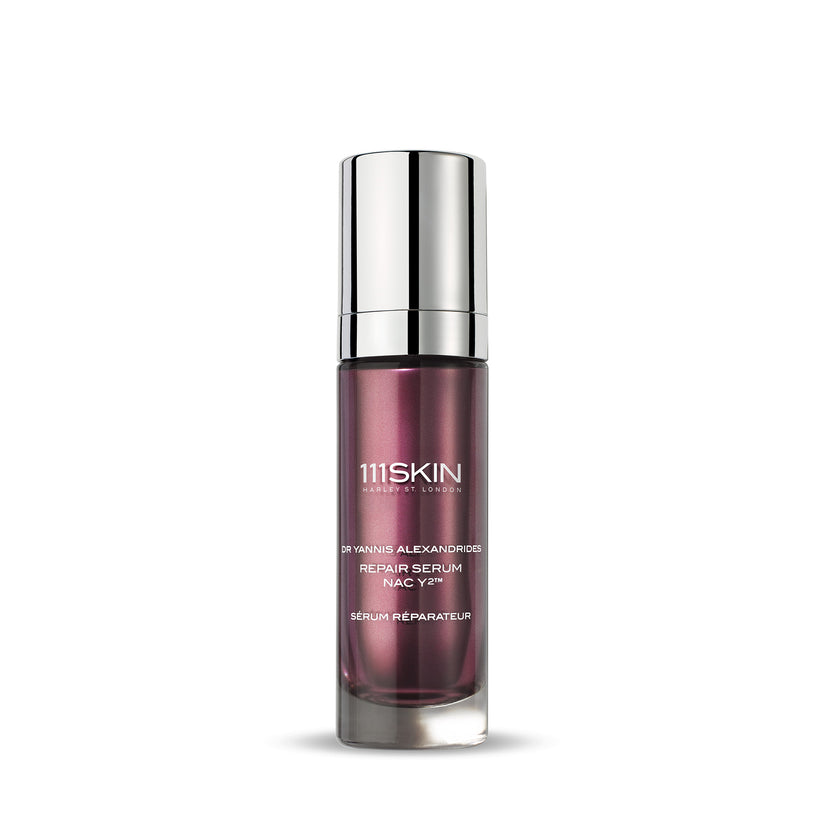 111SKIN Repair Serum NAC Y2
Your face isn't just overly sensitive, oily or dry—sometimes, it's all three at once. For combination skin that isn't always predictable, consider this complex anti-aging formula, crafted by dermatologist Dr. Tina Alster, M.D. It features encapsulated beads—or, ahem, pearls—of retinol that are equal parts hydrating and wrinkle-fighting. It features a small percentage of retinol that allows your skin to adjust without causing irritation or extreme dryness. I loved the silky texture that felt lightweight and soothing without being heavy or sticky on my face.
It's recommended to start with the 0.5 percent dose and work your way up to the 1 percent dose as your pores adjust to the retinol curve. Many rave reviewers say they notice a firmer and more even skin tone with consistent use. Since this is pure retinol, it can increase your risk for sun damage, so layer sunscreen on top before heading out under the blue sky.
Specifications:
Size: 1.7oz
Skin Type: Hyperpigmentation, sensitive skin, aging skin, dry skin, combination skin
Dosage: After cleansing, place 1-2 drops of Pearls of Retinol in the palm of your hand; using your fingertips, gently apply the serum to the entire surface of the face, neck, and décolleté, as needed
Key ingredients: All-Trans retinol, hyaluronic acid, panthenol, 24K gold, water
What we like:
Firms skin
Promotes even skin tone
Reduces appearance of dark spots
What we don't like:
Should be used with sunscreen due to retinol content
Best for combination skin
The A Method by Tina Alster M.D. Pearls of Retinol
Just because you're on a budget doesn't mean your skincare has to take a backseat. This affordable, best-selling anti-aging serum from No7 features a unique peptide blend that loyal fans say is not only moisturizing, but reduces the appearance of fine lines and wrinkles. In addition to the peptides, this serum also uses niacinamide and hyaluronic acid to smooth and heal pores, while vitamin C boosts brightness. 
Because this is a high-potency formula (without the high price tag), you may notice redness and irritation when using it as your skin adjusts. Make sure to layer with moisturizer for best results. 
Specifications:
Size: 0.84FLoz
Skin Type: All skin types; best for those looking to address concerns such as fine lines and wrinkles, uneven tone and texture, dry skin
Dosage: Use 1-2 pumps morning and evening after cleansing
Key ingredients: Pepticology, niacinamide, hyaluronic acid, vitamin C, mulberry, and hydrolysed rice proteins
What we like:
Moisturizing
Reduces appearance of fine lines and wrinkles
Affordable
What we don't like:
Can cause redness and irritation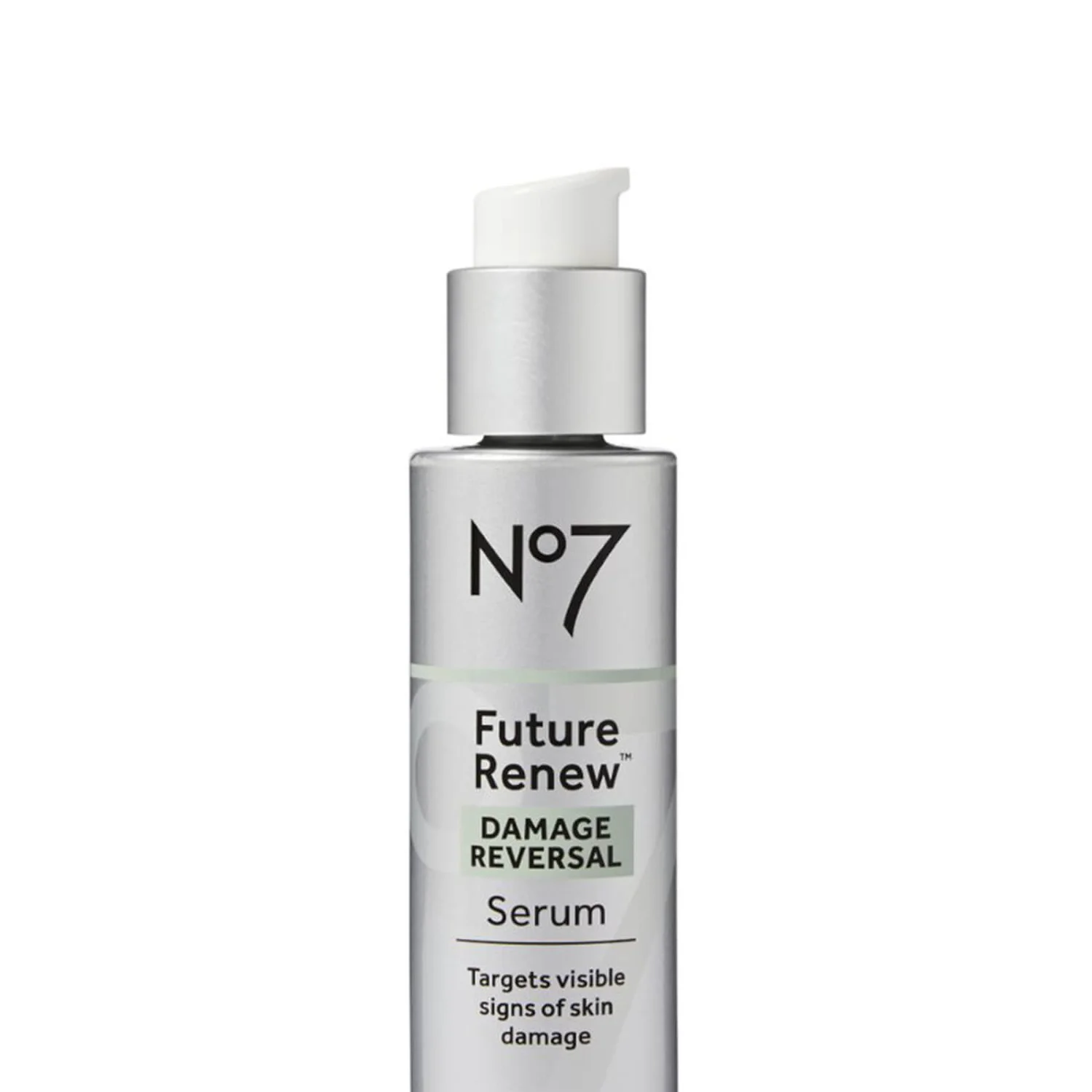 Future Renew Damage Reversal Serum
There are many approaches to a skincare routine, usually dictated by your skin type and your preferences. If you tend to have dryer skin that becomes more radiant with oil-based products, this retinol formula will help replenish and rejuvenate your skin. While hydrating with stabilized retinol, it has a glowy, lightweight feel and pleasant smell. 
Vitamin C brightens pores, and a blend of nine plant-based oils boosts moisture. It's recommended to dot the anti-aging oil along your face, neck, and chest, gently massage it into your pores, and finish your nightly skincare routine. Though many people become repeat buyers, based on reviews, it can take up to three months to start seeing a difference in your skin complexion. 
Specifications:
Size: 30 mL
Skin Type: All skin types
Dosage: At night after cleansing, gently massage 3-4 drops onto face, neck and décolletage
Key ingredients: Retinol, THD ascorbate, cotton seed oil, astaxanthin
What we like:
Hydrates skin
Reduces fine lines and wrinkles
Light feel
What we don't like:
Can take 3 months to see a difference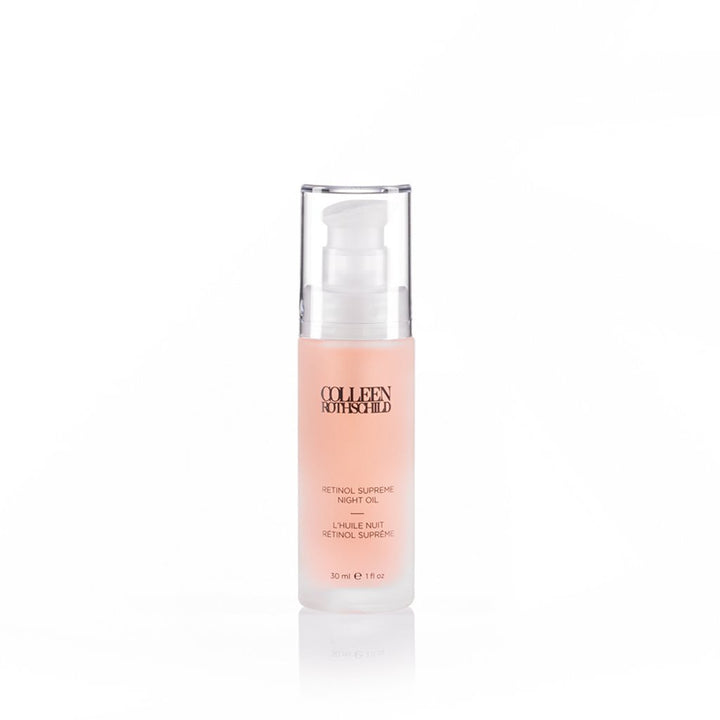 Retinol Supreme Night Oil
Pesky lines around your eyes and mouth and deeper, dark circles and ripples in your forehead are some of the most persistent signs of aging. You know that more birthdays mean more wrinkles, but do you know why? For most of us, a decrease in collagen production is to blame. 
To combat these signs, we need an anti-aging serum that prompts our skin to create more collagen. We choose this clinically-proven serum that's been shown to firm and lift the appearance of skin by 60 percent. The PCA formula does more than sit on the top layer of your skin; it goes ten times deeper than other growth factors, helping your pores to experience more volume and less sagging. 
With consistent use over several months, fans report smoother and softer skin that's less riddled with fine lines. The overall texture of this formula is lightweight and creamy without leaving a sticky residue behind. Because of the high-potent blend, it comes with a sunburn warning, so make sure to apply sunscreen and limit UV exposure. 
Specifications:
Size: 1 fl. oz.
Skin Type: All skin types
Dosage Recommendations: After cleansing and toning, smooth onto the face, neck, and chest, concentrating on areas of wrinkling and laxity; use twice daily for maximum benefits
Key ingredients: Biopolymers, micro growth factor technology, organic kangaroo paw flower extract
What we like:
Smoothes and softens skin
Reduces appearance of fine lines
No residue
What we don't like:
Pricey
Can take several months to see results
Comes with sunburn warning
PCA SKIN Pro-Max Age Renewal Advanced Anti-Aging Serum with Micro Growth Factor Technology 1 oz
For those shopping in the luxury category—or looking for a big splurge—consider this best-seller from Revive Skincare. It's a powerful formula that uses bio-volumizing protein, a peptide complex, synergistic lipid concentrate, phenylethyl resorcinol, and antioxidants to give your complexion a healthy glow. Specifically, this cult-followed anti-aging serum is known for its ability to plum furrow lines, crow's feet, nasolabial creases, and other areas in your face more prone to wrinkles. The peptides work to brighten your skin, and the ceramide keeps your texture soft and vibrant. The texture is lightweight, with a slightly oily residue and chemical odor. 
This expensive serum may be worth the investment, but it also requires something pricier: Your patience. Many reviewers say it can take weeks or months to see results, and consistent use is necessary. 
Specifications:
Size: 30 ml
Skin Type: All skin types
Dosage: Apply morning and night with special attention to furrow lines, nasolabial creases, and crow's feet
Key ingredients: Bio-volumizing protein, peptide complex, synergistic lipid concentrate, phenylethyl resorcinol, antioxidants
What we like:
Gives skin a healthy, youthful glow
Reduces fine lines and wrinkles
Plumps skin
What we don't like:
Very, very pricey
Results are not immediate
Revive Intensité Volumizing Serum Ultime Targeted Skin Filler
What to look for in anti-aging serums
As with any skincare product, you should always have an open conversation with your dermatologist about your goals and concerns. They can advise on prescription treatments and in-office procedures, and even make recommendations based on your unique skin. However, some starting points for your shopping experience include: 
Skin type
By now, you probably know if you have oily, dry or combination skin. You also know if you're prone to breakouts or if you become easily red or dry. Keep your skin type top of mind when you select an anti-aging serum, suggests Dr. Dendy Engelman, MD, FACMS, FAAD, a board-certified dermatologist and Mohs surgeon. As she explains, while ingredients like retinol and benzoyl peroxide are superb for cellular development, these aggressive serums can potentially irritate some skin types. 
Your age
Spoiler: It's never too early to start anti-aging serums. However, your age does make a difference when deciding between different products. For example, the concentration of ingredients like retinoids will be higher for someone who is in their golden years vs. someone in their 20s or 30s taking a preventive approach, explains Dr. Michael I. Jacobs, a board-certified dermatologist, associate professor of dermatology at Weill Cornell Medical College, and medical technology director at Cortina.
Quality Ingredients
Jacobs says it's important to look for quality ingredients and consider the other steps in your skin care regimen, so that you don't repeat ingredients that your skin can't tolerate too much. 
"Because the skin barrier becomes drier with age, it's crucial to incorporate ultra-hydrating serums into your daily routine," Engleman says. "Dehydrated skin can emphasize signs of aging, including wrinkles, fine lines, and dark circles. Hydrating serums will seal moisture into the skin barrier, plumping the skin and masking those creases."
While there is no one-size-solves-all solution to aging, dermatologists say some superstar ingredients are key to effectiveness. They include:
Retinoids
Jacobs explains that retinoids are a skin hero ingredient that may improve skin texture and the appearance of fine lines and wrinkles. "Retinoids increase cell turnover and may stimulate collagen production, which can be a game changer for slowing down the aging process of the skin," he says. "Retinoids improve the skin's texture and stimulates collagen production in the papillary dermis, which might lessen the visibility of fine lines and wrinkles."
Hyaluronic acid
Remember, hydration is key to youthful, dewy skin, and the best way to ensure you have enough in your anti-aging serum is to look for hyaluronic acid. Jacobs explains that this high-quality hydrating ingredient helps your skin retain moisture, leaving it plumper and improving the appearance of aging skin.
Niacinamide
Also known as Vitamin B3, this ingredient decreases hyper-pigmentation, according to Dr. Debra Jailman, M.D., a board-certified dermatologist, author, and assistant clinical professor of dermatology at the Icahn School of Medicine at Mount Sinai. "It works by preventing the transfer of the melanosomes from the melanocytes to the keratinocytes in the skin, which evens out skin color," she says. "It helps reduce moisture loss in the skin by supporting the natural skin barrier. It also has anti-inflammatory effects and reduces redness."
Vitamin C
For a bright and vibrant look, vitamin C is a must in your anti-aging serum. As Jailman explains, it blocks tyrosine's conversion into melanin, decreasing melanin formation and lightening dark spots. It also stimulates collagen production, fights free radical damage, and is an anti-inflammatory that minimizes redness. 
How we selected the best anti-aging serums
Our quest to find the best anti-aging serums started with extensive research on the ingredients that actually matter when it comes to considering formulations, including insights from experts and dermatologists. From there, we made a list of the top anti-aging serums, narrowing them down based on brand quality, positive reviews (including reports of results), price point, and other factors shoppers look for when making their purchase, and put the best products to the test. 
Frequently asked questions (FAQs)
Do anti-aging serums really work?
There has been a lot of hype over anti-aging serums for the last couple of years. That hype continues because they really do work, says Dr. Adrienne O'Connell, a doctor of aesthetic medicine and the president of Laguna Beach Aesthetics. "These serums are potent, packed full of results-driven ingredients, and penetrate the skin on a deeper level," she continues. "Most anti-aging face serums address several skin care issues, including wrinkles, tone, texture, and discoloration. They are our powerhouse multi-taskers!"
When should you start using anti-aging serums?
Now! As Engelman explains, there is no age to start a specific serum because it really depends on your skin type and specific concern. However, it's always better to be proactive rather than reactive. "Collagen production starts to decrease in our 20s, so I recommend adding in antioxidant serums that nourish and protect from free-radical damage, such as vitamin C and E," she says. "A hyaluronic serum is a great starter serum for those who are just beginning to formulate their skincare routine, and retinol can also be incorporated into your routine in your 20s."
How do you apply anti-aging serums?
The best application for anti-aging serums varies, depending on the specific product you're using, Jacobs says. "Serums are usually applied after cleansing and toning and before moisturizing," he explains. "I recommend allowing serums to absorb into the skin for about a minute before applying the next product, and if you're using a serum that is exfoliating and has active ingredients, try not to combine multiple exfoliators in one routine, especially if you have dry or sensitive skin." 
Is retinol or hyaluronic acid better for anti-aging?
Engleman says these two ingredients work in different ways, so it's hard to say which is more effective. "Hydration should always be a priority, and since hyaluronic acid can hold 1000 x its weight in water, I love recommending this as a daily serum to plump dry skin," she says. "However, if you're truly looking for only one ingredient for anti-aging, retinol addresses so many concerns that we encounter as we age: Fine lines, wrinkles, the appearance of enlarged pores, skin texture, skin tone, sun damage, and breakouts."So, if forced to pick, Engelman would go with retinol.
Should you apply anti-aging serums in the morning and evening?
You can do either or both, but you should be mindful of how your skin reacts before going overboard. As Jacobs explains, anti-aging serum is a broad term that encapsulates many different forms of serums, some of which are better to use in the morning and others in the evening. For example, he says a vitamin C serum with anti-aging properties is best to use in the morning before sunscreen, and hyaluronic acid is another serum that can be used in the morning in conjunction with your vitamin C serum. At night, it's a better time to use anti-aging serums with actives in them, like retinol, AHAs, and BHAs, he adds.
How should you store anti-aging serums?
Most anti-aging serums should be stored in a dry, cool environment. "Most can be kept wherever you keep your skincare products in a room-temperature environment," Jacobs explains. Some people enjoy a cold feel to their skincare products when applying and keep them in the refrigerator. If you like to do this, just read the instructions on the serum to ensure it's safe and won't damage the ingredients.
The information presented here is created independently from the TIME editorial staff. To learn more, see our About page.