Our evaluations and opinions are not influenced by our advertising relationships, but we may earn a commission from our partners' links. This content is created independently from TIME's editorial staff. Learn more.
For many parents, sharing a meal with their child and catching up on the day is a way to connect and enjoy time together. While babies don't exactly say too much—that's coherent anyway—introducing new foods is a fun experience. And a messy one! 
Luckily, most high chairs are easy to clean, aesthetically pleasing, and can grow as your baby blooms into a toddler. When shopping, it's essential to read reviews and check dimensions—but perhaps most importantly, to hear from other parents. We interviewed eight moms who dished about their selected high chairs. 
How to choose the best high chair
There are some safety components to keep in mind when shopping for high chairs. To better understand what's vital in a high chair, we chatted with Dr. Jaime Friedman, a pediatrician at the Children's Primary Care Medical Group and a spokesperson for the San Diego Chapter of the American Academy of Pediatrics.
Look for one that is sturdy and has a five-point harness. These are similar restraints to a car seat and will hold your baby in the best.
Look for a high chair with a reclining seat. This will help support babies who are ready to eat baby food but may not be fully sitting yet.
Make sure your high chair locks into place and isn't difficult to tip over.
An adjustable footrest is a big bonus for digestion since it allows your child to sit in an upright 90-degree position as they eat.
A removable tray is also a perk since it makes clean-up easier.
Our top high chair picks
For mom of three Roxanne Truesdell, Lalo The Chair is a mainstay in her home. There's plenty she raves about, but the biggest benefit is how easy it is to clean. Considering toddlers tend to be messy eaters as they learn how to feed themselves, Truesdell removes the tray and takes it straight to the trash to dump big stuff. Then, she scrubs it down in the sink. To clean the seat—where plenty of food accumulates—she sprays an all-purpose cleaner and wipes it down with a wet sponge. 
The straps can be removed and machine-washed. The chair comes with removable cushions that Truesdell removed early on because they would become really dirty. 
Another benefit of Lalo The Chair is the adjustable footrest that allows her toddler to grow and sit in the best alignment for digestion. "As he gets taller, we can flip the footrest over to keep that safe eating environment going," she says. "You can also buy a conversion kit to transform it into a booster seat."
For compact spaces, it's important to note the chair doesn't easily fold to be stored but the legs come off fairly easy to transport. However, given the super-stylish, modern and sleek design, you might not see it as an eye sore. "The aesthetic is so complementary to my kitchen and dining area that I don't ever put it away," Truesdell says. "It's the same height as the kitchen table,so we pull it nice and close so the baby can see and interact with us as if he's sitting at the same table. After all, mealtime is our favorite family time."
All-and-all, Truesdell says it checks off the major things like creating a safe eating environment, easy-to-clean and beautiful to look at. If she could change anything, it could be the angle of the legs. "Maybe I'm just clumsy, but sometimes I stub my toe on one of the legs," she adds.
Pros: 
Easy assembly
Made from non-toxic plastic 
Aesthetically pleasing
Cons: 
Can't fold it
White straps get dirty quickly
Height is not adjustable
Specifications:
Weight: 10 pounds
Dimensions: 24.5 inches x 24.5 inches x 33 inches
Age Recommendations: For use when the child can sit up unaided (approximately 4-6 months) and up to 3 years old (supports up to 30 pounds).
Warranty: The family warranty covers Lalo The Chair for 18 months after purchase. This applies to wooden legs, seats, trays, straps, cushions, mats, and any hardware critical to your product's use and safety.
Adjustable footrest: Yes
Removable tray: Yes
Back support: Yes
Price: $235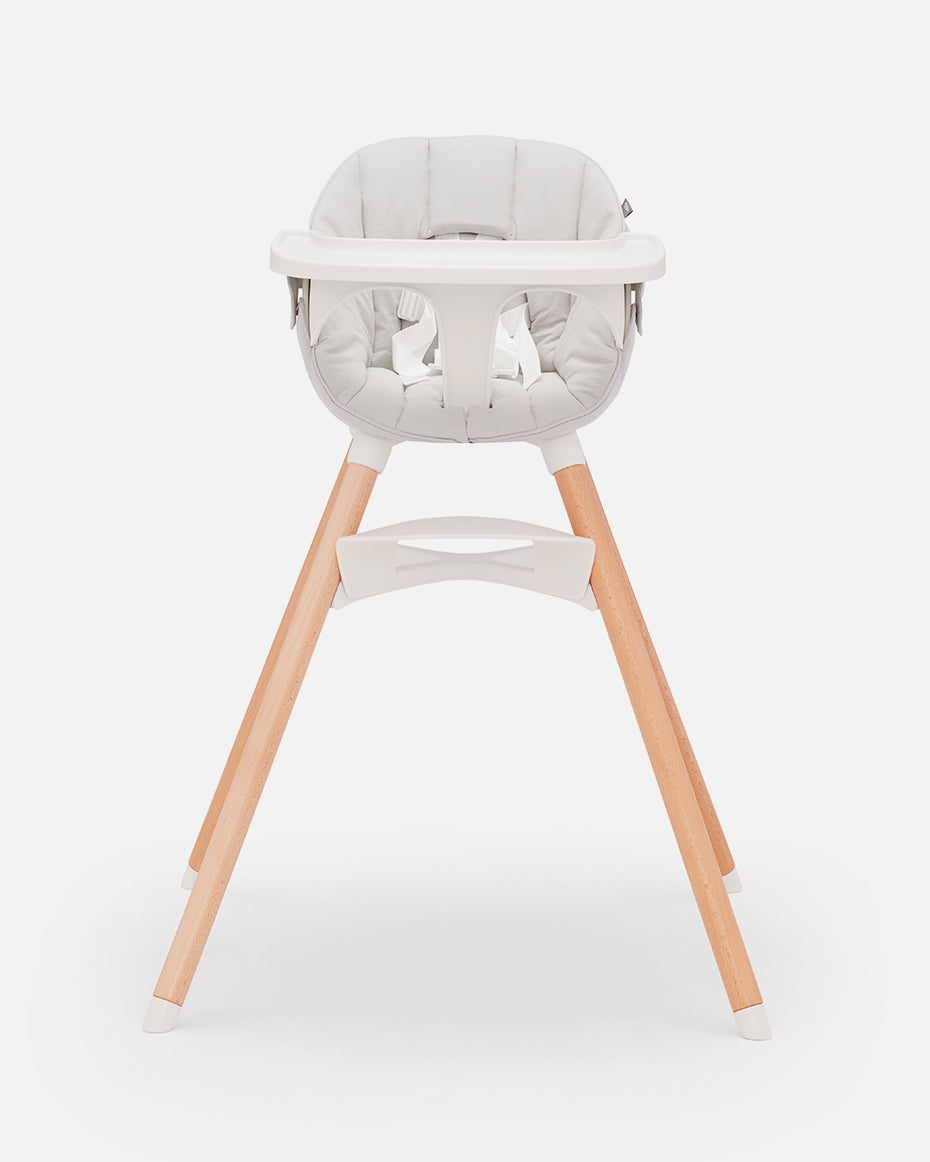 The Chair unique 3-in-1 design
---
Mom of three Emma Kozlowski started using this table chair beginning from 12 months up until her kiddos turned two and a half years old. Unlike a traditional high chair, this one attaches to a sturdy countertop or heavy table, almost like a booster-like seat but with added support. It doesn't include a footrest, but it does allow toddlers to "sit" with the rest of the family.
Kozlowski says her kids are, ahem, creative eaters, and the removable tray is super-fast to clean once mealtime is over. "The mess is quickly gone in the sink rather than left on your counter, and the fabric that the child sits on wipes clean or can be hand washed or washed in the washing machine," she adds.
The most significant benefit of this pint-sized high chair is how easy it is to bring with you wherever your family adventures take you. "For parents on the go, it folds up flat, so it is very portable and also easy to set up so you can bring it to a restaurant or a friend's house," Kozlowski says.  While it might be intended as more of a transitional high chair or something you use when you travel, it could be an innovative solution for parents with limited space. It comes in ten colors and is a steal at $80. 
"We used another high chair when our kids were younger, but it took up a lot of floor space, was bulky, not very nice looking, and didn't seem necessary once our children could sit up on their own," Kozlowski adds. "The only thing I wish they offered was an 'infant insert' so you could put a younger child in there without them wobbling around."
Pros: 
Compact
Lightweight
Great for travel
Cons: 
Can't attach to every table
There's a gap between the table and the seat
Tightening the chair to the table can be time-consuming
Specifications:
Weight: 4.2 pounds
Dimensions: 11 inches (length) x 14 inches (width) x 17 inches (height)
Age Recommendations: for children between 6 and 36 months up to 37 pounds
Warranty: Inglesina says this high chair will be free from defects in material and workmanship for 24 months when properly used and maintained. The limited warranty includes repair or replacement at Inglesina's discretion.
Adjustable footrest: No
Removable tray: Yes
Back support: Low back support; best for kids who can easily sit up on their own.
Price: $79
Inglesina Fast Table Chair in Black
---
Lauren Rae Levy Vigneron initially used a different high chair, but when her child was 18 months, she discovered this Maxi-Cosi six-in-one best seller—and never looked back. She says there's plenty to love, but for a busy mom with a never-ending to-do list, the ability to clean the fabric and remove the tray with a sponge and water is key. 
While she might need a bit of soap here and there, she says most of the time, a quick wash does the trick. The seat covers are machine-washable, so if a deeper clean is needed, it's a fast process. Did we mention the tray is also dishwasher-safe?! The only cleaning setback is the straps, which may be trickier to clean thoroughly. To avoid food waste build-up, try to wipe clean after each meal. 
The high chair also grows with your toddler, hence the name. It comes with an infant insert pad for extra support in the early days, then offers five recline and nine height positions. If you don't want the high chair on display, Vigneron says it folds up small and stores away. However, the sleek design with four color combinations makes it a chic addition to your dining room. For Vigneron, the biggest win is her son loves it and it's comfortable.
Pros: 
Foldable
Grows with baby
Dishwasher-safe tray
Cons: 
Legs take up a lot of room when in use
Straps can be hard to clean
Seats are fabric instead of wipeable material like vinyl
Specifications:
Weight: 24.6 pounds
Dimensions: 34 inches x 22 inches x 42 inches
Age Recommendations: Accommodates children from newborn to six years of age.
Warranty: Includes a two-year warranty. Should the product contain defects in material or workmanship, they will repair or replace the product.
Adjustable footrest: Yes
Removable tray: Yes
Back support: Yes
Price: $199
Best convertible high chair
Maxi-Cosi Minla 6-In-1 High Chair, Essential Blue
---
Reva Minkoff is the proud mama of a 16-month-old son, and instead of going the traditional tall high chair route, she found and loved this booster seat. Affordable—under $50!—and portable, it's been able to grow with her son. Since all moms care about clean-up, Minkoff says this seat makes it fast and effortless. Since it's made of plastic, the removable tray pops off and can be placed directly in the sink after each meal. 
She's never had an issue with difficult-to-remove food and has had zero issues with mold or smell. "Because the chair is solid plastic, it is very easy to wipe down and/or vacuum messes," she continues. "There are no nooks and crannies for things to get stuck in, which is helpful."
Originally, Minkoff used it on the floor by itself, and as her son has grown, she changed it to a booster seat so he has legroom. "It is so flexible that other babies and toddlers have been able to use it when we have company", she says. "I love how easily it fits everyone, and it makes me feel confident we'll be able to use it for a long time." 
In fact, she's bought one set for each of her son's grandparents, so when they visit, they can easily settle into their at-home routine. Want to have dinner al fresco? Hop in the car and have a picnic? Wherever you go, this chair can go, too, Minkoff says. "I feel like it integrates into our busy lives the best—if we are in the kitchen, the dining room, the living room, grandma's house, outside, anywhere." 
Pros: 
Sturdy
Portable
Easy to clean
Cons: 
Relatively small size
No footrest for digestion
Five-point harness would be more secure than just the three (could use shoulder straps)
Specifications:
Weight: 4.15 pounds
Dimensions: 9.06 inches (depth) x 13.9 inches (width) x 15.94 inches (height)
Age Recommendations: Up to 50 pounds
Warranty: No. If you are not satisfied with an item you purchased, you may return the item within 30 days of delivery for a full refund of the purchase price, excluding the shipping, handling, gift wrap, and other charges. 
Adjustable footrest: No
Removable tray: Yes
Back support: Yes
Price: $43
Best affordable high chair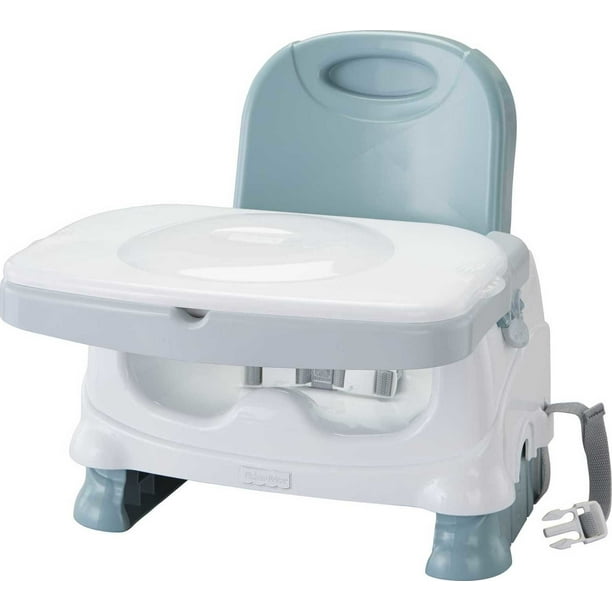 Fisher-Price Healthy Care Deluxe Booster Seat
---
Katrina, a mom of two, started using this high chair when her two daughters began eating at around six months old. When shopping for the right pick for her household, she loved the adjustable footrest that easily clicks in and out of the wooden grooves, the fact it was dishwasher-safe and free of harmful substances like BPA, phthalate, latex and PVC, and the five-point harness for peace of mind. 
It's also fairly easy to clean. Not only is the removable plastic tray dishwasher-safe, Katrina says you can do most of the heavy lifting with a multi-purpose cleaner and a warm, wet washcloth. "Every so often, I take out the cushions and harness straps and clean them in hot water with a mild dish soap," she says. 
Since most parents don't want to invest in a high chair every few months as their baby grows into a toddler, Katrina says this chair accommodates different stages—and looks great in her home. You can choose from nine colors, and Katrina bought two: one for each of her daughters. 
"The only downside to this product is that it is not mobile. The chair's base is about the same size as the base of the standard dining chair," she adds. "We keep both high chairs up to the table for convenience."
In addition to the features, Katrina says she's been a big fan of the company. "Customer service has always been a dream anytime I've contacted them, and you can easily find and buy individual products to replace broken or lost ones, like the cushions, tray, or tray brackets," she says. "It's obvious by the sheer amount of thought in the details that the folks who built this chair really care about not only where their materials come from but also the parents and the children who buy their product."
Pros: 
Five-point harness
Easy to assemble
Easy-to-clean
Cons: 
Removing tray cover can be difficult
Footrest is hard for youngest users to reach
Specifications:
Weight: 22 pounds
Dimensions: 21 inches (length) x 17.6 inches (width) x 34.5 inches (height)
Age Recommendations: Designed to grow with your child from infancy (six months) to adulthood.
Warranty: Yes, a three-year manufacturer warranty
Adjustable footrest: Yes
Removable tray: Yes
Back support: Yes
Price: $220
Best for long term use high chair
High Chairs | Beyond Junior Wooden Chair, Natural Black Pearl Abiie | Maisonette
---
Women's health advocate and mom of two Lisa McCarty started using this high chair when her first child was six months old. She can manage the removable magnetic tray with one hand, which convinced her to choose this chair over all the others. 
"As moms, we always want solutions to make our lives easier and our process for feeding our kids—and cleaning up—more efficient," she says. "This definitely fits that requirement! We loved it, and my son loved it, too. As he got older, he could put the tray on by himself and let himself out when he was done. Another big plus." 
For clean-ups, the tray can go straight into the dishwasher or be wiped clean immediately after use. While it doesn't have an adjustable footrest, it does have an adjustable height and recline option available to accommodate newborn, baby and toddler phases. 
Regarding mobility, McCarty says you can slide it or lift it to carry, but it doesn't fold up. "I found it worked well as a corner of the dining room chair that is tall and slim and not too wide," she adds.
Pros: 
Sturdy
Adjustable harness
Lightweight
Cons: 
No footrest
Doesn't fold
Doesn't have wheels
Specifications:
Weight: 18 pounds
Dimensions: The high chair, when fully extended, measures 37 inches in height from the highest point on the back of the seat to the floor. In the middle position, it measures 35.25 inches, and in its lowest position, it measures 33.25 inches. The three corresponding tray heights are 30.75 inches, 29.25 inches, and 27 inches.
Age Recommendations: The chair can be used for three stages, from six months until 60 months. 
Warranty: One-year warranty
Adjustable footrest: No
Removable tray: Yes
Back support: Yes
Price: $300
Most versatile high chair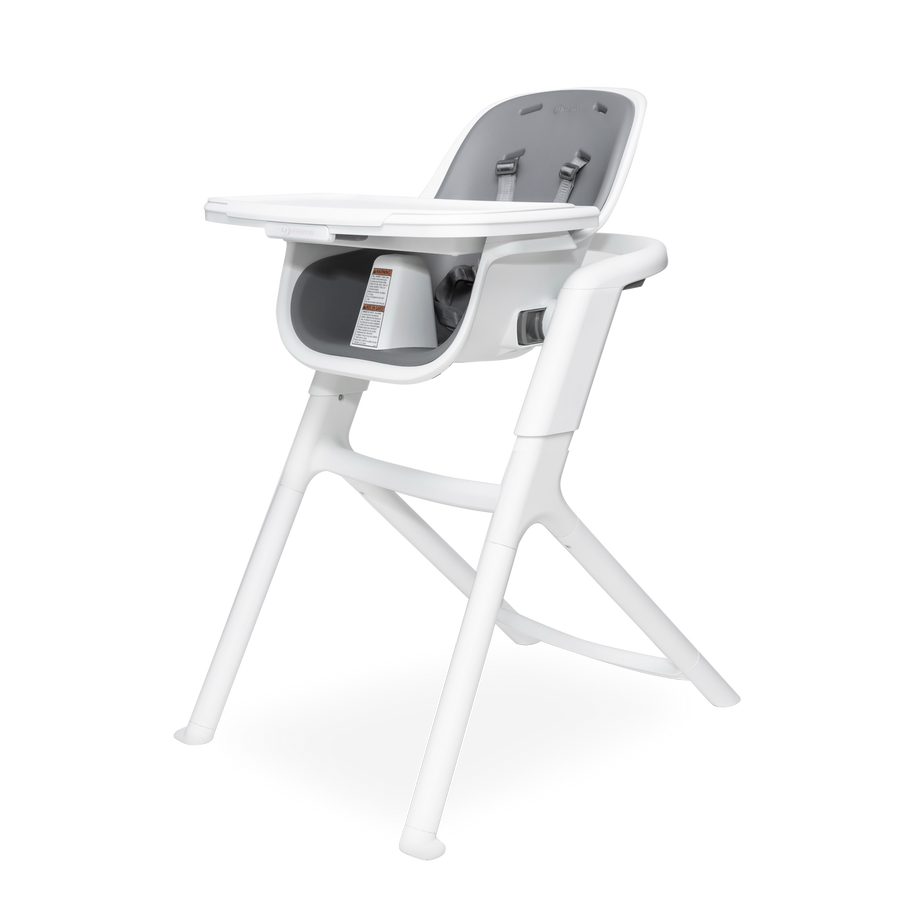 ---
When mom of one Lindsay H. welcomed her first child, she couldn't wait to start feeding her. Since she and her husband were foodies, she looked forward to introducing her daughter to that wonderful world. Though she wanted to present many meal options, there was only one high chair choice for her family: the classic Stokke Tripp Trapp Chair. Though it's splurge-worthy, Tigar and her family knew it would stand the test of time. 
Originally from Denmark, her husband grew up with Norwegian Stokke products. In fact, his mother still had his Tripp Trapp from when he was a toddler, more than 30 years ago. 
This high chair lasts the longest of all on this list, meant to go from six months to adulthood, when the seat can be removed and it can serve as a stool. It also features a streamlined, Scandinavian design with a seven-year warranty. This chair has many benefits, including a removable tray that can easily be placed in the sink after use, an adjustable footrest that allows babies to grow into toddlers and still receive proper digestion and a supportive back. 
(Keep in mind the tray and the newborn bundle are sold separately, which is why this high chair won the 'splurge' category. With all accessories, you could spend $500.)
The only downfall, according to Tigar, is the harness straps. They can be tricky to adjust as the child grows older and difficult to clean. You can remove them, but it's a pain, and you need to soak them for a good amount of time. 
Also, while it might not be a struggle for all parents, it can be time-consuming to put this high chair together. It's also on the heavier side, and it doesn't stow away easily. Even so… it's pretty beautiful, so Tigar doesn't mind seeing it daily in her kitchen.
Pros: 
High-quality
Sturdy
Easy-to-clean
Cons: 
Not foldable
Accessories sold separately
Assembly can be difficult
Specifications:
Weight: 15 pounds
Dimensions: 19.29 inches (depth) x 18.11 inches (width) x 31.1 inches (height)
Age Recommendations: Birth to adulthood
Warranty: Seven years
Adjustable footrest: Yes
Removable tray: Yes
Back support: Yes
Price: $300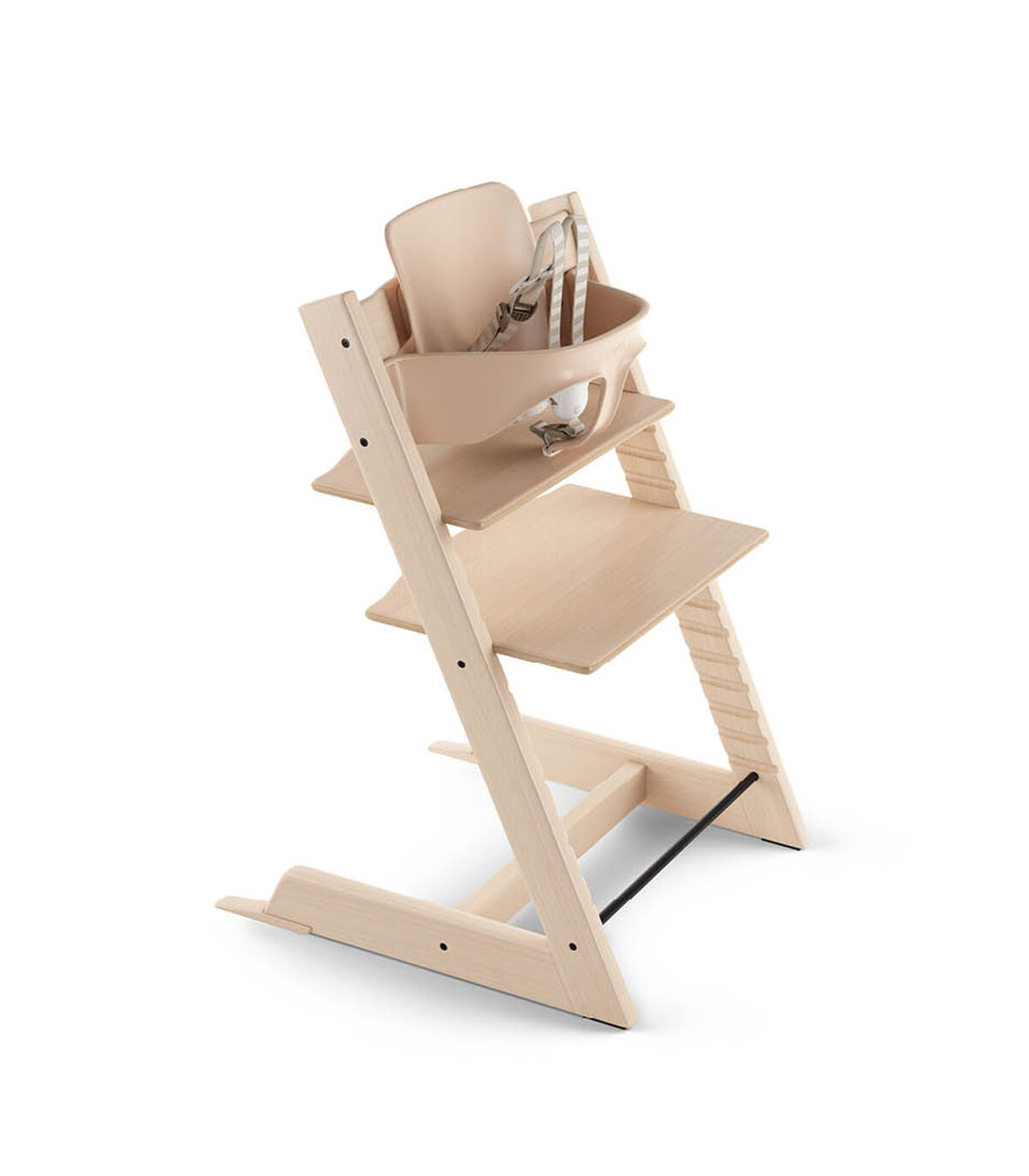 Tripp Trapp® The Chair That Grows With The Child
---
Vicki W., a mom of two, started using the Joovy Nook from six months through two years for her four-year-old. And she'll soon use it again when her second child starts eating solids in a few months. Since wrangling kiddos is no easy task, Vicki raves about the removable tray insert that's dishwasher-safe, and the rest of the chair that's fast to wipe down or vacuumed for a deep-clean. The leatherette on the seat is great and can be thrown in the wash, but it can't be dried in a dryer.
Another bonus is the slightly-smaller base that doesn't take up too much of a footprint in a smaller dining room. Plus, it folds down flat using only one hand, making it fast to store between meals—and take it with the family when they travel. 
"Having lived in a small apartment with very little space when first shopping for a high chair the Joovy Nook hit every mark that we required," she says. "It was small, lightweight and folded small enough to not take up too much space."
Pros: 
Large tray
Foldable
Lightweight
Cons: 
No adjustable footrest
Can be difficult to clean with crevices for food to get stuck in
No cup holder
Specifications:
Weight: 15 pounds
Dimensions: 41 inches (height) x 23.5 inches (width) x 32 inches (length)
Age Recommendations: 6 months up to children weighing 50 pounds
Warranty: Two-year warranty guarantee 
Adjustable footrest: No
Removable tray: Tray swings open. It has a removable, dishwasher safe tray insert
Back support: Yes
Price: $130
Best high chair for small spaces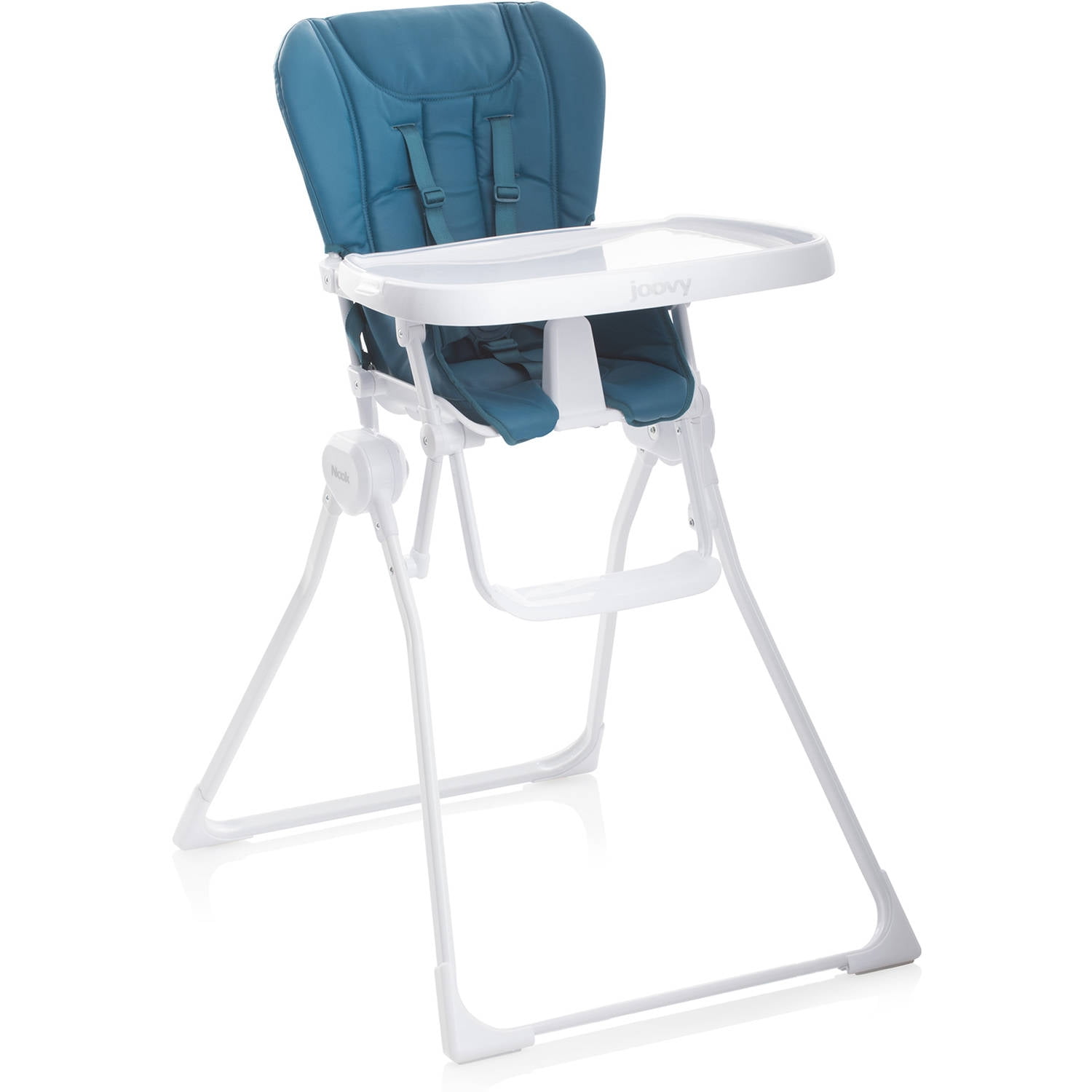 Joovy Nook Baby High Chair
---
How we tested and selected the best high chairs 
First, we interviewed pediatricians and parenting experts for the features to look for in a high chair and other factors that matter when making a purchase. Since first-hand experience is key, we interviewed parents who use each of these high chairs. We asked them about the durability, functionality, investment, ease of clean-up and the ability of the high chair to grow with the child.
When can babies sit in high chairs?
It's an exciting day when your baby can try something other than breastmilk or formula. And for most, this is around six to eight months, according to Christine Hernandez, an early childhood and parenting expert and the founder of Allo Saratoga. To know if your little one is ready, make sure they can sit up unsupported. "Sitting unsupported puts your baby's body closest to a 90-degree angle when seated in their chair, which is ideal for both comfort and safety," she says. "Sitting unsupported is also an indicator of readiness for starting solids, so by the time your baby is ready to start solids, they will be ready for their high chair."
Types of high chairs
Not sure what type of high chair best fits your family? While most parents will go with a standard high chair, you might also consider having a travel-friendly high chair and, eventually, a booster seat. Hernandez explains the different types of high chairs you can choose from:
Full-size high chairs 
They're designed for home use, feature a freestanding frame with a seat tray, and often have adjustable features. Full-size high chairs provide stability and durability and can grow with your child.
Portable/travel high chairs
Portable or travel high chairs are designed for on-the-go use or those with limited space. They are typically lightweight, compact, and foldable, making them easy to transport and store. Portable high chairs often attach to regular chairs or tabletops. They are usually more comfortable for a smaller baby than restaurant high chairs, so it's worth having if you eat out frequently.
Booster high chairs 
There will come a time when your baby or toddler is too big for their high chair but not quite big enough to sit in a regular chair. A booster seat is the perfect in-between option for toddlers who can sit independently without a five-point-harness to keep them secure. They normally attach to a regular chair and have a safety buckle to keep your child safe.
Convertible high chairs
Some high chairs can grow with your child, transforming from a full-size high chair into a toddler chair or a booster seat as your child grows. These options are more expensive but provide long-term use and are usually worth the investment. They also typically have a good resale value if you want to make some of your money back after your child outgrows it entirely.
Frequently asked questions (FAQs)
Do high chairs have weight limits?
Hernandez shares most high chairs have weight limits, and the specific capacity can vary depending on the brand. Generally speaking, it's between 30 and 50 pounds. "Always check the manufacturer's guidelines to ensure your child is within the suggested weight limits for their chair," she adds.
When do toddlers stop using high chairs?
Hernandez says toddlers usually transition from high chairs around two to three, depending on their developmental readiness and personality. "As toddlers become more independent, they may associate their high chair with being a 'baby' and want to sit at the table with you," she explains. "Moving from a high chair to a booster may cause some regression in eating behaviors as they adjust to having more freedom of movement in their seat. This is normal. Once your child gets used to their new seat and the novelty wears off, they should disappear."
What is the standard height of a high chair?
Hernandez explains the standard height of a high chair can vary, but most models range between 32 to 36 inches in height. "Typically, your baby's high chair can be pulled up to the dinner table, and they'd be roughly at the same height as everyone else," she says. "This allows parents to help feed their babies without bending over or reaching up." In convertible high chairs, adjustable height features accommodate different table heights and growing children.
What do the different high chair sizes mean?
According to Hernandez, high chair sizes generally refer to the age range or weight capacity they are designed to accommodate. Manufacturers may designate high chairs as "infant," "toddler," or "child" size to provide a general guideline for parents. 
"Infant-sized high chairs are typically designed for babies from 6 months to 3 years old, while toddler-sized high chairs are suitable for children from 1 to 3 years old," she says. "As a rule of thumb, check the manufacturer's specifications for each high chair model you're considering, as sizes and weight limits can vary."
The information presented here is created independently from the TIME editorial staff. To learn more, see our About page.