Our evaluations and opinions are not influenced by our advertising relationships, but we may earn a commission from our partners' links. This content is created independently from TIME's editorial staff. Learn more.
Updated
September 12, 2023
Whether you're looking for an ultra practical wallet that will keep your cards and cash organized, or something more luxurious that makes a statement when you pull it out, there are high quality wallets available for every type of guy. However, sifting through the different types of wallets, from traditional leather bifolds and slim card holders to pared down money clips and theft resistant trifolds, can feel like a bigger challenge than you want to undertake. Once you know what specifications fit your needs best, though, finding the best wallet to match your style isn't difficult. Since you're likely going to carry your wallet each and every day, it's important that you settle on one that suits your unique needs and preferred aesthetic. 
How to choose the right wallet 
Material 
Although the world of wallets is ever expanding, the most popular materials for high quality wallets are leather, metal, and nylon. Although leather tends to be the most expensive of the three, it's not necessarily the best. Which material you choose should be dictated by what you want to get out of your wallet, and where you spend most of your time. 
Leather: This is the most traditional mens wallet material on the market. Leather, and nylon as well, is ideal because it's smooth enough to easily slide in and out of your pockets without catching on anything. Leather also 'breaks in' over time, resulting in a smoother, unique finish that represents the different experiences you and your wallet have shared. Leather wallets are also known for durability and longevity, so it's not unlikely that you and your leather wallet will go through quite a bit together. 
However, leather isn't water proof and it's not the thinnest material on the market, especially when it's high quality. Also, if you want your leather wallet to last as long as possible, you have to properly care for it, which may involve cleaning and polishing a few times a year. These drawbacks may direct you to more rugged materials such as metal or nylon. 
Metal: Metal wallets are becoming increasingly popular, especially as digital payments become more and more common while cash and coin payments are in decline. What metal wallets and card holders lack in elegance they make up for in durability and protection. High quality metal wallets tend to be made from strong, lightweight materials like aluminum or titanium.
Metal outperforms nylon and leather when it comes to physically protecting the contents of the wallet. Not only does the metal offer better protection from drops, the structural rigidity ensures that any documents within, such as checks or tickets, won't be improperly creased. 
Nylon: Although nylon isn't the most luxurious material to choose from, high quality nylon wallets can strike a balance between the look and flexibility of leather with the enhanced durability and practicality of a metal wallet. Nylon is lightweight, thin, flexible, waterproof, and in many cases also slash resistant. Nylon wallets are also quite easy to wash, which makes them ideal for anyone who frequently finds themselves outdoors, for work or for pleasure. 
However, like men's metal wallets, nylon wallets usually don't look as sleek or professional as their leather counterparts. On the other hand, this often makes them significantly cheaper. In fact, nylon wallets are likely to be the cheapest of the three. 
Size 
Before deciding on a new wallet, take into consideration the dimensions of your current wallet. Think about whether you want something larger or smaller. If you have a lot of cards to carry, for example, look for wallets that spread card compartments across the wallet footprint, so you don't end up with unusually bulky sections where cards are piled on top of one another. On the other hand, if you don't carry too much, you want to consider a smaller wallet with fewer pockets. Also, keep an eye out for wallets that make the most of their footprint by adding additional features, such as a single card-sized cardholder with an attached money clip for easy cash storage. 
Capacity 
Most standard wallets and card holders have space for 7-10 cards, in addition to a small amount of cash. Take stock of what you currently have in your wallet – whether it be old receipts or business cards, chances are you're carrying around unnecessary items. Once you're familiar with what's currently in your wallet, try to get rid of whatever you can. What you're left with should play a large role in determining what size wallet you get. Best practice is to get a wallet that has slightly more space than what you plan to put in it from the start, so you can add to it as needed.
Design 
While there are countless wallet designs to choose from, there are a few that dominate the market. 
Bi-fold construction: Without a doubt, this is the most popular shape for a mens wallet. While you won't find many metal wallets in this category, there are a number of leather and nylon options. Bi-fold wallets for men typically contain a cash slot and 4-8 card slots in addition to an ID window. Although bi-folds can be on the slim slide, they definitely aren't the go-to minimalist option. 
Tri-fold construction: These wallets offer heightened security and storage over their bi-fold peers. The triple folding structure ensures that your wallet is completely sealed on the edges, which adds security and mitigates the risk of losing a loose card. However, tri-fold wallets tend to be bulkier than bi-folds, and they often rely on velcro to stay shut, which isn't a very durable or elegant clasp material. 
Card holder: Although it's not uncommon to see vertical bi-fold wallets advertised as card holders, these wallets don't typically have any type of fold. Card holders are often the slimmest option, and are ideal for minimalist travelers and consumers who rely on digital payments. Another benefit of card holders is that you truly have the full spectrum of materials to choose from. Not only can you get leather, metal or nylon, there are high-end card holders that make use of multiple materials. 
Money clip: Don't let the simplicity of the name fool you, as money clips are actually quite versatile. Ideal for men who subscribe to the age old 'cash is king' mentality, money clips offer a slim profile and easy access to your notes. While money clips can be slimmer than card holders in their most pared down form, which consists of the clip and nothing else, they are limited in what, and how much, they can hold. Money clips are also limited in the add-ons they can provide, such as RFID protection. 
Hybrid wallets: Hybrid wallets combine the best features of different designs to maximize practicality and ease of use. For example, you can choose a bi-fold construction with an internal money clip instead of a cash sleeve to hold your notes. Alternatively, there are tri-fold wallets with removable card holders so you can swap from maximal practicality to sleek minimalism without having to switch wallets. Be on the lookout for high-end hybrid wallets that offer versatility as well as practicality.  
Security
Unlike buying luggage or other accessories where your main concern is durability (and, perhaps, style), you may have to consider the unexpected when it comes to buying a wallet: Can it thwart a criminal from afar? One of the drawbacks of relying on new technologies for payments is the presence of nascent threats to your personal finances. Hackers and other online criminals are constantly looking for new ways to exploit credit cards and other methods of digital finance. Thankfully, the wallet industry has adapted to offer wallets that can mitigate these threats. 
Look for wallets that provide built-in RFID blocking, which prevents those with bad intentions from electronically swiping your credit information as you walk past them. Another great security feature that's increasingly being incorporated into men's wallets is built-in tracking ability or a dedicated space for an external tracker, such as an Apple Airtag. If you've experienced the sinking feeling of not knowing where your wallet is, you can appreciate the value of being able to track its exact location, even if it's just lost under a stack of papers on your desk. 
Our top picks for the best wallets for men 
At this price, it's hard to beat the quality of the Timberland Milled Leather Bifold Wallet. Although the leather isn't as thin and supple as more expensive wallets, it's durable and will wear well with time. The exposed double stitching further enhances durability while adding to the simple, but pleasing design. Plus, like most products from Timberland, it's designed for use in rough conditions. But, that doesn't mean the Milled Bifold Wallet can't be used for everyday carry, formal or casual. 
Specifications: 
Dimensions: 4.3 inches long x 3.4 inches wide x 0.4 inches thick 
Capacity: 8+ cards, 10+ bills 
Material: Milled leather 
Colors: Brown
Warranty: 1-year standard warranty 
Price: $38 from Timberland 
What we like: 
Includes two ID windows, both with thumb slots for easy access
Flip-up card slot offers privacy from prying eyes for cards with sensitive information
Made from thick, durable leather
What we don't like:
The design is quite simple, and there is only one color to choose from
Best affordable wallet for men
Men's Milled Leather Bifold Wallet
The Thin Bifold Wallet from Leatherology combines the versatility and function of a traditional bifold with the design of a modern, minimalist wallet. With six card slots, two interior pockets, and a full-sized bill compartment that can accommodate notes larger than standard United States bills, this wallet has ample room to carry your essentials. Even when it's packed with cards, receipts, and other odds and ends, you will still be able to comfortably carry it in your front or back pocket. Another great feature is that the smooth leather lets it easily slide into and out of your pockets, so you won't have to worry about fumbling around your pants when it comes time to pay. 
Specifications:
Dimensions: 3.4 inches long x 4.15 inches wide x 0.5 inches thick 
Capacity: 6 credit card slots 
Material: Full grain leather 
Colors: Black, brown, navy blue, cognac 
Warranty: 1-year limited warranty 
Price: $70-$100 from Leatherology
What we like:
This wallet looks, feels, and performs better than the price would suggest
Great storage considering the size
For a small fee, you can also get this wallet personalized
What we don't like:
The standard edition Thin Bifold Wallet from leatherology has plain looks, and if you want to get a more interesting leather, you have to shell out another $30
As the name suggests, this wallet has excellent versatility thanks to the fact that it comes with a magnetically held removable card-holder, as well as a slim coin pouch. Both of these are fully removable, so you can customize your wallet to your daily needs. Plus, the Ekster Bifold comes with a built-in tracker, which can come in handy if you lose your wallet. 
Specifications: 
Dimensions: 4.1 inches long x 2.3 inches wide x 0.29 inches thick 
Capacity: 1-12 cards and/or bills 
Material: Eco-tanned leather 
Colors: Caramel, brown, black 
Warranty: 1-year standard warranty 
Price: $64-$80 depending on whether you add a tracker card from Ekster 
What we like 
The tracking feature enhances security while providing peace of mind
The leather is high quality and sustainably produced
It's hard to beat the price considering it has worldwide tracking capability
What we don't like
The colors to choose from aren't exciting
When the card holder is removed, there's just an empty space left in your wallet
Best bifold wallet for men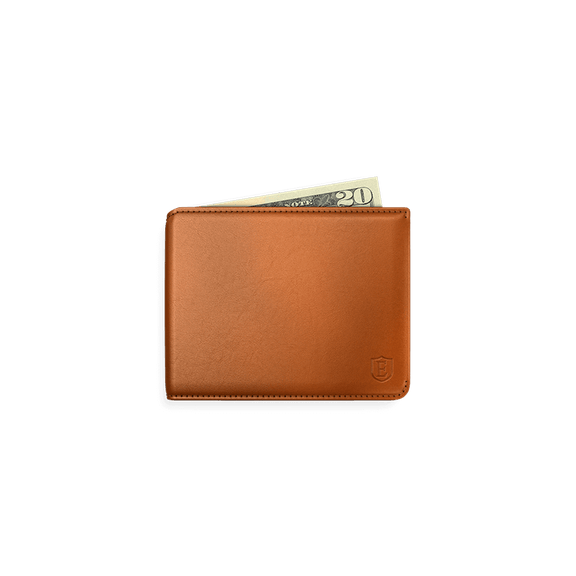 The Bellroy Slim Sleeve pairs simple design with everyday convenience features. Although it looks like it only holds a few cards, there is ample storage. The Slim Sleeve is able to keep everything organized because it's packed with innovative designs: Card slides, for example, tend to come with metal cardholders, rather than leather wallets. However, for the Slim Sleeve, Bellroy designed a luxurious, leather-wrapped card slide that neatly fits into the interior pocket. All of your less-frequently used cards are kept out of sight until you need them, and when you do need them, you can access them all by simply pulling a tab. 
Specifications:
Dimensions: 3.7 inches long x 3.1 inches wide
Capacity: 5-11 cards, 5-7 bills 
Material: Full grain leather 
Colors: 10+ colors and patterns to choose from 
Warranty: 3-year standard warranty 
Price: $65 at Bellroy 
What we like:
This wallet is ultra slim, but doesn't skimp on space
There are lots of colorways and patterns to choose from
Both of the front card slots have a notch in them for easy access, which looks much better than the traditional plastic ID cover with a thumb slide
What we don't like:
Some customers reported that the leather loosened more than expected after a few months of use
Best minimalist wallet for men
The Coach Slim Bifold has a classic design, high quality materials, the backing of a reputable brand and best of all, doesn't break the bank. Instead of relying on screaming logos to get your attention, the Slim Bifold from Coach evidences its luxury through quality. The split sport-calf leather is pleasing to touch and equally rugged. Not only will it wear nicely, it's easier to maintain than traditional calf leather. Overall, this is a great wallet that performs well in all the essential categories. 
Specifications:
Dimensions: 4 inches long x 3 inches wide  x 0.5 inches thick 
Capacity: 6+ cards, 10+ bills 
Material: Split calf leather 
Colors: Black, saddle brown, mahogany brown 
Warranty: 1-year standard warranty 
Price: $150 from Coach 
What we like:
Made with Coach's signature buttery-smooth leather
Large bill compartment for carrying cash, receipts and other paper notes 
Reasonably priced for the brand and quality
What we don't like:
Limited colors to choose from, and only one type of leather to choose from as well
Best leather wallet for men
The Ridge wallet was designed with durability in mind, and this is one of the toughest metal wallets on the market. If you're looking for something you can toss into bags for an outdoor trip without having to worry, or if you work on a jobsite, this is the wallet for you. You can choose from just the metal wallet or you can get an additional cash strap, money clip or both. The cash strap is a nice alternative to a money clip because it can secure a greater variety of items, such as your car keys or even a miniature flashlight, while a money clip is limited to paper items. 
Specifications:
Dimensions: 3.4 inches long x 2.1 inches wide x 0.2 inches thick 
Capacity: 1-12 cards 
Material: Titanium 
Colors: 15 colors to choose from
Warranty: Lifetime warranty 
Price: $110 from Ridge 
What we like:
Titanium is both lightweight and durable
Excellent warranty
Fair price for the materials and quality
What we don't like:
Although the titanium doesn't dent, it does show scratches fairly easily
Adjusting the size isn't as intuitive as Ridge makes it seem
Best metal wallet for men
The combination of materials is luxurious and good-looking, and more importantly, durable. This wallet doesn't sacrifice elegance for practicality. There's even a patented easy access switch you can click to pop out your most frequently used cards without having to open the wallet. 
Specifications:
Dimensions: 4.1 inches long x 2.5 inches wide x 0.4 inches thick 
Capacity: 12+ and 6+ bills 
Material: Leather and aluminum
Colors: Bronze, brown, tan, black 
Warranty: 1-year standard warranty 
Price: $77-$110 from Ekster 
What we like:
Easy access to cards 
The leather and aluminum combination is unique
The Vachetta Parliament Wallet is both lightweight and rugged
What we don't like:
Best smart wallet for men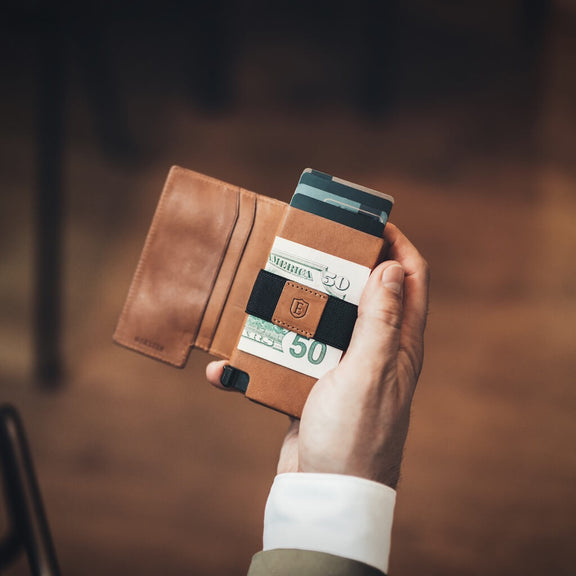 Vachetta Parliament Wallet
The Slim Zip Travel Wallet is the perfect companion for your backpack or briefcase on your next trip. It's large enough to keep your personal items, and even those of your family, and can accommodate all types of currency, paper or coins. And while it's made from high quality, smooth leather, it doesn't look so fancy that someone may want to take it from you – the last thing you want is a travel wallet that makes you a target. 
Specifications:
Dimensions: 9 inches long x 5.25 inches wide x 0.6 inches thick 
Capacity: 7 cards, 4 separate bill compartments, 4 passports 
Material: Full grain leather, nickel 
Colors: Black, bordeaux, navy blue, cognac, azure, lilac 
Warranty: 1-year limited warranty 
Price: $125 from Leatherology 
What we like:
Slim enough to slide into the front pocket of your backpack or alongside your computer in a laptop slide
Large storage capacity for different sized items
Durable, all-metal zipper
What we don't like:
RFID protection costs an extra $15
Best men's wallet for travel
Best men's wallet/iPhone case combo: Bellroy Phone Case 
There's no better way to cut down on the size of your wallet than by getting rid of it altogether and merging its function into another essential product you already own. That's where the Bellroy Phone Case comes in. This handy phone case protects your iPhone while also holding your most essential cards, and maybe even a folded bill. Where the Bellroy Phone Case stands out from the crowd is in the slimness of the wallet portion, and the quality of the leather that surrounds the case. If you don't want to replace your wallet, you can treat the Bellroy Phone Case as a 'bonus' wallet of sorts. You may want to use the phone case to carry your daily essentials while keeping a wallet in case you need cash or go on a trip. 
Specifications:
Dimensions: Length and width of your Iphone Model x 0.6 inches thick 
Capacity: 3 cards 
Material: Eco-tanned leather 
Colors: Black, cobalt, lagoon, terracotta, citrus
Warranty: 3-year standard warranty 
Price: $45-$79 depending on your phone at Bellroy 
What we like:
The slim profile makes the wallet portion feel like it's not there
Efficiently performs the key function of a wallet and phone case at the same time
Top notch leather is used throughout the wallet
What we don't like:
Although three cards is enough to get around your workplace or college campus, it's not enough to bring everything you need for a trip
Only compatible with the Iphone
Best men's wallet/iPhone case combo
The Contour Wallet is designed to keep your cards securely organized in all conditions without losing versatility and practicality. You can count on the Contour to exceed expectations as a wallet as well as accomplish tasks, such as opening a bottle, that fall far outside a wallet's expected functionality. And if you didn't think titanium and aluminum were strong enough, each wallet has a PVD coating that protects the metal from cosmetic blemishes. Despite the fact that this wallet was clearly designed to take on harsh conditions, Trayvax incorporated high-end components wherever they could. 
Specifications:
Dimensions: 3.4 inches long x 2.4 inches wide x 0.5 inches thick
Capacity: 13 cards, 10 bills 
Material: Top-grain leather; titanium, trass or stainless steel 
Colors: Raw tobacco, stealth black, mississippi mud 
Warranty: 65-year heirloom warranty 
Price: $155 
What we like:
One line of free engraving
Includes a built-in bottle opener, an adjustable money strap, and RFID protection
Made in the United States
What we don't like:
The skeletal design means that the contents of your wallet will be partially exposed when you take it out of your pocket
Best tactical wallet for men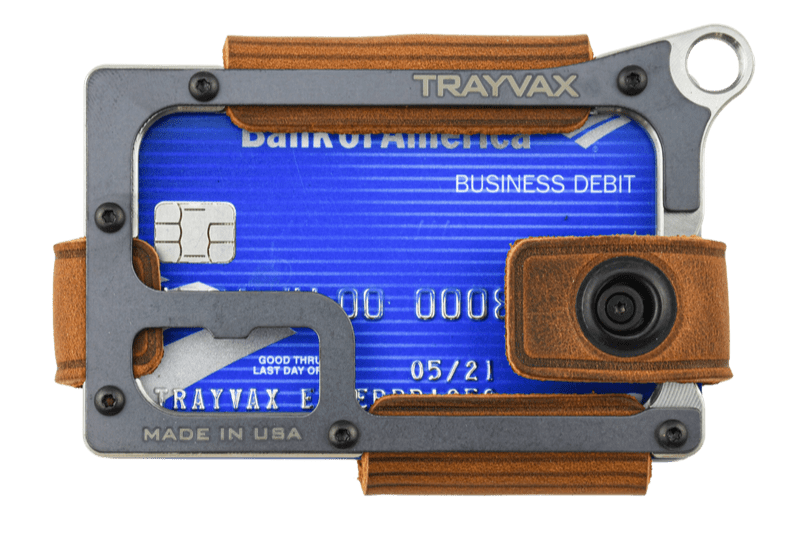 Contour Wallet - Raw Tobacco Brown
If you can't decide whether you want a full sized bifold or just a cardholder, you may not have to choose. The 3-in-1 Leather Wallet from Coach has a fully removable cardholder that slides into the interior pocket of the bifold when you want maximum storage, or can be removed and used on its own when you want minimal bulk. Of course, you can also use the bifold on its own. There are more than enough options to fit your daily needs, even as they change. 
Specifications:
Dimensions: 3.5 inches long x 4.3 inches wide x 0.75 inches thick 
Capacity: 12+ cards & 10+ bills 
Material: Embossed or smooth leather 
Colors: Black, army green, saddle brown, mahogany 
Warranty: 1-year standard warranty 
Price: $225 from Coach and Saks Fifth Avenue 
What we like:
The ability to interchange the wallet components makes the 3-in-1 quite versatile
Made with the quality of a recognized brand-name manufacturer, Coach
What we don't like:
The embossed branding option may be too flashy for some; also, when this wallet is fully loaded, it's definitely on the bulkier side
Best luxury wallet for men
COACH Men's 3-In-1 Wallet
Italian luxury fashion brand Salvatore Ferragamo has developed a reputation for producing some of the finest leather goods available for decades, and the Revival Gancini wallet exhibits the brand's commitment to quality. The exterior of the wallet features an eye-catching textured leather and an opulent shiny finish. While the outside emphasizes aesthetics, the interior of the Revival Gancini doesn't spare functionality. There are a number of card slots, as well as an ID window with thumb-slide access. This wallet strikes a perfect balance between luxury and utility. 
Specifications:
Dimensions: 4.3 inches long x 3.4 inches wide 
Capacity: 7+ cards, 10+ bills 
Material: Stamped calfskin leather 
Colors: Two-tone
Warranty: Free returns within 30 days; no warranty. 
Price: $550from Ferragamo and Saks Fifth Avenue
What we like:
Made from some of the highest quality leather on the market
Backed by the reputation of a renowned manufacturer
The design is both subtle and classy thanks to the unique leather texture and the famous Ferragamo logo
What we don't like:
Quite expensive, even for Ferragamo. 
Best designer wallet for men
Gancini wallet with ID window
If you're in the market for a high quality wallet that maximizes storage space without completely disregarding size, look no further than this Trifold Wallet from Leatherology. This trifold boasts nine easy-access card pockets, as well as three extra slots that can be used for additional cards or folded documents and bills. There are also two bill slots, so keeping your essentials organized is quite easy. 
Specifications: 
Dimensions: 4.3 inches height x 3.1 inches wide x 0.75 inches thick 
Capacity: 9 cards, 10+ bills 
Material: Full grain leather 
Colors: Black, brown
Warranty: 1-year limited warranty 
Price: $90-$100 from Leatherology 
What we like:
For an extra $10 you can personalize both the inside and outside of this versatile trifold wallet with debossed initials
There are a number of fonts and colors to choose from for the debossing, such as gold and silver
The leather is smooth, but customers report that it doesn't scratch too easily
What we don't like:
There are only two colors to choose from and there's no ID window despite its trifold design
Best personalized wallet for men
Money clips are perhaps the simplest men's wallet variation. If you regularly carry cash and only a few cards, you may not need all the card slots traditional wallets offer. The Coach money clip can drastically slim down your wallet's overall size, which is the biggest benefit of using a money clip. However, the Coach clip elevates the traditional design by wrapping it in high-quality leather. 
Specifications: 
Dimensions: 2.5 inches long x 1 inch wide  x 0.25 inches thick 
Capacity: Variable 
Material: Leather, gunmetal 
Colors: Black, brown
Warranty: 1-year standard warranty 
Price: $50 from Coach
What we like:
The coach money clip has a classic design that will slip right into the breast pocket of any suit or blazer
The leather-wrapped design adds a touch of class without affecting the ultra-minimalism of the money clip
The magnetic snap closure keeps your money secure
What we don't like:
There are only two colors to choose from,and there isn't any adjustability
Best money clip wallet for men
How we tested and selected the best wallets for men 
We conducted in-depth research into a variety of men's wallets at differing price points to make sure that we took into consideration as many high quality wallets for men as possible. We accounted for customer satisfaction, specification sheets, third-party reviews, and our own experience to make our selections. All of our recommended wallets have met rigorous criteria for material quality, storage capacity, design, and size. To make the final cuts, we considered additional criteria such as security, versatility and the reputation of the brand for luxury and budget wallets alike. 
Frequently asked questions (FAQs)
How much should I spend on a wallet for a man? 
Depending on the materials you choose, expect to spend between $40-$60 for high-quality, affordable wallets and between $80-$120 for high-end wallets that don't have a luxury brand name. If you are interested in purchasing a luxury wallet from a famous designer, expect to spend between $250-$500, depending on the size and brand. 
Are luxury wallets worth it? 
Thankfully, luxury wallets aren't the only option to get a high-quality, long-lasting, and good looking wallet. There is an undeniable premium for wallets made by high-end brands, but if you're willing and able to shell out the cash, you can rest assured knowing that you're investing in something that's going to last a long time. High quality leather ages beautifully and can last for years, even with consistent heavy use. 
How can you tell what a quality wallet is? 
First and foremost, look at the materials. If you are looking at leather wallets, make sure that the leather is genuine and able to be cleaned with standard maintenance. Quality metal wallets, on the other hand, will be made from durable materials such as titanium. The materials are less important for nylon wallets, but high-quality options often offer slash-proof and water resistant fabrics. 
Also, regardless of what material you choose, quality wallets will be thoughtfully designed. For example, it can be tricky to get cards out of a stuffed metal card holder. Top quality wallets will be designed to mitigate issues like this. 
Do I still require a coin pocket? 
In all likelihood, no. If you work a job that generates a lot of change, or regularly find yourself dumping large amounts of coins out of your pockets at the end of each day, you might want to consider a coin pouch. However, if you usually pay with a card, or another form of plastic or digital currency, a coin pocket may be bulkier than it is useful.
The information presented here is created independently from the TIME editorial staff. To learn more, see our About page.