Our evaluations and opinions are not influenced by our advertising relationships, but we may earn a commission from our partners' links. This content is created independently from TIME's editorial staff. Learn more.
Updated
September 26, 2023
Some say loafers are having a moment right now in men's fashion—though we think they've always been cool and stylish, mainly because of their versatility. Loafers bridge the gap between casual and formal. They easily go from the board room to brunch with style. When worn with a white t-shirt and jeans, you'll suddenly look a bit more put together—as if you actually spent time thinking about what to wear (even if you didn't). Whether you're looking for a new pair or are just now considering the stylistic possibilities of these shoes, there's something for you in our list of the best loafers for men. 
Our top picks for the best loafers for men
Bass has been manufacturing the Weejuns penny loafers for almost 100 years. In fact, they're probably the loafers you (or your father, or your grandfather) wore in high school back in the 1960s. They're still just as stylish—and still look great with the right pair of men's chinos. Handsewn in El Salvador with beefroll edging (the rolled stitching around the toe box), these work well with casual and more upscale looks. Also available in a fun color-block style. 
Specifications: 
Sizes: 7-13 (including half sizes)
Price on publish: $175.00
Material: Leather
Colors: Black, wine, whiskey 
Pros:
Classic style
High quality
Cons:
Runs a bit narrow in toe box 
Best penny loafers for men
G.H.BASS | Men's Larson Weejuns Loafer Shoes | Black | Size 13
Made with water-repellent Italian suede and FloatForm memory foam on the footbed, these loafers from Wolf and Shepherd are perfect for summer adventures. Unlined for softness and constructed with a foldable heel counter—meaning the back collapses,  transforming these into a slip-on or slide style shoe—the Monaco is incredibly versatile, looking equally at home by the sea or by the desk.
Specifications: 
Sizes: 615 (including half sizes)
Price on publish: $195.00
Material: Italian suede
Colors: Stone, cognac, navy
Pros: 
Cons:
Not as much support as some others
Best summer / hot weather loafer for men
Wolf & Shepherd - Monaco Loafer - Stone / 15
Made from quality leather with heat sealed and sewn seams, these loafers from Dr. Martens are durable and sturdy. They feature the iconic Dr. Martens rubber sole for comfort—which is also what gives them their casual air. They will need to be broken in, so don't wear them out for an entire day of walking straight out of the box. They also run big, so you may want to size down.
Specifications: 
Sizes: 4-14
Price on publish: $150.00
Material: Leather
Colors: Black, dark brown 
Pros: 
Air-cushioned sole
Slip resistant
Cons:
Best casual loafers for men
Dr. Martens Adrian (Dark Brown) Boots
Made from vertically-sourced A-grade leather from American steer, The Loafer from Amberjack comes at an excellent price for the quality. The shoes themselves are produced by master fabricators in Portugal and designed in Brooklyn, New York. They feature a sheepskin lining and a thermos-moldable insole for incomparable comfort. Sleek, smooth lines unfettered by embellishment means they pretty much go with anything—and go anywhere. 
Specifications: 
Sizes: 7–13 (including half sizes)
Price on publish: $175.00
Material: Leather
Colors: Chestnut, obsidian, honey
Pros: 
Simple and stylish
Made from high-quality materials
Cons:
Doesn't have a black option
Best leather loafers for men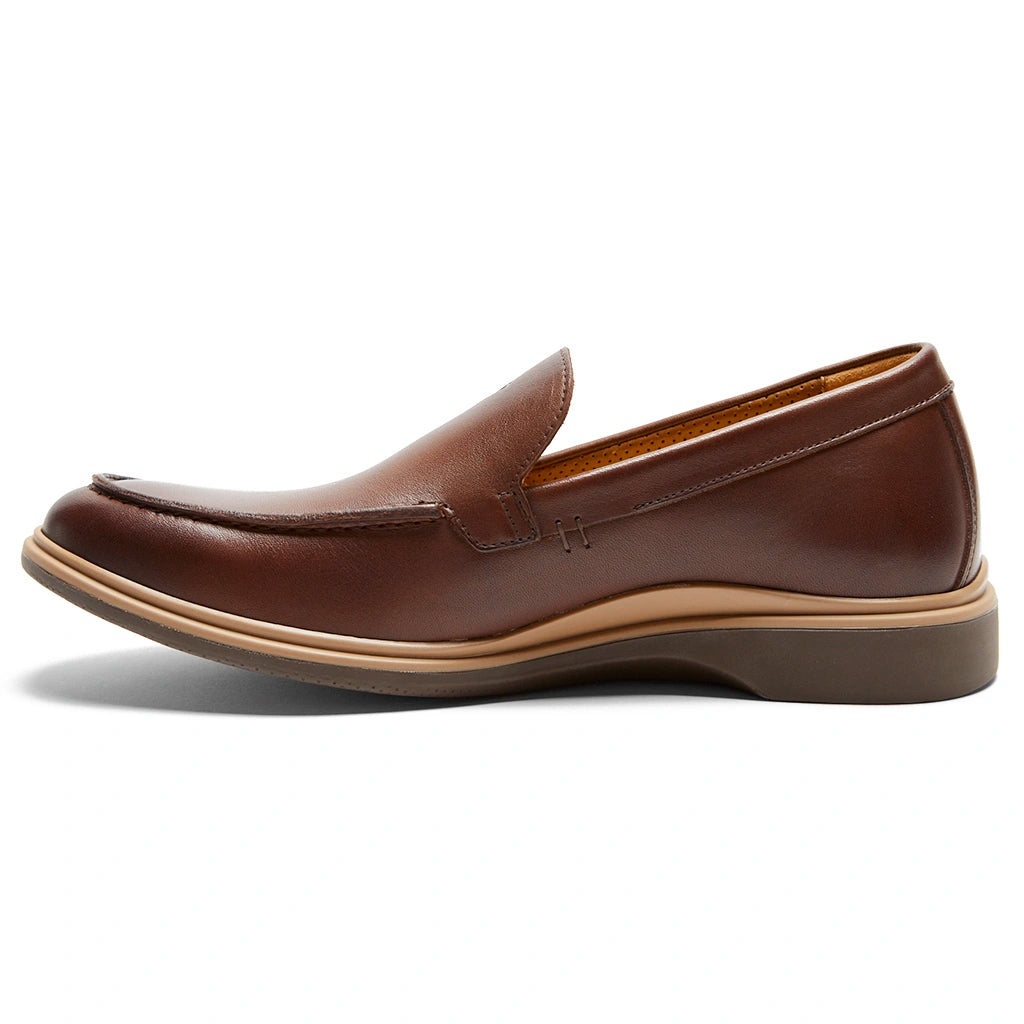 These handcrafted loafers have a leather lining that helps regulate the temperature of your feet and Blake stitching (wherein the upper is sewn directly to the sole making it more flexible) that ensures sturdiness without requiring excessive breaking in. We also love the smooth lines and perfectly-sized tassels (just large enough to add an interesting detail, but not too large to distract). Interesting to know: Each pair is made in a Bogota factory that implements 45-hour work weeks with healthcare, a pension plan, and a professional-development program.
Specifications: 
Sizes: 7 – 14 (including half sizes)
Price on publish: $219.00
Material: Italian leather
Colors: Black, bordeaux, brown, oak, tan 
Pros:
Great range of colors 
Socially responsible manufacturing
Cons:
The high quality comes at a higher price 
Best tassel loafers for men
Beckett Simonon Bernard Tassel Loafers
Handmade in Spain from Italian leather with a platinum metal horse bit, the black Idrese Andre loafer comes in a full range of sizes including wide options. They feature a cork and metal shank for comfort and Goodyear construction for waterproof-ness—meaning they'll quickly become your go-to black loafer whether you're headed into the office, out to dinner, or just to town for some coffee.
Specifications: 
Sizes: 7–14 (including half sizes)
Price on publish: $335.00
Material: Leather
Colors: Black, honey, dark brown
Pros: 
Excellent size range 
Elongated toe box
Cons:
Takes a long time to arrive because they're handmade and built to order
Best black loafers for men
Banana Republic may not be the first place you think of to purchase shoes, but their suede penny loafers are comfortable, stylish, and wellmade. They feature map-print leather insoles for inspiration and soft, luxurious suede for style. My brother, the head of an Analytical Chemistry Department at a University and an ex-football player, wears his Banana penny loafers everywhere: To the club with his father-in-law, to pick up his daughters at school, to the lab, and everywhere in between.
Specifications: 
Sizes: 7–13 (including half sizes)
Price on publish: $220.00
Material: Suede
Colors: Tobacco brown, stone gray 
Pros:
Beautiful, rich colors 
Speedy shipping
Cons:
Best suede loafers for men
Introduced in 1953, Gucci's horse bit loafer really hasn't changed much since—and why would it? They invented the horse bit style after all. They continue to make high quality, comfortable shoes in their Italian factory. If you're into iconic fashion pieces, you'll love the Gucci horse bit.
Specifications: 
Sizes: 5–14 (including half sizes)
Price on publish: $920.00
Material: Italian leather
Colors: Taupe, black, off white, light brown, green 
Pros:
Great color range
The OG horse bit loafer
Cons:
Some sizes are difficult to find in stock
Best designer loafers for men
Made from a beautiful, water-resistant suede, the Excursionist Venetian loafer is especially suited for any kind of expedition—short or long. The navy features a light gray outsole giving them a sporty style, while the espresso has a dark outsole for a more refined, classic look. For all colors, the outsole is made from rubber giving them the feel of a sneaker. No matter the color, these lightweight shoes will provide all-day comfort without sacrificing looks.
Specifications: 
Sizes: 8–13 (including half sizes)
Price on publish: $245.00
Material: suede
Colors: navy, dark amber, espresso, sand 
Pros:
Easy returns and exchanges
Classic style
Cons:
Run large
Fit may be difficult for some
Most comfortable loafers for men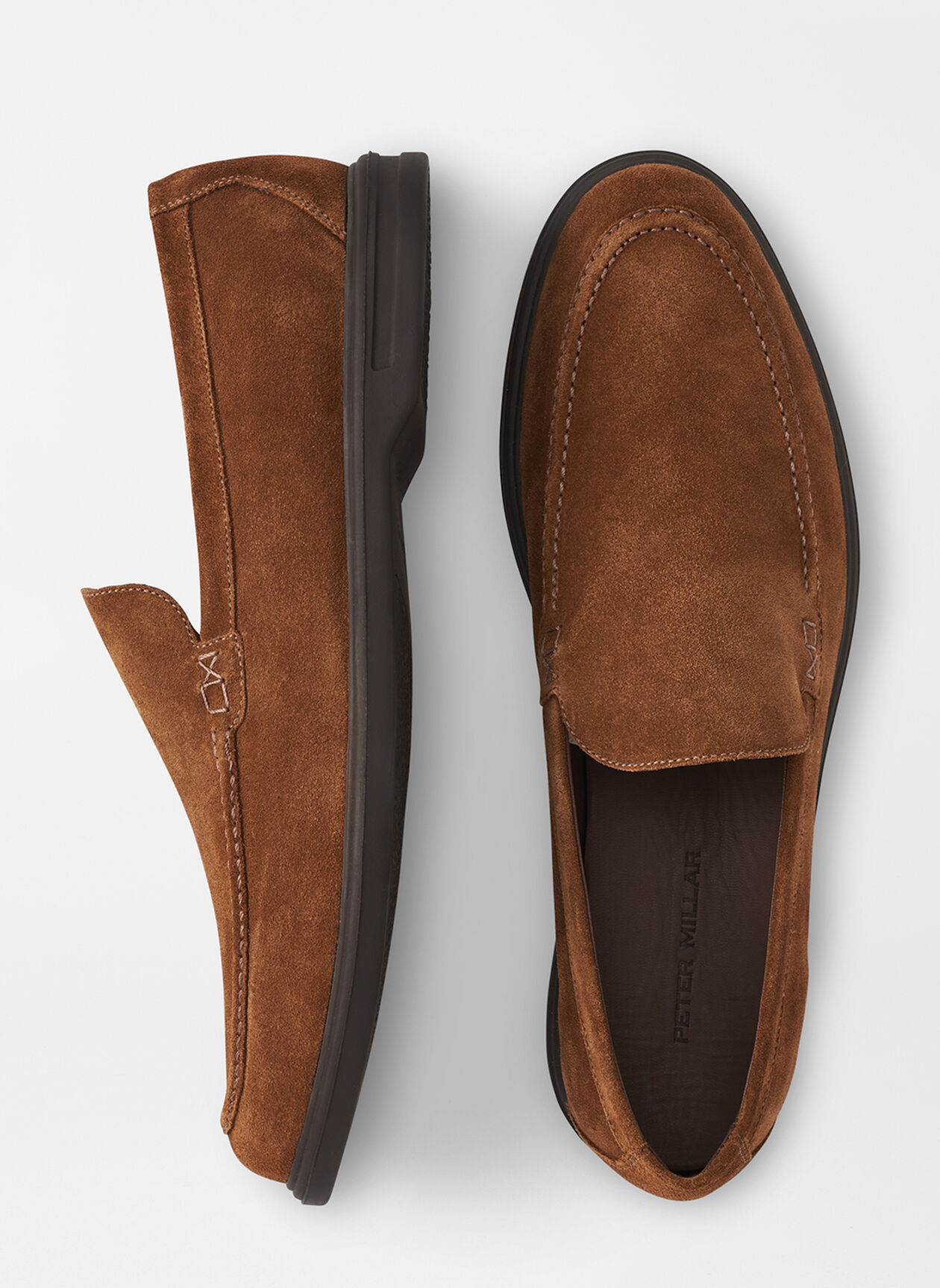 Peter Millar Excursionist Venetian Loafer
John Lobb has been making shoes in the United Kingdom since 1866. Their Bath suede loafers feature a moccasin stitched keeper strap across the toe box and stitched leather edging. The quality, hand-made construction means they'll outlast the competition (which also justifies the price tag). The lightweight, soft suede is stitched to a Goodyear-welted sole for flexible comfort no matter what the situation. It also molds to your feet over time, just like a good pair of quality gloves takes on the shape of your hands.
Specifications: 
Sizes: UK 6-11
Price on publish: $1820.00
Material: suede
Colors: dark brown, beige
Pros: 
Handmade construction
Soft and flexible
Cons:
Best splurge loafer for men
John Lobb Bath Suede Loafers
The suede versions of these drivers are made with three-ounce suede leather, a calfskin leather lining, and pebbly rubber outsole for primo grippy-ness. Constructed by hand, each pair takes a few days to make. We like these shoes especially for all the colors available, though we are hard-pressed to decide on a favorite. You'll likely want a pair in each.
Specifications: 
Sizes: 6-15
Price on publish: $225.00
Material: Suede or leather
Colors: Black, navy, chocolate, sand, slate, chestnut, and more
Pros: 
Wide range of colors and materials
Comfortable
Cons:
Best driving loafer for men
Oliver Cabell Driver Loafer
These beautifully constructed suede slippers/loafers from The Row don't have any of the conventional embellishments of many other loafers—no straps, tassels, or metal bits here. Instead, they're a low-profile, almost dainty, you may not even notice them, pair of shoes for the person who prefers understated, stealthy quality. 
Specifications: 
Sizes: Italian 40-46
Price on publish: $990.00
Material: Suede
Colors: Taupe gray
Pros: 
Cons:
Best minimalist men's loafers
What are loafers?
Loafers appeared on the fashion scene in the 1930s as an alternative to laced dress shoes. Though slip-on shoes have been around for centuries, the Bass Weejun was one of the first loafers to be mass produced. Inspired by shoes worn by Norwegian fishermen ("Weejun") Bass added the decorative strap across the vamp with a slot in the center, which was the perfect size and shape to store a penny.
What socks are best to wear with loafers? 
If you want to make a statement with your footwear, wearing socks with loafers provides you with plenty of options. Loafers—if they fit correctly—don't leave room for thick socks, so thin dress socks are probably the way to go.  For a no-sock look while still wearing socks, choose a no-show sock. You can also, of course, don your loafers with no socks at all, though be mindful of foot odor and fungi if your feet sweat a lot.
What to consider when buying loafers for men
We live in an age of seemingly endless options. Sometimes, figuring out which is best for our purposes can be difficult. Here are some things to consider when purchasing loafers:
Where do you intend to wear them? 
Traditionally, loafers come in regular leather or suede. Suede is usually considered more casual, but that doesn't mean you can't wear them with a dressier outfit. Suede versions also often come in more color varieties if you want to stray from the classic black or brown look.
How much adornment/embellishment do you prefer? 
Penny loafers feature a panel or strap across the top (called a vamp) with a gap in the middle where people can stash a penny or two if so inclined; hence, the name. They're infinitely classic and stylish. Tassel loafers have tassels–with or without a vamp– and are usually considered more casual. The horse bit style, so called because of the metal strap shaped like a horse bit, offers some bling without being overly garish. There are also simple loafer styles without any adornments.
How we selected the best loafers for men
We selected these loafers by scouring online reviews, as well as soliciting opinions from people from a variety of backgrounds with a huge range of occupations. I've also worked as a tailor and pattern maker for film, television, and fashion for 32 years. I have a wealth of experience in dressing people to make them look and feel their best.
Frequently asked questions (FAQs)
Do loafers look better without socks?
Loafers do not necessarily look better without socks: It's all about your personal preference. If you choose to wear socks, remember that they will be more prominent than when wearing other shoe styles, so opt for something that coordinates with the rest of your outfit.
Is it professional to wear loafers?
Unless you are required to adhere to a strict dress code, it is absolutely professional to wear loafers. Out and about in New York City, we see them worn with a variety of outfits by a wide range of people. Black or dark brown leather loafers will appear less casual than a lighter color or suede version. 
What color loafer is the most versatile?
The most versatile loafer color is a dark or medium brown, as it will go equally well with khakis, jeans, or dress pants. Brown can most easily be dressed up or down. 
Are loafers good for daily wear?
Loafers are good for daily wear; in fact, their easy, slip-on style means they were pretty much made for it. Wear them to the grocery store, a business lunch, or just walking around town. You may just find them as comfortable as your favorite flip flops or walking shoes.
The information presented here is created independently from the TIME editorial staff. To learn more, see our About page.