Our evaluations and opinions are not influenced by our advertising relationships, but we may earn a commission from our partners' links. This content is created independently from TIME's editorial staff. Learn more.
Updated
September 11, 2023
When it comes to effective, yet effortless beauty products, few outperform a good tinted moisturizer. Think of it as a lighter, more versatile alternative to foundation: Tinted moisturizer provides natural-looking coverage to even out your complexion, it blends into skin easily, and even packs benefits for your overall skin health. That is, if you choose the right one. There are a lot of tinted moisturizers on the market, so there's something for everyone—and choosing the right one comes down to what you value in a product. Do you want something that won't break the bank? A product that offers sun protection? One that won't irritate sensitive skin? Whatever your preference, there's a great tinted moisturizer to suit your needs.
What is tinted moisturizer and what does it do?
While it can be used in place of foundation, tinted moisturizer is more buildable, with just enough coverage to even out skin tone without feeling as heavy as a foundation might. 
Many tinted moisturizer formulas also come with added SPF (either with chemical or mineral sunscreen ingredients) and/or ingredients that benefit the skin (such as niacinamide and hyaluronic acid). As the name suggests, tinted moisturizer can also deliver moisture to your skin, according to Marnie Nussbaum, M.D, a New York-based dermatologist.
Our top picks
This tinted moisturizer is an ideal pick for people who love the consistency of foundation, but crave something that looks more natural on the skin. The formula is plush, yet looks and feels remarkably skin-like. The radiant finish gives the skin a nice glow without veering into shimmery territory. Bonus: It contains SPF 30 to protect skin from sun damage. 
Specifications: 
Shades: 16
Finish: Radiant
Amount: 1.9 ounces
Price: $46
Pros:
Lots of shades
Gives skin a glow without being glittery
Won't clog pores
Cons:
Small amount for the price
While there are a lot of shades, some with light-neutral skintones find the lightest shade to be too dark for their skin 
Best tinted moisturizer with SPF
Pure Radiant Tinted Moisturizer SPF 30
This water-based formula is lightweight and oil-free, making it a great option for people with acne-prone skin. The formula blends out easily and imparts a dewy finish—and thanks to the inclusion of SPF 19, it offers some sun protection, as well. The formula also contains witch hazel and skin-soothing aloe vera.
Specifications: 
Shades: 14
Finish: Dewy
Amount: 1 ounce
Price: $16.99
Pros:
Offers some sun protection
Dewy finish that looks natural
Cons:
Some may find this formulation to be too liquid
Best drugstore tinted moisturizer

L'Oreal Skin Paradise Water Infused Tinted Moisturizer
Kjaer Weis describes this product as a "skin improving tint" that straddles the line between makeup and skincare. In the short term, it evens out skin tone and adds a bit of radiance to the complexion. It also acts as an anti-aging product that can benefit skin in the long run. This formula boasts hydrating ingredients such as cocoa butter, moringa oil, and wild rose plant to moisturize and plump aging skin.
Specifications: 
Shades: 16
Finish: Radiant
Amount: 1.3 ounces
Cruelty-free
Price: $45
Pros
Looks natural
Won't settle into fine lines
Cons
Some report that the fair color option is too yellow or dark for their skin tone
Small amount for the price
Best tinted moisturizer for mature skin
Kjaer Weis The Beautiful Tint Tinted Moisturizer in D2 at Nordstrom, Size 1.3 Oz
Laura Mercier's tinted moisturizers come in various finishes and are cult classics for a reason. They offer sheer coverage, come in a wide range of shades, and provide sun protection to boot. The oil-free version is a particularly good pick for those with oily skin. It has a matte finish (no additional shininess here) and even contains oil-absorbing powders within the formula.
Specifications: 
Shades: 20
Finish: Matte
Amount: 1.7 ounces
Price: $53
Pros
Offers sun protection
One of the few tinted moisturizers with a matte finish
Cons
Small amount for the price
Best tinted moisturizer for oily skin
Laura Mercier Oil-Free Tinted Moisturizer
Best tinted moisturizer for dry skin: Saie Slip Tint 
There's a reason Saie's slip tint has won multiple awards—actually, there are several reasons. True to its name, the formula slips on to the skin and leaves a dewy finish. Dry-skinned users, rejoice: This tint contains hyaluronic acid to deeply hydrate parched skin, as well as licorice root to brighten the complexion, and mineral sunscreen for sun protection. The product is also cruelty-free and gluten-free.
Specifications: 
Shades: 14
Finish: Radiant
Amount: 1.35 ounces
Cruelty-free
Price: $36
Pros: 
Looks and feels natural
Dewy without being too shimmery
Cons:
Some report that the formula highlighted flakey patches
Best tinted moisturizer for dry skin
According to Dr. Nussbaum, people with acne-prone skin should seek out oil-free tinted moisturizers with non-comedogenic formulas—and this pick from Bare Minerals fits the bill. In addition to being oil-free, this product is also formulated without gluten, parabens, and synthetic fragrances. The finish is matte, which is great for skin that tends to be naturally oily, and provides a blurring effect to create a smooth and even-toned complexion.
Specifications: 
Shades: 20
Finish: Matte 
Amount: 1.18 ounces
Cruelty-free
Price: $37
Pros:
One of the few tinted moisturizers with a matte finish
Long-wearing formulation
Cons:
Some report that product highlighted flakey patches
Best tinted moisturizer for acne-prone skin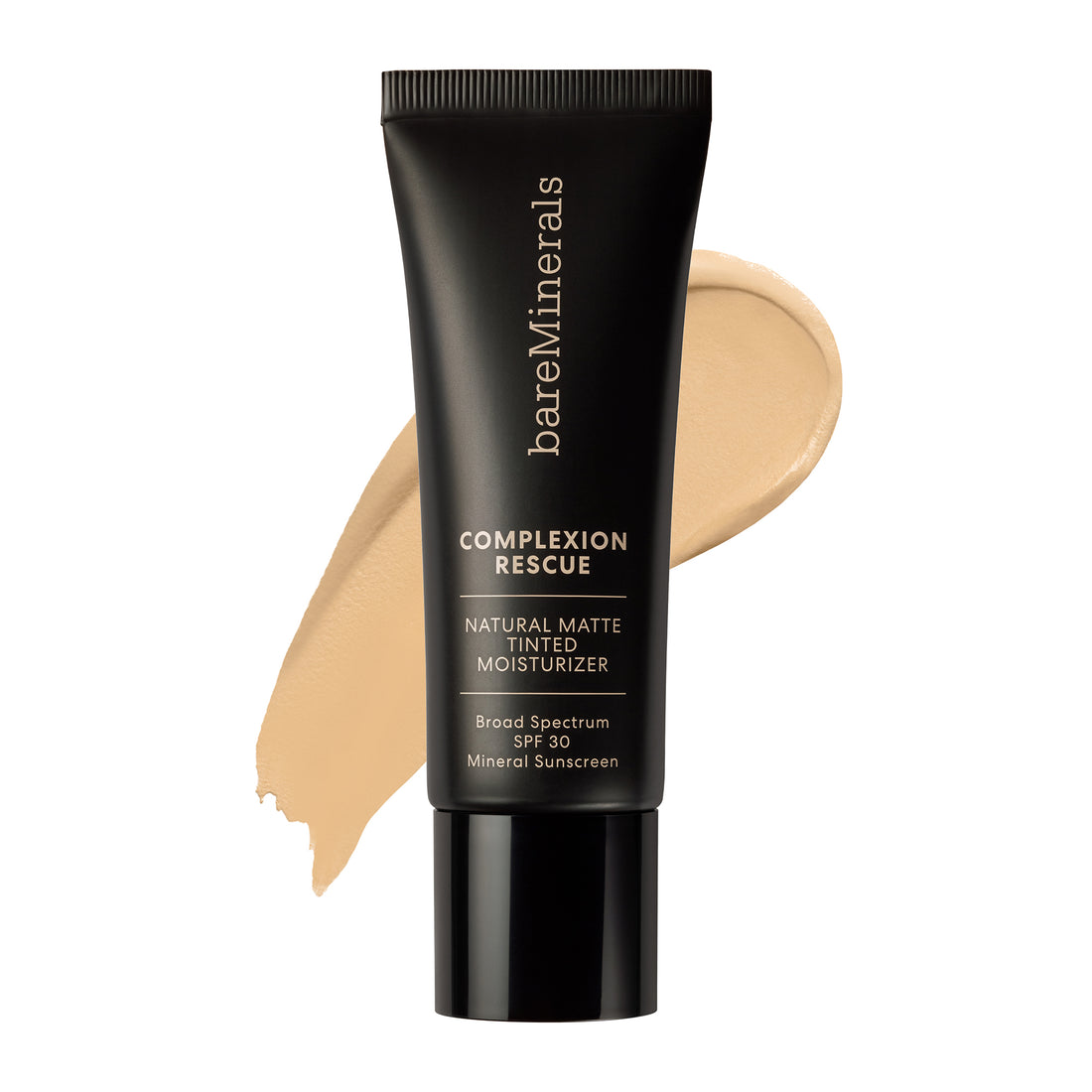 Bare Minerals Complexion Rescue Matte Tinted Moisturizer
Like those who are acne-prone, people with sensitive skin should seek out oil-free and non-comedogenic formulas, says Dr. Nussbaum. This serum-like pick from ILIA has emerged as a consumer favorite. It offers light coverage with a dewy finish, and contains SPF 40. It's also free of gluten, fragrance, and silicones. The best part? This tint contains both niacinamide and hyaluronic acid—two ingredients that benefit your skin in the long run, according to Dr. Nussbaum.
Specifications: 
Shades: 30
Finish: Dewy
Amount: 1 ounce
Cruelty-free
Price: $48
Pros:
Offers sun protection
Shimmer effect helps blur imperfections
Cons:
Some disliked the scent of the product
Best tinted moisturizer for sensitive skin
ILIA Super Serum Skin Tint
Ami Colé's tinted moisturizer, which was created especially to suit the range of undertones in melanated skin, offers buildable light-to-medium coverage. The lightweight formula doesn't feel heavy on the skin, and the finish offers a subtle glow that will enhance, rather than mask, the wearer's natural complexion.
Specifications: 
Shades: 6
Finish: Natural 
Amount: 1 ounce
Cruelty-free
Price: $32
Pros:
Formula blurs imperfections
Breathable formulation
Cons:
Best tinted moisturizer for coverage
Ami Colé Skin-Enhancing Tint
Users love Fenty Beauty's tinted moisturizer for its wide, inclusive shade range—there's truly an option for every complexion here. The coverage is light, but the product's blurring effect helps even out skin tone to camouflage pigmentation. Fenty Beauty's team recommends this formula for combination, normal, and dry skin types. The one drawback? This pick does not contain SPF. 
Specifications: 
Shades: 25
Finish: Natural
Amount: 1.08 ounces
Cruelty-free
Price: $35
Pros:
Great range of shades
Formula blurs imperfections 
Natural finish that is neither matte or dewy
Cons:
Eaze Drop Blurring Skin Tint 1
Yes, it's expensive—wildly so. But this pricey pick earns rave reviews for its effortless blendability, natural finish, and longevity on the skin. The shade range seems limited, but this formula offers a subtle glow with just a hint of color, according to reviews. Thanks to the addition of white lily extract, this product also packs long-term benefits. "White lily extract is an anti-inflammatory ingredient that is soothing and moisturizing for the skin, and is suitable for all skin types, including sensitive skin," says Dr. Nussbaum. "It's certainly a beneficial ingredient."
Specifications: 
Shades: 4
Finish: Natural
Amount: 1.3 ounces
Price: $137
Pros:
Light coverage that still improves the look of skin
Many reviewers highlighted how it was particularly good for mature skin
Cons:
Very expensive
Limited shades
Best splurge tinted moisturizer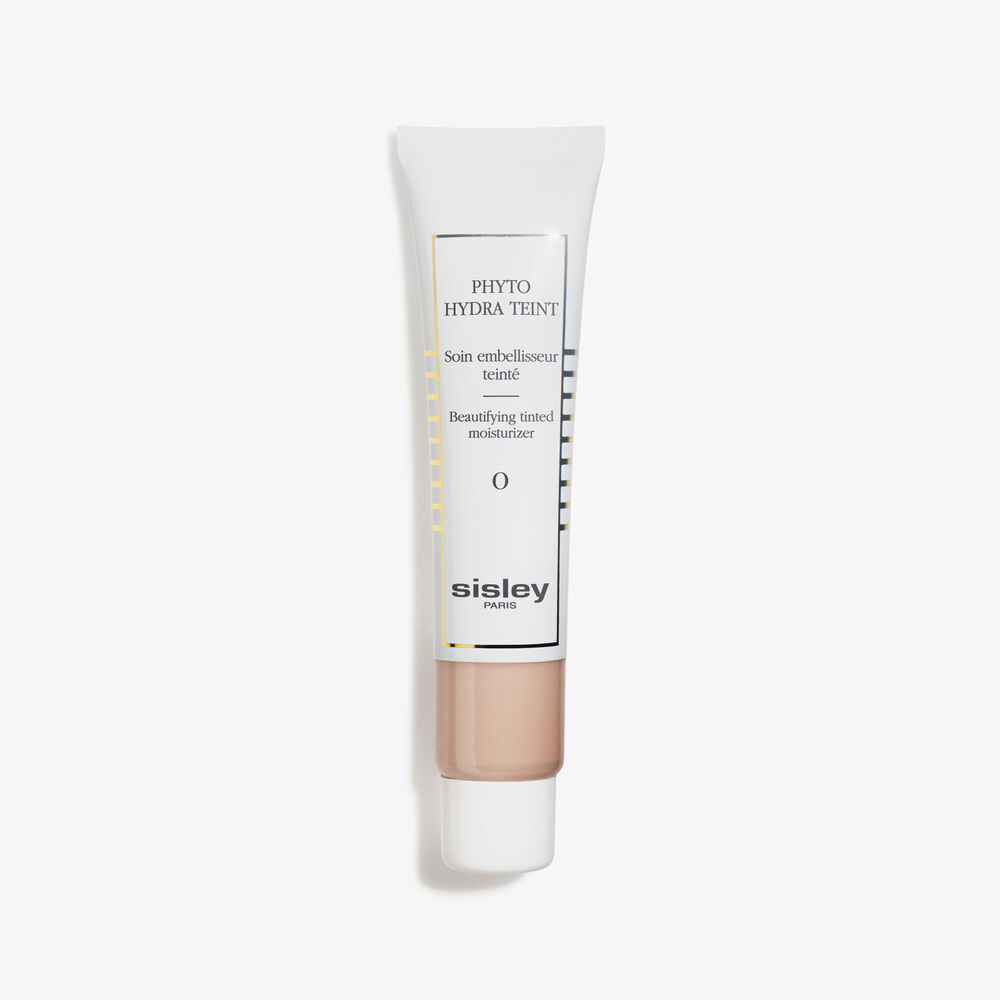 Sisley Paris Phyto-Hydra Teint
Aside from the price point, the best thing about this particular pick is its buildability. You can apply it lightly for a sheer tint, or build it up for additional coverage. The product has a semi-matte finish, which is great during sticky summer months. Additionally, the product contains hyaluronic acid and squalane to deliver a dose of hydration to skin.
Specifications: 
Shades: 11
Finish: Semi-matte
Amount: 0.91 ounces
Cruelty-free
Price: $6.49
Pros:
Lightweight, buildable coverage
Very moisturizing
Great value
Cons:
Can feel too "thin" if you prefer a richer moisturizer
Limited shades; some report that the lightest shade is still too dark for fair skin tones
Best budget tinted moisturizer
Wet n Wild Bare Focus Tinted Hydrator
Best way to apply tinted moisturizer
This ultimately comes down to personal preference: You can either apply with a foundation brush, a beauty sponge, or simply use your fingers. Apply the product directly onto your face (or on the brush or sponge, if you prefer) and blend it into the skin until you've achieved the desired effect. 
What to consider when buying tinted moisturizer
It's important to consider your skin type, specific concerns, and what you want from your tinted moisturizer. Ultimately, what works for one person won't work for everyone. According to Dr. Nussbaum, "A tinted moisturizer should have buildable tints so it does not have a foundation/makeup-like feel, but provides enough coverage to even out tone and texture."
How we chose the best tinted moisturizers
We sought out products that will suit various skin types, whether oily, dry, mature, acne-prone, or sensitive. We also considered budget, shade range, finish, and more factors, including user reviews.
Per Dr. Nussbaum's recommendation, we looked for products with ingredients such as hyaluronic acid and niacinamide, which can benefit skin in the long run.
Frequently asked questions (FAQ)
Is tinted moisturizer better than BB cream or CC cream?
That depends on what you want from a product, and skin type plays a role here as well.
"BB cream, CC cream, and tinted moisturizer, while all very similar, do have some key differences," says Dr. Nussbaum. "BB cream has a creamier, thicker formulation than tinted moisturizer, but not as thick as foundation. CC cream provides more coverage than both BB and tinted moisturizer, as well as anti-aging properties. For dry skin that needs hydration and nourishment, and not as much coverage, tinted moisturizer is better."
Is tinted moisturizer better than normal moisturizer?
While tinted moisturizer can provide some moisture, it probably can't completely replace your traditional moisturizer. It's not so much about comparing the two products, but about allowing them to work together. "For some skin types, applying moisturizer prior to the tinted moisturizer would be beneficial," says Dr. Nussbaum. "Regular moisturizer provides longer-term moisture and anti-aging benefits to the skin than tinted moisturizer. However, if you use tinted moisturizer as well, it gives you that extra boost of anti-aging benefits and hydration."
How do I choose the right shade of tinted moisturizer for my skin tone?
Many brands have digital tools that allow you to upload a selfie in exchange for a color match suggestion. You can also look at product images to see which model's skin tone is closest to your own and select your shade accordingly. Going to a store and having a sales associate help you find a color match is another option. You can also request samples of one or two shades to try them out at home and get a feel for which shade is best for you.
Does tinted moisturizer offer sun protection?
Many (but not all) tinted moisturizers do. However, relying solely on tinted moisturizer to provide sun protection isn't wise, according to Dr. Nussbaum. She recommends applying SPF after the tinted moisturizer, even if your product does contain some sun protection.
Can tinted moisturizer be used as a primer or base for makeup?
Yes—but this works best if you consider your skin type when selecting your tinted moisturizer. "It's important to ensure that your tinted moisturizer is buildable and fits your skin's needs, for example, using a oil-free tinted moisturizer if you have oily skin, and a more moisturizing tinted moisturizer if your skin is on the drier side," says Dr. Nussbaum. "This will ensure it helps your makeup lay smoothly."
The information presented here is created independently from the TIME editorial staff. To learn more, see our About page.