Our evaluations and opinions are not influenced by our advertising relationships, but we may earn a commission from our partners' links. This content is created independently from TIME's editorial staff. Learn more.
Updated
November 22, 2023
If you are planning to travel this winter or already dreaming of spring break and want to invest in high-quality, affordable luggage for your next trip, Black Friday is the ideal time to seek out deals on carry-on bags, duffles, backpacks and laptop bags, and more.
Get extra savings on your Amazon purchases
Exclusively for Prime members, score big savings with a $200 gift card and a fantastic 5% cash back on all your Black Friday Amazon purchases upon approval of the card_name credit card. Apply by Dec. 4, 2023, and make this Black Friday the most rewarding one yet.
Prime Visa
Offer end date
Dec. 4, 2023
There are a handful of credit cards that specifically pair bonus spending with online retailers. However, the fact that the Prime Visa offers 5% back with Amazon—a place where you can get just about anything—makes this card the superior choice for most online shoppers. Here's a full rundown of what the card earns.
5% back at Amazon and Whole Foods
5% back on travel booked through the Chase Travel Portal
2% back with restaurants, gas stations, and local transit and commuting (such as Uber)
1% back on all other eligible purchases
On top of that, you get a $200 Amazon Gift Card instantly upon approval exclusively for Prime members.
Top deals by Category
Best backpack and laptop deals
Adidas Kids Prime Training Backpacks
If there is an athlete in your life, this Black Friday sale from Adidas is a slam dunk for gifts because backpacks for sports and school (and everything else) are up to 50% off. We love the Kids Prime training backpacks with their extra padded sleeves that make it easy to cart around textbooks, sports gear, and water bottles. It's on sale for only $56 from its original $76 price. 
adidas Prime Backpack Black 1 Size
Calpak is one of the best places to buy luggage, and their early Black Friday sale extends to its functional and stylish laptop tote. Now $124.60 (marked down from $176), you can choose between limited edition or classic colors. Its largest pocket is a 16-inch, plus it has three interior pockets (and four exterior ones). Perfect for traveling, it's lightweight and has an adjustable shoulder strap and removable laptop sleeve. Plus, you can hitch it to your suitcase thanks to its luggage trolley sleeve. 
CALPAK Haven Laptop Tote Bag in Petal
Best carry-on luggage deals
Sleek, stylish, and on-sale, this carry-on is offered in colors inspired by NYC's Magnolia Bakery. The Monos Best Carry-On Suitcase is $282, marked down from $320.
Monos Best Carry-On Suitcase
These gorgeous high-end carry-ons from Delsey Paris are 40% off during the Black Friday sale lasting until 11/28, bringing the total to $71.99. This lightweight, hard shell carry-on has a roomy interior and an easy-lift handle (making it easier to haul it into the overhead compartment). Plus, it comes in a scratch-resistant twill cover in fun metallic colors. Owning this case will make any slog through airport security a bit easier to manage. 
Monique Carry-On-Expandable Spinner
Best luggage set deals
Delsey Paris is offering 20% off luggage sets like this titanium two-piece with a 21" carry-on and a 25" medium checked suitcase priced at $279.98 (marked down from $349.99). Expandable hard shells and soft, roomy interiors make these the ultimate travel bags. We love how you can nest them when you come home from your holiday for easy space-saving storage. Plus, every set comes with a 10-year warranty. 
Best hardshell luggage deals
Known as one of the best luggage brands, Samsonite is a go-to for suitcases that hold up to many years of travel. Strong, sleek, and now on sale at $375 (25% off), this Samsonite deal is a steal if you are searching for a high-quality carry-on with a hard-shell case. 
Samsonite's Black Label Cosmolite 3.0 Carry-On Spinner
This Clifton carry-on comes in 13 colors, plus you can select your sizing based on what you need, from carry-on to luggage set, if you really love the style. Carry-on is marked down to $153 from $255. 
Another one we love from Samsonite! This case is marked down by 28% (now $143.11), which means you can pay less for your luggage and save your money on the flight deal. 
Samsonite Omni PC Hardside Expandable Luggage with Spinner Wheels, Checked-Medium 24-Inch, Caribbean Blue
Best soft side luggage deals
Pick up soft-side luggage for over 50% off for the whole family when you shop during Macy's Black Friday sale. Pick up a DKNY carry-on for only $95.99, marked down from $275, or a five-piece luggage collection from Nautica, marked down to $237.99 from $560.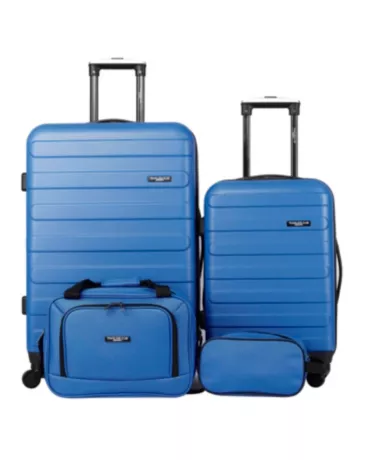 Soft-side luggage for over 50% off
Classic and stylish, in a warm leather that will last forever. Has a zip-top to protect your possessions, a removable canvas strap for comfort, and a roomy inner pocket. Still pricey at $239.50, but a serious markdown from its original $348.
Weekender Montauk tote in leather
A soft side carry-on with a hard-shell look and feel, this expandable bag with a lifetime warranty from Travelpro will make you feel like the pro-traveler you are. Now marked down from $740 to $391.99. 
TravelPro Platinum Elite 22 Expandable Carry On Rollaboard
Best duffle bag deals 
Choose between recycled poly and eco-friendly canvas in a range of colors in sizes small or large. The duffle is 45% off its original price this weekend, now $118.25. The messenger strap has removable padding to adjust to your comfort level and a removable padded insert in a bottom zipper pocket to stash your dirty socks or hide your Christmas gifts. 
The Catalina Deluxe - Eco Friendly Canvas - Midnight Ash
This works for camping or college - and it's only $37.47 in a size large. Lightweight with two handles for easy hauling during the holidays. 
Small All Purpose Travel Duffle Bag - Lands' End - Blue
Best luggage deals for kids
Macy's is offering deep discounts on luggage for the younger jet-set like two-piece sets for kids marked down from $130 to $49.99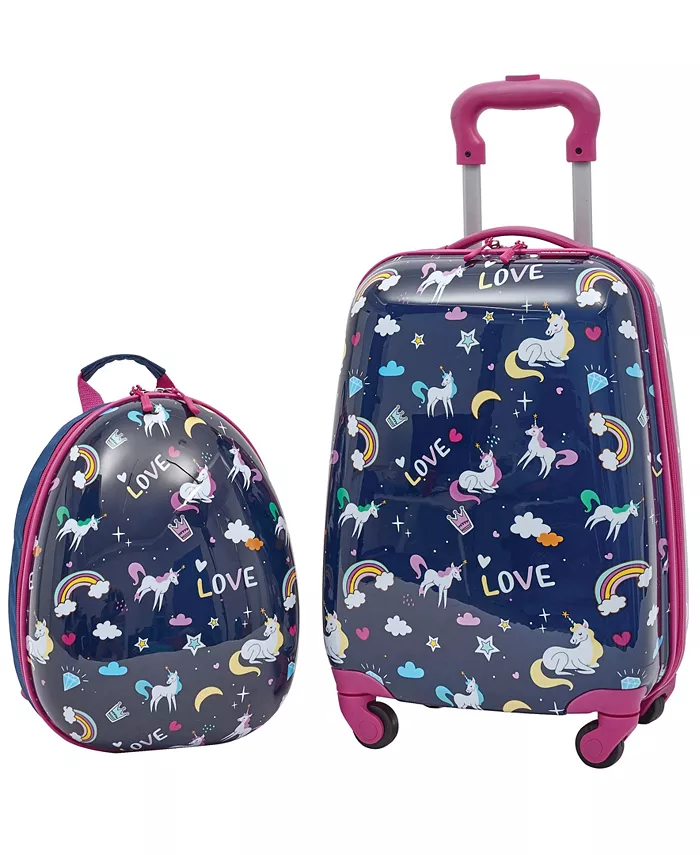 Traveler's Club Kids Luggage
Walmart's Black Friday sale is the place to pick up rolling suitcases suitable for little hands. Luggage and backpack sets are now $52.99 (original price $119), so kids can proudly pack their own bags for the holidays. 
Your children will love their own ultralightweight bag (made from recycled nylon) for keeping small possessions safe during a trip. Cute and durable, this bag works as a cross-body or backpack. Now marked down to $88 from $118. 
Cool kids will love the prints and colors of these chic rolling bags that come in three different sizes based on the age of the kid who is carrying it. This suitcase was specifically designed with kids in mind, meaning it has a place for your stuffed animal, doodle pads, and a mesh pocket for dirty clothes. Pick up a Logan for the kid in your life for 25% off its sale price of $220 using code BF2023. 
State Bags Logan Suitcase
What you need to know for Black Friday
When is Black Friday? 
Traditionally, Black Friday starts at midnight on the Friday after Thanksgiving. This year, Thanksgiving is on November 23, and Black Friday falls on November 24. 
What deals should I expect on luggage?
Larger retailers and the "Big Box" stores have big sales on Black Friday and carry on luggage, so you can usually find markdowns on sets or individual items. 
What kind of luggage deals did they have last year?
Samsonite offered 40% off selected pieces, specific Rockland carry-ons were 52% off, and Calpak, Travelpro, and American Tourist slashed their prices, as well. Walmart offered luggage sets like the Zimtown 3-piece nested spinner suitcases, regularly $300, but marked down to $100 on Black Friday. 
How to get a good deal on luggage on Black Friday
If you're searching for a specific product, you can follow upcoming Black Friday deals without getting totally overwhelmed. Sign up for emails from small and larger luggage retailers, refresh your Google alerts for brands and stores you shop at, and don't forget to check your junk mail or promotions folders when you open your inbox each morning. Sometimes sale announcements end up misfiled, especially when you may receive so many during the holiday season. 
How to choose the best luggage for you
If you invest wisely in high-quality luggage, it will last for years. Of course, if you are a frequent (lucky!) holiday traveler or travel for work, you might see a bit more wear and tear. Overall, if you are careful with it, you should be able to keep your luggage in good shape. Black Friday is a great time to build your collection. Consider a few factors when shopping for new luggage and ask yourself: 
How will you use the bag?
Think about how you plan to use your new luggage. Some bags are designed for holding laptops, and others may be a general catch-all for carry-on items like books or gadgets. If traveling a long distance by plane, train, or boat, you may want an easily portable bag, like a spinner with wheels or a well-compartmentalized carry-on duffle. If road trips are in your future, like a family Christmas or Hanukkah in December, make sure your bags will comfortably fit in the trunk.
What's the material?
If you are traveling to outdoor destinations and plan on carrying your bag, you might want something made from a lighter material like nylon. A hard-shell set of luggage may help protect gifts or breakables, and a suitcase with a garment rack might be best if you anticipate many wardrobe changes, like a cruise or long holiday abroad.
Who's using it?
Maybe it is a roomy duffle for your high schooler or a rolling suitcase for your five-year-old. Make sure the luggage is easy to maneuver and will fit whatever your child, spouse, or other family member needs.
What are its measurements and size?
Most luggage advertised as a "carry-on" will meet TSA requirements, but with space being a premium on flights, it is worth ensuring you can squash your bag under a seat if all the overhead compartments are taken. Caregivers may need roomier suitcases, especially if traveling with young children or babies. If you plan on traveling with kids, giving them a small bag to keep their treasures (and a change of clothes) tucked away on trains, planes, and automobiles is always a good idea.
Can you return it? Is there a warranty?
Like any new purchase, checking out the return and warranty policies on your new luggage is a wise idea. Double-check during a big sales event like Black Friday when alternative return policies on sale items may exist.
Where to find Black Friday deals on luggage
The information presented here is created independently from the TIME editorial staff. To learn more, see our About page.