Our evaluations and opinions are not influenced by our advertising relationships, but we may earn a commission from our partners' links. This content is created independently from TIME's editorial staff. Learn more.
Updated
November 23, 2023
Cycling continues to be on the rise across the country as a form of recreation, fun, and/or transportation. If you've already caught the cycling bug, you may be thinking about upgrading your current ride or purchasing another bike to add to your stable. As any dedicated cyclist (and their loved ones) know, the adequate number of bikes to own is always n+1 where n = the number you already own. Or maybe you're new to biking and want to give it a try, or you want to buy a new bike for your child, younger sibling, or other favorite kid in your life.
For all these scenarios, Black Friday bike deals offer tons of opportunities where you can find a wide range of bicycles—from high-end racing models to everyday, trusty commuters—for significantly less than you'd normally pay. And who doesn't like a good sale?
Get extra savings on your Amazon purchases
Exclusively for Prime members, score big savings with a $200 gift card and a fantastic 5% cash back on all your Black Friday Amazon purchases upon approval of the card_name credit card. Apply by Dec. 4, 2023, and make this Black Friday the most rewarding one yet.
Prime Visa
Offer end date
Dec. 4, 2023
There are a handful of credit cards that specifically pair bonus spending with online retailers. However, the fact that the Prime Visa offers 5% back with Amazon—a place where you can get just about anything—makes this card the superior choice for most online shoppers. Here's a full rundown of what the card earns.
5% back at Amazon and Whole Foods
5% back on travel booked through the Chase Travel Portal
2% back with restaurants, gas stations, and local transit and commuting (such as Uber)
1% back on all other eligible purchases
On top of that, you get a $200 Amazon Gift Card instantly upon approval exclusively for Prime members.
Top deals
Best Specialized bike deals
3 colors, single speed, for heights between 37 and 48 inches
Specialized Jett 16" Kids Bike 2022
Featuring gravel-specific geometry, a Shimano GRX 2x11 speed drivetrain, hydraulic disc brakes, and a stealthy internal storage compartment in the downtube, the Diverge is one of the best all terrain, gravel bikes on the market. While 17% isn't a deep discount by any means, is you're in the market for a responsive, stable yet nimble, (and fast) gravel bike, it's well worth the $3500.00 sale price.
Specialized Diverge Comp Carbon
Full suspension (130mm of travel), full carbon trail bike with progressive geometry that handles exceptionally well no matter what sort of trail you're navigating and seems to almost climb on its own.
Specialized Stumpjumper Comp
With mounts for racks and fenders, a 1x9 drivetrain and 700x42 tires, the Sirrus X 3.0 will take you everywhere you need to go.
Specialized Sirrus X 3.0 - $699.99 (41% off)
With a carbon FACT fork, the Sirrus 4.0 is lighter than earlier models. It features everything you need for navigating the world's pavement (both smooth and pot hole laden) including a 10 speed Microshift drivetrain, hydraulic disc brakes, 32 inch wheels, and plug and play rack mounts.
Specialized Sirrus X 4.0 - $1279.99 (20% off)
With 20mm of front travel with on-the-fly adjustability, 30mm of rear travel and clearance for 47mm tires, I desperately want one of these. Unfortunately, my preferred size and color combo is no longer available (Gold Ghost Pearl in a 52) but, hopefully yours will be.
Specialized Diverge STR Expert - $4,999.99 (25% off)
Best Cannondale bike deals
Equipped with a Shimano 105 Di2 12 speed group set and hydraulic disc brakes with a carbon frame, this is an excellent, mid-range endurance road bike. And, its currently still in stock in a full range of sizes.
Cannondale Synapse Carbon 2 LE - Smoke Black - 51
If you've been waiting for the Supersix to go on sale, now's your chance. 12-speed Shimano Di2 Dura-Ace group set, hydraulic disc brakes on an ultralight low-drag Hi-MOD carbon frameset with carbon wheels.
Cannondale Supersix Evo Hi-Mod Disc Dura Ace Road Bike - $9,199.00 (30%)
Cannondale says this is the fastest UCI-legal bike in the world. Now's your chance to test that claim. Limited stock available in sizes 54, 56, 58, and 60.
Cannondale SystemSix Hi-MOD Ultegra Di2 - Team Replica - 58
Comfortable, fast, nimble, and smart: the Synapse 1 RLE is equipped with A SmartSense power pack that keeps everything (Di2 shifting and SmartSense radar and lights) charged and functioning. It even turns itself on.
Cannondale Synapse Carbon 1 RLE - $6,999.95 (23% off)
Best Trek bike deals
There are still a few sizes available of the super light Emonda road bike with carbon wheels and frame. These go fast so if you're interested check them out sooner rather than later. If your size isn't available at Trek, the sire allows you to check the stock at your local bike shop.
Trek's carbon 29er mountain bike with suspension from RockShox and aSRAM GX Eagle 12 speed drivetrain is on sale with all sizes available.
Best Surly bike deals
An ex called the Karate Monkey one of the most perfect bikes ever, which is perhaps the only thing he was ever right about. Made with a 100% steel frame and fork and progressive trail geometry.
Surly Karate Monkey - $1479.00 (20% off with code BFCM20)
Best deals on kid's bikes
Specialized Jett 16" Kids Bike 2022
3 colors, single speed, for heights between 37 and 48 inches
With a 7 speed MTB drivetrain, a fork with 100mm of travel, and mechanical disc brakes, this is the perfect first mountain bike for kids ready to transition into trail riding.
GT Kids' Stomper Pro 26" Bike, Girls' | Holiday Gift
The Batch Kids 16 Bike features a light aluminum frame, rear coaster brake, adjustable seat, and detachable training wheels; all for less than $100.
Batch the Kids 16 Bike - $79.94 (60% off)
Best mountain bike deals
Size med or large; carbon frame, tubeless ready wheels, dropper post, SRAM GX Eagle AXS drivetrain, SRAM G2 R hydraulic disc brakes
Niner Rip 9 RDO 29" GX AXS Jenson Exclusive build
If you're looking for an entry level mountain/trail bike, here's your chance to grab one for less than $1000.00. Aluminum frame, hardtail, with a Shimano Deore 11-speed drivetrain and Tektro hydraulic disc brakes.
Another great deal on an entry level mountain bike from Kona. 1x9 speed drivetrain, Tektro hydraulic disc brakes and a Suntour XCR 32 LO-R suspension fork with 100mm of travel.
Designed for cross country racing, the Mach 4 features a hybrid 12-speed drivetrain, 100mm of rear travel and a Fox StepCast 34 fork with 120mm of travel on 29-inch wheels. Sizes, medium, large, and extra-large in stock.
Mach 4 SL Pro XT/XTR 120 Carbon Wheel Mountain Bike
Entry level trail bike with a Shimano 3x7 drivetrain and mechanical disc brakes.
With 150mm of rear travel, a 170mm Fox fork, and 29-inch wheels, this Yeti mountain bike is built for racing and going as fast as possible on the most challenging, technical trails. I suggest nabbing this 40% off deal as fast as possible before your size sells out.
SB150 Turq T2 X01 Eagle Mountain Bike
This is a fantastic deal on a hardtail aluminum mountain bike with trail geometry. Equipped with a 12-speed drivetrain and hydraulic disc brakes.
Niner Air 2-star Bike - $1,099.99 (46% off)
Kona Bikes are one of the most popular brands in the trail and mountain biking world. Gift yourself (or your loved one) this 29er with 12 speed drivetrain, dropper post, and hydraulic disc brakes at a deeply discounted price and discover for yourself why (or, if you're already a Kona lover, add to your stable.
Kona Process 134 CR 29 Bike - $2,959.94 (43% off)
If you're a beginner mountain biker (or someone who has yet to try it) and don't want to invest tons of money at this early stage, grab this basic mountain bike, priced at a mere $300.00, and get out on the trails.
GT Aggressor Pro Mountain Bike - $299.98 (62% off)
Yes, I know this isn't really a mountain bike (nor is it a commuter, road, or gravel one) but it's still a fantastic deal worth checking out. I have no BMX skills myself but am infinitely in awe of those that do. If you rode a BMX as a kid, now's your chance to get an adult version and be one of those awesome people.
GT Adult 26 La Bomba Rigid BMX Bike - $455.00 (50% off)
Best road bike deals
Available in sizes 48-58 with carbon Zipp 303s wheelsets and SRAM 12-speed AXS electronic shifting, this is a fantastic deal on a fairly high-end road bike.
Cervelo Caledonia AXS Carbon Wheel Road Bike
12 speed carbon road bike with SRAM Rival Etap electronic shifting in Bianchi "mint". Available in limited sizes.
Sprint Disc Rival AXS Road Bike
The TCR is all about aerodynamics; the company says that every tube shape was specifically engineered (and tested) to reduce drag. The frame features an integrated seat post and integrated disc brakes, both of which reduce overall weight and contribute to the aerodynamic mission.
Giant TCR Advanced SL Disc 0 Dura-Ace - Raw Carbon - Medium/Large
Best gravel bike deals
If you're a tall rider who has been looking for a great deal on a race gravel bike, here's your chance. 13 speed Campagnolo drivetrain and Pinarello aerodynamic geometry. Limited sizes available.
Pinarello Grevil F Ekar Gravel Bike
The Pros Closet has a wide range of certified pre-owned bikes available, many of them offered at deeply discounted prices like this size small Bombtrack Hook; 1x11 speed drivetrain, steel with SRAM Hydraulic disc brakes. Check the site for more one-off deals.
Bombtrack Hook EXT Matt Black Gravel Bike
With 20mm of front travel with on-the-fly adjustability, 30mm of rear travel and clearance for 47mm tires, I desperately want one of these. Unfortunately, my preferred size and color combo is no longer available (Gold Ghost Pearl in a 52) but, hopefully yours will be.
Specialized Diverge STR Expert - $4,999.99 (25% off)
Steel is real. If you know you know. This one even offers the option of ordering both 700c and 650b wheelsets (for an additional $389.99) so you can easily switch between them.
State Bicycle Company 4130 All Road - $675.00 (47% off)
Best commuter bike deals
With front suspension, 38c tires, and 21 speed shifting, this makes a great commuter bike suitable for both pavement and light trails.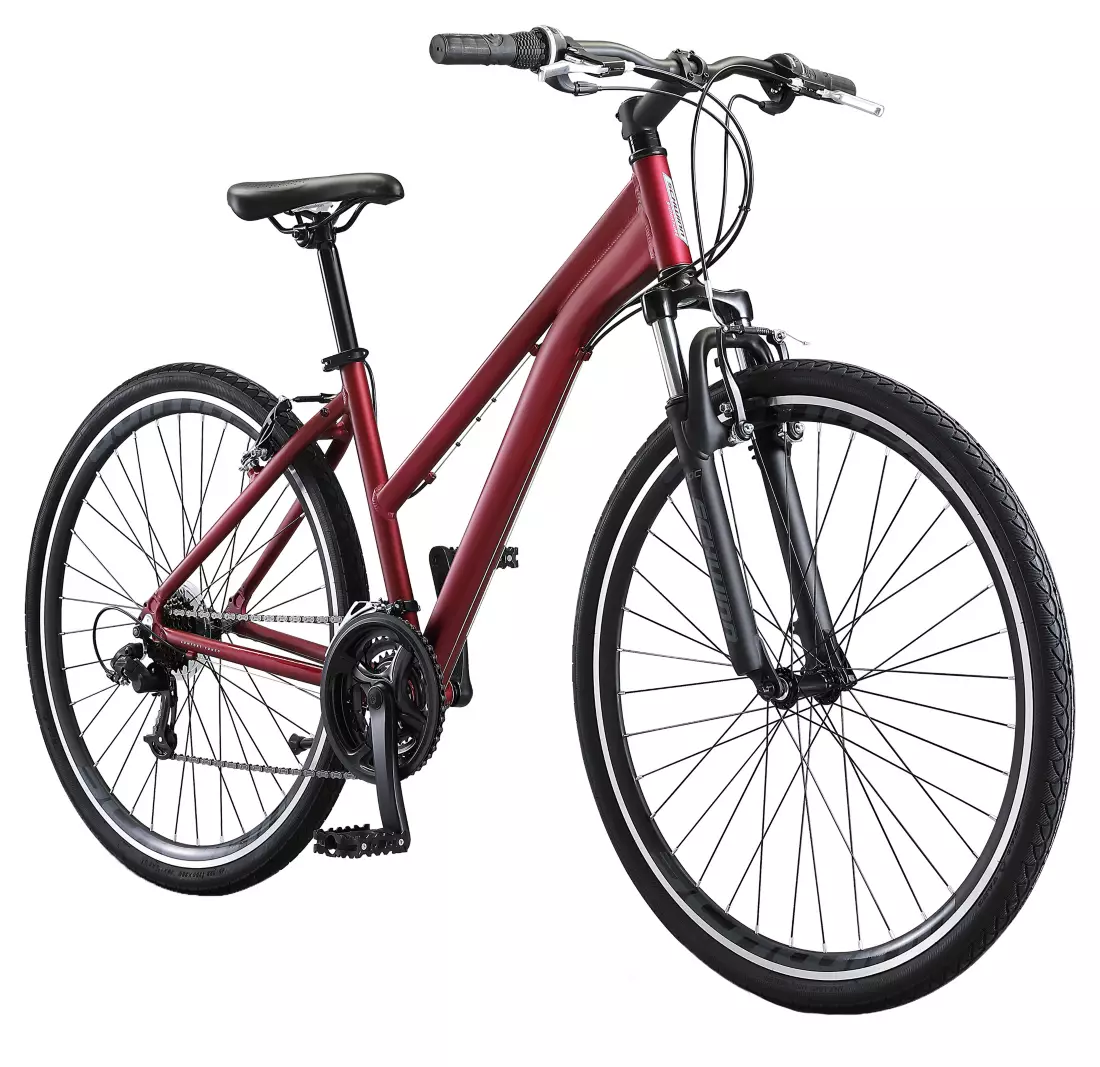 Schwinn Women's GTX 3 Hybrid Bike
A comfortable, stylish, "get around town" bike with low entry making stopping and getting on and off easy.
Specialized Roll 3.0 Low Entry
With a Shimano 24 speed drivetrain and mounts for a back rack or baby seat, the Path 2 makes an excellent commuter bike. Grab one today for 25% off.
2023 Polygon Path 2 Urban City Bike - $449.00 (25% off)
I see people tooling around on these stylish Public bikes all the time in New York City and the surrounding boroughs (yes, I mean Brooklyn specifically). Embrace your inner hipster, and get one of your very own. 
Public Bikes R-18 Drop Bar - $599.99 (40% off)
An ultimate commuter bike with a 7 speed internally geared Shimano Nexus hub and a belt (as opposed to a chain), all of which means less maintenance. Available with disc or rim brake 
Priority Bicycles Brilliant L Train - $586.00 (25% off with MOBF25 code at checkout)
Priority Bike Sauce - $600.00 (25% off with MOBF25 code at checkout)
Part retro mountain bike, part BMX, and part single speed gravel grinder, this bike reminds me of every bad boy, street bike racer with mad skillz of my ill spent youth. Except without the grease and rust (due to the carbon drive belt instead of a chain). 
Priority Bike Sauce - $600.00 (25% off with MOBF25 code at checkout)
This limited-edition steel single speed won't last long, especially since it's now on sale. Fully customizable.
State Bicycle Company Single Speed X-Wu Tang Clan Core Line - $360.00 (20%)
Best bike deals on Amazon
Removable training wheels, tinsel, and a front handlebar pack.
Huffy 12" Glimmer Girls Bike, Pink
Here's your chance to score a lightweight folding 7 speed bike for 34% off. Comes with a rear cargo rack.
Schwinn Loop Adult Folding Bike for Men and Women, 20-inch Wheels, 7-Speed Drivetrain, Rear Cargo Rack, Carrying Bag, Black
What you need to know for Black Friday
When is Black Friday?
Black Friday, considered the first "official" shopping day of the holiday season, is the Friday directly following Thanksgiving (in the United States), which always happens on the fourth Thursday of November. This year, 2023, Black Friday is on November 24th.
Many companies and/or brands feature special cost-saving deals on the day itself (starting at 12:01 AM and ending at 12:00 Midnight), many of which extend into the full weekend, ending at midnight on Sunday (November 26th in 2023).
What deals should I expect on bicycles for Black Friday?
You can find deals from anywhere from 10% to 50% off bicycles including high-end road, mountain, and gravel bikes as well as going-around-town commuter bikes.
What kind of bike deals did they have last year?
Companies like Competitive Cyclist, Jenson USA, Backcountry, and Moosejaw had many deals last year where you could snag a new ride for 50% less than the regular retail price. In some cases, I even saw discounts of up to 70%—though those are usually reserved for frame sizes on the smallest and largest end of the size spectrum (in other words, for the vertically challenged and super-tall populations).
How to get a good deal on bikes on Black Friday
Google alerts don't work very well for traditional, non-electric, bike deals because they tend to be overpopulated with links to sales of stationary bikes, indoor exercise bikes, and e-bikes.
To find the best deals sign up for email notifications or follow these online retailers as well as the company website on any specific brand of bike you may be in the market for. Many have ongoing fall sales (to move out last year's inventory) but will offer even deeper discounts on Black Friday and through the Black Friday weekend. Be aware, though, that if the size of bike you need is a popular one, inventories can get depleted quickly during significant sales.
Follow these online retailers:
How to choose the best bike for you?
Consult the sizing information for different frame sizes of the bike you want and compare to your own measurements.
If possible, visit a retail store or your local bike shop in person before Black Friday so you can test ride multiple bikes.
It's best to have a clear idea beforehand of what size of bike you need and what components you're interested in before Black Friday sales hit so you don't end up with a bike that doesn't fit you or your style of riding well.
Black Friday deals often offer an opportunity to purchase a bike with higher end components (group sets, carbon forks and stems, fancier wheels) that you might normally consider out of your price range.
Where to find Black Friday deals on Bikes
30% off Cervelo Road Bikes at Competitive Cyclist: Active now
If a brand-new bike isn't in your budget, check out The Pro's Closet. They have a plethora of certified pre-owned bikes available at fantastic prices. Obviously, many are one-offs, meaning there is only one of them. You can sort the search results by size to find what they have that will fit you.
Competitive Cycles and Back Country carry bikes form Cervelo, Santa Cruz, Yeti Cycles, Bianchi, Pivot, and more. For Black Friday Deals include select bikes for 20% to 40%.
For great deals (up to 60% off) on kids' Schwinn bikes (and other brands) head to Dick's Sporting Goods.
Grab a Diamondback bike for 27% off at Moosejaw (various models and sizes available).
Both Trek and Specialized offer deals between 18% and 30% off on a large number of bikes on their respective websites.
The information presented here is created independently from the TIME editorial staff. To learn more, see our About page.