Our evaluations and opinions are not influenced by our advertising relationships, but we may earn a commission from our partners' links. This content is created independently from TIME's editorial staff. Learn more.
Whether the flyers have shown up in your mailbox or you've seen ads on Instagram—you've probably considered signing up for a food subscription box. They've continued to grow in popularity over the past decade as more people and families are seeking ways to save time and money while expanding their dinner rotation. There are so many options for many diets, lifestyles and goals—from plant-based foods that you pop into the microwave to high-protein dishes for athletes. Beyond your everyday meals, there are diverse options for pantry staples, desserts, and even supper club hosting. We had the delicious opportunity to test out these services to narrow down the top contenders.
What to look for when choosing food subscription boxes 
When you're ready to take the plunge and give a meal kit a shot, deciding what works best for you, your household and your tastebuds is important. Dr. Chelsea Azarcon, NMD, a naturopathic medical doctor, recommends these shopping tips.
Know your priorities: Are you looking to spice it up in the kitchen with gourmet recipes? Or are you lost as to what to make for dinner? Do you need help thinking of meals that integrate plant-based or organic dietary preferences? Do you prefer a subscription that focuses on a specific type of product, such as local produce, sustainably raised meat or premixed smoothies? "Knowing what you are looking for can help narrow down your search to find a subscription company that best fits your needs," she says. 
Know your budget: Dr. Azarcon says some companies offer sign-up incentives, the option to opt-out from month to month, or periodic promotions. "I recommend choosing a budget range in which you feel comfortable so you can find the subscription that best fits your culinary and monetary preferences," she adds.
Know your ingredients: Dr. Azarcon urges shoppers to pay attention to any nutritional information and ingredient lists provided to avoid any surprises. Tip: If you're avoiding specific ingredients and can't find the list (or are wondering about what could be included in future boxes), customer service can help you find the information you need. 
Our top picks for the best food subscription boxes
Best value food subscription box: Blue Apron
Blue Apron continues to be an excellent value as one of the original food subscription companies debuted in 2012. (They're also known as one of the best meal delivery services out there.) Thanks to the freezer packs, the Blue Apron box arrived at our doorstep, safely packaged and still cool. We found unboxing the items easy, but we were surprised by the vast amount of plastic. It felt excessive and wasteful. When it was time to roll up our sleeves and start cooking, we appreciated the clear, easy-to-follow instructions that made cooking a breeze. While preparing the ingredients took longer than the anticipated time from Blue Apron, we had everything we needed without digging through our fridge or pantry. 
The best part, of course, was eating the meal! We were served Mexican Chicken & Farro Bowls and Oven-Baked Kimich Rice & Eggs, and both were super-tasty and enjoyable. Blue Apron would be a great choice for singles and couples and perhaps for families with kiddos who aren't picky eaters. When you sign up for Blue Apron, you'll feel like you get your money's worth and expand your weekly meal rotation—but you might not find exactly what fits your dietary preferences. While you can choose between vegetarian and wellness, there are no specific plans for various types of diet, like vegan, paleo, gluten-free and so on. 
Specifications:
Serving options available: Signature 2 or 4 servings. The Signature plan offers a choice of two, three, or four recipes in each weekly delivery that are perfectly portioned for a group of either two or four people. 
Where it is shipped: Contiguous United States
Shipping cost: $9.99 per box 
Types of preparations: Cooking required
Price: Starts at $7.99 per serving 
Pros:
Clear, easy-to-follow instructions
Tasty recipes
Blue Apron provides everything for each recipe
Cons:
Packaging seemed excessive
Blue Apron has limited meal plans for different dietary needs
If you're active on TikTok, you've likely heard of Sakara before since influencers and celebrities love it. All of its meals, treats and juices feature only plant-based and organic ingredients. We were sent a box full of healthy goodies, all of which arrived cold and ready to eat. After unloading everything into the fridge, we were excited to enjoy our first lunch—and instantly, we loved how clean and healthy the food was without sacrificing flavor. The recipes were unique, with generous portions. Since the ingredients were so clean, we felt like we could eat a lot without feeling overly stuffed. Each food option is meant to serve a wellness purpose, making life easier and richer. We can't choose our favorite, but top contenders include the Inner Fire Bowl, with purple cauliflower with sulfur, an ingredient that Sakara says has beauty benefits. The Sakara Burger with sweet potato, brown rice, and navy beans gave us energy to power through an afternoon run. 
Sakara included samples of some of its all-star products, like the Metabolism Powder. We recommend Sakara for singles or couples who lead a healthy lifestyle and seek clean, organic ingredients. And hey, as much as we wish our kids would eat these foods, they weren't interested in tasting anything in our food subscription!
The downfall is, without a doubt, the high price point. This is very much a luxury investment since you pay $275 for three days worth of meals. While taking the decision process away is a benefit for some, remember that you don't get to choose what you eat each week. Instead, Sakara sets a weekly menu that's delivered to your door. You can order standalone supplements and snacks. 
Specifications:
Serving options available: Single serving; 2-, 3-, or 5-day program length options
Where it is shipped: Continental United States
Shipping cost: Free shipping on all wellness essentials orders over $95 
Diets included: Sakara meals are organic, plant-rich, and made with the highest-quality ingredients. All meals are gluten-free, dairy-free, non-GMO, and made without refined sugar.
Types of preparations: Ready to eat
Price: $275 for 3 days
Pros:
Delicious and satisfying plant-based meal program
Fast, simple, ready-to-eat meals
Excellent fresh ingredients
Cons:
Expensive
Only offers a set menu for meals
Visit Sakara Signature Nutrition Program
Best variety food subscription box: Sunbasket
While some people are happy to eat the same meals day in and day-out, repeat meals feel like boring leftovers for others. For those who seek—and need!—variety, Sunbasket is a clear winner. Among the original food subscription services, founded in 2014, you can choose from ready-to-eat, pre-prepared meals or recipe kits that require cooking. Or do a mix of both!
We challenged ourselves to whip up dinner and selected four meals: chorizo tacos, chicken shawarma, harissa-rubbed pork, and a black angus steak salad. These protein-rich meals arrived cold and in well-packaged, clearly labeled large paper bags. Everything we needed to follow along the recipe included sauce, cheese and herbs. However, some of the produce wilted during transportation, so we had to replace what we had. All meat was fresh and in leak proof packaging. Though having the paper bags helped keep everything organized, nearly everything was in its plastic container, which felt wasteful and unnecessary. The cooking process was fast and simple, from prepping to heating. The meals were flavorful and robust, but they could be slightly bigger in portions. That said, if you're only cooking for one to two people, it's an ideal and affordable subscription that takes the thinking out of meal prep and grocery shopping. 
The biggest benefit to Sunbasket is the variety and attention to detail. Award-winning chefs and dietitians create all of their meals, so well, they're just plain good. It's obvious they have thought about the needs of all people and include a vast array of specialty diets, including paleo, vegetarian, vegan, pescatarian, gluten-free, carb-conscious, keto-friendly, Mediterranean, and diabetes-friendly. 
Specifications:
Serving options available: 2 or 4 people 
Where it is shipped: Sunbasket currently ships to most zip codes in the United States, excluding AK, HI, MT, ND, and parts of NM. 
Shipping cost: Free shipping on first delivery for new members, then $9.99
Diets included: Paleo, Vegetarian, Gluten-Free, Carb-Conscious, Keto-Friendly, Mediterranean, Diabetes-Friendly, Pescatarian, Vegan, Fresh & Ready
Types of preparations: Cooking required meal kits and prepared meal options
Price: Meals starting at $9.99 per serving
Pros:
Wide variety of meal plan options to meet various dietary needs
Very clear instructions
Sunbasket offers both meal kits and ready-to-eat meal options
Cons:
Included produce went bad quickly 
Could offer bigger portions for families 
Doesn't ship to all 50 states
Best food subscription box for runners: The RunnerBox
Training for a marathon isn't just a time commitment—it's a full-body investment. And even if you don't plan on running 26.2 miles anytime soon—or running whatsoever—intense exercise requires recovery and nutrition. Choosing the right snacks, from protein bars to gels, is essential to your performance and your ability to keep going. With a marathon on the books in November, we were excited to open up this food subscription box that's curated by a team of athletes. Inside, we found various fun goodies, including high-protein oats and bars, running belt-sized gels, hydration tablets, and more. In addition to the products, coupons are ideal for exercise enthusiasts to try new services, subscriptions or gear. Since most of the products are shelf-stable, the box doesn't include freezer packs, so unfortunately, the chocolate-dipped banana bites were completely melted into one large lump and had to be thrown away. Otherwise, everything was in excellent condition. 
We love the RunnerBox as a way to discover new products without buying bulk. And for everything you get inside, the price is a good value. We also think it'd be a thoughtful gift to the runner in your life who needs encouragement while training for race day. It's likely not ideal for those with dietary restrictions since you can't choose or modify the continents. (Sidenote: If you're not a runner but a biker, they also have a curated box for your preferred workout!)
Specifications:
Serving options available: Each box contains 10-12 different physical items.
Where it is shipped: All US States and territories
Shipping cost: Starting at $2.95/box 
Diets included: No special diets are specified, but skews toward gluten-free, Non-GMO, and organic products
Types of preparations: Ready to eat
Price: Starting at $32/box
Pros:
Great way to discover new products
Makes an excellent gift option
Is a good value
Cons:
Only offers a bimonthly subscription option - no monthly option
Doesn't have options for dietary restrictions/special diets
For families looking for ways to introduce a variety of flavors and foods to their babies, the Once Upon a Farm pouch or meal subscription is an excellent way to get started. The brand is co-founded by actress and mom of three Jennifer Garner, and some of the produce included in itsmeals is grown on her family farm in Oklahoma. They aim to help parents navigate eating from first bites and finger foods to pouches and smoothies. When we opened our box of goodies, everything included was cold and well packaged, without excessive plastic or paper. We immediately noticed the variety of options, including dairy-free, immunity-focused, and organic-only ingredients. We tried the pouches meant for babies and the bite-sized meals for older toddlers. Though we're a little over the recommended age, we tried them all and found the flavors yummy—and so did our toddler. 
The meals can be heated up on the stovetop or microwave and offer a unique way to expose tots to different flavor combinations, like sweet potato, mango and coconut, or butternut Squash, kale and quinoa.  The pouches vary in texture from thick-ish oats to a more smoothie-like consistency. And while our toddler is still coming around to pouches (and figuring out how to not squeeze everything out at once), we liked the ease they offered. All the products are clearly labeled for age ranges, so you can quickly glance and ensure your kiddo is old enough to enjoy.
The downfall of Once Upon a Farm is that everything does need to be refrigerated. So, you'll need to bring a freezer pack for your diaper bag. Also, they are on the pricier side in the pouch category since they are committed to providing organic-only ingredients. And while the plant-rich meals are much faster than chopping up everything individually, you could make it for less if you have the time. That said, for our peace of mind—and sanity—as a parent, we think it is worth it. 
Specifications:
Serving options available: Online purchase options for our meals are in increments of 16 or 24.
Where it is shipped: Shipping nationwide
Shipping cost: Shipping cost calculated at checkout based on zip code
Diets included: Meals are organic; plant-rich meals available
Types of preparations: Ready to eat
Price: Subscription starts at $79 for a 16 count box
Pros:
Offers many flavor options
Offers fresh, organic ingredients
Easy to prepare
Cons:
Pricey
Requires refrigeration  
Visit Once Upon A Farm Meal Subscription
Best food subscription box for learning new recipes: HelloFresh
No food subscription list is complete without testing out the OG: HelloFresh, founded in 2011. They're by and large considered the world's leading meal kit; they not only deliver throughout the continental United States but also to many other countries. Each week, they offer more than 40 weekly recipes and 100 seasonal items, including snacks, desserts, pantry essentials, and more. Like others, they include various options to meet different dietary needs, including meat eaters, vegetarians, and pescatarians, as well as ideas for families, those time-crunched, , or those mindful of calories. We tested out three veggie-only meals: Crunchy Curried Chickpea Bowls, Za'atar Crusted Grilling Cheese and Vegan Mushroom Shawarma. 
These arrived cold and well-packaged, but again, we found most of the packaging really unnecessary. All of the herbs, for example, were separated to make it easy to follow the instructions, but it just meant more waste and recycling. Once we dug into the instructions, we found the recipes easy to follow and detail-oriented. This subscription brought back some of that joy that comes from trying something new. With grocery prices at an all-time high, the cost balances out well in terms of savings,while also offering unique and tasty meals. Hello Fresh is also generous on portion size, and since we were only cooking for one person, it was easy to split a meal over a few days, making meal prep for a week a breeze.
Specifications:
Serving options available: Meal plans for 2 or 4 people available
Where it is shipped: HelloFresh delivers anywhere in the United States, except Alaska and Hawaii.
Shipping cost: $10.99
Diets included: Meat & Veggie, Veggie, Family Friendly, Fit & Wholesome, Quick & Easy, and Pescatarian
Types of preparations: Cooking required
Price: Starting at $60.95 for 2 meals for 2 people per week
Pros:
Offers many recipes to choose from
Great for meal prep
Meals are easy to prepare
Cons:
HelloFresh includes unnecessary packaging
Best for learning new recipes
The question is never if you need a cookie—it's actually, do you want a cookie? Of course you do! Now, you can receive eight generously-sized cookies from the legendary NYC Levain Bakery to your doorstep each month. The cookies arrived packaged in clear plastic bags with a ribbon and no freezer packs. Even though it was hot when they arrived, they weren't melted and, instead, were in perfect, mouthwatering condition. We tried a variety of cookies, from chocolate lovers to oatmeal raisin and dark chocolate peanut butter—and they were all amazing. 
And almost too amazing: They're so rich and so big, you probably don't need to eat an entire cookie in one setting. Since the subscription included eight cookies, we think it could easily last you most of the month since just a nibble is enough each day. The subscription offers an assortment, but you can't choose specific flavors. If you're only a Team Chocolate Chip and you can't even look at a walnut, it's better to stick to the one-flavor-only option. The cookie subscription makes for a sweet gift for a friend who has a birthday, a new baby, or just needs a cookie. The packaging is excellent, and the cookies are a treat. It's pricey for a monthly subscription, and it's not suitable for those with food allergies. 
Specifications:
Serving options available: 8 cookies per box
Where it is shipped: Continental United States
Shipping cost: Free shipping
Diets included: N/A
Types of preparations: (Ready to cook/requires cooking, etc.) Ready to eat
Price: $44.10 
Pros:
Makes a thoughtful gift
Features pretty packaging
Offers large, tasty cookies
Cons:
Not suitable for those with food allergies
Pricey 
Visit Levain Cookie Club—Monthly Subscription
Best food subscription box for busy families: Gobble
This female-founded meal-kit company had one goal in mind: create fast, gourmet meal-kits inspired by global cuisine. And in our experience, Gobble delivered. For a reasonable price, we vote this meal subscription kit as our top pick for busy families. Our box included scampi-style chicken in linguine, crispy coconut Hawaiian fish tacos, a chicken shawarma, and a paella. They all arrived in a well-packaged box that still felt cold. Each recipe was individually packaged in a large bag containing all the ingredients and recipe card. Everything we needed was included as part of the kit, except olive oil or salt and pepper. Though we would have liked less packaging, it didn't feel as overwhelming as others. 
The recipes were easy to cook, and a novice chef could likely whip them up with ease. We found the estimated time to be a little short—we took more time than Gobble anticipated. 
We appreciated the large selection of meal options across 40 different cuisines.  Ultimately, the meals were mostly yummy but slightly bland. We would have liked a bigger punch of spice or flavor to turn up the taste buds. We also would have appreciated a bigger portion of vegetables in each meal. 
Specifications:
Serving options available: 2 or 4 servings
Where it is shipped: Gobble delivers to the contiguous U.S. with the exception of Montana; and with limited service in Nebraska, New Mexico, and Kansas.
Shipping cost: New customers receive free shipping on their first box. Following weeks are $8.99 for shipping. 
Diets included: 40+ different global cuisines, vegetarian and calorie conscious. 
Types of preparations: Cooking required
Price: Prices begin at $11.99 per serving. 
Pros:
Reasonably priced
Offers a large selection of meal options
Provides easy-to-follow instructions
Cons:
Take longer to prepare than stated
Could use more vegetables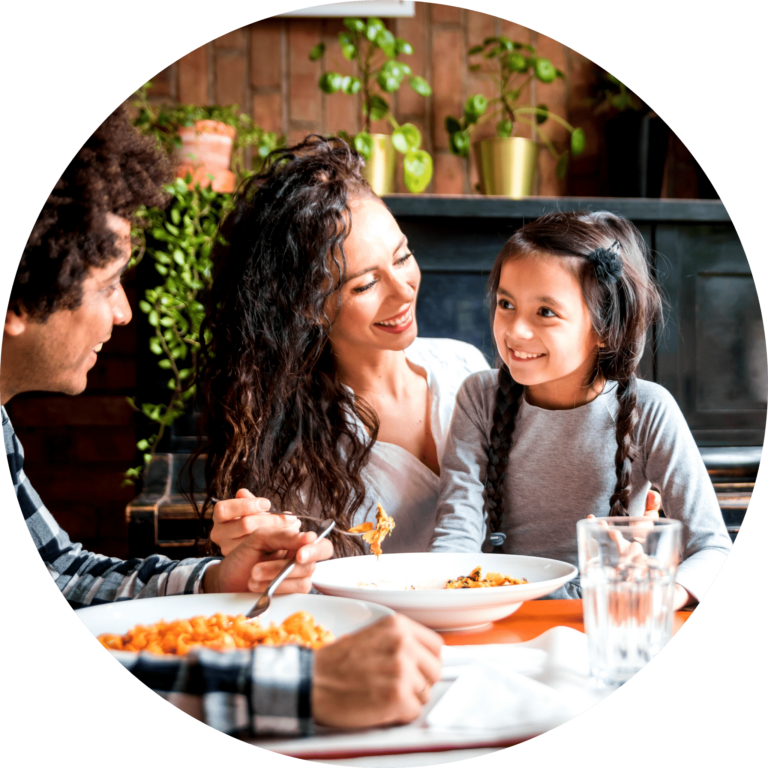 While most food subscription boxes focus on providing everything you need to create a delicious meal, the Societa Bona Furtuna box provides the base, and you do the rest. As a housewarming gift or for the Italian foodophile in your life, this is a beautiful, curated, and luxurious gesture. Here's how it works: each month, this pantry subscription box provides five to seven shelf-stable items, including their award-winning pasta and olive oils, porcini mushrooms, sea salt and herb blends, and so on. Each box includes chef-curated recipes, all meant to inspire you to cook from your heart—just as Italians do. You can choose from monthly, bimonthly or quarterly. And while the subscription isn't cheap, it's less than a trip to Italy. 
When we opened our box, we were dazzled by the beautiful packaging and the thoughtful curation. It feels like a gift, and we would be honored to receive it. The recipes were nice, but we appreciated that we could do our own thing. This wouldn't be a way to replace, say, meal prep since you still have to find the fresh ingredients yourself, but it would be an exciting and helpful way to fall back in love with cooking if you're going through a rut. The unique elements are fun, and the dishes we created felt very "upscale." 
Specifications:
Serving options available: Each box contains 5-7 premium Italian foods.
Where it is shipped: United States
Shipping cost: Free shipping within the continental US. Shipping to HI/AK/Territories is $19.95.
Diets included: No specific diets offered
Types of preparations: Contains items that are ready to be cooked with.
Price: $75
Pros:
Easy to follow recipes
The box gives you the ability to test unique Italian ingredients
Cons:
Società Bona Furtuna doesn't cater to different dietary restrictions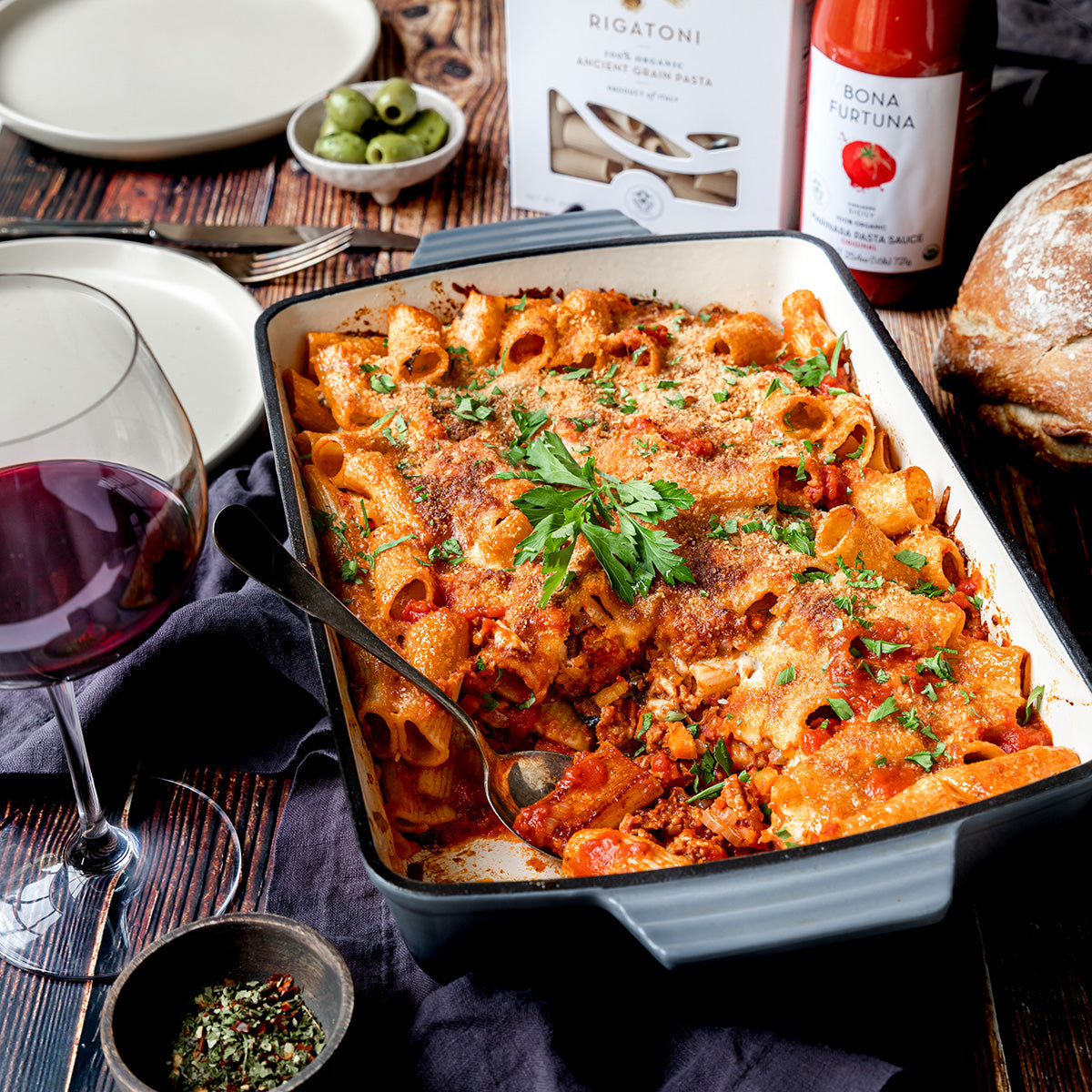 Visit Società Bona Furtuna Subscription Box
Best plant-based food subscription box: Rootberry
As the world becomes more conscious of meat consumption and more people are omitting or limiting animal protein sources, plant-based subscription services like Rootberry will begin to take center stage. We tested out its ready-to-eat meals, and overall, we were impressed by the ease, flavor and quality. The box arrived cold with the dishes inside, wrapped in plastic microwaveable trays and a cardboard sleeve. They are slimmer, so easy to stack in the refrigerator without taking up much space. 
There was no prep involved; we just had to peel the corner of the plastic wrap, remove the sleeve and pop it in the microwave. Once it cooled, we found the meals were healthy and made with high-quality ingredients. We tried out everything from Tikka Masala and Kung Pao Cauliflower to Vegetarian Pad Thai and a Fajita Bowl. For a company that doesn't use meat at all, we loved how they were able to make veggies the star of the show. We also tested out their chocolate chip cookies and blueberry oat bars—both of which were a hit for adults and children alike. While most of the dishes were kind of a 'one-note' meal with little spice, they were fulfilling and enjoyable. For those always on the run and want to eat plant-based foods, we think this is a great, affordable, healthy option. 
Specifications:
Serving options available: Minimum of 8 menu items per order
Where it is shipped: Across the 48 contiguous states
Shipping cost: $12.95-$14.95
Diets included: 100% plant-based meals
Types of preparations: Ready to heat
Price: $12.99-$14.99 for meals with an additional 5% discount when you choose to subscribe and save. Pricing for other snacks, desserts, and other items varies. 
Pros:
Super easy; no prep required
An excellent vegan/vegetarian option
Features high-nutrient density meals
Cons:
Dishes could use more sauce and spices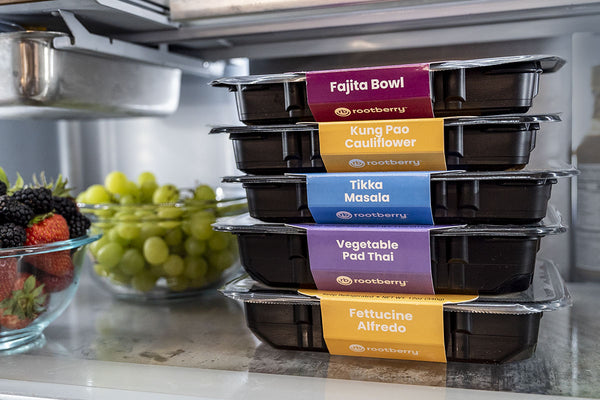 Best food subscription box for hosting: Platterful
If you find yourself ogling charcuterie boards on Instagram but when you're at the grocery store, you suddenly go blank on what to purchase, this is the food subscription for you. Platterful is our top pick for hosting since it takes much of the guesswork and stress out of planning. Our box arrived cold, insulated and packed well. Everything felt incredibly fresh and luxurious, instantly excited us to put together a platter. Platterful includes directions, information about how long the food could or would stay fresh out of the packaging, and a layout guide. It was nice to have a guide to creating a delightfully aesthetic cheese board. 
In our box were three kinds of cheese, two types of meats, an assortment of olives, nuts, chocolates, honey, mustard and crackers. This was all we needed to enjoy a fun picnic—though we did miss having a pickled item since that's one of our charcuterie faves. Our box could feed our six guests, but no more. This fun food subscription box is just that: A novel idea that's nice to try and makes a good gift, but definitely more expensive than if you purchased these items individually at Trader Joe's. 
Specifications:
Serving options available: Standard and Large charcuterie kits available: Small charcuterie board feeds 2-4 as a small appetizer or 1-2 as a meal; Large charcuterie board feeds 6-8 as a small appetizer or 2-4 as a meal
Where it is shipped: US
Shipping cost: Varies (around $10 for standard)
Diets included: Regular, Vegan and Gluten-Free available
Types of preparations: Ready to eat—the kit includes charcuterie board items that require assembly
Price: Starts at $65/month
Pros:
Offers a large variety of items included
Great for gifting
Offers easy-to-follow instructions, including visual chart for assembly
Cons:
Expensive 
Doesn't allow you to choose individual items that will be in the box

Best high-end food subscription boxes to splurge on: Moveable Feast
I'm a bit of a food snob—so when I heard about Moveable Feast, I knew it was up my alley. Two notable restaurateurs brought together a group of 12 chefs to create an elevated approach to a food-subscription box. Each month, an acclaimed chef develops a custom menu inspired by their restaurant. Then, the curated box is sent out to allow you to create a dinner party at your home curated by a restaurant you'd love to visit. (Many of the restaurants have earned Michelin stars or James Beard awards.) They source seasonal and sustainably grown ingredients, mostly from their collaborative kitchen in downtown Napa, California. 
I tested out the July box, curated by Chef Melissa Perello, founder of Octavia in San Francisco. My menu featured several small appetizers, two mains and a dessert. The starters included marinated calamari with sungold tomato, zucchini and basil, a gem lettuce salad, charred eggplant and a mozzarella and fig dish. There was one meat-free main, the corn lasagna, and one with fish, a baked ora salmon. To finish the evening, we enjoyed a blackberry trifle with passion fruit curd, coconut chiffon, and creme fraiche.
If it sounds like a lot, you're right. But you also might be surprised that I whipped everything up in less than 45 minutes. The biggest benefit of Moveable Feast is everything arrives mostly cooked and ready. There are many packages within the box itself, but everything is color-coded, so you know exactly what goes in each appetizer, main or dessert. Most of the starters only required me to mix the ingredients, chop a few herbs, or toast the pita chips. The mains were a bit more involved—I melted butter on the stovetop with tomatoes and placed salmon on a pan—yet still very straightforward. 
The instructions provided a step-by-step guide to getting everything ready to be served simultaneously, the goal of a dinner party. (What host wants to spend all their time in the kitchen and away from the wine-filled conversation?) I also appreciated the recyclable bags, reusable tin containers, and glass bottles. My box was meant for four people, but our plans fell through, so my husband and our toddler daughter enjoyed the meal. (We had leftovers for a solid two days!) 
The food was amazing. It was very fresh, well-seasoned, high-quality and flavorful. There wasn't a single dish we didn't like—though my toddler was particularly fond of the pita chips, mozzarella and trifle. It was a fun and stress-free experience. The only kicker is the price. To serve four people, it was $385. Of course, you can do this much cheaper on your own. However, you would pay (way) more than that to eat at a Michelin-star restaurant, so if you're a foodie who doesn't get out as much as you used to (hello, parenthood!), it's worth it. 
Specifications:
Serving options available: 4, 8, and 12 people
Where it is shipped: Nationwide
Shipping cost: Included
Diets included: N/A
Types of preparations: Meal kits are 80% done and just need to be finished on the stove or in the oven, plated, dressed, and garnished.
Price: Starts at $330 for four-person feast for All-In Members or $385 for non-subscribers
Pros:
Allows you to enjoy Michelin-star meals at home
Great for hosting
Mostly prepared and ready-to-eat
Cons:
Expensive 
Doesn't have pre-set options for dietary restrictions/special diets
Best high-end to splurge on
How we chose the best food subscription boxes
We first researched the top food subscription boxes based on popularity, then refined our selections based on the most common types of categories of food subscription boxes, along with dietary and lifestyle concerns. We also considered advice from nutritional and medical experts who were familiar with these products. We then put the top 12 picks to the test by ordering and preparing meals, and considering factors like shipping time, packaging, customer service, value, ingredient freshness, and overall quality. 
Frequently asked questions (FAQs)
Are any food subscriptions worth it?
Whether or not food subscription boxes are worth it will depend on your lifestyle and dietary restrictions. For those who are so short on time that they can't make it to a grocery store, a food subscription box that offers ready-to-heat meals generally offers a fresher alternative to what you'll get in takeout. (You'll also likely save money per meal, depending on how much you pay for takeout, including fees and tips.) If you have a specialized diet that can be difficult to shop for, a corresponding food subscription box makes things a bit more convenient and offers more variety. However, if you enjoy grocery shopping and meal prep, a food subscription box may not be for you—unless it's one that introduces you to new ingredients you can't find locally. 
What are the advantages of a food subscription box?
Registered Dietitian Amanda Sauceda, MS, RD says a food subscription box has plenty of benefits. First, expand your palate and try dishes out of your comfort zone to explore new flavors. "When we cook for ourselves, we tend to stick to the same recipes we're used to," she says.
Another big benefit is providing a break and some support. "When you have a busy season but still want to eat well, a subscription box can come in handy. This is why checking if you can pause your subscription boxes is a good thing to look at," she adds. 
Dr. Azarcon says food subscription boxes can also reduce the amount you eat out, which is better for your overall health. "Having a healthy meal delivered to you can also make healthy eating more exciting, encouraging you to stay on track with health goals," she says. 
Last, a meal subscription can help encourage mindful eating. "I find that the simplicity of a meal subscription often involves multiple people in a family, beyond the typical chef, in the cooking process," Dr. Azarcon says. "Engaging with your food communally and intentionally, through cooking together, is great for digestion and helps improve healthy eating habits."
Who are food subscription boxes best suited for?
Depending on your chosen company, a food subscription box can be for anyone in any season of life. But generally speaking, Dr. Azarcon says food subscriptions are an excellent choice for those who need more health, time, skill, or desire to cook for themselves regularly. "They are a great idea for those who feel bored in the kitchen and need some recipe inspiration to encourage them to eat at home or to try new foods," she says.
Subscriptions can also be great for families who want to involve kids in meal prep or smaller units—like singles and couples—who want a nice meal regularly without eating out or having a fridge full of leftovers for the next week, she adds.
Do food subscription boxes help you save money?
Sauceda says they definitely can: Food waste is prevalent at home and food subscription boxes can help you cut down on veggies going bad in the back of the fridge.
Alternatively, the price per meal may be higher than what you normally spend. "You do pay for the convenience of having ingredients pre-portioned, and you often have to pay shipping costs, which can sometimes have sticker shock," she says. That's why she recommends tracking your grocery bill for a week and getting an idea of how much you spend per meal. Then, you can compare that to the cost per meal in your subscription boxes.
How can someone with dietary restrictions shop for a food subscription box?
As someone with dietary restrictions herself, Dr. Azarcon suggests choosing a subscription service that focuses on high-quality foods, such as organic or local. "These types of plans usually use simpler ingredients that make it easier for the allergy-prone to navigate," she explains. "This may be a subscription with a wide range of special dietary offerings like paleo, vegan, gluten-free and more. Or it may be a company specializing in your specific diet, like fitness-focused." And before you sign up, look at all the ingredients to be extra safe.
The information presented here is created independently from the TIME editorial staff. To learn more, see our About page.