Our evaluations and opinions are not influenced by our advertising relationships, but we may earn a commission from our partners' links. This content is created independently from TIME's editorial staff. Learn more.
Updated
November 15, 2023
There are many reasons you may not want a real tree in your home over the holidays: Maybe you have allergies, or you don't want to pay for a new one every year. Maybe you just simply can't handle the mess. Perhaps you're one of the not inconsiderable number of people instilled with a deep, abiding terror of tree-dwelling squirrels by Christmas Vacation. Whatever the reason, there's something on our list of the best artificial Christmas trees that'll get the job done.
Our top picks
The holidays get expensive enough without blowing half your budget on a tree, so it's always worth investigating cheaper options. "This pre-lit five-foot tree from Amazon is a great deal at $70," says Yates. "It has 200 LED lights and three modes to change the mood. The branches will need fluffing out to get a fuller look, and at only five feet, it isn't tall, so I'd advise placing it on a box covered in fabric or gift wrap to add height."
Specifications
Height: 5 feet
Base Diameter: 32 inches
Lights: 200
Price at time of publish: $72.99
The bottom line:
A great value, pre-lit tree that'll still wow when presented well.
Best budget artificial Christmas tree
New One 5 Feet Christmas Tree Prelit Artificial Christmas Everett Pine Tree, with 424 Branch Tips, 200L Incandescent Clear Lights
If you live somewhere with 15-foot ceilings, you're going to need a taller-than-average tree. Yates recommends this whopper from Best Choice. "Although over $800, this tree is mighty at 12 feet tall!" he says. "Pre-lit and pre-fluffed, it doesn't take too long to assemble, although you will need a ladder." No kidding.
Specifications
Height: 12 feet
Base Diameter: 74 inches
Lights: 1,250
Price at time of publish: $849.99
What we like:
Enormous
4,693 individual branch tips create a full and even look
What we don't Like:
Expensive
Height alone will make it tricky to assemble
The bottom line:
An expensive, but beautiful tree for those with high ceilings, and the budgets to match.
Best tall artificial Christmas tree
Best Choice Pre-Lit Artificial Spruce Christmas Tree w/ Memory Branches
"The original Thomas Kinkade pull-up Christmas tree is a great option for those looking for a slim tree," says Lafleche. "It's slimmer than your average artificial tree and packs up really small. The key with these trees is the easy three-step set-up and takedown. They're perfect for smaller apartments, or even those that are traveling and still want to have a Christmas tree option."
Specifications
Height: 6 feet
Base Diameter: 30 inches
Lights: 200
Price at time of publish: $270
The bottom line:
An incredibly convenient, pop-up tree with a slim profile and the decorating done for you.
Best slim artificial Christmas tree
The Bradford Exchange Thom Kinkade Wondrous Winter Pre Lit Pull Up Christmas Tree Assembles in 3 Easy Steps Pre Decorated with Kinkade Art Ribbons 46 Ornaments and 200 Clear Lights Holiday Decor 6ft
Yates is a big proponent of pre-lit trees (more on that later), and his pick for the best of these is Puleo International's 9-foot option. "I'm always a fan of trees that have a natural look to them, even if they're covered in lights," he says. "This tree has a rustic look to it rather than a manicured appearance and it looks just like an outdoor fir, adorned with twinkling lights."
Specifications
Height: 9 feet
Base Diameter: 66 inches
Lights: 800
Price at time of publish: $694.37
What we like:
Realistic appearance
Well illuminated
Easy to assemble
The bottom line:
A realistic-looking, well-lit tree that'll perfectly fit a larger space.
Best pre-lit artificial Christmas tree
Puleo International 9 Foot Pre-Lit Balsam Fir Artificial Christmas Tree with 800 Clear Lights, Green
Biggest isn't always most beautiful, as this diminutive, but delightful tree shows. "Although on the smaller side, this pre-decorated tree oozes classy vibes, and will make a big impact as soon as you get it out of the box," enthuses Yates. "Flocked, with lights, pine cones, and berries, you wouldn't need to add much else, if anything at all." Apart from all the gifts underneath, of course.
Specifications
Height: 4 feet
Base Diameter: 24 inches
Lights: 105
Price at time of publish: $230.99
What we like:
No need to decorate
Tasteful
What we don't Like:
On the pricier side for such a short tree
The bottom line:
A true short king, this 4-foot tree makes up for its small stature with its ready-to-go  lights and decorations.
Best decorated artificial Christmas tree
4' Frosted Artificial Christmas Tree Pre-Lit with 105 lights in Decorative Planter
Looking to add a little (okay, a lot) of flare to your Christmas party? Northlight has you covered, and then some. "Fun, festive, and flat, this multicolored tree is actually a pop-up tree, meaning you can add a cheerful Christmas vibe to a room in seconds," says Yates. "It's pre-lit with 250 lights and gives a merry glow. One of the best things about it is that it packs away almost as easily as it appears, and takes up hardly any room to store for the rest of the year."
Specifications
Height: 6 feet
Base Diameter: 24 inches
Lights: 250
Price at time of publish: $176.99
What we like:
Super colorful
Collapsible
What we don't Like:
Not the nicest looking branches, but then, this obviously isn't the choice for realism
The bottom line:
A cheap and extremely cheerful tree for those wanting to add a splash of color beyond the usual dark green.
Best multicolor artificial Christmas tree
Northlight 6 ft. Rainbow Pre-Lit Tinsel Pop-Up Artificial Christmas Tree, Clear Lights
Both Yates and Lafleche advise going with Balsam Hill if you're looking fir—sorry, for—realism. "A tree too pristine and manicured just doesn't look authentic, but this unlit fur from Balsam Hill has just the right amount of rustic to look real," says Yates. "It's nine feet tall and has over 8,000 branch tips!" It's also available in a bunch of other heights, and if you're less bothered by total realism, there are multiple pre-lit options, too.
Specifications
Height: 9 feet
Base Diameter: 68 inches
Lights: None (although pre-lit versions are available)
Price at time of publish: $1,199
What we like:
Available in lots of other heights and lighting options
Super detailed and realistic
What we don't Like:
Expensive, especially for an unlit tree
The bottom line:
A highly realistic tree with a ton of customization options, but a substantial price tag.
Best realistic artificial Christmas tree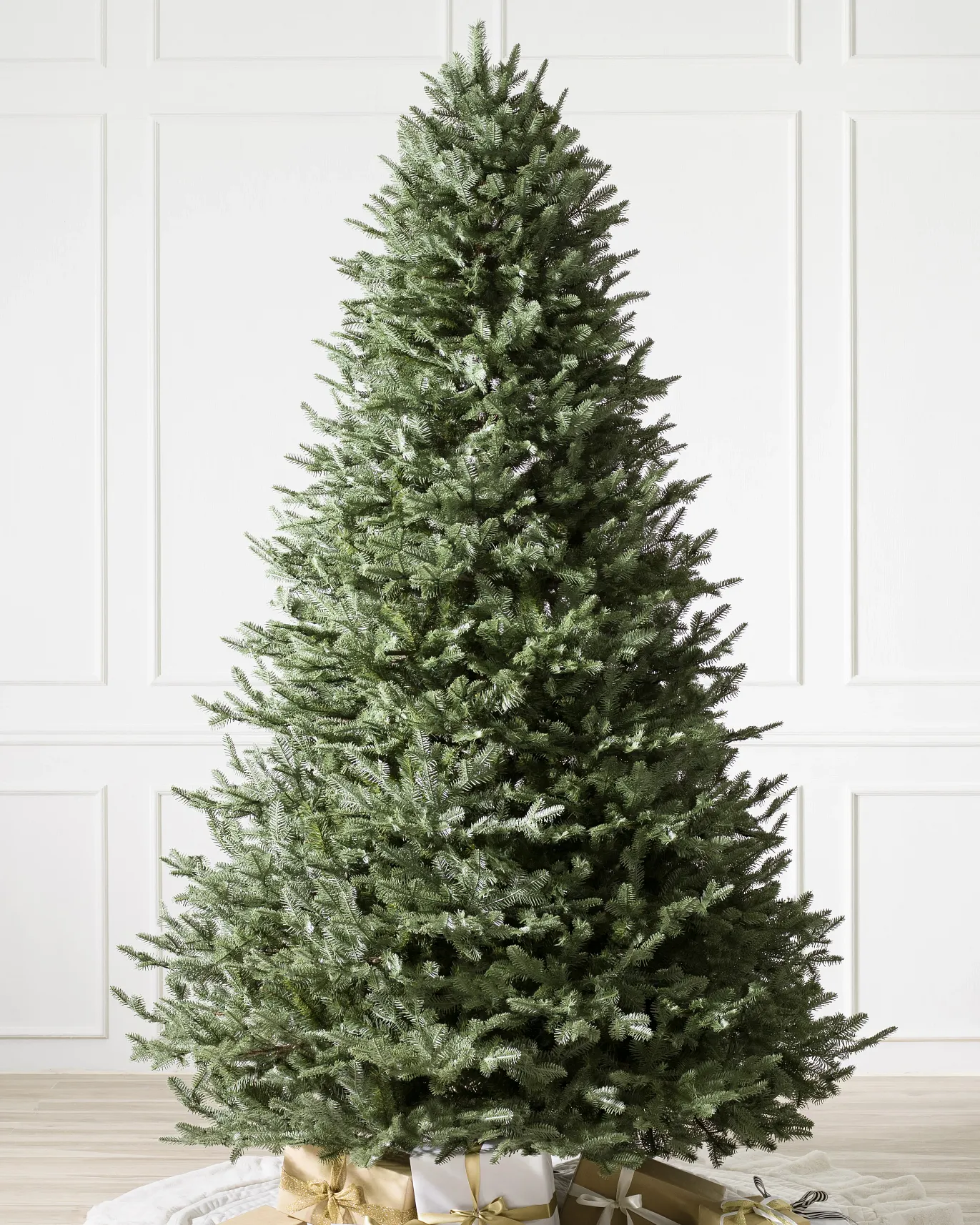 If you're dreaming of a white Christmas, you'll likely want a tree with flocking, and Lafleche recommends this Costway model. "It's eight feet tall and has over 1,500 tips," she says. "It's pre-lit and isn't overly flocked, as some are, which gives it a more natural and comfortable look. It's also well-priced in comparison to some other pre-flocked trees, which tend to be on the more expensive side."
Specifications
Height: 8 feet
Base Diameter: 58.8 inches
Lights: 650
Price at time of publish: $299
What we like:
Full
Comes with metal base
Easy to assemble, as branches are hinged, rather than separate
What we don't Like:
Perfectly conical shape isn't super realistic
The bottom line:
A lush, wintry tree with built-in lights and easy assembly.
Best flocked artificial Christmas tree
Costway 8 ft. Pre-lit Snow Flocked Hinged Artificial Christmas Tree with 1502 Tips and Metal Stand
While pre-lit trees are both common (hence their prevalence on this list) and convenient, sometimes you want to do the decorating yourself, particularly if you have a set of lights that you're looking forward to using. Yates is a fan of this seven-foot option from National Tree, adding that, "It has nearly five stars from over 10.5k reviewers. I'd take a gamble on that!" It's also available in multiple height options, from 4 feet to 12, so if unlit is your thing, there's a version here that'll work for you.
Specifications
Height: 7 feet
Base Diameter: 55 inches
Lights: None
Price at time of publish: $149.88
What we don't Like:
A small minority of reviews complain that it's a little sparse in places
The bottom line:
A more traditional artificial tree at a reasonable price, in a variety of height options.
Best unlit artificial Christmas tree
National Tree Company 6 ft. Dunhill Fir Artificial Christmas Tree with Clear Lights
What to consider when buying artificial Christmas trees
Height
"Before buying any tree, artificial or real, measure the height of the room where you want it to go," advises Tom Yates, founder of online retailer Wreaths. "Factor in the pot or stand the tree will go on and any topper you'll be adding. Remember, the listed height might seem enough to have a show stopping tree, but they always seem much smaller once in your home—with the average ceiling height of newer homes in the US being ten feet, a six-foot tree is going to look pretty small."
Room size
Yates adds that it's also important to think about the shape of your tree. "Your room may have the space for a gloriously full and wide tree, but if you struggle for space or will have lots of people over during Christmas, you may need to opt for a more slimline tree," he says.
Budget
"Knowing in advance what you're willing to spend will greatly narrow down your options," says Oana Borcoman, corporate gifting expert, CEO, and founder of EVOKE. She suggests doing some online research first to get an idea of how much the average artificial tree costs.
Theme
"Right after establishing a decor and tree budget, your overall theme becomes another guiding path as you choose a tree," says Borcoman. "Your tree should complement your other decorations, and your other decorations will dictate choices such as the color of the tree, the realism, the density, etc."
Ease of assembly
Not all artificial trees are easy to assemble, according to Jade Lafleche, interior design consultant for CLV Group. "Do you want the experience of setting up your tree branch by branch, as some require, or would you prefer the ease of a simple set-up tree?" she asks. "Depending on the amount of space you have in your home, you want to be sure your tree packs down to a small size for three-season storage, too."
Color
"Artificial trees come in many colors and styles of foliage," says Borcoman. "Some trees have a natural green color that mimic an exact type of tree, while others are available in various shades, including white, silver, or even colorful options. There are peacock themed trees and ballet pink ones–decorators have gotten very creative in their themes and far surpassed just the regular, realistic green tree."
Materials
As Borcoman points out, artificial trees come in various materials and styles:
PVC (Polyvinyl Chloride): The most affordable, least realistic–easily moldable into different shapes while retaining shape and appearance over time.
PE (Polyethylene): The most realistic in appearance and also the most durable, but generally pricier than PVC and also heavier.
PE/PVC blend: This combines the realistic appearance of PE needles with the affordability of PVC trees, but will not look as realistic as full PE trees.
Tinsel or tinsel-look trees: These are sparkly and visually striking, especially when illuminated, as well as lightweight. The downside is that the material can shed over time.
Fiber optic trees: These are unique and captivating with color-changing or twinkling fiber optic lights, which are low maintenance and energy efficient. They provide limited decorating options, which can be a pro or a con, depending on the person.
Needles
"Consider the quality and density of the needles when making your selection," says Borcoman. "A fuller tree will look more impressive, but it may also be heavier and more expensive. If you plan to decorate your tree with many thick ribbons and lots of decorative elements and filler, a dense, full tree will be more difficult to fill, while a less dense tree will have more open areas while also being more cost effective."
Pre-lit vs. Unlit
"Pre-lit trees can save time during setup and help you avoid dealing with the dreaded tangled lights," says Borcoman. "But if the lights fail, it can be more challenging to replace them and the tree may have chunks of areas where it's no longer lit. If you choose a pre-lit tree, though, the style of lights will be the same year after year."
Environmental Impact
"If environmental impact is important to you, choose an eco-friendly artificial tree made from recycled materials for a reduced carbon footprint," says Borcoman. "Materials like PVC plastic and the increasingly popular fiberglass offer enhanced durability and recyclability." Borcoman recommends ensuring the tree is labeled as fire-resistant for safety reasons, too, and checking if the tree comes with a warranty.
The best places to buy artificial Christmas trees
"You can't go wrong with Target for Christmas tree shopping," says Yates. "They usually have a range of trees, finishes, and price tags and you can get beautiful decorations at the same time. Michaels also sells a great range of artificial trees—although they tend to be a bit pricier than Target and Amazon, you can almost guarantee the quality will be good for a number of years." Balsam Hill is also known as having some of the best artificial Christmas trees on the market.
How we chose the best artificial Christmas trees
We turned to our experts for advice on which artificial Christmas trees were worth investing in, relying on their years of experience in decorating and interior design. We also ensured all of their recommendations came with glowing customer reviews.
Frequently asked questions (FAQs)
Which type of artificial Christmas tree is best?
"I'm a convert when it comes to pre-lit artificial trees," admits Yates. "The ones that first appeared on the market were temperamental and sometimes more stress than they were worth, but with the newer, LED lights these pre-lit trees are magic. They save you time to decorate and have a uniform distribution of twinkling lights."
What is the most realistic brand of artificial Christmas tree?
"Balsam Hill really does imitate living trees exceptionally well with their range of artificial trees," says Yates. "Their high end trees have amazing attention to detail–they've fooled many people into thinking they're the real deal, mainly thanks to the volume of needles creating a beautiful fullness, as well as the shape and color."
How many years does a Balsam Hill tree last?
"Balsam Hill tops my list of high quality Christmas trees," says Isfira Jensen of Nufacet Interiors. "While Balsam Hill officially provides a three-year warranty for their products, I have found their trees to last, in excellent condition, upwards of 10 years."
How often should you replace an artificial Christmas tree?
"This is dependent on the level of care you provide your tree," says Lafleche. "I know of people and businesses who have used the same artificial Christmas tree for 20 years, but not all trees are built to last like this. I think the safe bet is going to be between 10-15, or whenever the branches begin to fray and look less dense. Taking better care of your tree in the off-season will ensure it stays out of the landfill and in your home for many holidays to come."
The information presented here is created independently from the TIME editorial staff. To learn more, see our About page.