Our evaluations and opinions are not influenced by our advertising relationships, but we may earn a commission from our partners' links. This content is created independently from TIME's editorial staff. Learn more.
Cycling comes with its own unique set of personal dangers, but your bike itself is at risk even when you're not using it to hurtle downhill through oncoming traffic. It's estimated that over 2 million bikes are stolen in North America each year, so if you're looking to deter would-be thieves, take a look through our recommendations for the best bike locks and electric bike (also called e-bike) locks.
How to choose the best bike lock for your bike or e-bike
Like a bike helmet, a quality lock is a must-have for any cyclist. "Security rating and portability are the two most important factors to consider when purchasing a lock," says Tyler Swartz, co-founder of E-bike Commuting. "The higher the security rating, typically the less portable the lock, so it's about finding a balance that works best for you and your situation. Personally, I own two types of locks: One very strong, heavy duty lock, and a lighter weight, folding lock I always have attached to my bike so I can use it for a short time away from the bike, like when I'm running into a coffee shop."
Our top picks for the best bike locks and e-bike locks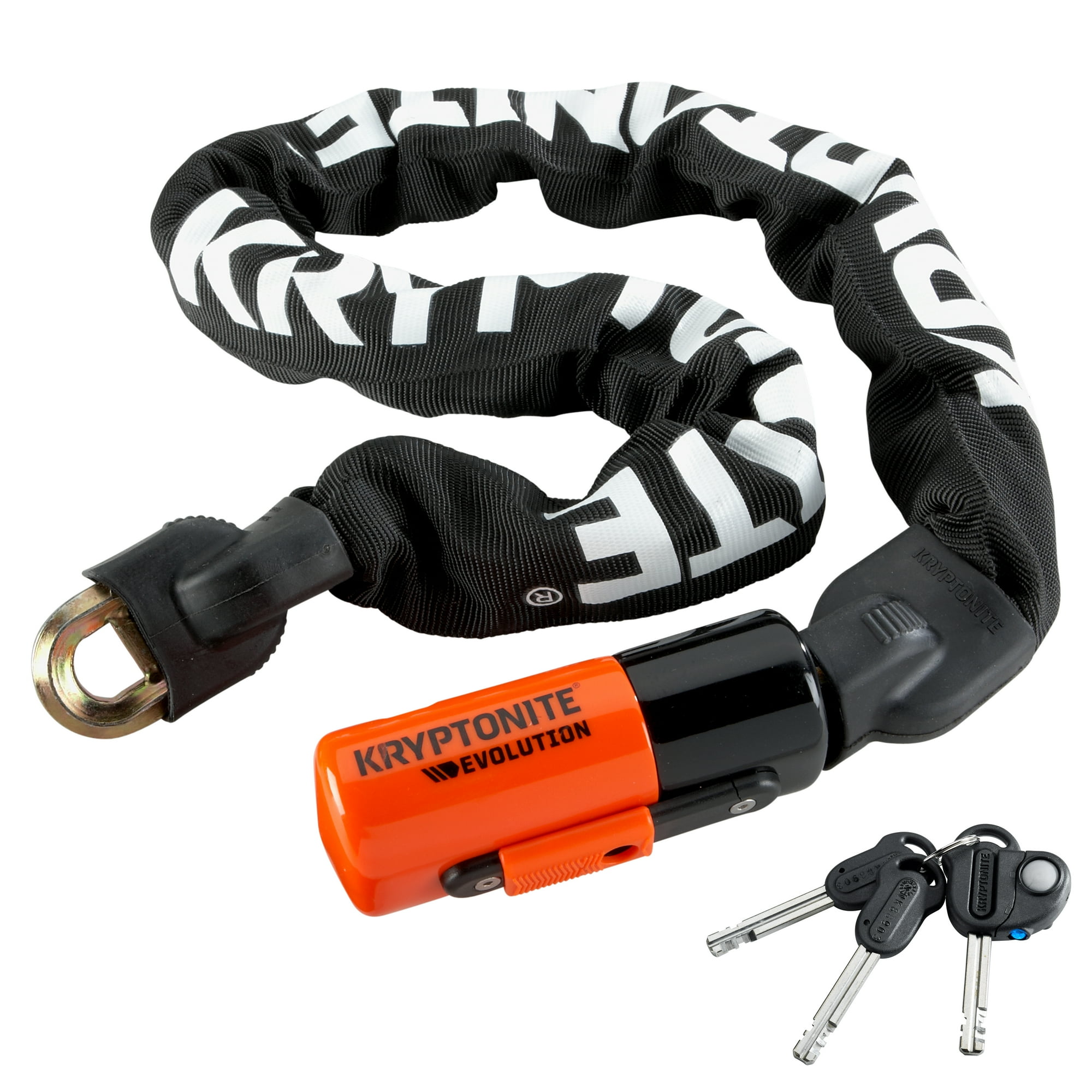 Sometimes, biggest is best, and occasionally, massive is even better. "Kryptonite's Evolution 1090 chain lock is a good option if you want to use a heavy-duty chain to lock your bike, but you don't want to also carry a u-lock," says Swartz. "This chain comes with the locking mechanism integrated into the end of it. It's very strong, but relatively light at six pounds." With a pick- and drill-resistant lock plus a chain made of high-impact strength manganese steel (commonly found in safes and prison bars), it'll get the job done in a big way.
Specifications:
Weight: 6.1 pounds
Security level: Sold Secure Gold
Lock type: Chain lock
What we like:
Weather-resistant nylon sleeve, to prevent scratches
Comes with three stainless steel keys, one of which includes an LED light for nighttime use
What we don't like:
Some customers claim it's too heavy for regular use
Best massive chain bike lock
Kryptonite Evolution Series 4 1090 Integrated Chain Bicycle Lock
While folding locks will never provide as much security as something more heavy duty, they're a good option for when you're just securing your bike for a short time. "This is the best lock for a balance of top-tier security and size," says Connor Swegle, co-founder and CMO of Priority Bicycles. "The solid arms fold open to easily reach around a bike rack or pole, while closing down to less than eight inches. It also mounts onto your water bottle cage bolts, so you don't have to worry about loose, swinging, unreliable storage methods on your rides."
Specifications:
Weight: 2.2 pounds
Lock type: Folding lock
Security level: Sold Secure Silver
What we like:
No rattling
Very secure for a folding lock
What we don't like:
On the heavy side for a folding lock
Several reviews mention how hard it is to extract the lock from its packaging
Seatylock Foldylock Classic
While not costing drastically less than some of the other items on this list, you get more than your money's worth for just under 60 bucks. Made of hardened steel, the Brute scores a whopping 97% from Sold Secure, earning it a rare Diamond rating—which means it's practically indestructible. If you're on a tighter budget and really don't trust your neighbors, this is the one for you.
Specifications:
Weight: 4.4 pounds
Lock type: U-lock
Security level: Sold Secure Diamond
What we like:
Compact
Comes with five keys, one of which houses an LED light
Incredibly tough
What we don't like:
Mounting it on your bike can be a little tricky
"I always say that when it comes to bike locks, you get what you pay for," says Swartz. "If you plan to leave your bike for an extended period of time in a public place, then your best bet at keeping it safe and secure is the New York Legend Chain 1515 and New York Disc Lock combo. This lock has one of the highest security ratings on the market. It's small and compact, but relatively heavy."
Specifications:
Weight: 15.4 pounds
Lock type: Chain lock
Security level: Sold Secure Gold
What we like:
What we don't like:
Expensive
Way too heavy to be easily carried
Kryptonite 004752 New York Legend 1515 5ft (150cm) Chain and NY Disc Lock
The best smart unlock bike lock with an alarm: ABUS 770A SmartX U-Lock
While we appreciate the brands who include a light-up key with their products, it doesn't change the fact that even in broad daylight, locking and unlocking a bike lock can be a tricky, frustrating process, involving way too much trial and error at times. Do away with keys altogether by getting a smart lock, which you can open and close via an app on your phone. As an added bonus, this hardened steel model comes with an ear-splitting 100 decibel alarm, so anyone trying to tamper with it will draw some serious unwanted attention.
Specifications:
Weight: 4.7 pounds
Lock type: U-lock
Security level: Sold Secure Diamond
What we like:
Works with IOS and Android phones
Keyless operation
Rechargeable battery
Can't be opened with a lockpick
What we don't like:
Some customer reviews complain that the app often crashes and needs manually restarting
Very expensive
Best smart unlock bike lock
Carrying your lock around can be annoying, since even the ones that attach to your bike frame can end up rattling or, worse, getting in the way of your legs when you pedal. The alternative is a wearable lock, ideally one like this, which is designed to let you strap it around your waist like a belt, then adjust the fit so that it sits comfortably. The hardened steel chain is covered by a reflective, weather-proof nylon sheath, while the padlock itself is encased in tough plastic. It might not win you any style awards outside of a bike meet (or perhaps an S&M club), but it'll get the job done.
Specifications:
Weight: 2.2 pounds (lite white reflective), 4.3 pounds (original white reflective), or 5.3 pounds (gold white reflective)
Lock type: Chain lock
Security level: Sold Secure Bronze (lite white reflective), Sold Secure Silver (original white reflective), or Sold Secure Gold (gold white reflective)
Price on Publish: $79.99 - $139.99
What we like:
Comes with three keys
Available in three different size/color options
High visibility
What we don't like:
Not that light for a wearable lock
Superbright Wearable Hardened Steel Chain Lock
Unlike most bike locks, frame locks don't secure your bike to another object, but instead, simply make it impossible to ride the bike away by locking the back wheel to the frame. While it's generally recommended to combine a frame lock with a second lock to actually attach the bike to something stationary, they offer an extra level of security. "One of my e-bikes came with an ABUS frame lock and it opened my eyes to how convenient they are," says Swartz. "It's convenient to always have a lock on my e-bike, and the ABUS frame lock is so super easy to use that I've never had any issues with it." 
Specifications:
Weight: 1.5 pounds
Lock type: Frame lock
Security level: Medium (no Sold Secure rating as of time of writing)
What we like:
What we don't like:
Only suitable for brief stops when used by itself
Abus 5955 NR Pro Shield Xplus Frame Lock Key Black
Not every ride requires chains large enough to restrain a rampaging supervillain. For a quick jaunt to the store, a lighter lock will generally suffice. "My favorite lock is the ABUS uGrip Bordo Folding bike lock, because it conveniently folds up," says Swartz. "When folded, it's low-profile and easy to attach to my e-bike. While it's not the strongest lock, it's perfect for running errands, since it's always on my e-bike."
Specifications:
Weight: 1.8 pounds
Lock type: Folding lock
Security level: Low to medium (no Sold Secure rating as of time of writing)
What we like:
Lightweight
Comes in eight colors
Portable
What we don't like:
Some reviews note the placement of the lock itself can make it tricky to operate
Best lightweight bike lock
ABUS Bordo 5700 U-Grip Folding Lock - Black - 2.6Ft
How we chose the best bike locks
We made our selections through a combination of expert recommendations, customer reviews, and thorough research.
U-locks versus chain locks versus folding locks
If you're curious about the differences between three of the main categories of bike locks, let the experts help you out. "U-locks and chain locks are very strong locks, but can sometimes be difficult to transfer," explains Alyssa Mcadam, head of bike mechanics at Upway. "Chain locks are rather heavy and u-locks can be hard to store in bags or mount to your bike because of the shape. Folding locks are the easiest to transfer and fit very well either on the bike, tucked away in bags, or even in your pocket sometimes, but they can lack in security and would probably be best for shorter lock ups."
What is the most powerful bike lock?
"I think the most powerful bike lock is a Kryptonite chain lock, particularly the Kryptonite New York Legend chain lock," says Mcadam, echoing Swartz' earlier recommendation. "It's protected my bike from theft time and time again when I leave it locked up overnight."
How do you lock an ebike?
"Just like a regular bike, you'll want to secure the frame and wheel to the bike rack," says Swartz. "Depending on the situation, you may also want to remove the battery from the e-bike and take it with you. I rarely remove my e-bike battery from the bike when locking it on the street."
How can I protect my bike wheels and seat?
"Some bikes allow for a quick release of their wheels, so riders can take them off once the frame is secured with a lock," says Swegle. "Similarly, some riders choose to take their seat and stem with them as well when they leave their bike. We recommend Pinheads, a bolt with a custom key that can lock your wheels and seat to the bike. It's an added layer of security that can build confidence for daily riders."
Are there insurance offers for e-bike locks?
"Kryptonite provides an anti-theft protection offer on specific locks," says Mcadam. "It's a program that reimburses registered customers for a specific monetary amount in the event their bicycle is stolen due to the opening or breaking of the lock by force."
Frequently asked questions (FAQs)
Is Abus better than Kryptonite?
Our panel of experts was split on this one. "They're both great brands that make high quality products, but Abus has a wider range of non-lock products than Kryptonite," says Swartz. Mcadam, meanwhile, believes that, "Kryptonite is a better brand. Their products are top-notch and they provide insurance on some of their locks"
"As with most companies, there will be fans of each, and each fan will have their own pros and cons for what they consider their favorite," reasons Swegle. "It's important for consumers to do the research to make sure they purchase the right lock for them."
Is there a bike lock that cannot be cut?
"Any and all bike locks can be cut with the right tools," says Mcadam. Swegle agrees, adding that, "If a thief has enough fortitude, any bicycle lock can be broken. This is why multiple locks in high-security situations are important: They provide physical security and visually show that it will be a lot of work for a bike thief to get through the locks."
What should I lock my bike to?
"Ideally, riders should attach their bike and lock to either a designated bike rack or a sturdy fixture that cannot be moved, such as a tree or street sign," advises Swegle. "Ultimately, it's important to make sure that whatever you attach a bike to is not easily cut or broken to expose your bike to theft."
Where should I place the lock on my bike?
"It's important to always try and place a lock through the frame of your bike," says Swegle. "Placing it through a wheel or handlebars exposes the rest of the bike to be taken without that one part. Placing the lock through the frame gives you as much security as a bike lock can."
In terms of carrying it around, "when transporting your lock, you can either mount it on your bike or carry it in a bag," suggests Mcadam. "Most locks come with mounting hardware specific to your lock, and mount in a way that doesn't damage your frame. Also, if it's mounted to your frame, you'll never forget it."
The information presented here is created independently from the TIME editorial staff. To learn more, see our About page.