Our evaluations and opinions are not influenced by our advertising relationships, but we may earn a commission from our partners' links. This content is created independently from TIME's editorial staff. Learn more.
Updated
September 5, 2023
Of all the challenges that have come with the return to office—long commutes, shared office kitchens—one ranks particularly high. What the heck do you wear?! After years in loungewear, hard pants (i.e. anything with a button or zipper) can feel particularly constrictive. And with the skinny versus wide-leg debate raging on, it can seem impossible to know what's on trend. So we tasked a team of stylists with finding picks that look and feel good. They circled back with tips on how to suit up.
What to look for in the best work pants for women
This tends to be a try-before-you-buy situation as that's the best way to find a pair that's flattering for your particular shape and will feel good all the way through your last Zoom-slash-IRL meeting. And while you'll need to consider individual factors like how formal your office setting is (are jeans a no-go?) and how much you're able to shell out, the experts agree that these are a few must-haves for any potential work pants candidate.
Silhouette
Again, this is a personal preference situation, though Los Angeles style expert Alison Deyette notes that "wide leg has been a strong trend for the last year." A slim-fit cigarette trouser is also universally flattering, says New York City-based fashion stylist Britt Theodora, who calls the cut "a must for all body types."
Material
Noting that linen tends to wrinkle quickly, Deyette recommends choosing a cotton blend with a touch of elastane for stretch "or polyester, nylon and spandex mixes." For colder months, a wool blend will provide warmth, she says, though she cautions to "avoid scratchy wools unless the pants are fully lined. Some brands have cut corners and end the lining just above the knee."
Stretch
Why, yes, work pants can feel as good as your favorite black leggings. "When I know I've found the right pants," says Deyette, borrowing a line from Molly Shannon's Saturday Night Live persona Sally O'Malley, "I can kick, stretch, and kick." The sweet spot, says certified wardrobe stylist Breyana Wright, is two to five percent. "Typically, garments that have these percentages are flexible enough to move around in," says the owner of Styled by Breyana, "yet, they're fitted enough so you don't have to keep pulling your pants up or keep a belt on."
Care
Exactly how deep is your dry-cleaning budget? If the idea of paying up each time your pants are dirty feels particularly prohibitive, you'll want to opt for machine-washable styles.
Top women's dress pants for work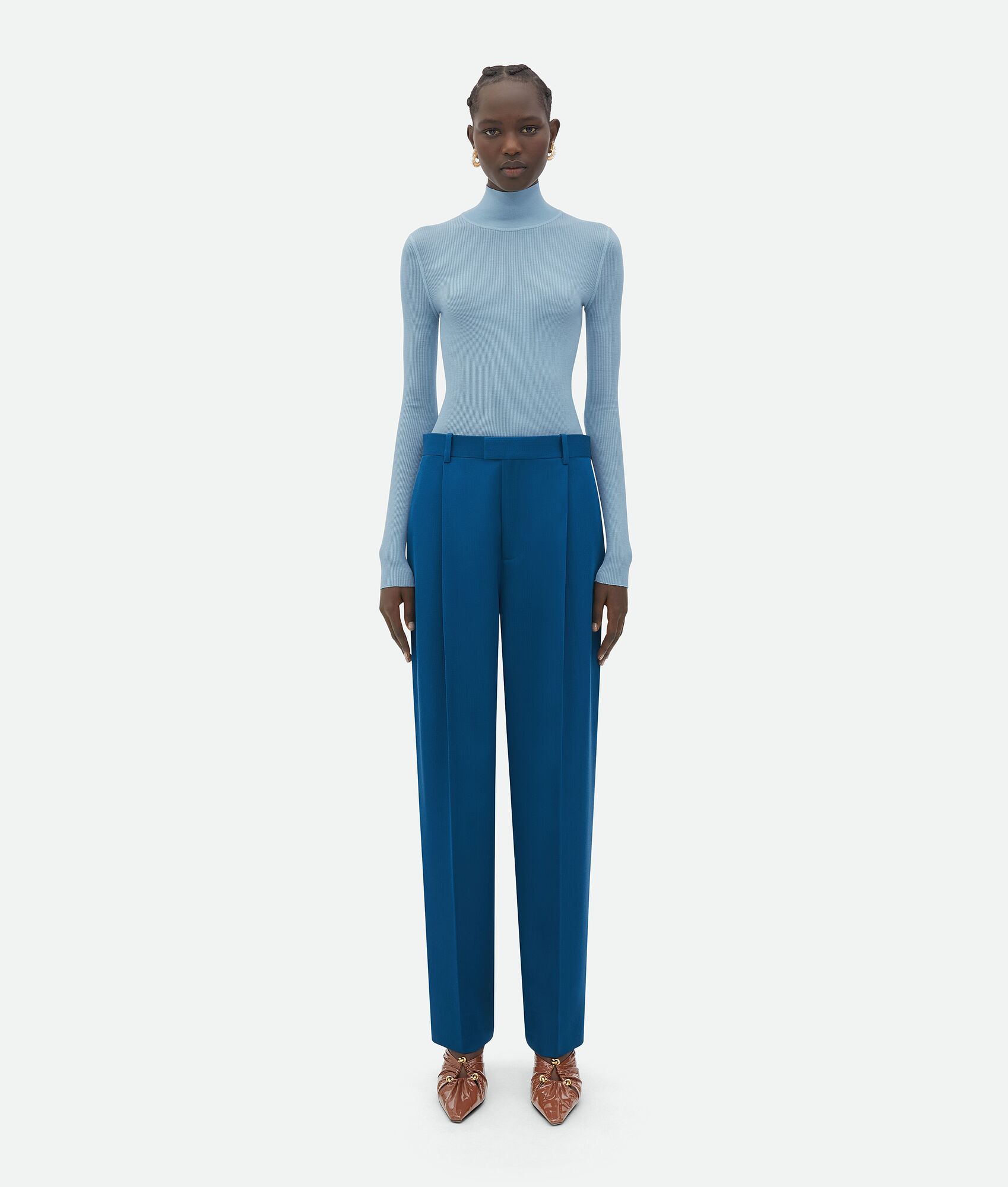 Yes, these Italian-crafted pants are more than a bit of an investment, but the 100 percent virgin wool is pillowy soft and very breathable. The relaxed wide leg is both flattering and very on-trend, but the draw for Theodora is the rich blue hue. "I love a pant with a pop of color," she raves. "These are great to style with a plain white button down or white t-shirt."
Specifications:
Sizes: 00-10
Material: Wool
Stretch: No
Cut: Wide leg
Colors: Pacific
Inseam: 29 inches
Pros:
A fun twist to your basic black
Made from high-quality wool
Cons:
The price makes these a large splurge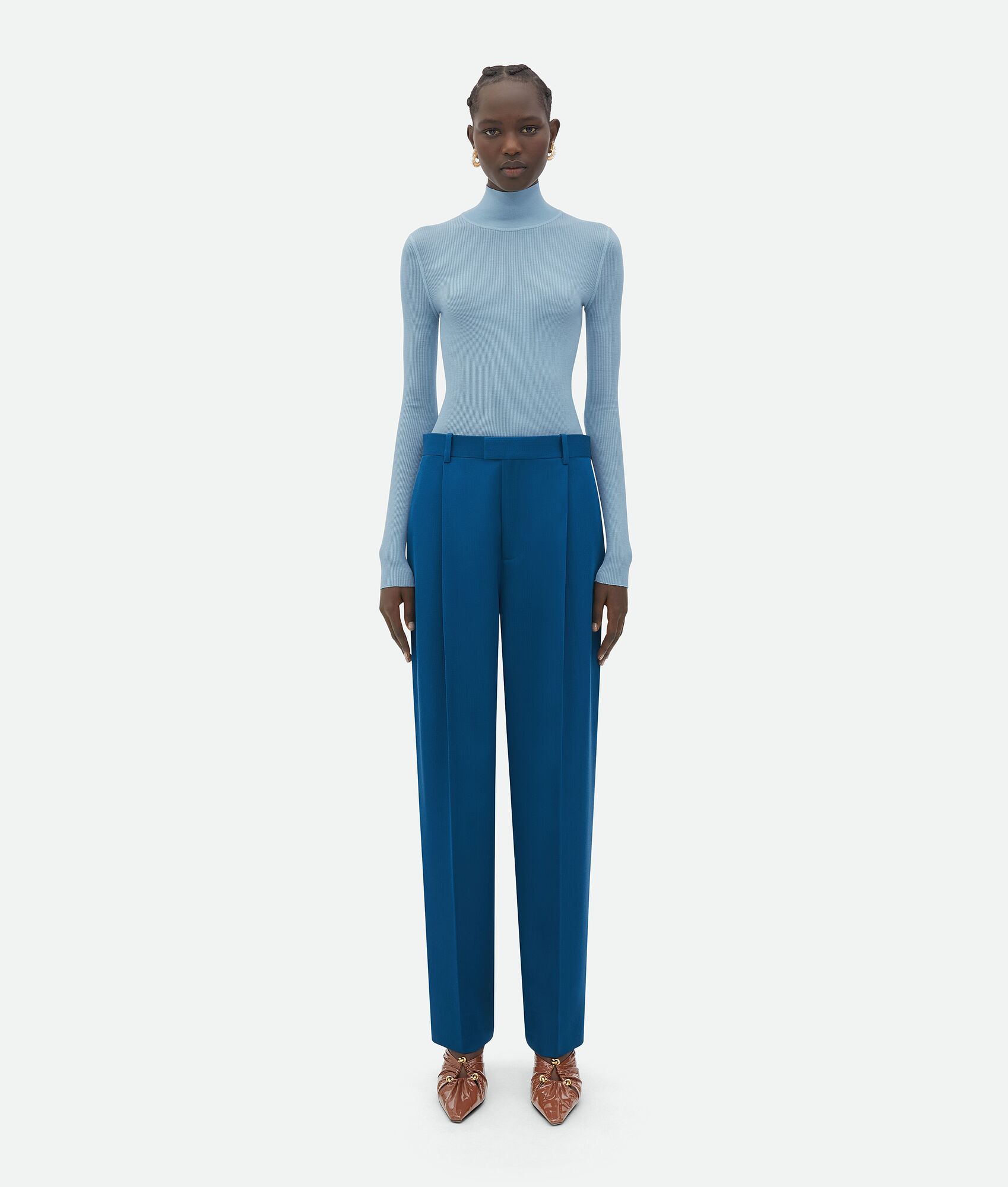 Bottega Veneta Wool Gabardine Wide Leg Pants
Stylish pleating, a tapered hem and a looser fit up top makes these universally flattering cigarette-style black pants anything but basic. Crafted in luxuriously soft virgin wool, they're effortless, says Theodora. And since they can be paired with any top, much like your go-to work bag, she adds, they're "a wardrobe item that can be repeated many times a week." 
Specifications:
Sizes: 00-10
Material: Wool
Stretch: No
Cut: Cigarette style tapered leg
Colors: Black
Inseam: 28.5 inches
Pros:
A classic style that works with sweaters, blouses and other tops
Flattering silhouette
Made from high-quality wool
Cons:
Definitely a pricier pick
Needs to be dry cleaned
A brand staple with hundreds of rave reviews, the line's number-one best-seller is beloved for the fit that's designed with an hourglass body shape in mind. Made with a tailored, double-weave cotton blend, they hold their shape even with a generous dollop of stretch courtesy of 4 percent spandex. Options abound with three inseams and 10 vibrant hues from which to choose.
Specifications:
Sizes: 12-32
Material: Cotton, nylon, spandex
Stretch: Yes
Cut: Straight leg
Colors: Black, Classic Navy, Verdant Green, Dune, Espresso Brown, Scarlet Sage, Cobalt, True White, Peacock Blue, Terra Cotta
Inseam: 27, 29 and 31 inches
Pros:
Wide range of sizes, inseams and colors
Comfortable, stretchy fabric
Approachable price point
Cons:
Some reviewers said that the fabric tended to stretch out
Eloquii Kady Fit Double-Weave Pant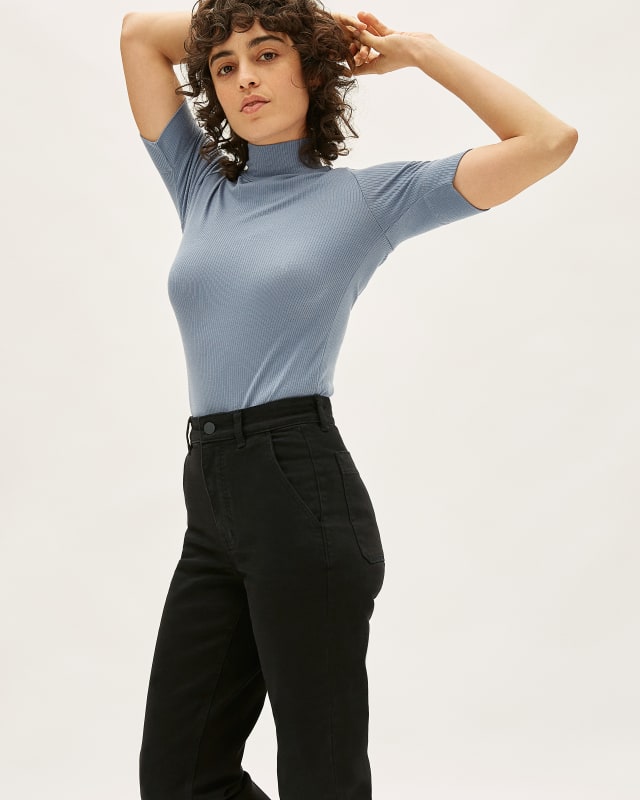 Two words: high rise. Two more: machine washable. The ultra-flattering cut nips in at the natural waist and is cropped to give the illusion of never-ending legs. And though the straight-leg pick can easily be dressed up, it feels as comfy as your go-to sweats since each pair is garment-dyed for an already-broken-in fit.  
Specifications: 
Sizes: 00-16
Material: Cotton, elastane
Cut: Straight leg
Colors: Black, Bone, Sandstone
Inseam: 26.5 inches
Pros: 
Flattering high rise and cropped leg
Machine washable
Comfortable, broken-in feel
Cons: 
Some reviewers complained that the sizing felt inconsistent 
Women's Straight-Leg Crop by Everlane in Black, Size 0
The brand's best seller for a reason, this tailored pick boasts a flattering slim leg, mid-rise and side slip pockets, plus an on-trend cropped length and the perfect amount of stretch with four percent elastane. Consciously manufactured using merino wool sourced from Australian farms, they're a smart investment. Raves Deyette, also a fan of the line's flared Demitria pants in the same fabric, "Theory is always a good go-to brand for work wear pieces that hold up for years."
Specifications:
Sizes: 00-18
Material: Merino wool, elastane 
Stretch: Yes
Cut: Slim leg
Colors: Black, Charcoal Melange, Truffle, Blue Granite, Nocturne Navy, Butter Yellow, Wisteria, Soft Sage
Inseam: 21.5 inches
Pros:
Flattering silhouette
Generous amount of stretch
Sustainably sourced materials
Cons:
Available in just one inseam
Dry clean only
"These give you legs for days," Deyette raves about the favorable combo of a higher rise and a slight flare. The five percent elastane also delivers on comfort. And while the sleek, tailored wool twill (which pairs nicely with the brand's other suiting options) gives off a dry clean-only appearance, they can actually be tossed in the wash using cold water.
Specifications:
Sizes: 00-18
Material: Wool, elastane
Stretch: Yes
Cut: Slight flare
Colors: Black, Camel, Galaxy Blue, Black/White, Light Lilac, Natural Melange
Inseam: 33.5 inches
Pros:
Silhouette adds the illusion of length
Machine washable
Available in a variety of colors
Cons:
The inseam length is on the longer side, so more petite buyers would likely need to hem
M.M. LaFleur The Horton Pant
For those whose vibe is more look-at-me than background player, Deyette is a fan of these classic, flat-front trousers in a variety of bold shades "that will definitely get noticed at the next board meeting." An investment piece, to be sure, the mid-rise pick is "made with super fine ethically sourced merino wool," she says, "and organic cotton."
Specifications:
Sizes: 0-14
Material: Wool, cotton
Stretch: No
Cut: Straight leg
Colors: Black, Fire Red, Lilac, Navy, Peony
Inseam: 35 inches
Pros:
Made with ethically sourced, luxurious merino wool
Offered in fun, bright hues
Can be worn with a coordinated jacket or other pieces
Cons:
While great for taller people, the long inseam will require tailoring for most
AnotherTomorrow Classic Trouser
Proof you don't need to shell out to look high-end, these slim-fit paper bag pants have a definite business-meets-pleasure feel. "A classy business casual aesthetic," notes Wright, paired with a trendy look "allows the wearer to create a comfortable, up to date outfit without sacrificing professionalism." Or comfort, thanks to a high, elastic waistline and five percent spandex for a bit of added stretch.
Specifications:
Sizes: XS-XXXL
Material: Polyester, spandex
Cut: Slim, paper bag silhouette
Colors: Black, Green, Pink, Apricot\ Inseam: Not listed
Pros:
Affordable price
Fun, trendy fit that can easily go from day to night
Functional pockets
Cons:
The style is definitely more trendy than timeless
GRACE KARIN Casual Slim Fit Elastic Waist Cropped Paper Bag Pants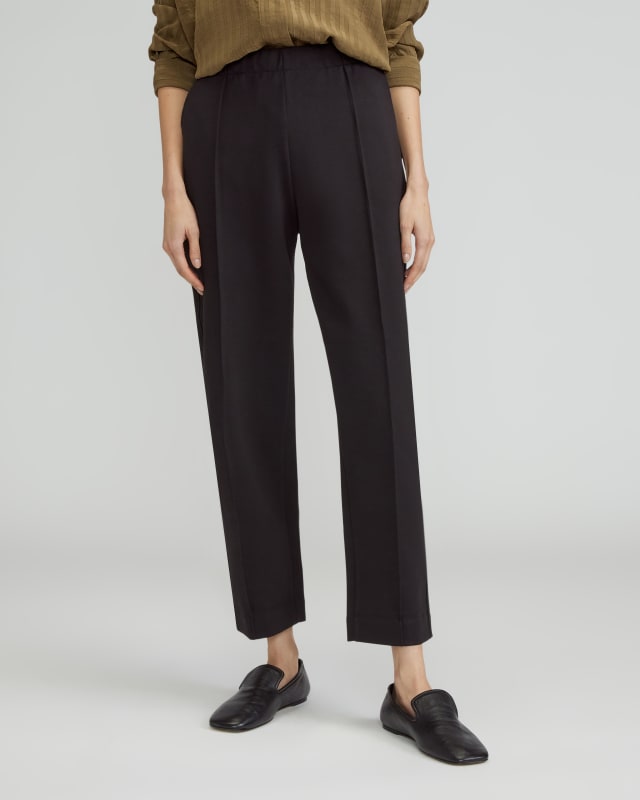 The flat-front, tapered leg and pintuck detailing give a polished professional look. But with an elastic waist and a sweatpant weight blend of cotton, modal, and elastane, they're almost as comfy as the workout leggings you lived in during the WFH era. Add in the fact that it's a wrinkle-resistant fabric that can be machine washed and they're truly—dare we say—dreamy.
Specifications:
Sizes: XXS-XXXXL
Material: Cotton, modal, elastane
Stretch: Yes
Cut: Relaxed fit
Colors: Black, Dark Forest, Navy, Heathered Auburn, Slate, Lapis Blue
Inseam: 27.5 inches
Pros:
Wrinkle resistant and machine washable
Decadently comfortable fit
Wide range of colors
Cons:
The material is definitely on the thicker side
Elastic waist becomes more apparent with more cropped shirts
Women's Dream Pant® by Everlane in Black, Size S
The transition from leggings to hard pants isn't for everyone. "Sometimes zippers can be uncomfortable and restrictive," allows Wright, "so I always appreciate pants that come in pull-on styles." This mid-rise bootcut pick not only features forgiving spandex, "they also have a contour waistband designed to help you create a streamlined outfit that looks good from head to toe," says Wright. While it's exactly like wearing your favorite flared leggings, this is as close as you can get in a dress pant. 
Specifications:
Sizes: 2-18
Material: Cotton, modal, elastane
Stretch: Yes
Cut: Relaxed fit
Colors: Black, Black-White Pinstripe, Dark Charcoal, Navy, Olive, Stone, Cocoa,  Egg plant
Inseam: 29 and 32 inches
Pros:
Flattering design
Easy to pull on and comfortable to wear
Wide range of colors
Cons:
The silhouette can seem on the more casual side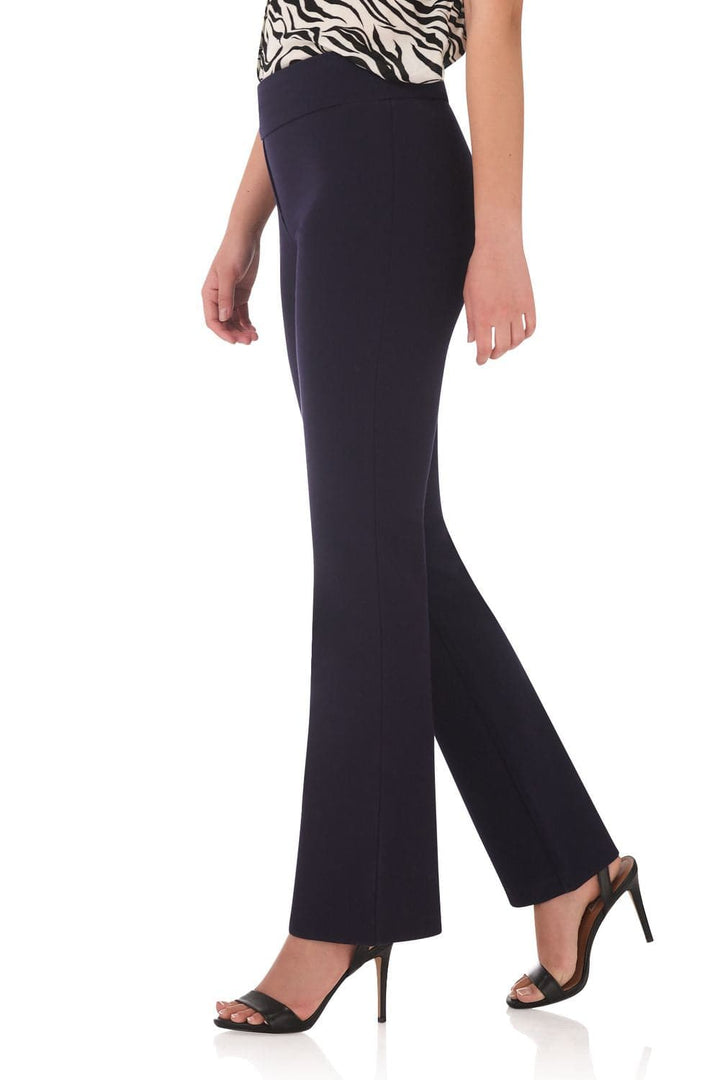 Rekucci Knit Bootcut Pant
How we chose the best women's dress pants for work
We spoke with stylists and fashion experts to get their recommendations for the top women's dress pants for work and learn the factors to consider when on the hunt. Then we researched picks from some of the most popular brands on the market based on reviews and key features.
How to find the right work pants for your body type
To dress to impress, focus on highlighting your favorite features, recommends Theodora. "You always want to accentuate the areas you feel the most confident about," she explains. "For example, if you have longer legs or want your legs to appear longer, I'd go for a more high-waisted style with a tapered silhouette."
But if you're feeling stumped, turn to the pros, recommends Wright. "A knowledgeable stylist will be able to assess your measurements," she says, "and recommend pant options that highlight your body type and camouflage areas that you don't feel confident about."
Frequently asked questions (FAQs)
What are considered dress pants for work?
While this varies depending on the formality of your office, generally, dress pants refer to pieces that are sleek and tailored in either a cotton, polyester, nylon, or wool blend.
What is the difference between work pants and slacks?
Pretty much the same as a distinction between a drink and a beverage. "There's not much of a difference nowadays between work pants, slacks and let's not forget trousers," says Deyette. "The term slacks have become outdated, but they used to refer to a bottom that wasn't part of a suit, was dressier than casual pants and were looser fitted."
What type of women's pants are best to wear for the office?
Anything that leaves you feeling comfortable and confident. Though, again, if you work in a suits-only environment you need to, well, follow suit. And since you'll likely be logging a lot of time sitting at a desk, notes Theodora, "stretch or a little room on the waistband is always nice so you're not too constricted."
What type of dress pants are in style now?
Though it may mean investing in a steamer or quality iron, "linen is currently trending," says Wright. "I believe a lot of people are gravitating towards this material because it's lightweight, sustainable, quality, and overall very stylish." Deyette, meanwhile, is "all for" the current wide-leg trend, though a slim fit is a timeless choice for a reason. Universally flattering, notes Theodora, the cigarette trouser works for body types across the board: "They might need tailoring to hit just at the ankle but with a ballet flat or a small heel—tres chic!"
The information presented here is created independently from the TIME editorial staff. To learn more, see our About page.