Our evaluations and opinions are not influenced by our advertising relationships, but we may earn a commission from our partners' links. This content is created independently from TIME's editorial staff. Learn more.
There's more than a little pressure around popping the question. Not only do you want the mood to be right, the setting to be memorable, and the proposal itself to be perfectly representative of your most heartfelt emotions, you want to ensure it involves the best engagement ring. 
Everyone has their own unique vision of what makes an engagement ring "the best," which can make choosing the perfect one challenging. It doesn't hurt that most engagement rings are quite an investment, which undoubtedly raises the stakes. There are so many options online, and the process of choosing the best one can be intimidating, so it helps to consider a range of stunning possibilities. 
What to consider when buying an engagement ring
Although just about any piece of fine jewelry could be considered an investment, that's especially the case for an engagement ring meant to be worn for a lifetime. Even if you're interested in forgoing a diamond engagement ring for an alternative gemstone (more on that in a moment), you're still buying a symbolic, sentimental piece of jewelry. You'll want to safeguard against scams and unfair pricing—while ensuring your engagement ring retailer is legitimate and reputable.  
A few things to look out for:
Check up on the site's "About Us" page to get a sense of the business' background and credentials. 
Double check the company displays its address, as well as a 1-800 number you can call if questions arise. 
Ensure the website you're purchasing from has a legitimate, secure URL that begins with "https." 
To get a sense of the quality of a retailer's jewelry, read reviews and peruse out photographs from customers. You can also look at posts on social media to get a better sense of what their engagement rings look like on real people. When my now husband and I were shopping for my engagement ring, I frequented the Instagram and TikTok accounts of the dealers we were considering going with, as I found their posts helpful.
You'll also do well to steer toward retailers who carry diamonds and possibly colored stones or pearls graded by the Gemological Institute of America (GIA), the most respected certifying authority for precious gems.
Our top picks for the best engagement rings
We've searched the internet to choose the best engagement rings around.
Best classic engagement rings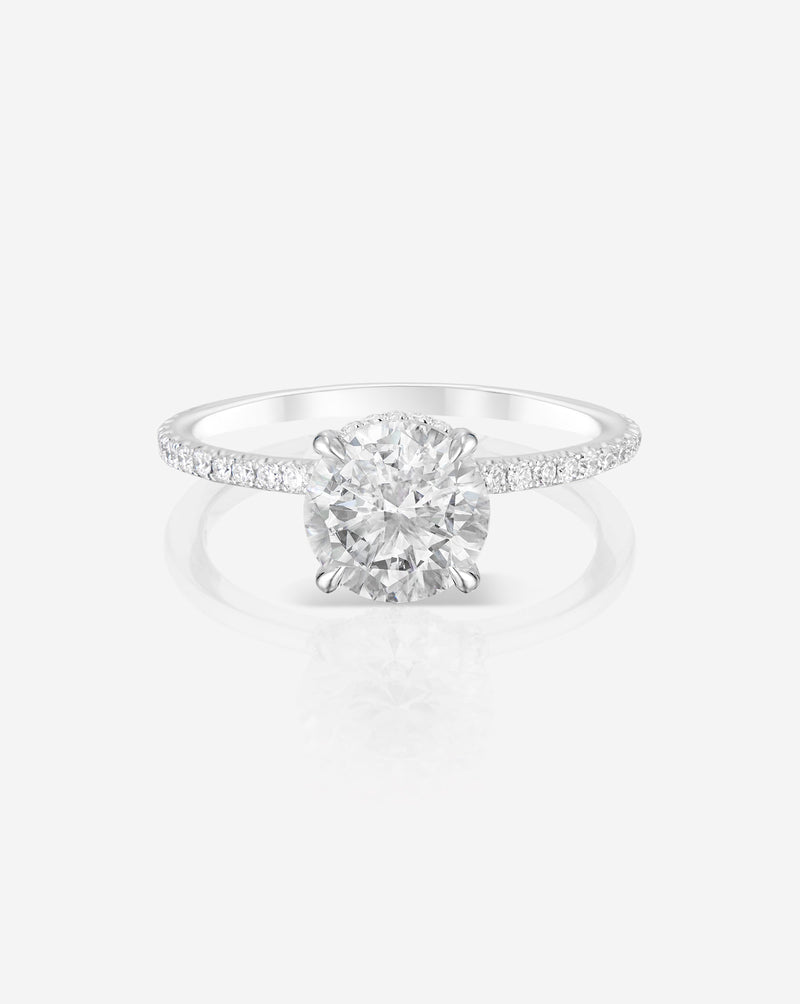 Ring Concierge, founded in 2013 by GIA certified diamond specialist and fashion industry vet Nicole Wegman, offers GIA certified natural and lab-grown diamonds, ready to ship styles, and home try-on service that allows you to check out your top three rings for seven days. Their Whisper Thin Pave with Hidden Halo style is one of the most classic and coveted now, and you can purchase a ready to ship version with a 2.01 carat, F color, VVS2 clarity round brilliant lab grown diamond for under $10K. Good to know: Ring Concierge made our list of the best online jewelry stores.
2.01 Round in the Whisper Thin® Pave with Hidden Halo
Brilliant Earth is known for their conflict-free diamonds, sourced for their ethical and environmentally responsible origins. Although they offer a range of engagement ring options for every style, one of their most traditional and stunning options is their Elodie setting, which showcases a solitaire stone in a romantic open basket with claw prongs (four or six, whichever you prefer). You can also customize your Elodie with any shape diamond as well as choose from 18K white gold, 18K yellow gold, 14K rose gold, and platinum (which is $260 more than the basic setting). Not ready for an engagement ring? Brilliant Earth also has a great selection of promise rings. 
Elodie Solitaire Engagement Ring
Best vintage engagement rings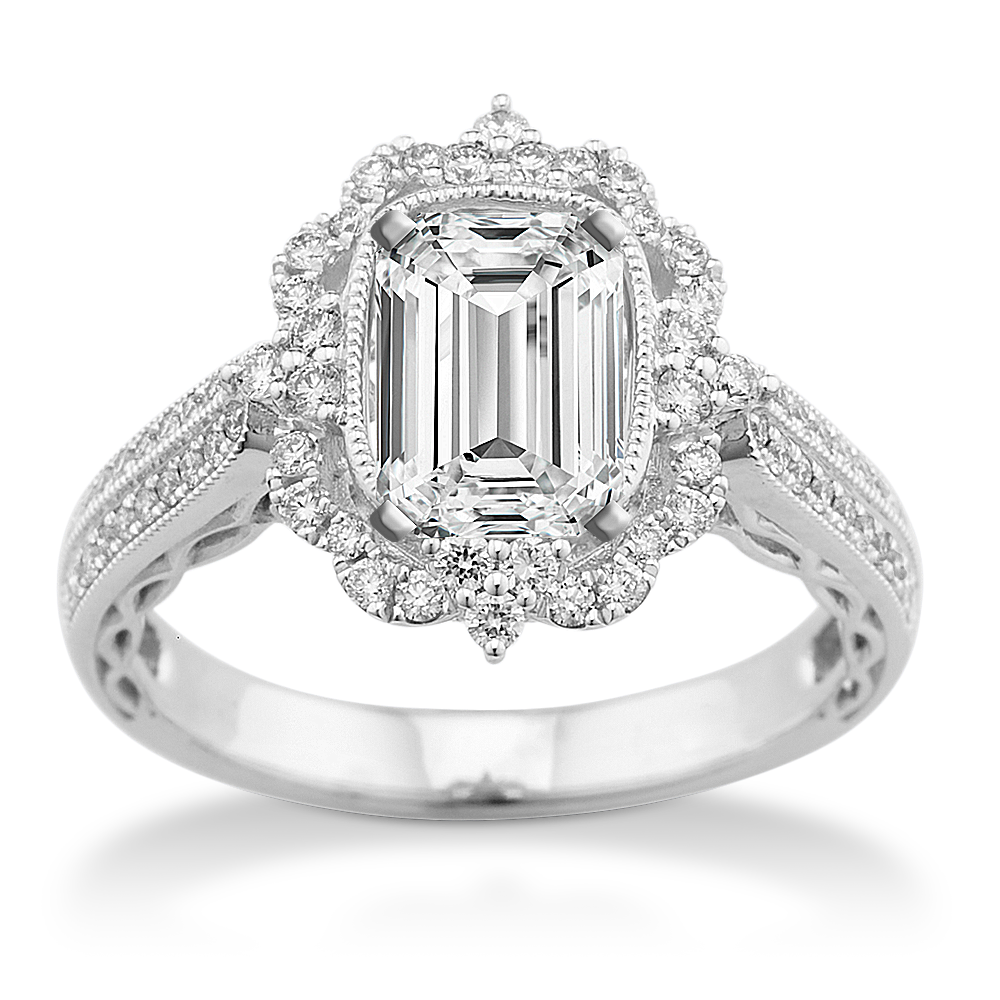 Not only has Shane Co. has been hand-sourcing their gemstones for almost 100 years, but they offer one of the widest selections of vintage-inspired engagement ring settings online. Whether you want to flaunt a lab diamond or a uniquely hued sapphire, you can customize your ring with your perfect stone. The company's Art Nouveau Engagement Ring style, which is best suited to a .75 carat stone, boasts a romantic and ornate, turn of the 20th century flair.
Art Nouveau Halo Engagement Ring
Clean Origin has been around since 2017, founded by Alexander Weindling, a third-generation diamond jeweler. The lab grown diamond company boasts a breadth of vintage inspired engagement rings. Their Charlotte Ring is a perfect example, touting a breathtaking Art Deco-inspired starburst design that accommodates a round, oval, or cushion-shaped stone. The main stone is surrounded by lab grown baguettes and round diamonds for extra gasp-worthy sparkle.
Lab Grown Diamond Charlotte Ring
Best custom engagement rings 
Known for some of the best lab-grown diamonds on the market, VRAI creates its alternative to natural diamonds in the Pacific Northwest using hydropower. When creating a custom ring, you can select from a vast inventory of VRAI created diamonds, which are all graded by GIA-certified gemologists. The company's Five Stone Heirloom Engagement Ring is one of the most statement-making, glamorous styles that's customizable with four side baguettes and a center stone in the shape of your choice.
The Five Stone Heirloom Emerald Engagement Ring | Platinum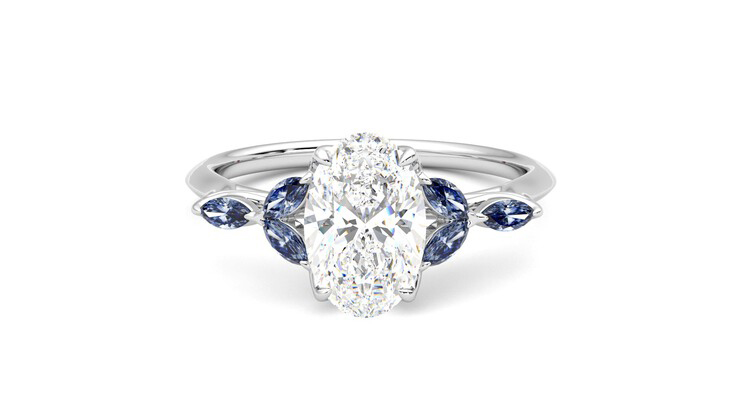 New York City-based jewelry purveyor Taylor and Hart was founded in an effort to prioritize personalization in the engagement ring design process. Case in point: its setting inspired by the Tamora rose—and nature overall—is an opportunity to choose not to showcase your own oval stone but to set it off with symmetrical clusters of marquise petals made up of dark blue, green, or other hued sapphires.
Best non-traditional engagement rings 
Catbird has long had a reputation for being the go-to artisan jeweler for New Yorkers. Founded in 2004 and based in the Brooklyn Navy Yard, the brand creates delicate fine jewelry and carries trusted partners' designs made up of over 95% recycled gold and ethically sourced precious gemstones and diamonds. Designer Sofia Zakia's Paeonia Diamond Ring is a romantic, nontraditional, and delicate design, featuring a gold flower around a .4 carat rose cut diamond. Interesting to note: Catbird is also one of the leaders in the latest accessory trend, permanent jewelry.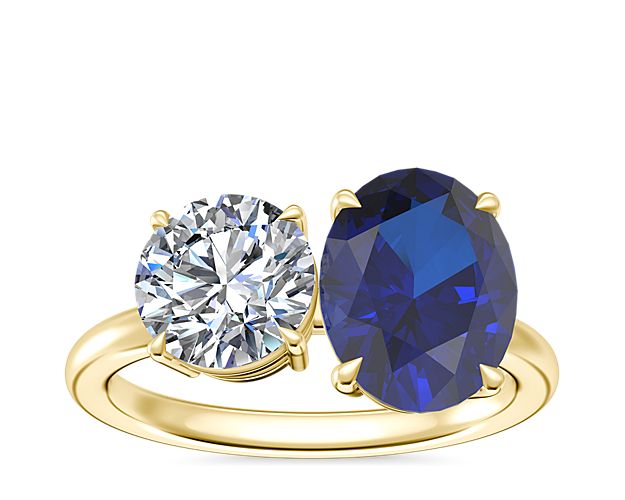 Founded in 1999, Blue Nile has long been a respected leading online retailer of diamonds and engagement rings. While they offer a plethora of traditional styles, they also have less conventional options, like the toi et moi-style Two Stone Engagement Ring, which features a round diamond and an oval sapphire. 
Two Stone Engagement Ring With Oval Sapphire In 14k Yellow Gold (9X7mm)
Best solitaire engagement rings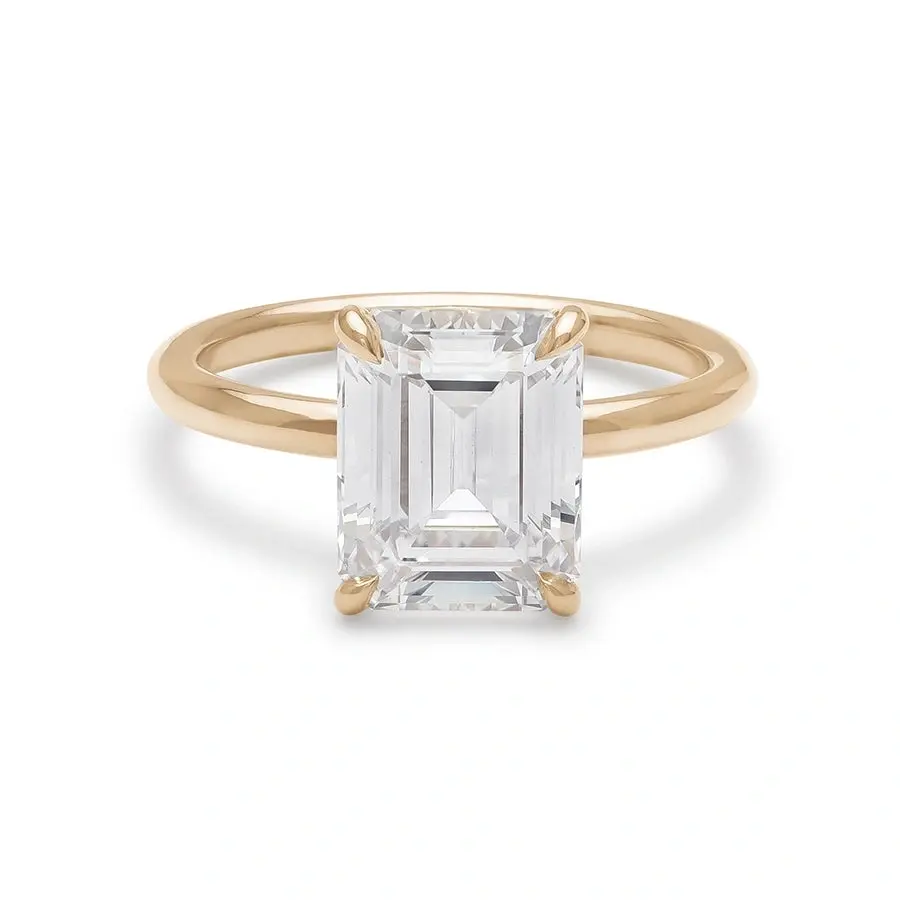 Jewelry designer Anna Sheffield takes symbolism seriously, noting on her site she aims to use extraordinary materials—like rare diamonds and various tones of gold—to create contemporary, but timeless looks. Her Eleonore Eternity Ring is a show-stopping solitaire featuring a 1.50 carat emerald cut white diamond center (G-H color and VS2 clarity) in a basket made of recycled yellow gold. And if you want a little more eye candy, take note that it also features a pretty hidden halo featuring .10 carats of diamonds.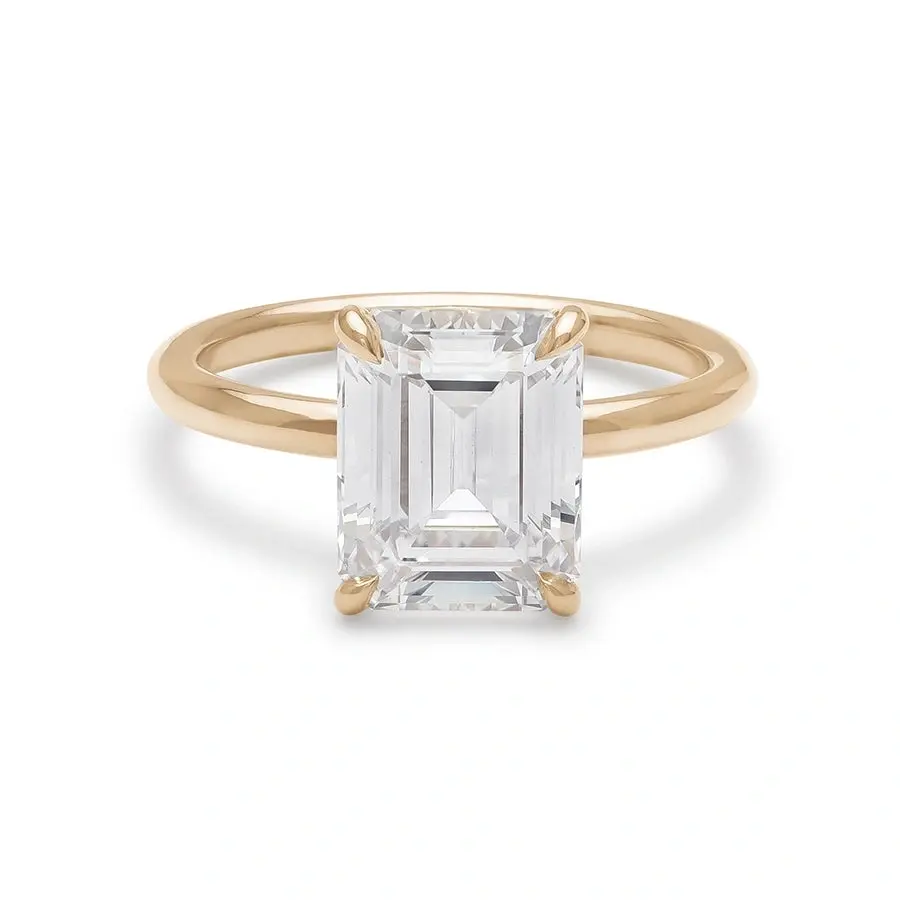 EMERALD CUT ELEONORE ETERNITY RING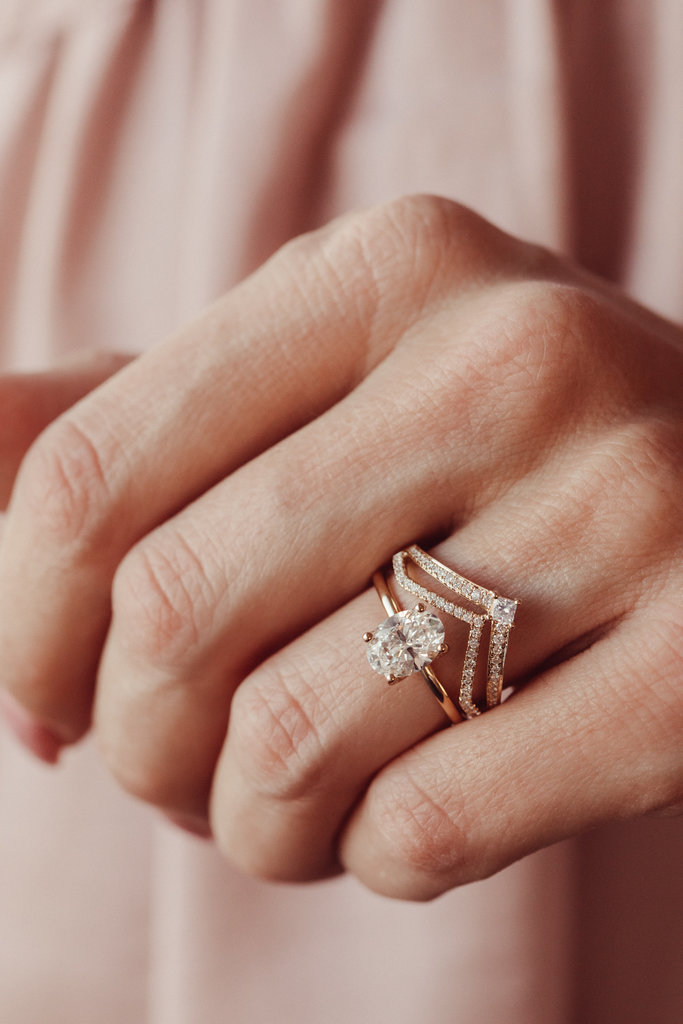 Growing up in Albuquerque, New Mexico, Sarah O. fell in love with jewelry, as her mom owned her own boutique. Inspired to pair her love of jewelry with entrepreneurship, her fine jewelry shop is now a premiere destination for engagement ring buyers in Denver, Colorado and beyond. Her classic Maeve Oval 4-Prong Solitaire can be customized with a lab-grown or natural diamond. 
The Maeve Oval 4-Prong Solitaire
Best lab-grown engagement rings
Talk about a legacy. As the great-great-grandson of Louis Cartier, Jean Dousset boasts an unquestionable passion for fine jewelry and dedication to detail. The celebrity-loved jeweler creates bespoke designs for stars like Eva Longoria and Amy Adams. He also recently made a foray into the world of lab-grown diamonds and offers a variety of ready-to-ship styles featuring GIA-certified stones. If you love a round stone, high polished band, and a halo, but could do without the prongs, a Alyssa Seamless Halo is your perfect match.
Jean Dousset Alyssa Seamless Halo Lab Diamond Engagement Ring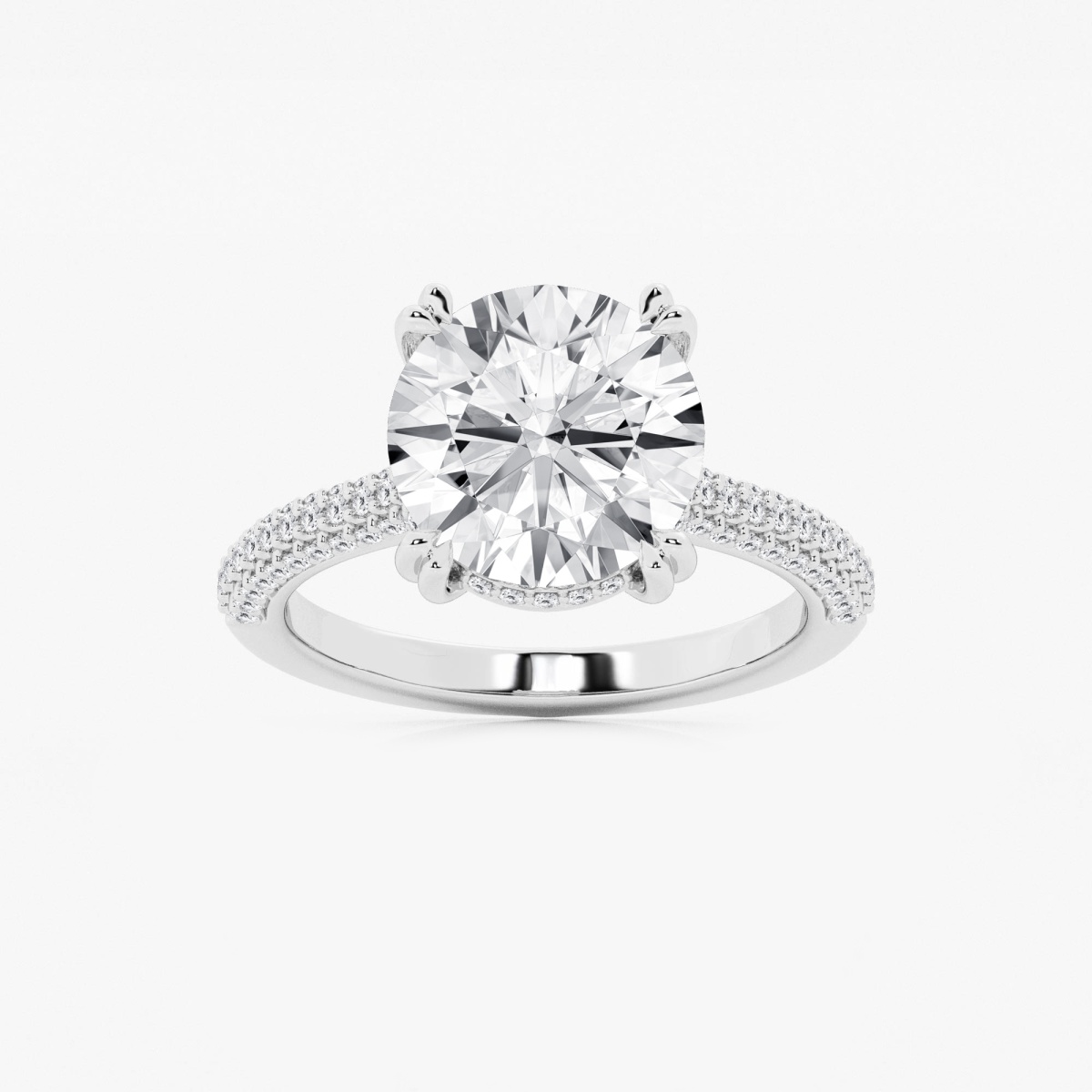 Specializing in lab-grown diamonds, Grown Brilliance's team boasts over 30 years of experience. The brand collaborated with designer Badgley Mischka to create glamorous designs, like itsDouble Prong Halo Engagement Ring that features 4.5 total carats of diamonds, including a 4 carat center stone and over .5 carats of stones on the band and hidden halo.
Badgley Mischka Near-Colorless 4 1/2 ctw Round Lab Grown Diamond Double Prong Halo Engagement Ring 18K White Gold GH, VS2+
How did we select the best engagement rings?
We selected the best, most trustworthy online engagement ring retailers by considering their ability to excel at custom service and offer competitive shipping and return policies. From that assortment, we took the following factors under consideration: quality, variety, ease of ordering, reviews,and more. We also applied the basic engagement ring shopping rules of thumb, like looking for high quality cut, color, clarity, and carat weight, also known as the 4Cs. 
Best places to buy engagement rings
When shopping for an engagement ring, a respected online retailer or local jeweler may be the right fit for your needs. It's wise to look for a retailer who offers diamonds, colored stones, or pearls graded by the Gemological Institute of America (GIA). Some of the top destinations for buying an engagement ring online were featured in our best engagement rings selection, including Brilliant Earth, Jean Dousset, Blue Nile, Clean Origin, and more. 
How much should I spend on an engagement ring?
Figuring out your engagement ring budget is a highly personal endeavor. According to The Knot 2022 Jewelry and Engagement Study, one third of all respondents said they spent between $1,000 to $4,000 on an engagement ring.  
Figuring out the factors that are most important to you can help you zero in on the right budget. For example, if the size of the stone is a priority, you might steer toward lab-grown diamonds, which offer a lower price per carat than natural diamonds. If you'd like a natural stone, you might opt to go with one that's not as large carats-wise, that is less "white" (look for stones that are a slightly warmer I or J color), or that has a clarity rating of SI versus VS1 or VS2. 
What are the different types of engagement rings?
From solitaires featuring oval, round, emerald, princess, or radiant cut stones to more opulent designs with pave or channel set diamonds on the band, there are engagement ring options for every style. You might go with a natural diamond (formed by the earth and mined) or a lab-grown diamond (man made but offering the same physical, chemical, and aesthetic characteristics as a natural stone). It's also possible that you might consider an engagement ring featuring an alternative precious gemstone, like a sapphire or ruby.
Frequently asked questions (FAQs)
How expensive are engagement rings?
Depending on what type of engagement ring you're looking for, you can spend anywhere from hundreds to thousands of dollars. According to The Knot 2022 Jewelry and Engagement Study, the average cost of an engagement ring is currently about $6,000. 
What color engagement ring is best?
Just like budget and style, the diamond color that's right for you depends on your personal taste. That said, a general rule of thumb is to consider what metal you're pairing with the diamond. If you're buying a setting made of white metal, like 18K white gold or platinum, the ideal color stone will be more "white" or graded D-H. If you're buying a setting made from yellow gold or rose gold, a less white, slightly warmer color, like an I, J, or even K will be a lovely fit.
What are the most popular diamond shapes for engagement rings?
A round diamond may be classic, but today, engagement rings are made with a bevy of diamond shapes. A few of the most popular shapes in 2022, according to the International Gem Society were oval, Asscher-cut, princess-cut, emerald, marquise, and cushion cut. 
How do I determine the right ring size for my partner?
To figure out the best ring size for your partner ahead of a surprise proposal, you might borrow a ring from their jewelry collection and have your jeweler size it. You could also swing by a jewelry store and casually suggest trying on rings for fun. Every jeweler has a sizer, which a retailer will need to use in order to find rings for your partner to try, and then, you can take note of their size—or even ask your jeweler to file the information away for you for a later date.
How do I ensure the authenticity and quality of the diamond or gemstone in a ring?
While there are a variety of DIY tests you can perform at home to check to see if a diamond or gemstone is real or fake—like dropping it in water to see if it sinks to the bottom or fogging it up with your breath to ensure that condensation doesn't stick to its surface — you'll want to preempt even questioning this concern by sticking with a reputable diamond or precious gemstone dealer. You might also take your ring to an appraiser for their expert opinion.
The information presented here is created independently from the TIME editorial staff. To learn more, see our About page.