Our evaluations and opinions are not influenced by our advertising relationships, but we may earn a commission from our partners' links. This content is created independently from TIME's editorial staff. Learn more.
Updated
December 10, 2023
Nothing heralds the start of the holiday season like Advent calendars arriving in stores and appearing in homes. Used to count the days down until Christmas, Advent calendars may have roots in tradition and religion, but these days, you can find Advent calendars in a glorious range of themes and styles, from nativity scenes to funny socks. 
While some of the earlier Advent calendars were used in Europe in the 19th century, the first commercial Advent calendars arrived in the U.S. after WWII, and in the 1950s and again in the 1970s, chocolate Advent calendars became highly popular with kids and adults alike. Their commercialization continues to grow, and today, you can find hundreds of clever calendars to celebrate the season.
Our picks for the best advent calendars
Best beauty advent calendars
This miniature collection of beauty and skin products housed in a colorful, drawer-style calendar is a great way to add some sparkle and shine to the holiday season. Some product-based Advent calendars only count down the 12 days 'til Christmas, but Sephora provides you with a full 24 days of surprises. 
Price on publish: $49.00
Sephora Collection Advent Calendar
This colorful winter village scene Advent calendar delivers samples of luxury beauty products, including scents, skin cleansers and oils from popular brands like Phlur, Elemis, and Sunday Riley. 
Price on publish: $88.00
The 2023 George & Viv Beauty Advent Calendar
Great for pre-teens and adults alike, this bundle of lip balms is packaged in a cute snowy scene with the one-and-only Burt decked out in a winter wonderland. You only get to celebrate the first 12 days of the month, but each sample is full-sized Burt's Bees lip balm in holiday-inspired flavors like mint cocoa and cranberry spritz. 
Price on publish: $23.98
Best chocolate and sweets Advent calendars
This handsome cabinet-style Advent calendar is filled with decadent chocolate treats. It's probably a little too sophisticated for younger palates, but it's a step up from everyday candy, with flavors like dark noisette (hazelnut) cream and truffle coffee. Simply pull open the decorated draw corresponding to the days (Dec. 1-25) as you celebrate.
Price on publish: $139.95
Charbonnel et Walker Chocolate & Truffle Advent Calendar
Our family watches the classic Christmas film "Elf" the day after Thanksgiving to begin getting in the spirit of the season. Now, we can enjoy seasonal treats similar to those enjoyed in the movie. This Advent calendar delivers 12 days of child-friendly sweets to share and enjoy, from peppermint taffy to Buddy's favorite condiment: a mini bottle of maple syrup. The calendar packaging is as sweet as it is surprising. 
Price on publish: $39.95
These adorable foil-wrapped chocolates are treats to behold and to eat. This 24-day Advent calendar can be propped up on a shelf or table as it presents an adorable tableau of a Teddy Bear Christmas.
Price on publish: $17.49
Lindt Holiday Chocolate Teddy Bear Advent Calendar
This is an atypical Advent calendar, but we loved the 12 mini-numbered versions of holiday Pez. Eat the candy, and then hang the dispensers on the tree! A retro two-for-one holiday treat. 
Price on publish: 29.82
Pez 12 Days of Christmas Ornament Dispensers
Best coffee and tea Advent calendars
If you love teas, this Parisian Advent calendar is for you. The midnight blue backdrop filled with stars, Christmas trees and sparkles rests upright like a beautiful open book full of doors. Behind each, one of 24 delicious teas including green, black and herbal sachet. Perfect to contemplate the Advent season over a hot drink. 
Price on publish: $38.00
If you are a fan of K-Cups and Christmas, this wooden holiday tree is decked out in coffee pods in a variety of up to 24 flavors. You can reuse the calendar tree each year – just fill it up with the pods of choice. If you like this and it's out of stock, Etsy has numerous other clever options for Advent calendar and coffee lovers. 
Price on publish: $40.00
K- Cup Advent Calendar - Coffee Pods Added - Personalized Include Coffee Pod Holder Christmas Tree
It may only be enough for 12 Christmas mornings, but this cute cardboard cabinet-style Advent calendar lets you sample the dark and light roasts from a dozen small-batch, seasonally flavored ground coffees made in the U.S. If you love flavored coffees, this Advent calendar should appeal as you taste flavor profiles, including cranberry and roasted chestnut. 
Price on publish: $68.00
Best boozy Advent calendars
This Advent calendar is for couples who love to visit breweries or are brewmasters themselves. Share 24 unique brews (IPA, Mexican-style lager, stouts, fruit-infused and more) under the Christmas tree, or sample 12 non-alcoholic beers of Christmas. 
Price on publish: $71.99
CRAFT BEER ADVENT CALENDAR (ABV 4-9%)
Whiskey lovers rejoice; this Advent calendar is for you. Enjoy a dram a day (24 in all) as you count down to Christmas with Flaviar's curated and award-winning selection of drinks. ourbon and rye, plus Australian, Irish, Japanese and Scotch whiskey are available to enjoy each evening leading up to Christmas. The calendar also includes two glasses and a journal to record your tasting notes and experiences. Note: They cannot ship to AK, AR, DE, HI, MS, SD, UT and WV. 
Price: N/A (check website for preorders)
Flaviar's Whiskey Advent Calendar
Best Advent calendars for couples
Puzzle lovers in pairs should pick up this calendar with 24 cardboard puzzles (50 pieces each) of holiday scenes. This calendar (and a hot cup of cocoa, not included) will keep you both busy as you countdown Christmas. Once you have completed every miniature, put them together to form a busy apartment building scene where, inside windows, you can peek at the occupants getting ready to celebrate. 
Price on publish: $28.00
Through the Window Puzzle Advent Calendar
Make merry every weekend with this adventure Advent calendar. This adorable Yeti- and holiday-themed pop-up paper calendar invites you and your significant other to scratch off 12 suggestions for holiday-based activities with adventurous twists. The calendar includes helpful hints and icons to outline each challenge's cost, time required, location, supplies and more so you can plan your adventures ahead of time. 
Price on publish: $24.99
Couples Advent•ure Calendar 2023
If you and your partner love hot chocolate, you won't have to fight over what's inside each drawer because there is enough cacao for two each day. Enjoy 24 days worth of two cups in flavors like sticky toffee pudding and white chocolate. The calendar opens up to reveal a set of 24 draws full of delicious cocoa to help keep you both warm this winter.
Price on publish: $110 
Whittard of Chelsea Hot Chocolate Advent Calendar for Two
Best Advent calendars for foodies
If you love jams and jellies, you will enjoy what is behind each of the 24 doors of this sweetly illustrated Santa's Workshop scene. This limited edition Bonne Maman Advent calendar with whimsical illustrations is a perfect centerpiece for your kitchen table in December or, given what's inside, right next to your toaster. 
Price on publish: $44.99
​​Bonne Maman 2023 Limited Edition Advent Calendar, 23 Mini Spreads and 1 Honey
Celebrate this holiday season with seasonings and other condiments. This charming Advent calendar looks like a store cupboard with louver-style doors that open to show 24 numbered doors. Open them to discover vinegar, olive oil, salts and other savory and sweet treats from Italy, Portugal, France and Morocco. 
Price on publish: $85.95
Oliviers & Co, Advent Calendar
This Advent season is savory when you pull open the spice drawers containing 24 single-origin spices from around the world, including turmeric, cinnamon, pink salt and ashwagandha. The calendar itself is cylindrical, standing on its own, and it also gives back. One percent of the revenue goes toward an education fund for the farmers' children. 
Price on publish: $150
24 Spices of Christmas Advent Calendar
Best jewelry and accessories Advent calendars
This suitcase-style ballet-inspired Advent calendar is a must for young ballet lovers and charm bracelet aficionados. Open up the numbered trays daily to reveal a charm to go onto a gold-tone bracelet. Best for younger children. 
Price on publish: $46.00
Meri Meri Winter Ballerina Charm Bracelet Advent Calendar
There's a reason this makes the "best of" lists of fabulous Advent jewelry. These handmade pieces are made in sterling silver, 18ct yellow gold plate and 18ct rose gold plate. Simple, elegant and seasonal, these delicate pendants, slim bracelets and star earnings are the perfect presents. You can personalize the metals and some of the pieces when you order. This pricey present is a luxury item, but the gifts will last for years to come. 
Price on publish: $250.58
Posh Totty Designs Personalized 12-day Jewellery Advent Calendar
Keep your toes toasty this holiday season with 24 pairs of high-quality socks in this clever calendar gift box shaped like a mini dresser. Pull open a drawer a day through the 24th for an Advent treat (a pair of whimsical and well-designed socks) far more functional and fun than a foil-wrapped Santa. 
Price on publish: $260.00
Happy Socks Advent Calendar
Best wooden Advent calendars
The beauty of wooden Advent calendars is two-fold: they act as a holiday decoration for your home, and you can personalize the treats they hold within. This winter village is a wonderful example of how decorative a wooden Advent calendar can be. The carved village scene, complete with miniature trees and a child on skis, is particularly lovely and is suitable for all holiday lovers, both young and old. 
Price on publish: $78.00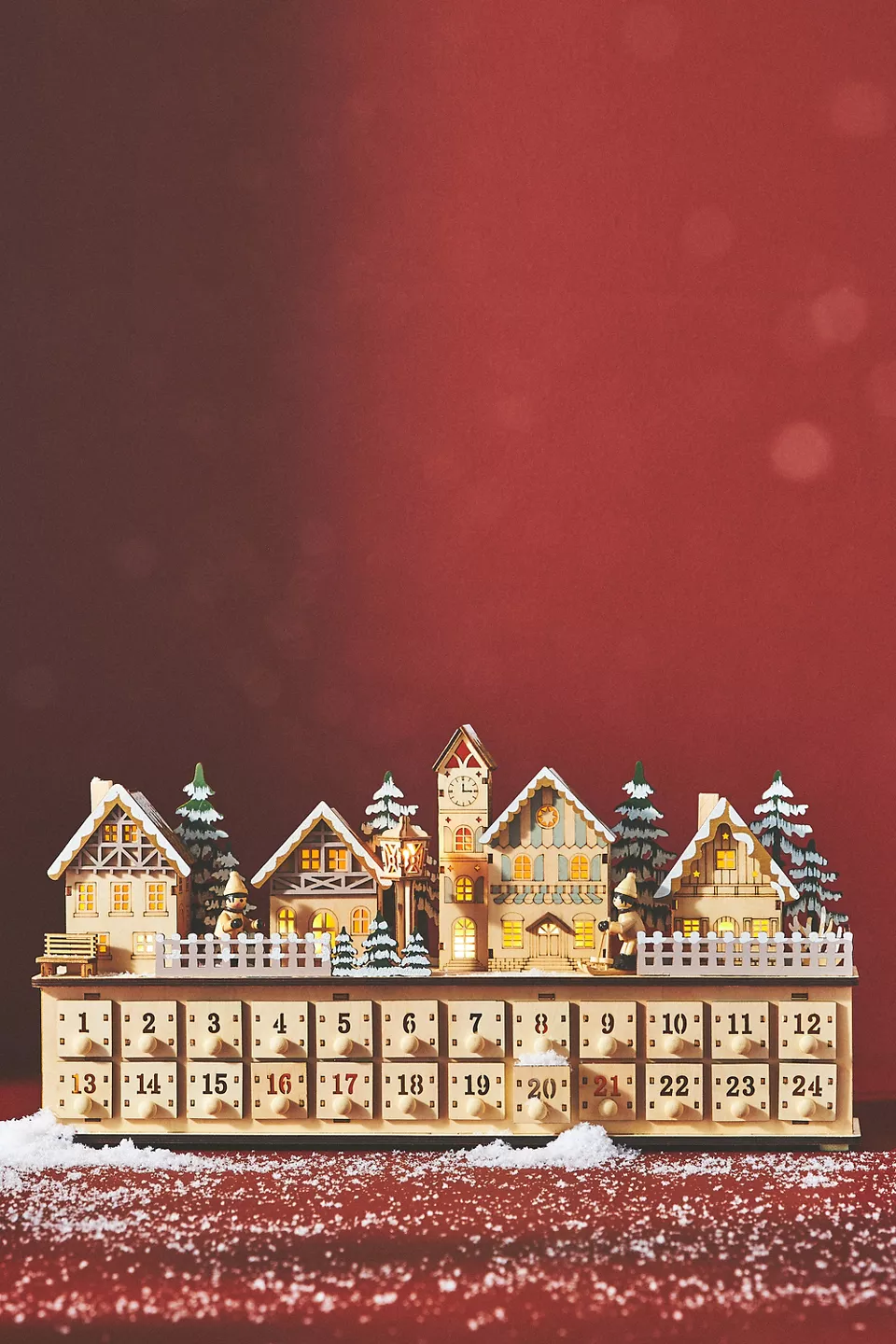 Trains and Christmas always seem to go together, and this Advent season, you can celebrate both with a 3D wooden train complete with miniature drawers representing all 25 days in December. Note, more of a decorative object, you can probably only fit a tiny note, sticker, or small peppermint into its compartments, but if your child (or you) loves trains, this is a charming choice.
Price on publish: $129.50
Wood Train 3D Advent Calendar
Good lighting improves everything at Christmas, and this Advent calendar confirms this theory. Thanks to its stand-alone battery-powered LEDs, this intricately designed wooden Advent calendar gives a soft glow. Not only does it feature two wintery, detailed Christmas scenes, but the engraved drawers easily open and close, so you can tuck in small surprises to celebrate the countdown to the main event. 
Price on publish: $92
HOMCOM Christmas Advent Calendar
Best Advent calendars for cats
Even your cat wants to celebrate Christmas, and guess what? There is an Advent calendar for furry felines. This one contains 25 (yes, you can add an extra day) holiday-themed cat toys to entertain your kitty almost the entire month of December. 
Price on publish: $16.99 
Merry & Bright™ Holiday Cat Advent Calendar with 25 Holiday-Themed Cat Toys
This calendar only gives you 12 days of treats for your fur baby, but the dresser-style calendar is festive, and you could always refill the drawers if you feel your cat needs a full 24 days of catnip, which all these toys contain. 
Price on publish: $32.99
Midlee Cat Advent Calendar - 12 Days of Christmas-Filled Cat Toy Gift
This paper Advent calendar is adorably illustrated and contains 24 individually wrapped pouches of salmon and dried seaweed treats for your kitty cat. Some reviewers say the pieces are too large and advise cutting them before serving them to your cat. Tip: If your local TJ's doesn't carry this calendar, hop on your laptop and order from Amazon! 
Price on publish: $26.47
Best Advent calendars for dogs
Himalayan dog chews are made from yak and cow milk, and this selection of treats is 100 percent natural with no preservatives. Safe for all breeds, your pup can enjoy the chunks, wafers, and cookies while you have fun counting down the days on the calendar. 
Price on publish: $21.95
It is 24 days of Paw-liday cheer when you and your furry friend dig into these bite-sized beef or chicken treats hidden in an adorable holiday dog calendar. These treats are made in the U.S. from all-natural ingredients. 
Price on publish: $29.99
Holiday Dog Treat Advent Calendar
The old-fashioned illustration of dogs around a Christmas tree is the sweet face of this Advent calendar for dogs. Containing 24 grain-free, peanut butter-flavored dog treats made in the U.S., this calendar is a great option for dog owners. 
Price on publish: $24.99
Best home decor Advent calendars
Scents play an important role during the holidays, and this 24-day wreath-style calendar offers 24 tea lights so you can enjoy a different seasonal smell (think pine, sweet vanilla and cocoa) during the countdown to Christmas.
Price on publish: $51.69
If you are planning to host family and friends this holiday season, a bath-centric Advent calendar may come in handy with its samples of hand soaps, creams, bath bombs and shower steamers. 
Price on publish: $79.99
Limited Edition 24pc Bath Set 2023 Christmas Advent Calendar
Best Advent calendars for kids
Christmas and train sets are quite the pair during the holiday season, and this advent calendar will be a hit with your young transportation aficionado. This calendar features images and pieces of a train set, including wooden tracks (designed to fit with other kinds of sets), characters, signs and a rail car. After each door is opened, the calendar folds out by Christmas Eve to reveal a colorful cut-out backdrop of a holiday-ready train station, so your kids can put their treasures in front of it and play until bedtime. 
Price on publish: $40.00
Buildable Train Station Advent Calendar
There is something so exciting about finding a surprise a day, and this decorative felt Advent calendar won't disappoint in that department. It's a little old-fashioned, and a lot of classic Christmas is packed here. It will brighten up any room and has plenty of pockets (24) to tuck small wrapped gifts, candies, oranges and notes to surprise your little ones each day until Christmas Eve. The best part is that you can refill it and enjoy it year after year, and it can be monogrammed. 
Price on publish: $99.50
Classic Santa Felt Christmas Advent Calendar
With their minifigures and extras, Lego Advent calendars are a huge hit in our household every holiday season. Depending on what your children like, there are themes galore to choose from – Star Wars, City Lego and more. Open one window for each of the 24 days leading up to Christmas, and if your kid is a Lego Lover, they may feel Santa came early with this one.
Price: Varies depending on set; HP is $44.99
What you should know before buying Advent calendars
When shopping for an Advent calendar, there are a few things to consider:
Who will use the advent calendar?
Like any gift, before you give an Advent calendar, make sure it is appropriate for the user. For example, some small gifts hidden inside an Advent calendar may be choking hazards for a toddler or young child. If you want to give an Advent calendar to a traditionalist, maybe stick with a paper calendar with the Nativity or a Christmas tree they can hang on their wall or prop up on their mantel. If you are giving a candy-filled calendar, check for allergies beforehand. Some Advent calendars are designed to stand independently, while others must be hung up or leaned against a wall, bookcase or mantel. Consider that the person opening the calendar will likely enjoy it as a piece of decor and a vessel for small holiday gifts.
Does it have 12 or 24 days? 
The season of Advent usually starts four weeks before Christmas. The first Sunday (the start of the Advent season) always starts the fourth Sunday before Christmas. Because of this, the starting date for Advent may shift from year to year, but Advent calendars always start on the first day of December. The Advent calendar's last door is traditionally opened on December 24, the day before Christmas. However, some Advent calendars have only 12 days due to the nature of the products packed inside. If you love a 12-day calendar but want to celebrate 24 days, consider buying two calendars to carry you through the season.
Is it easy to open? 
While this is not a make-or-break issue for purchasing an Advent calendar, if you have children, make sure they can easily open the Advent calendar window or door. Otherwise, you will have torn calendars, which really defeats the purpose of using them as decor. Some Advent calendars, like those made of wood, are easier for little hands to open than the more fragile paper and cardboard ones.How we selected the best advent calendars
Advent calendars are a personal choice based on individual and family preferences, and have been a part of my family and my husband's family for generations. To select the best Advent calendars, I drew on our experiences and those of our friends, extended family members and colleagues. In addition, I researched nearly 100 (yes, there are really that many Advent calendars out there) calendars to make this list, reading reviews and looking carefully at price points, gifts, longevity, decorative materials and more. 
Frequently asked questions (FAQs)
How do advent calendars work?
Advent calendars are numbered from 1-24, representing the days leading up to Christmas. Advent calendars are made so you can open one "door" or "window" or, in some cases, as calendars have evolved, one drawer, cabinet or pocket a day. When you open it, there is a small gift, sweet note, holiday image or miniature treasure. Often, Advent calendars are designed to be displayed in the home as a Christmas decoration. 
Advent calendars have become so popular, you can find Advent-style calendars for holidays like Halloween and Hanukkah. 
What is the reason for an Advent calendar?
Traditionally Advent calendars build anticipation and excitement as you count the days of Advent leading up to Christmas. But anyone can enjoy an Advent calendar simply to mark the days in December.
Most Advent calendars are used as celebratory traditions to give tiny gifts or sweets and help extend the holiday season's celebration for most of December. 
When should I gift my Advent calendar?
I like to give my children their Advent calendars right after Thanksgiving. Still, you can gift an Advent calendar any time of year—the recipient just has to be willing to save it until December 1, when they can start opening an Advent calendar. You could also give an Advent calendar on the first Sunday (of four) in Advent, typically between November 27 and December 3). This year, Advent begins on December 3. 
Why is Advent so important to Christmas?
The word "Advent" is derived from the Latin word "adventus", meaning "arrival (ad)" and "venire (come)." It means the arrival of an important person or thing. Many Christians celebrate the season of Advent (the four Sundays before Christmas) as a time of preparing for the nativity and anticipating the celebration of the birth of Jesus on Christmas Day. 
Advent and the commercial culture surrounding Christmas were originally (and for some still) two different things that have merged into mainstream celebrations. The Advent wreath, candles and calendars are all ways Advent is celebrated at Christmas time in December.
The information presented here is created independently from the TIME editorial staff. To learn more, see our About page.