Our evaluations and opinions are not influenced by our advertising relationships, but we may earn a commission from our partners' links. This content is created independently from TIME's editorial staff. Learn more.
Outdoor living spaces offer us  a place to relax, enjoy nature, dine, and play, especially in the warmer months. And, of course, if you have  outdoor space, you'll probably need to furnish it. Understanding how you want to use your deck, patio, or backyard can help you make purchase choices that fit your lifestyle and finances.
What to consider when buying outdoor furniture
First, think about how you want to use your outdoor space. Will you throw large parties? If so, you may want easy-to-move furniture to make space for a crowd. If you love eating outside, make sure you buy a table large enough to accommodate a group of guests. Maybe you want to create an outdoor play area with standing hammocks and lawn games. If so, make sure to leave space between the furniture for kids to have fun. 
Other considerations
Materials
If you want outdoor furniture that lasts more than a season, purchase durable materials like teak, acacia, and other weather-treated woods. Cast or wrought aluminum and all-weather wicker are also durable choices.
Size
Make sure to measure not only the furniture you are buying but the space for it. You will want to make sure you can easily push in or pull out a chair and leave space to walk around a piece without banging into something. 
Weight limits
Before you buy a piece of furniture, check how heavy the piece is, so you can know if it is easy to lift and/or put away during a storm, if necessary. In addition, you should make sure to know the weight limit of each item so that when kids and dogs pile onto the furniture, it will hold up. 
Maintenance and Cleaning
Make sure the furniture you purchase is meant for outdoor use to avoid leaving cushions that smell like mildew. Some fabrics are easier to clean than others. Sunbrella, a cushion fabric, is easier to clean and maintain than linen or cotton. Rust-free aluminum, weathered steel, and acacia wood are all examples of outdoor furniture that are easy to clean and maintain.
Shape
After measuring your space, think about how you will use it. If you enjoy BBQs and sit-down meals, make sure your outdoor table can support a large number of guests. Many outdoor tables (both round and rectangular) have a hole in the center of them to accommodate a large sun umbrella to make mealtimes under the sun more pleasant. 
After deciding what you want and need, determine your price point.
There are endless options, from wallet-friendly budget to high-priced patio furniture. To help, we  asked design experts, realtors, and outdoor furniture enthusiasts about their favorite designs and sets.
Our top patio furniture picks
When you hunt for outdoor wood furniture that can withstand  the elements, teak, acacia, cypress, bamboo, redwood and cedar are good choices. Make sure to care for it using wood oil a few times a year, and cover your furniture when it is not in use and during inclement weather. 
Birch Lane sells natural wood furniture, and we like its Acacia rocking chairs for their affordable and trendy outdoor look. With 1,652 reviews and 4.7 stars, this three-piece wood set is a good starter piece for comfortable patio or deck living. 
Specifications:
Dimensions: Chair (33.25 inches deep and 24.00 inches wide and 35.75 inches high. Seat (19.00 inches deep and 20.75 inches wide and 16.50 inches high) Table 9.00 inches deep and 15.00 inches wide and 19.25 inches high)
Material: Acacia wood, machine washable cushion covers (waterproof polyester and foam) and weathered steel
Colors: Lovely weathered light brown teak and cream-colored cushions
Warranty: You can purchase a three-year warranty plan for $44.99
Price: $300
Assembly required: Yes 
Pros:
Inexpensive
Comes with cushions
Classic patio set
Cons: 
Assembly required
Pay for a warranty
You have to buy the whole set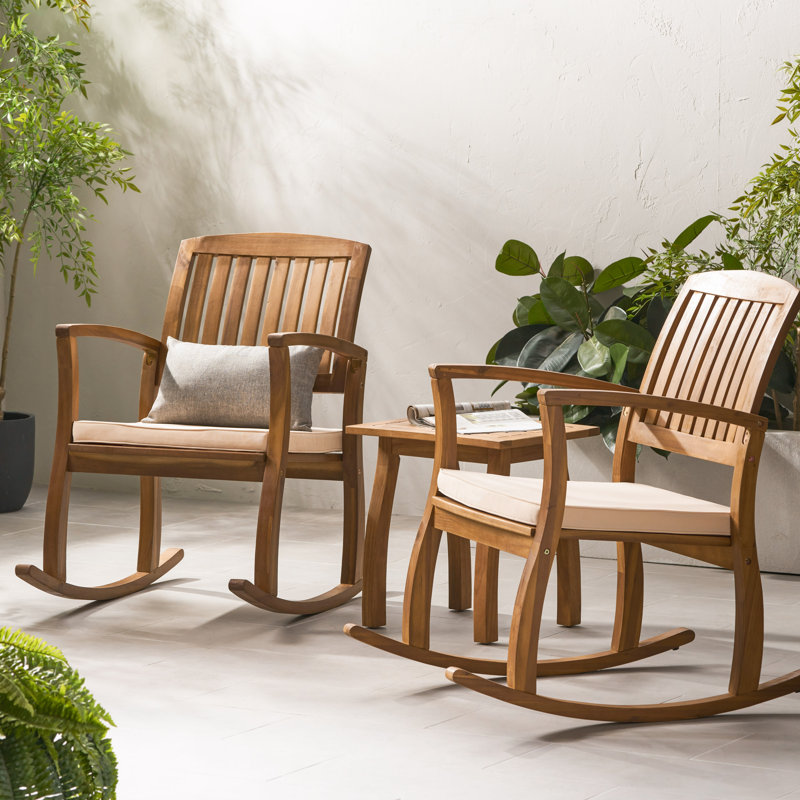 Brizio Acacia 3 Piece Seating Group with Cushions
"Before you buy furniture for your outdoor space, really consider how it will be used and what you enjoy doing outside," shares Greg Forest, a senior global real estate advisor for Sotheby's, based in Palm Beach, Florida. "For example, if you love to eat al fresco and entertain, investing in a beautiful table makes sense." 
Forest recommends the furniture company Article for its high-quality furniture. Start building your al fresco dining set with these red woven rope chairs. They come in pairs and are good-looking enough for indoors.  With a mid-century modern sensibility and sturdy steel frame, these seats are comfortable and chic. 
Specifications:
Dimensions:  22 inches high and 22.5 inches wide and 27 inches deep
Material: Steel and woven polypropylene 
Colors: Red
Warranty: One-year
Price: $340 (set of two)
Assembly: None required
Pros:
Set of two chairs under $350
Can be used indoors or outdoors for seating
Cons:
Need to purchase protective covers separately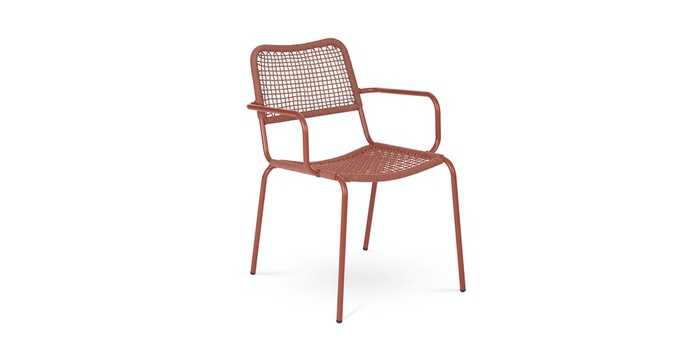 Manna Sonoma Red Dining Chair
Invest in high-quality aluminum patio furniture if inclement weather and strong storms are common where you live. Cast and wrought aluminum are light enough to store (these are 16 pounds) easily but also strong enough to stand up to winds—provided they're not accompanied by hurricane gales or tornados. Aluminum will resist rust and most aluminum patio furniture contains a powder coat finish for extra protection. The Isola aluminum lounge chairs are comfortable and beautiful but better yet, they're weatherproof.
Specifications:
Dimensions: 32-3/4 inches wide and 30 ¾ inches high and 33 inches deep.
Material: Aluminum 
Colors: Grayish brown
Warranty: 10 years
Price: $679.15
Assembly required: Some
Pros:
Aluminum is extremely durable and weatherproof
Stores easily
Cons: 
It does not come with a cushion
Higher price point per chair than some competitors
Isola Aluminum Lounge Chair - Frontgate
This cute set comes at a reasonable price and provides a pop of mid-century modern for your patio. Available in four colors, including a bright teal, this could be a stylish addition to a small space. 
Specifications:
Dimensions: Table: 29.50 inches high and 39.50 inches wide and 18.75 inches deep. Chairs: 29.75 inches high and 20.75 inches wide and 21.25 inches deep
Material: Iron frame with a protective coating
Colors: Crackle Green, Crackle Orange, Matte Teal, or Matte Coral
Warranty: Costs extra
Price: $229.04 (subject to change)
Assembly required: Yes
Pros:
Good for small spaces
Mid-century modern aesthetic
Cons:
May rust over time, especially in damp conditions
Santa Monica Outdoor 3-Piece Oval Bistro Chat Set by Christopher Knight Home
This dining table by Article, a brand recommended by Forest, due to its high-quality craftsmanship, durability and style, can seat eight people comfortably in style for an enjoyable al fresco dining experience. Made with an Acacia wood topper and aluminum frame, two of the most durable materials for outdoor furniture, this table is designed  to last for many seasons of outdoor meals. You can pair the table with a few of Article's Manna Sonoma chairs. 
Specifications:
Dimensions: 30 inches high and 94.5 inches wide and  39.5 inches deep
Material: Acacia wood and powder-coated aluminum 
Colors: Natural wood
Warranty:  N/A 
Price: $799
Assembly required: Yes
Pros:
Durable materials 
Large enough for eight guests
Cons:
Expensive
Must purchase chairs separately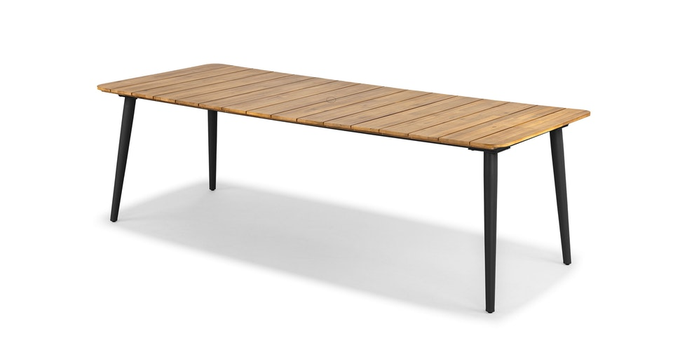 Latta Slate Gray Dining Table for 8
Terra makes some of the best outdoor wicker furniture with durable and comfortable designs for long lounging sessions on the deck.  The all-weather wicker with a deep seat that swivels can stand up to heat and humidity, making it a great option for those living in coastal areas. Also, the swivel component is a fun addition to classic seating. 
Specifications:
Dimensions: 39 inches wide and 32 inches deep and 31 inches high
Material: All-weather wicker
Colors: Light wicker frame with sand, taupe or stone cushions (various shades of gray)
Warranty: 10 years
Price: $1175 
Assembly required: Yes
Pros
Weather resistant materials 
Rates high for comfort
Can be purchased separately or as part of a set
Durable 
Cons
Expensive
Heavy if you need to move it (54 pounds)
Sausalito Swivel Lounge Chair in Natural Wicker
Rove Concepts produces high-end, modern furniture for outdoor living. The company has mixed reviews on TrustPilot, but its high-end designs, like the Jericho sling chair, are a way to bring your patio game up a notch. 
Specifications:
Dimensions: 27.1 inches wide and  35.4 inches deep and  35.8 inches high. Seat width is 21 inches. 
Material: High-performance aluminum frame wrapped in polyethylene rattan
Colors: White or black cushion with natural rattan frame
Warranty: N/A
Price: $369 (if you sign up to be a member of Rove Concepts)
Assembly required: Some
Pros:
Will hold up to 250 pounds
Aluminum frame is an excellent material for durability 
UV- & water-resistant fabric cushion
Cons:
Mixed reviews of the company (not the product) on TrustPilot
If you want to stretch out when you lounge or have multiple guests or family members to have a seat, a weatherproof sectional sofa is one way to go when furnishing your outside space. Neighbor's six-piece sectional is one of the best couches that will allow you and others to spread out comfortably. 
Specifications:
Dimensions: 114.25 inches by 28 inches (long end) and 89.5 inches by 28 inches (short end)
 Material: Imported teak frame with hand-stretched weather-resistant polyester rope back, plus stainless metal hardware. Sunbrella outdoor fabric
Colors: Sunbrella rust, leaf, canvas or coal
Warranty: Five years
Price: $6,100
Assembly required: Yes
Pros:
Five-year warranty
Prioritizes eco-friendly materials
Cons:
May not be good for small spaces
Expensive
The Outdoor Sectional by Neighbor
Best portable outdoor furniture: Teak beach chair
Serena & Lily is known for its coastal cool,  beach-house vibe. This teak sling chair with a preppy nautical vibe is made for sitting by the water's edge all summer. Besides its comfortable shape, the best part is that it folds up, and with its padded backpack straps, so it can travel with you. Buying a set allows for moveable seating on the patio or pool. 
Specifications:
Dimensions: 26 inches wide and 30 inches deep and height is  34 inches overall. When folded up, the chair is 32 inches wide and 27 inches deep and 3.5 inches tall. Item has an interior seat depth of 17 inches wide and 17 inches deep
Material: Teak with stainless steel hardware and a weather-resistant coating; UV and water-resistant canvas
Colors: Antique white, coastal blue and tide strip botanical
Warranty: N/A (Can return within a 30-day window)
Price: $298
Assembly required: No
Pros:
Portable and lightweight (14 lbs)
Can support up to 250 lbs
Comes with a zippered pocket
Cons:
May need a set for multiple guests
Recommended to be stored indoors during inclement weather
Best places to buy outdoor furniture
A budget-friendly way to shop for a wide variety of outdoor furniture, you can find everything you need here to set up an outdoor space, from sectionals to dining sets. Wayfair's offerings are a great mix of trendy and classic styles. You can find mid-century modern chairs or pick up rustic farmhouse benches from one online location. Wayfair also carries a range of Adirondack chairs, a staple for sitting lakeside or watching the sunset from your deck. 
Along with furniture, pick up sun umbrellas, hammocks, lawn games, outdoor bar carts, storage, and more. It's a one-stop shop for making your backyard, patio and deck decorative and functional. Wayfair also will return items within a 30-day window, which makes it a safe bet for purchasing furniture online. 
One of Wayfair's branded retail websites, AllModern is good for finding affordable designs inspired by Bauhaus and other mid-century makers. You can search the outdoor furniture section by material, from all-weather to mixed metals, to make sure your purchase can withstand the elements. 
This Minneapolis-based furniture company designs contemporary pieces for inside and outside your home. We like its colorful Hot Mesh patio chairs for their comfort and polished modern look. Blu Dot also offers a range of outdoor sofas and sectionals as well. Its prices are aligned with its high-end and modern design. 
When is the best time to buy outdoor furniture?
If you want to purchase the latest styles and trends, consider purchasing in early spring, suggests Forest, when items are still in stock. Memorial Day is a great time to snag high-end pieces at lower prices. Snap up the best pillows, often also on sale,  for outdoor furniture in a fabric like Sunbrella that won't fade. 
Other experts recommend looking for patio furniture after the summer season ends, in late fall or winter, when it tends to go on sale. 
What are great accessories for your outdoor space?
"I love Tucci umbrellas," shares Forest. "If you are going to buy one accessory, this is it. They are the best in the business and make any space more inviting. Coolers, fire pits, outdoor lawn or deck games, movie screens, poofs, weather-resistant rugs and floor pillows are all great additional accessories to complete your outdoor oasis. 
How we select the best outdoor furniture
We researched patio furniture from the most popular brands and selected options based on durability, style and price. We received tips from patio and deck lovers, design pros, and real estate agents who say well-appointed outdoor living space (large or small) is now a necessary component of your home. 
Frequently asked questions (FAQs)
What is the best material for outdoor furniture? 
Natural wood and Sunbrella materials are two popular choices for furniture. "Natural wood like teak will last a long time if you take care of it," says Forest. "Use furniture oil and cover all outdoor furniture to help with its longevity." Whatever you buy, make sure it is water-resistant and weatherproof. 
How do I get the best deals on outdoor furniture?
You can get the best deals on outdoor furniture by shopping in-store and online sales. Many stores offer significant discounts over Memorial Day weekend. End-of-season sales, along with Labor Day markdowns, often happen in late August or early September. "Best time to buy patio furniture would be at the end of the summer when all sales start to hit," recommends Martha Gaffney, certified interior decorator and strategic real estate advisor at Real Estate Bees. 
If you have a favorite store, it can be worth signing up for emails and texts from it so you can be among the first to know about any upcoming sales. 
Is it worth buying expensive outdoor furniture? 
Good quality outdoor furniture can last for a few decades. And while not all expensive pieces necessarily mean good quality—if you buy anything, make sure the pieces are built to last. Outdoor furniture with weather-proof fabrics, durable wood like Acacia and teak, and materials like rust-proof aluminum can be worth the investment. 
How do I choose the right size and style of outdoor furniture for my space?
"Mixing and matching furniture is always fun so all pieces don't always need to look the same. When looking for outdoor furniture, it's best to look for something that suits not only your style but your needs for use," says Gaffney. 
Always measure your patio, deck or yard before purchasing and allow for two-to-three feet of space for foot traffic. Think about how much furniture you need to be comfortable outside and how you will use the space. A dining area on a deck will need enough clearance to pull out chairs or get back and forth safely to a grill.  
Make sure your furniture is in place for optimal viewing of a pool, garden or yard and doesn't block doors leading back into your house. Otherwise, your style will likely dictate what you buy for your space. 
Can outdoor furniture be used indoors or vice versa?
Indoor furniture is not usually made to withstand the elements, making it potentially risky to use outdoors. However, outdoor furniture could be used in your home, depending on whether  you like it and how it influences your decor and style. If you have a covered sunroom, for example, wicker and rattan outdoor furniture that is heat- and humidity- friendly, it might be a great fit. 
How do I protect my outdoor furniture from weather damage?
Always cover your outdoor furniture and accessories, like a grill, to protect it from weather damage. If you own an outdoor movie screen, put it away after use to keep it from getting damaged. Pillows, cushions, poufs, and other comfortable accessories should not be left out in the rain, sleet, or other damaging weather conditions. Buying furniture covers to fit your couches, tables and chairs can help protect heavier pieces during poor weather. When emergency and severe weather conditions are in the forecast, bring all outdoor furniture and accessories indoors.
Will a great outdoor space raise my home's value or a buyer's interest?
Yes. Outdoor space has become a priority for buyers. If you are thinking of selling your home, a well-appointed, good looking deck, patio or lawn will likely make a difference and great furniture and accessories can have a positive impact as well.  "The rising popularity of outdoor features suggests the pandemic has changed how we want to live for good, priming the backyard for a 2023 evolution," said Amanda Pendleton, Zillow's home trends expert.
The information presented here is created independently from the TIME editorial staff. To learn more, see our About page.