Our evaluations and opinions are not influenced by our advertising relationships, but we may earn a commission from our partners' links. This content is created independently from TIME's editorial staff. Learn more.
Summer is officially here, and you're probably dusting off all your warm-weather gear and accessories—including your favorite sunglasses. If you're like most people, your go-to pair from last year is no longer in style, or perhaps no longer has the right fit or feel. It may even be possible you lost or broke your trusty pair of sunglasses and are looking for a replacement pair.
What to consider when buying sunglasses for women 
Before you click purchase on a new pair of sunglasses, there are a few important factors to consider. 
UV protection
When it comes to safety, UV protection matters—and sunglasses are just as important as the right sunscreen for staying sun-safe. After all, sunglasses are meant to protect your eyes from the sun, and the only way they can effectively do that is if they offer 100 percent UV protection from both UVA and UVB rays. This protection can help prevent a myriad of conditions later in life, including cataracts and macular degeneration.
Lens color
Lens color isn't just about personal preference—the color of the lenses on your sunglasses can actually impact how much light is blocked and how your vision is affected by the sun's rays. The best colors for sunglasses in terms of protection are brown, gray, and green. 
Style
Style matters when it comes to sunglasses, just as it does with clothing. You should choose a pair of sunglasses that offer a style that flatters both your face shape and your style preference. Some popular frame styles include aviators, wayfarers, round,  cat-eye, and hexagonal. 
How we chose the best sunglasses for women
We compiled a list of the best sunglasses on the market designed for women by  combing through customer reviews and relying on first-hand opinions about which sunglasses were the most comfortable, flattering, and stylish for all shape faces, with individual preferences in mind. 
Our top picks
For less than $50, this pair of sunglasses offers some impressive features. As far as protection goes, these glasses are polarized and designed to block out 100 percent of UVA and UVB rays.
They offer a medium-sized frame with a classic round shape and are made from SuperLight, the brand's own line of recycled plastic resin that's been rescued from a U.S. landfill. Another cool perk is that any brand of Sunski sunglasses comes with a lifetime warranty—so should your frames break, they'll send you new ones. 
Specifications:
Fit: Medium-size frame
Protections: Polarized, 100% UV protection
Size: 139mm
Frame material: SuperLight
Pros: 
Polarized 
Classic round shape 
Made from recycled materials
Lifetime warranty
Affordable
Cons: 
Not ideal for small faces
Polarized sunglasses offer maximum protection against the sun's harmful UV rays that can affect your skin, as well as your eyes. This pair of sunglasses by Rayban offer protection from both UVA and UVB rays, which can help reduce the chance of eye problems later in life. They also help ease eye strain, especially when you're driving in bright sunlight as well as reduce glare, which can make it easier to see. 
Specifications:
Fit: Medium-size frame
Protections: Polarized, 100% UV protection
Size: 132mm
Frame material: Nylon
Pros: 
Classic style
Glare reduction
Cons: 
Polarized version comes at a price increase
Ray-Ban Woman Sunglass RB4171 Erika Classic - Frame color: Havana, Lens color: Brown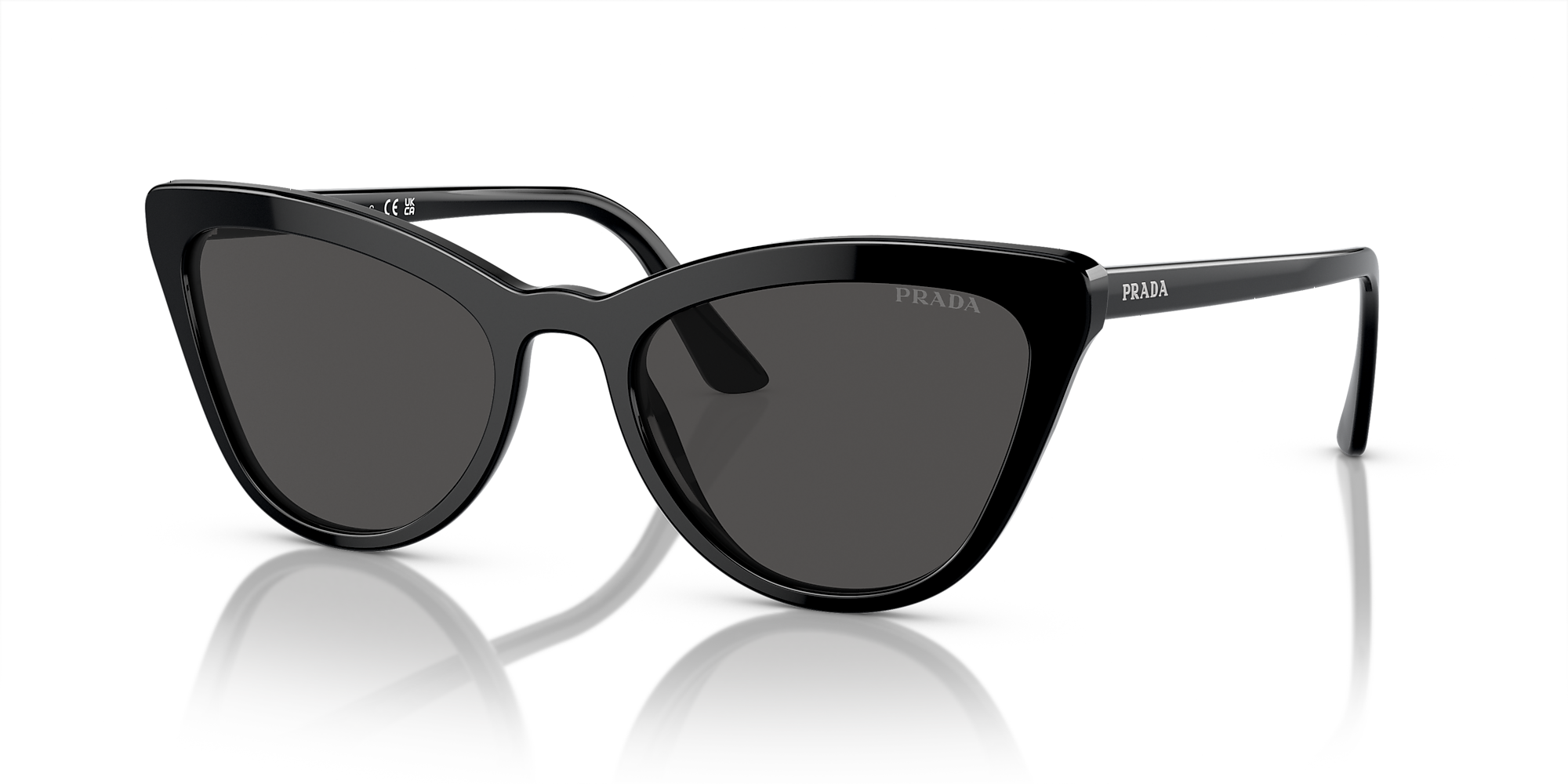 If you're looking for a pair of designer sunglasses, you can't go wrong with Prada, the luxury brand known for high-quality products, durable construction, and stylish designs. It's timeless and always on trend. This style is the beloved cat-eye, which is versatile in that it can be dressed up or down, is super feminine and adds sophistication to your look. 
Specifications:
Fit: Regular-size frame
Protections: UV protection finish, also available in polarized lenses
Size: 42.3 (lens height)
Frame material: Acetate
Price: $224.70 (without prescription lenses)
Pros: 
High-quality
Durable construction
Trendy cat-eye style
Cons: 
Pricey
Polarized version comes at a price increase
Prada Woman Sunglass PR 01VS Catwalk - Frame color: Black, Lens color: Grey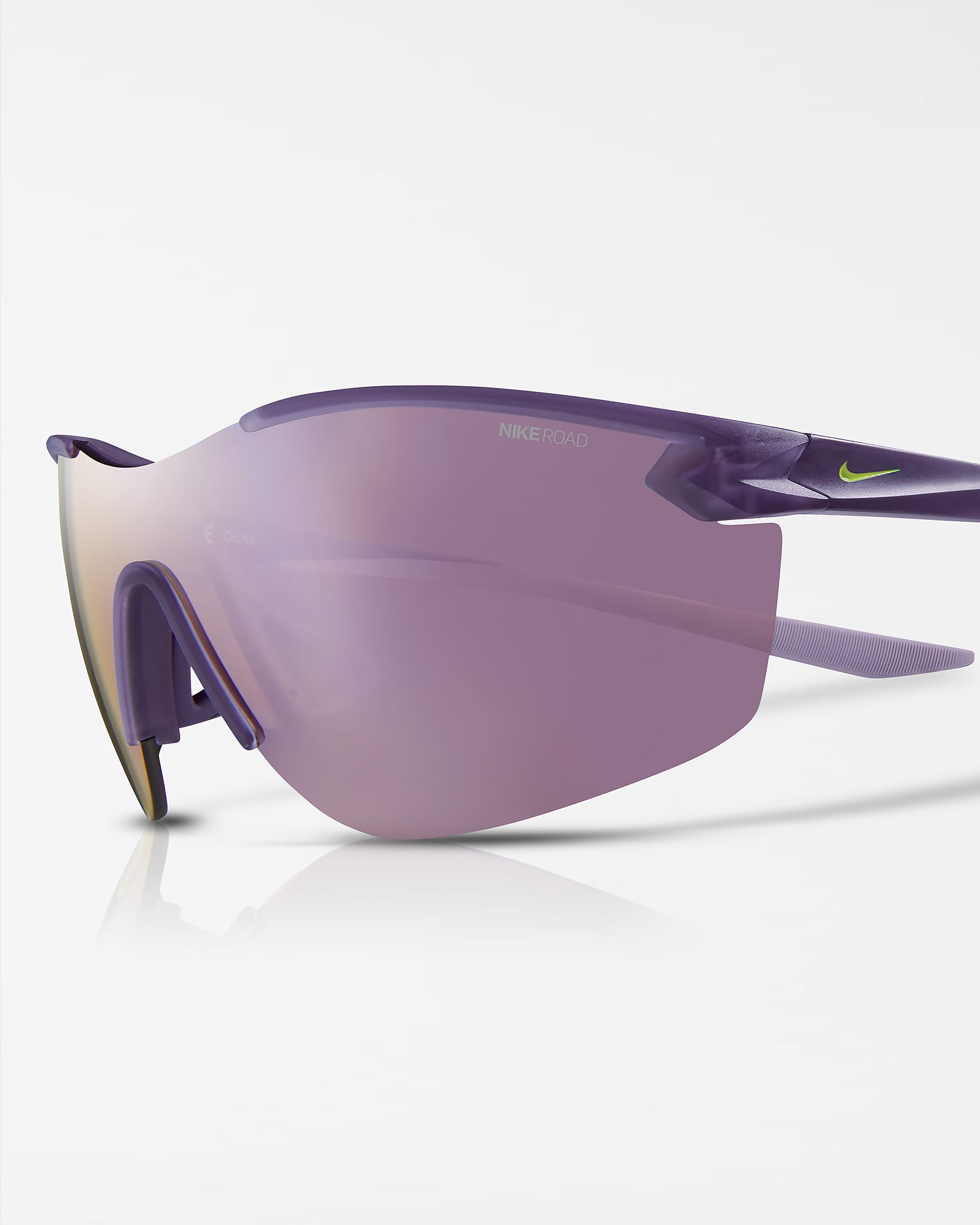 Nike specializes in athletic gear, so it's no surprise that they make sunglasses designed for running. Their Victory Elite sunglasses have a wrap-around design that holds them in place while you're moving as well as a contoured lens that is tinted and shields your eyes from the sun. It's also a perk that they're adjustable and offer nose and temple pads for optimal comfort. 
Specifications:
Fit: Medium-size, wraparound frame
Protections: Tinted, 100% UV protection
Size: 45.6 mm (lens height)
Frame material: Castor Bean Oil
Pros: 
Designed specifically for running
Contoured lens shields eyes from sun
Adjustable with nose and temple pads
Cons: 
Nike Women's Victory Elite Road Tint Sunglasses in Purple, Size: One Size | DV2135-553
When shopping for sunglasses conducive to cycling, make sure the sun is blocked out by the lens color, as they are in this pair of Oakleys. The frame style itself should also offer more coverage than a regular pair of sunglasses to protect against flying debris as well as offer ample ventilation, since you're likely to be sweating through your workout. This pair has a comfortable fit with a strong grip and Unobtainium® (Oakley's patented material that increases grip as you sweat) nose pads. 
Specifications:
Fit: Large-size frames
Protections: Photocromatic Frame
Size: 134mm
Frame material: EVZero
Pros: 
Designed with performance in mind
Contoured lens shields eyes from sun
Adjustable with nose and temple pads
Nose pads increase grip as you sweat
Cons: 
Limited size options
Very specific style that may not be for everyone
Cat-eye sunglasses offer all the old-school glamour vibes you could hope for, and Warby Parker created a down-to-earth version that's flattering on just about every face shape. They're made from hand-polished cellulose acetate, a semi-synthetic material made from a naturally-derived substance found in plants. These sunglasses can be prescription if needed and are all impact- as well as scratch-resistant for durable wear. Tip: Warby Parker is one of the best places to buy eyeglasses online, so if you love these sunglasses, check out their eyewear section.
Specifications:
Fit: Medium-size frame
Protections: Blocks 100% of UV rays
Size: Varying sizes offered
Frame material: Polycarbonate
Price: Starting $95
Pros: 
You can choose the best width for your face
Lenses are made from impact-resistant materials
Virtual try-on
Four color/pattern options
Free shipping
30-day return and exchange policy 
Cons: 
Price increases with prescription lenses and other customizations
Warby Parker Tilley Sunglasses
When it comes to aviators, it doesn't get more classic than Ray-Ban. Once reserved for pilots, this style flatters so many face shapes, especially heart and oval. These durable sunglasses boast gradient lenses that help shield the sun from your sensitive eyes. You can choose from 16 colors, including gold, gunmetal, silver, and pink as well as sizes including M, XL, and XXL.
Specifications:
Fit: Regular 
Protections: Can be polarized at an increased price 
Size: 131mm
Frame material: Metal
Pros: 
Classic aviator style
Comes in 16 colorways
Cons: 
Reviewers say they don't hold their shape long-term
Ray-Ban Unisex Sunglass RB3025 Aviator Gradient - Frame color: Gunmetal, Lens color: Light Brown Gradient
We love the feeling of nostalgia conveyed by a pair of vintage-style sunglasses, and this round pair can convey either 1940s glam or 1990s irony depending on the styling. This style is the retro round shape and comes in 14 colorways and prints along with two sizes (one oversized, one traditional). While this pair of sunglasses is on the pricier side, the brand offers free shipping and virtual try-ons.
Specifications:
Fit: Narrow
Protections: Polarized 
Size: 49/52
Frame material: Metal
Pros: 
Retro style with multiple colorways
Virtual try ons
Free shipping and free returns
1-year warranty
Cons: 
Round fit may not flatter all face shapes
Pricey
Remmy Unisex Retro Round Sunglasses
Oversized sunglasses have been on-trend for decades and it doesn't look like they're going anywhere any time soon. Not only are they stylish, they offer greater sun protection and even boost your peripheral vision when you're out in the sun. This pair by Tory Burch is sophisticated and elegant, featuring gold accents around the sides of the frames for elevated style. 
Specifications:
Fit: Large/oversized
Protections: Tinted 
Size: 140 mm 
Frame material: Acetate/Metal
Pros: 
Elegant and sophisticated style
Gold accents add a luxurious feel 
Universally flattering
Cons: 
Only comes in two colorways
Pricey
Best oversized sunglasses
Tory Burch Eleanor Oversized Square Sunglasses
If you're looking for a pop of color in your sunglasses without being too bright or overwhelming, this is a great pair. Krewe pulls off a classic look with gentle, mosaic-like bits of color around the lenses in varying styles. They're inspired by New Orleans' French Quarter with a rounded silhouette and mirrored lenses. 
Specifications:
Fit: Narrow
Protections: 100% UVA / UVB protection 
Size: 46-23-145
Frame material: Rose gold plated hardware
Pros: 
Comes in 16 different colorways
Lifetime warranty (applies to non-discounted frames)
Cons: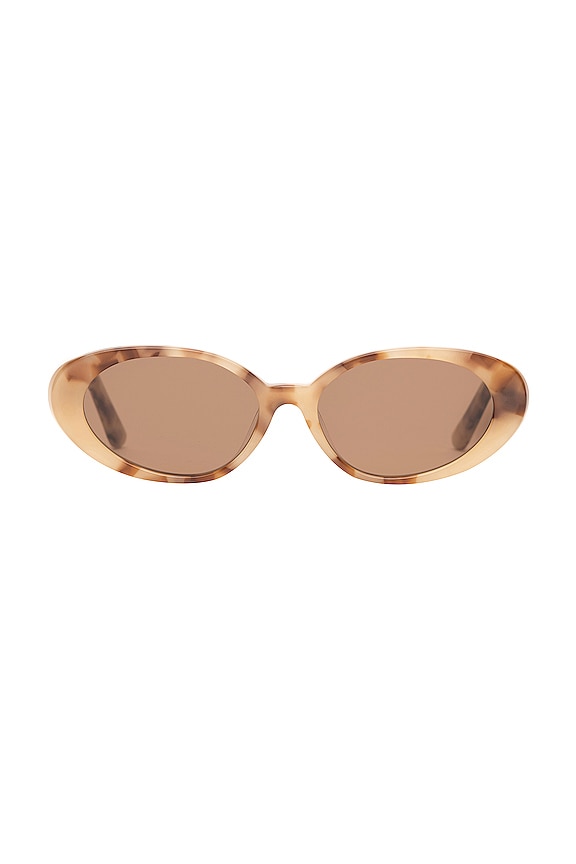 They've been in and out of fashion since the 1940s, but right now oval sunglasses are a hot trend. Although these aren't polarized, they do offer protection against UV rays since they're tinted. They have a gold-tone logo template that makes them look sophisticated and they fit most face shapes, despite coming in one size.  
Specifications:
Fit: Narrow
Protections: 100% UV protection 
Size: 135 mm
Frame material: Acetate
Pros: 
Stylish design
Comfortable fit  
Cons: 
Not polarized
One size and one colorway
Oval shape may not flatter every face shape
If you have an oval face shape, you'll look good in square sunglasses like this pair from Quay Australia. They feature on-trend gold metal accents, polarized lenses, and cutout details. They cut down on glare and provide coverage for your entire eye area so your vision is fully protected. We love their virtual try-on feature that lets you take the sunnies for a test drive before making your purchase. The included case is ready to toss in your favorite travel tote for your next beach adventure.
Specifications:
Fit: Oversized
Protections: Polarized 
Size: 146 mm
Frame material: Metal
Pros: 
Gold metal accents
Case and cloth included
Nose pads for support
Cons: 
Quay Australia Almost Ready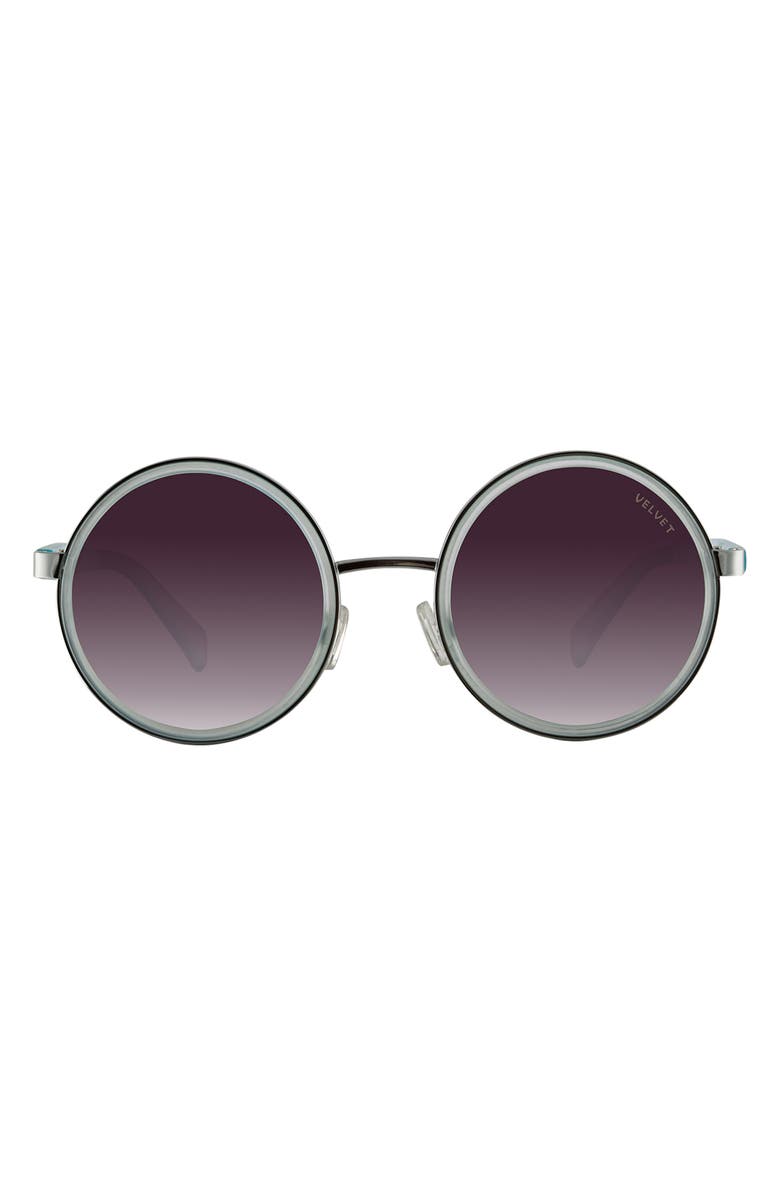 The round shape got its start in the 1960s but it's back in style and super fashionable. We love that it flatters so many face shapes, including oval, square, and heart shapes. While this only comes in one color, reviewers rave about how the mauve frame pairs well with the brown rose fade of the lens. 
Specifications:
Fit: Medium
Protections: 100% UV Protection 
Size: 140 mm
Frame material: Metal
Pros: 
Affordable
Vintage feel
Flattering on many face shapes
Cons: 
Comes in one colorway 
Round shape may not flatter all face types
Velvet Eyewear Essie 52mm Gradient Round Sunglasses in Blush at Nordstrom
What are the latest trends in women's sunglasses?
So many old-school styles are back in popularity, including oversized shapes, round, square, and oval shapes, as well as the classic cat-eye. In terms of patterns, tortoiseshell still reigns supreme and there's an increased emphasis on the use of recycled materials. 
How do I choose sunglasses that complement my face shape?
The key to choosing the right pair of sunglasses is going with a style that compliments your face shape. With so many styles to choose from, that shouldn't be a problem. If you have a round face, try to shop angular or square frames that help balance out your features. Square face shapes will look good with oval or round shapes and heart-shaped faces look best with wide frames that balance their features.  
Some tips for finding sunglasses that suit your personal style and wardrobe
Your sunglasses should fit your style and wardrobe, so it's a good idea to browse through your clothing before you shop for a pair of sunglasses and try to imagine wearing the pair of sunglasses with a few different outfits you love. When choosing frame and lens colors, consider the colors you wear often, but also what complements your skin tone and hair color. 
What are the different lens options available and what do they do?
Not all lenses are created equal. Although they tend to be pricey, the gold standard for sunglass lenses is polarized lenses, as these are designed for optimal protection from the sun and are efficient at cutting back on glare so you can see most clearly. Photochromic lenses are a solid second, since they automatically darken when they're in sunlight and can provide ample sun protection. Colored lenses go a long way, too, to reduce eye strain and improve contrast. 
Frequently asked questions (FAQs)
Which brand is best for women's sunglasses?
There are so many great brands on the market for women's sunglasses. Some of the most popular include Ray-Ban, Warby Parker, and Quay Australia. (These brands also make some of the best sunglasses for men as well, so if you're in the market for a gift, it's one-stop-shopping.)
Which sunglasses are best for eye protection?
The best sunglasses for eye protection are polarized lenses that offer 100 percent protection against the sun's harmful UV rays. If they're not polarized, check that they still offer protection against the sun, as well as glare, so you can see clearly even in direct sunlight. 
What are some considerations for prescription sunglasses for women?
When shopping for prescription sunglasses, you'll want to make sure that the pair blocks out 100 percent of the UV lights, as this is what is recommended by the American Optometric Association. You also want to make sure that the brand makes it easy to order your specific prescription with their style and lens offering.
How do I clean and maintain my sunglasses?
Cleaning your sunglasses regularly will help protect them from damage and enhance their longevity. Be sure to rinse them regularly in clean water and use a microfiber cloth to gently clean off dirt, sand, or other debris. Store them in their case when you're not wearing them to prevent scratches or other types of damage.
The information presented here is created independently from the TIME editorial staff. To learn more, see our About page.