Our evaluations and opinions are not influenced by our advertising relationships, but we may earn a commission from our partners' links. This content is created independently from TIME's editorial staff. Learn more.
A relaxing day on the sand isn't complete without the perfect beach chair. However, if you're stuck with a beach chair that happens to be uncomfortable or too heavy to carry, you'll probably take home a backache as the souvenir of your trip. 
Most of us have beach chairs that are fine, but probably not the best fit for our needs. That's because this is the kind of purchase you tend to make on the fly, buying whatever one is cheapest and in stock while you load up on sunscreen, coolers, beach towels, and beach umbrellas for your family. As someone who has lived at the beach for pretty much their entire life, I watch this happen every summer during tourist season. 
Instead, take a little bit of time to consider a different chair that better suits the way you sit, lounge, and travel. We've done the work for you with our round-up of the best beach chairs you can find online. Some factors we took into account were: Size, durability, weight, versatility, comfort, features, materials, aesthetic, and reclining range to name a few. And let's not forget cupholders! 
How to choose the best beach chair
Though it seems like the only choice to make when selecting a beach chair is the pattern of its fabric, there's actually way more than meets the eye when making this purchase:
What are you willing to pay for a beach chair?
Beach chairs range in price from $20 basic sand chairs designed to get you through a summer, to $300+ designer beach chairs with top-of-the-line marine fabrics and teak frames. The average is between $30-90 for a beach chair that adjusts, includes a cushion for your head, cupholders, carrying straps, and other convenient features. 
What materials make a beach chair durable?
The cheapest beach chairs often are made of materials that won't last the summer, like nylon (nylon breaks down when exposed to the sun) and cheap steel (which rusts quickly). Aluminum frames withstand the elements a bit better, and are lightweight. Seats made of polyester or canvas (especially marine canvas) are less likely to fade in the sun or weaken from being exposed to water and sunlight. Tip: Look for fabrics with at least a 600 denier. Denier refers to the thickness of the yarns used to weave the fabric—the higher the denier, the more durable the fabric. 
Are you able to comfortably carry the chair?
Weight can be an issue with beach chairs. A difference in a couple pounds is noticeable when you're walking to and from the beach. Look for chairs under 12 pounds, along with features like backpack-style straps, slings or storage bags for a comfortable carry.
Is the chair the right height for you?
The taller you are, the less comfortable a just-above-the-sand chair or a sling-style chair will be. Instead, look to camping-style folding chairs with a seat height at least 17-19 inches from the ground. This is also a good recommendation for those with mobility issues, are pregnant, or have to frequently get up. 
Is it easy to clean?
Being able to hose off sand, salt, dirt and other remnants of your beach day will help extend the life of your chair. Additionally, remember that features like built-in coolers will need to be cleaned regularly—if moisture remains in any little crevice, mildew will soon follow.
Our top beach chair picks
If you told me I could only have one beach chair for the rest of my summers, this Tommy Bahama one would probably be it. At a glance, it checks all of the boxes in terms of base features. With a cup holder, bonus phone holder/extra pocket, padded backpack straps, and a relatively light weight, to name a few. And don't sleep on the 5 reclining positions, although it'll be a quality nap if you do. You'll be hard-pressed to make a trip up to the beach without spotting at least a dozen of these classics.
Specifications:
Dimensions: 30 inches (height) x 24 inches (depth) x 25 inches (width) 
Weight: 7.82 pounds
Weight capacity: 300 pounds
Material: Aluminum (frame), polyester (fabric), plastic (accessories)
Colors: 3 choices of colorful patterns
Carrying Strap: Padded backpack straps
Reclining: 5-position
Cup holder: One (fabric), cell phone pocket
Pros:
Super comfortable, padded backpack straps, an excellent headrest, and bonus zipper pouches on the back for your magazines, snacks, etc.
Fun colors and patterns available. You can also find a great deal for a two-pack from this retailer.
Five reclining positions, all super comfortable. I'm normally not a "full recline" person, but I make an exception with this chair.
Cons:
Personally, I prefer a hard plastic cup holder that tapers down to fit a variety of cup designs, cans, bottles, etc. 
Tommy Bahama Camping Chair Blue Pineapple
When I picture a chair ideal for the little growing members of our family, my non-negotiables are  comfort, functionality, longevity, and especially safety. Aside from a sturdy alloy steel frame and durable indoor/outdoor polyester, this chair has a ton of safety features that will keep your littles safe and sound while you're enjoying the beach. These features include a removable five-points safety harness, removable sun canopy, and flared leg system to help with stability.
Specifications:
Dimensions: 24.5 inches (height) x 22.75 inches (depth) x 23 inches (width)
Weight: 4.9 pounds
Weight capacity: Up to 75 pounds (from 3 months)
Material: Alloy steel (frame), indoor/outdoor polyester (fabric)
Colors: Gray, pink, teal
Carrying Strap: Collapsible with separate carry case
Reclining: No
Cup holder: One (fabric), bonus detachable food/activity tray
Pros:
This chair is fantastic for growing children. Safe enough for infants, but versatile and adjustable through school-age (up to 75 pounds). 
Removable snack tray to keep sand on the beach and out of your child's summer snacks.
Cons:
It goes without saying this is not a high chair. Just be aware that the height of this chair is ideal for relaxing on the beach so your little ones can sit at your level. 
There also could be more fun patterns to choose from.
Best for toddlers/children
Baby Delight Go With Me Jubilee Deluxe Portable Chair, Removable Canopy, Gray
Whether you are like me and you are navigating the "joys" of chronic lower back pain, or need a chair that is higher off the ground than a normal beach chair for easy sitting and standing, this simple-yet-effective high-back beach chair has you covered. The full height of the chair is 35.5 inches from the sturdy steel legs to the top complete with padded headrest. The seat height is 16 inches, which is roughly double the average height of most chairs, and makes it easy to get in and out of the chair. It's this feature that would also make it the best beach chair for seniors, tall people, and anyone who wants to save their knees. Good to know: This seat height is also recommended for a comfortable camping chair.
Specifications:
Dimensions: 35.5 inches (height) x 23 inches (depth) x 25 inches (width)
Seat Height: 16 inches
Weight: 12 pounds
Weight capacity: 300 pounds
Material: Steel (frame), polyester (fabric), wood (armrests)
Colors: Red, Blue, Blue Stripe
Carrying Strap: Backpack straps
Reclining: 4-position
Cup holder: One (fabric)
Pros:
This chair is designed for almost anybody to use, but it really stands out for those of us who need a higher back for support and seat height for easy up-and-down. (16 inches seat height and a 35.5 inch overall height).
Sturdy build and very simplistic in design. Comfortable and practical.
Cons:
The tradeoff for the extra heights is a slightly higher carrying weight of 12 pounds. The backpack straps help with that extra weight, but it's something to consider if you are concerned about carrying capacity or a longer walk to the beach.
Personally, I'm a fan of plastic armrests for longevity/ease of cleaning. So if that's what you're used to, this may be something to consider. 
Caribbean Joe Folding Beach Chair, 4 Position Portable Backpack Foldable Camping Chair with Headrest, Cup Holder, and Wooden Armrests, Red, 33.5"D x 3"W x 25"H
There aren't many quality beach chairs without backpack straps for easy carrying. So, finding the best backpack chair was no easy task just based on the sheer number of options. I took into consideration not only the comfort provided by the straps themselves, but also thinking about why you want a backpack chair. This chair is so feature-rich that you won't need to bring anything else with you, which means it also takes the place of a bulky beach bag. Keeping your hands free for your iced coffee and high fives. It comes with an XL Cooler+ pouch to keep your beverages and cold snacks safe from the sun, a large rear storage net for reading material, snacks, sunscreen, and more, and a rear towel bar that doubles as support for a full reclining position. 
Specifications:
Dimensions: 32 inches (height) x 17 inches (depth) x 19 inches (width)
Seat Height: Not listed
Weight: 8 pounds
Weight capacity: Not listed
Material: Aluminum (frame) 
Colors: 3 choices of colorful patterns, 1 solid color (blue)
Carrying Strap: Padded backpack straps
Reclining: 5-position
Cup holder: One (fabric), cell phone pocket
Pros:
Extra large XL Cooler+ pouch, large storage net, fabric cup holder and cell phone pouch, and rear towel bar. All the storage you could need to be a one-person beach party and it keeps your hands free. 
This chair also boasts a surprising amount of comfort and a variety of seating positions. Complete with lace-up seat suspension, extra side padding, and bar-less thigh support. The towel bar also doubles as a support to fully recline for maximum relaxation.
I'm a fan of the lightweight frame and surprisingly thin profile for storage in your vehicle or home.
Cons:
The lace-up seating, aluminum frame, and bar-less thigh support may wear and tear a bit quicker than other chairs.
Best backpack beach chair
Homevative Cooler+ Folding Backpack Beach Chair with 5 Positions Towel bar XL Cooler Pouch Storage Net Cup and Phone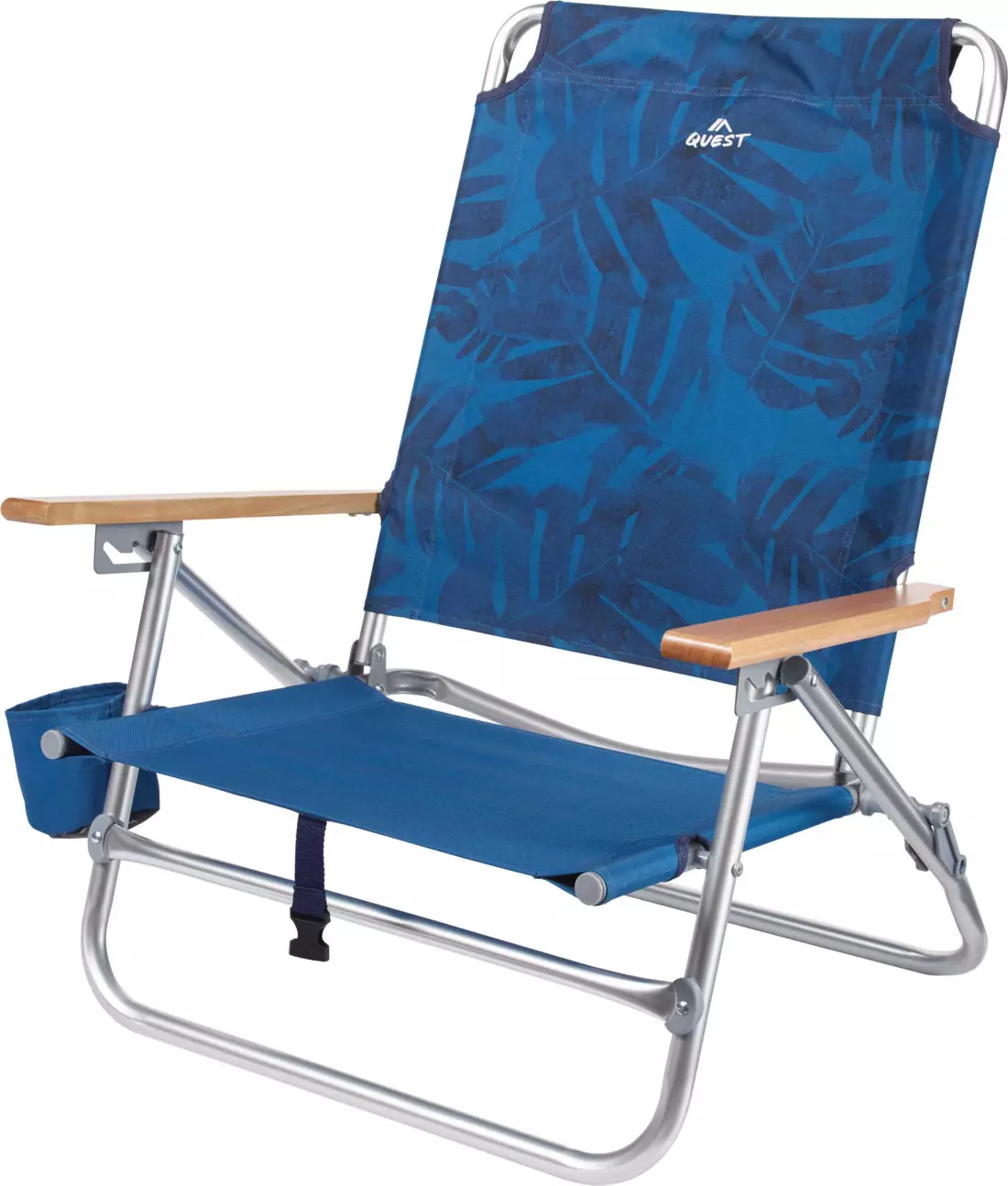 After looking through dozens of budget-friendly chairs, I kept running into the same issues: no cup holder, no backpack strap, only one position, less-than-ideal materials, etc. This chair is what all of the souvenir shop/grocery store/bargain chairs aspire to be. It's tough to find a good value without sacrificing quality, enter the Quest Porta-Lite 3. Complete with an extra large cup holder with mesh bottom to allow sand to pass through, 3-position reclining, comfortable backpack straps, and an awesome price.
Specifications:
Dimensions:  31.8 inches (height) x 22.5 inches (depth) x 24.8 inches (width)
Seat Height: Not listed
Weight: Not listed
Weight capacity: 225 pounds
Material: Aluminum (frame), wood (armrests)
Colors: 3 colors/patterns
Carrying Strap: Backpack strap
Reclining: 3-position
Cup holder: One (fabric)
Pros:
Affordable. $30 for a chair that'll last you a while is a fantastic deal. It's also great as a spare for a friend in need or a backup chair. 
Doesn't sacrifice portability with comfortable backpack straps and a lightweight aluminum frame.
Cons:
While the Porta-Lite 3 does have a 3-position reclining feature, it lacks a headrest—which can get annoying for those who are taller and/or want to lounge out.
Quest Porta-Lite 3 Position Beach Chair, Aluminum
When considering the best reclining beach chair in 2023, realize that a five-position recliner isn't as uncommon as it used to be. However, while there are plenty of loungers that are simple and effective, you'll often wind up feeling overheated laying out on what is essentially a polyester towel. Then, I found the Ostrich. This chair is perfect for virtually any position you find the most comfortable when you want to lay out on the beach and catch some rays. Not only are there five reclining positions when seated, there is also a three-position leg rest. If you really want to get the whole sunbathing experience, it reclines completely flat. The fabric is made of a breathable mesh for airflow, and the headrest flips back if you want to lay face down without feeling smothered and hot using a towel as a pillow. Oh, and it has a cup holder.
Specifications:
Dimensions: 39.73 inches (height) x 60.76 inches (length) x 28.10 inches (width)
Seat Height: 12 inches
Weight: 9.5 pounds
Weight capacity: 275 pounds
Material: Aluminum (frame), wood (armrests)
Colors: Blue
Carrying Strap: Shoulder strap
Reclining: 5 positions, 3-position footrest
Cup holder: One (plastic with mesh bottom)
Pros:
Five-position reclining along with a three-position leg rest, allowing you to lay completely flat above the sad.
The mesh fabric allows airflow and helps to cradle you over the sand.
Cons:
The shoulder strap is great, but backpack straps would be better.
The fully reclined lounger position is 60.76 inches, so your feet will be hanging over if you're taller than 5'0. Still comfortable (I'm 5'9), but something to consider.
Ostrich 3 N 1 Lightweight Aluminum Frame 5 Position Reclining Beach Chair Blue
Most beach chairs are ideal for most people. However, some folks need something durable, heavy-duty, and larger scale. Whatever your reason, this chair has you covered. If you're concerned about durability against the elements and constant use, you'll love the rust-resistant anodized aluminum frame and triple-coated/quick-dry 600 denier polyester fabric which provides a hearty 500-pound weight capacity. The armrests are just as sturdy and tough, made from four-inch wide solid hardwood with a weather and scratch-resistant coating. 
Specifications:
Dimensions: 42 inches (height) x 22 inches (length) x 32 inches (width)
Seat height: 22 inches
Weight: 16 pounds
Weight capacity: 500 pounds
Material: Anodized aluminum (frame), treated hardwood (armrests), double-layered polyester (fabric)
Colors: Green, blue, striped
Carrying Strap: Padded soft plastic shoulder strap
Reclining: 4 positions
Cup holder: One (plastic, "swing-out"), front lower pocket (fabric), arm pocket (fabric)
Pros:
Sturdy materials: anodized aluminum frame,  triple-coated/quick-dry 600 Denier Polyester fabric, and weather/scratch resistant four-inch wide hardwood armrests.
500 pound weight capacity, super-tall 22-inch seat height. And a luxurious 32-inch width and 22-inch seat so you won't feel cramped.
A surprising amount of extra storage including a swing-out plastic cup holder, a front lower pocket ideal for magazines and books, and a side pocket with a phone sleeve.
Cons:
This is a heavy chair at 16 pounds (average chairs weighing around 10 pounds). 
It features only a shoulder strap for carrying.
Best for heavier or tall people
Big Jumbo 500 lbs XL Aluminum Heavy Duty Beach Chair for Big & Tall - 4 Reclining Positions
The first thing I think about when I see a chair like this is convenience. This chair is primarily designed for portability. It collapses down (instead of folding in half, like most beach chairs) to fit compactly into a handy shoulder-strap bag, which makes the seven pound chair even easier to carry. This chair is perfect to have in your car just in case you want to make a quick stop for some sun. But you don't sacrifice comfort either. The single position still lends itself to kicking your feet back and getting your toes in the sand. And don't worry, there's a head pillow and cup holder. This pick can also go beyond the beach as well, making it a great addition to your camping gear.
Specifications:
Dimensions:  33 inches (height) x 30 inches (depth) x 23 inches (width) 
Seat height: 9 inches
Weight: 7 pounds
Weight capacity: 300 pounds
Material: Aluminum (frame), polyester (fabric), foam (armrest padding)
Colors: Teal, blue
Carrying Strap: Thin profile shoulder strap carry bag\ Reclining: No
Cup holder: One (fabric), front storage pouch (mesh/fabric)
Price: $59.99 for one, $109.99 for two
Pros:
Superb portability delivered by a lightweight (7 pounds) aluminum frame and extremely low-profile folded size of 30.3 inches (height) by 6.7 inches (depth) by 7 inches (wide) that fits into a carrying bag (included).
Affordable, while still feature-rich.
Cons:
Even though it's still comfortable, it's only a single-position recline.

No armrests. It does come equipped with durable foam padding on the curved aluminum "arm rests", but not genuine flat arm rests.
Best folding lightweight beach chair
KingCamp Folding Beach Chair for Adults Portable Lightweight Backpack with Cup Holder Pocket Headrest Carry Bag for Outdoor Camping Sand Concert Lawn Festival Sports, Oversized, Blue-high Back
When is a beach chair not only a beach chair? When it can fold into a wagon-style storage cart—and the Mac Sports Beach Day Lounger Combo Cart exactly does that. What I like the most about a chair like this is how many situations it lends itself to. If you're headed to the beach with your friends or family and need to bring a cooler, towels, a volleyball, sandcastle buckets, sunblock, a frisbee, a beach ball, and still have room for some sandwiches and maybe a floatie or two; you're in luck. You can carry up to 100 pounds of cargo on two heavy duty all-terrain wheels with ease using the telescoping handle. Once you've arrived on the beach and unloaded the beach party, this handy cart transforms into a super comfortable lounger with 4 reclining positions, a removable headrest, and a foot rest. This chair also has a surprisingly fast breakdown and set up speed, roughly five to ten seconds once emptied. Don't worry, it also has a relatively small folded profile once you're ready to load it back into your vehicle.
Specifications:
Dimensions (chair): 23.6 inches (height) x 60.6 inches (length) x 30.3 inches (width)
Dimensions (cart): 40.9 inches (height) x 30.3 inches (length) x 33.9 inches (width)
Seat height: Not listed
Weight: Not listed
Weight capacity: 200 pounds (seat), 100 pounds (cargo)
Material: Aluminum (frame and handle), polyester (fabric), heavy-duty plastic (wheels)
Colors: Blue
Carrying Strap: Telescoping handle for cart
Reclining: 4 positions
Cup holder: None
Pros:
100 pounds of cargo capacity and 3.9 cubic feet of space, you won't need to have your hands (and everyone else's) occupied with beach bags, coolers, beach balls, etc.
Heavy-duty all-terrain plastic wheels to help get your stuff from the car to the sand. And a handy, sturdy, and convenient telescoping handle.
No comfort is sacrificed as this cart easily transforms into a four-position lounger with a headrest and footrest.
Cons:
Not sure if it's an oversight or a design restriction, but not having a cupholder is usually a deal breaker for me. Although it's hard to not make an exception in this case considering the storage provided.
Mac Sport 2-in-1 Beach Camping Folding Lounger Chair & Wagon Cart w/ Locks Blue
How we selected the best beach chairs 
In a perfect world, every chair would be tested for five to ten years for a hundred hours per year. However, there are reliable ways to sufficiently judge a beach chair to choose one that's high quality and will last a long time. Selecting a durable, weather-resistant frame and fabric are first and foremost. Steel is fantastic for longevity, and aluminum guarantees strength and that it'll be lightweight. Powder coating or treated material is a bonus as well, since the only thing worse for metal than water, is saltwater. A sprayed or treated polyester not only extends the lifespan of your chair fabric, it also makes them super easy to clean. Backpack straps are almost always a must unless you're looking at a cart/chair combo or something with a carry bag. I considered all of these aspects, along with almost a lifetime of personal experience from living at the beach, to select the best beach chairs.
Tips for maintaining and extending the lifespan of beach chairs
There are two major components that will drastically impact the longevity of your beach chair—sand and water. Sand can cause far more problems than just being itchy in your bathing suit. Any amount of sand that winds up in the mechanical parts of your chair can begin to wear away at the hardware and protective finish on the metal. Not only will this make the chair more difficult to open, close, and recline over time, it will also increase the likelihood of rust. Once the sand has worn down the finish, the saltwater takes over. Saltwater has an increased presence of dissolved ions leading to a faster rusting of unprotected metals. And the abrasive nature of the saltwater will wear away at the polyester much faster too.\ \ All that being said, taking care of your beach chair to make sure it will last is simple. I find thoroughly rinsing down your chair with the hose, drying the metal parts with a towel—focusing on the mechanical portions, and then allowing the chair to air-dry in a garage or out of the sun under an awning—helps to extend the life of the chair materials.
The different types of beach chairs
There are many styles of beach chairs on the market, and the type you choose depends on your lifestyle and comfort preferences. Here are the most popular beach chair options:
Folding beach chairs: If you want something that is not cumbersome, still has some essential features like headrests and a couple of reclining positions, you'll find that low-profile folding chairs are perfect for you.
Reclining lounge-style beach chairs: Generally, these are the longer lounge-style chairs that can fold up to be as flat as a typical beach chair. When unfolded, the lounge can be used completely flat (sometimes, these chairs also have a cut out to rest your face, so you can lie on your stomach comfortably. 
Backpack-style beach chairs: The ultimate in portability, these are beach chairs that fold down flat and have built-in backpack straps. For the most comfortable carry, look for ones that have adjustable straps. 
Canopy beach chairs: This new style of beach chair has a built-in canopy or umbrella that is part of the chair (usually, the typical folding style of beach chair). The additional canopy does add a slight bit of extra weight. Depending on the complexity of the canopy, it may add to your set-up and take-down time, as well. Also, if you do not fold down the canopy after going into the water, that part can catch an unexpected breeze and tip over your chair. 
Sling-style beach chairs: These tend to have wood frames and a sling-style seat, and can fold down flat to carry. These offer less support than other styles, though the hammock-like seat is comfortable if you're not looking for back support. Sling-style chairs are more difficult to carry, due to their size.
Frequently asked questions (FAQs)
What is the best material for a beach chair?
The best materials for a beach chair are ones that can stand up to months of sun and humidity exposure without getting weak. Here are the common materials used, and how they fare in the elements
Aluminum: This is lightweight and resistant to rust and corrosion. 
Powder-coated steel: This may make a chair feel heavier, but the powder coating adds protection against rust and corrosion as well.
Teak: Frames made of teak are beautiful, but heavier. While teak wood does not rust for obvious reasons, it does get a patina with age, usually fading to a gray color. Teak wood chairs are generally more expensive, and heavier.
Polyester: This fabric dries quickly and does not fade from the sun. However, polyester can be of varying quality. Thicker is usually better, rather than a thin polyester that may fray at stress points (especially the seams near the frame).
Marine-grade canvas: Designed to stand up to the sea, marine grade canvas is sometimes used for beach chairs. It's thick, but also can be expensive.
Sunbrella: This brand of performance fabric is made from acrylic and designed to stand up to almost constant outdoor exposure. 
What is the difference between a beach chair and a lawn chair?
A beach chair tends to be lower to the ground than a lawn chair and is generally made with materials that can stand up to saltwater, salt air, and the sun. They're also designed to be easier to carry, and often include features like coolers and drink holders that lawn chairs do not have. 
How do you clean beach chairs?
Cleaning your beach chair will depend largely on the materials it was made from. In general, after a day at the beach, brush off any excess sand, especially in the joints, gears or other mechanisms in the chair. Most chairs can hold up to a spray down with a hose. Let the chair dry thoroughly, then place indoors, in a garage, or even in your car. 
How should you store beach chairs?
When you're not using beach chairs, store them indoors if possible, to prevent further exposure from sun and rain.
The information presented here is created independently from the TIME editorial staff. To learn more, see our About page.