Our evaluations and opinions are not influenced by our advertising relationships, but we may earn a commission from our partners' links. This content is created independently from TIME's editorial staff. Learn more.
When you're going to the pool or beach, your focus should be on having fun—not on an uncomfortable swimsuit. However, shopping for bathing suits online can easily be an overwhelming experience, especially since you can't get a feel for material (what's opaque in a photo can be very sheer in person) or try it on right away. That's why we did the legwork to find the best swimsuit options for your lifestyle. So, pack your beach tote, get out the sunscreen, grab your flipflops and your favorite sunglasses, and get ready to make a splash.
Our top picks for the best swimsuits for women
If there's one suit that looks good on anyone—at any age or size—it's the Amalfi One Piece by Andie. It comes in a wide range of sizes and is made of a stretchy nylon and spandex fabric that holds its shape well in between washes. If you're worried that everyone and their mother will be rocking this swimsuit this summer, rest assured it comes in 15 prints and colors, as well as three different textures, including ribbed, smooth, and novelty, so you can rock yours in your own unique way.  
Specifications:
Sizes: XS-XXXL
Material: 82% nylon and 18% spandex
Pros: 
Comes in 15 prints and colors as well as sizes
Can be fit to a classic or long torso
Removable cups and adjustable straps
Cons: 
Straps aren't as durable as reviewers would like
No matter what age or stage of life you're in, you may not be comfortable showcasing your midsection—and that's more than OK. Luckily, there's no shortage of bathing suits on the market that specialize in tummy control, like this one from TA3, which gained notoriety on the show Shark Tank. This swimsuit still allows you to flaunt your figure and holds its form whether it's wet, dry, or recently washed. It's made of lightweight shapewear material, and features a lace-up back that cinches your waist. 
Our team tested the TA3 Hi-Cut Plungey (which has a higher leg opening than the Plungey) and the TA3 Hi-Cut Squarey to see if the suits lived up to the hype. (The TA3 swimwear line has been all over social media lately.) Our tester was initially skeptical of the idea of a swimsuit that essentially functioned similar to shapewear, in terms of comfort in the sun. She reported that the swimsuit fabric was actually surprisingly lightweight—in fact, even more lightweight than a non-shaping swimsuit. (While the fabric was lightweight, it was not see-through.) She said the swimsuit was not constricting at all during a full (and active) day at the beach and did not feel hot to wear. 
As for the TA3's signature lace-up back, she found that this performed exactly how you'll see in the brand's videos to create an instant hourglass silhouette. The lacing is not constricting and can be adjusted based on your comfort level. While the leg opening is a bit high-cut in the front, the swimsuit stays put. (If you're not a fan of that high-leg look, opt for the standard leg opening.) Overall, our tester was a huge fan of this swimsuit.
Specifications:
Sizes: XS-4X
Material: nylon/spandex
Pros: 
Wide range of sizes
Universally flattering
Sculpts midsection without feeling overly tight, can customize "cinch" level
Lightweight, not constricting
Great color options
TA3 offers an extensive selection of silhouettes, necklines, and leg styles
Cons: 
Pricey
Can run small—size up if you're between sizes
There's a reason this swimsuit has been dubbed the "unicorn of swimsuits." It's super versatile and flatters all figures, especially those with curvy shapes. Like the Almafi, it comes in 15 colorways, yet even more sizes ranging from 0-24. It's environmentally sustainable, designed from a composition of 78 percent recycled polyamide, which is soft and stretchy, and 22 percent elastane, which is sweat-wicking and body-oil resistant. We love the amount of chest support this suit provides. It's designed without cups or padding, but still holds the girls in securely.  
Specifications:
Sizes: 0-24
Material:  78% recycled polyamide, 22% elastane
Pros: 
Comes in wide range of sizes
Flatters all figures
Made from environmentally sustainable fabric
Cons: 
Doesn't come with built-in cups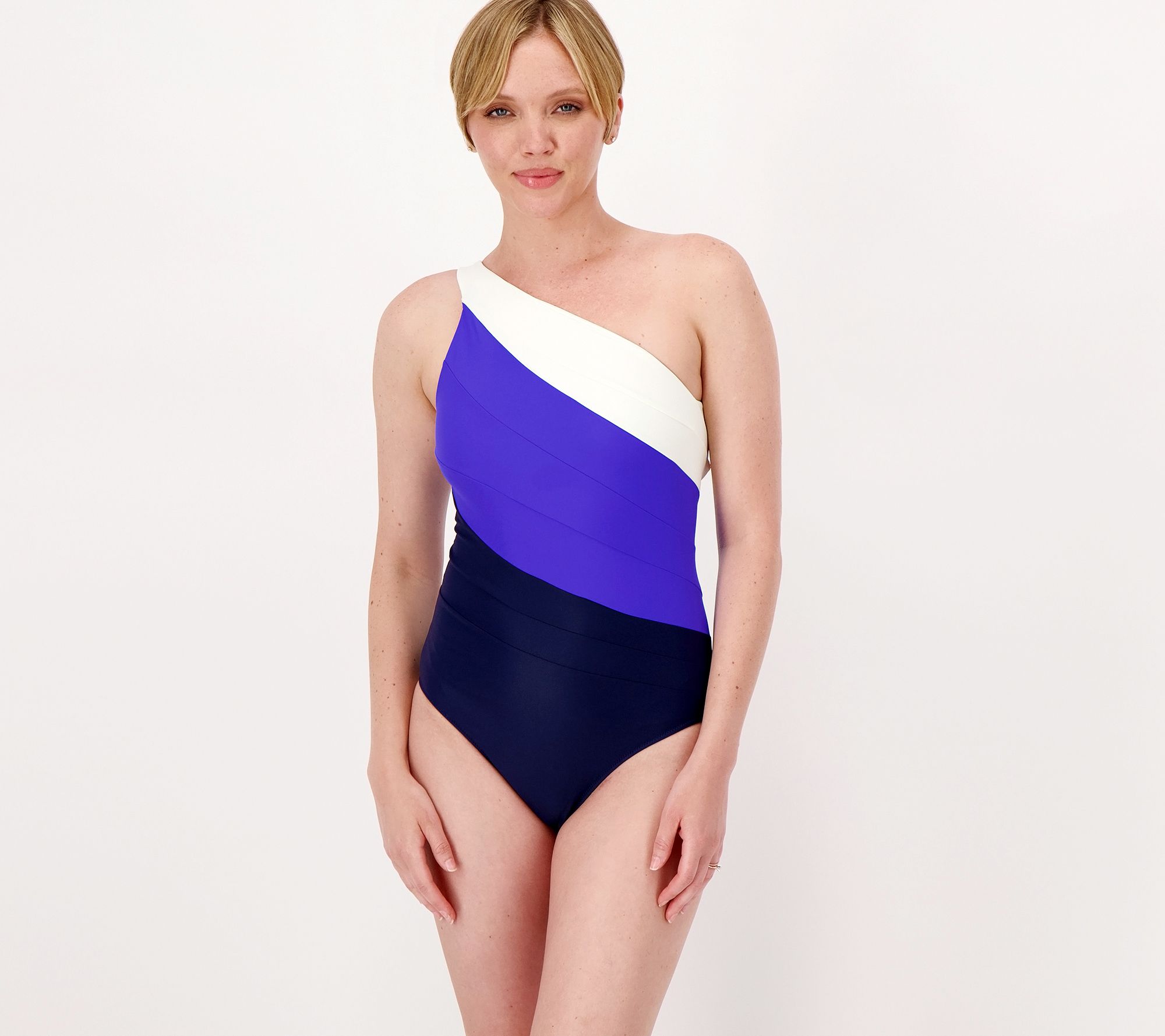 Summersalt The Sidestroke One-Piece Swimsuit

Few swimsuit brands go up in sizing all the way into the 30s, but that's what makes Swimsuits for All such a unique brand. They're body positive, include a wide range of sizes, and offer stunning styles and prints for all to enjoy. Their Sarong One Piece flatters so many body types, especially those plus-size, as it has wide straps, full bust support, tummy-control front lining and a draped front that acts like a sarong. 
Specifications
Sizes: 8-34
Material: 82% nylon, 18% spandex
Price range: $26.98–$92.00
Pros: 
Has a built-in sarong
Comes in sizes 8-34
Has full bust support
Cons: 
Straps are non-adjustable
Sarong/skirt adds a light extra layer that may feel hot
Swimsuits for All Sarong One-Piece Swimsuit
The secret to this swimsuit being super supportive for large busts is that it's made from a company that specializes in bras. It's no surprise that they've mastered the sexy, yet comfortable and supportive swimsuit top, as well as the matching high-waisted bottom that's equally flattering for full figures. We love how they have a little calculator that lets you find your perfect size as well as the fact that it has an adjustable back closure that lets you find your most ideal fit. 
Specifications:
Sizes: 8 band sizes (30-44) and 8 cup sizes (A-H)
Material: 78% Recycled ECONYL® Polyamide, 22% Elastane
Pros: 
Suit comes in 53 sizes
Offers slide and set closures with band adjustability
Cons: 
Silhouette fit might not be for every figure
Need to buy bottoms separately
CUUP The Balconette Swim Top
For a bikini top and bottom set, you can't get much more affordable than Cupshe, which has been rising to the top of the fast-fashion ranks with its colorful swimsuits and flattering styles. This one features a tie-dye pattern, textured fabric and a scoop neck that looks good on so many different body types. It's perfect for a beach vacation, European escape or simply soaking up sun in the comfort of your own backyard. 
Specifications:
Sizes: S-L
Material: 90% polyester, 10% spandex
Pros: 
Affordable
On-trend style
Flattering cut
Cons: 
Limited sizes available
No adjustable straps
Cupshe Tie-Dye Wash Textured Scoop Neck Top & High Waist Bikini Set
This one-piece is worth the splurge. It's flattering and curve-defining, with a removable belt that adds a level of sophistication. The bandeau neckline prevents any tan lines and the side boning ensures strong shape definition. You also don't have to worry about this suit sliding down, since it's designed with gripper tape on the interior to keep the swimsuit in place. 
Specifications:
Sizes: 4-12
Material: 74% polyamide, 18% polyester, 8% spandex/lining: 82% recycled nylon, 18% elastane
Pros: 
Sophisticated style
Built-in cups have an uplifting effect
Belt can be removed 
Cons: 
Comes in limited sizes and colorways
Expensive
Seafolly Australia Isla Rib Fold Down Bandeau One Piece
Comfortable, quick-drying, and flattering—all for under $30? This sporty swimsuit top is a steal. (Coordinating bottoms are available in a ruched boy short style, fitted board short, or bikini bottom.) The high-neck racerback top is supportive without feeling overly tight or flattening, staying in place for any beach activities your day may bring. The top also is stylish enough to wear out and about.
Specifications:
Sizes: XX-Small to X-Large
Material: 78% polyamide, 22% elastane
Pros:
Lightly padded
Material dries fast
17 color options
Cons:
CRZ YOGA Women's Racerback Bikini Tops Quick Dry Modest Swimsuit Top Sports Padded Bathing Suit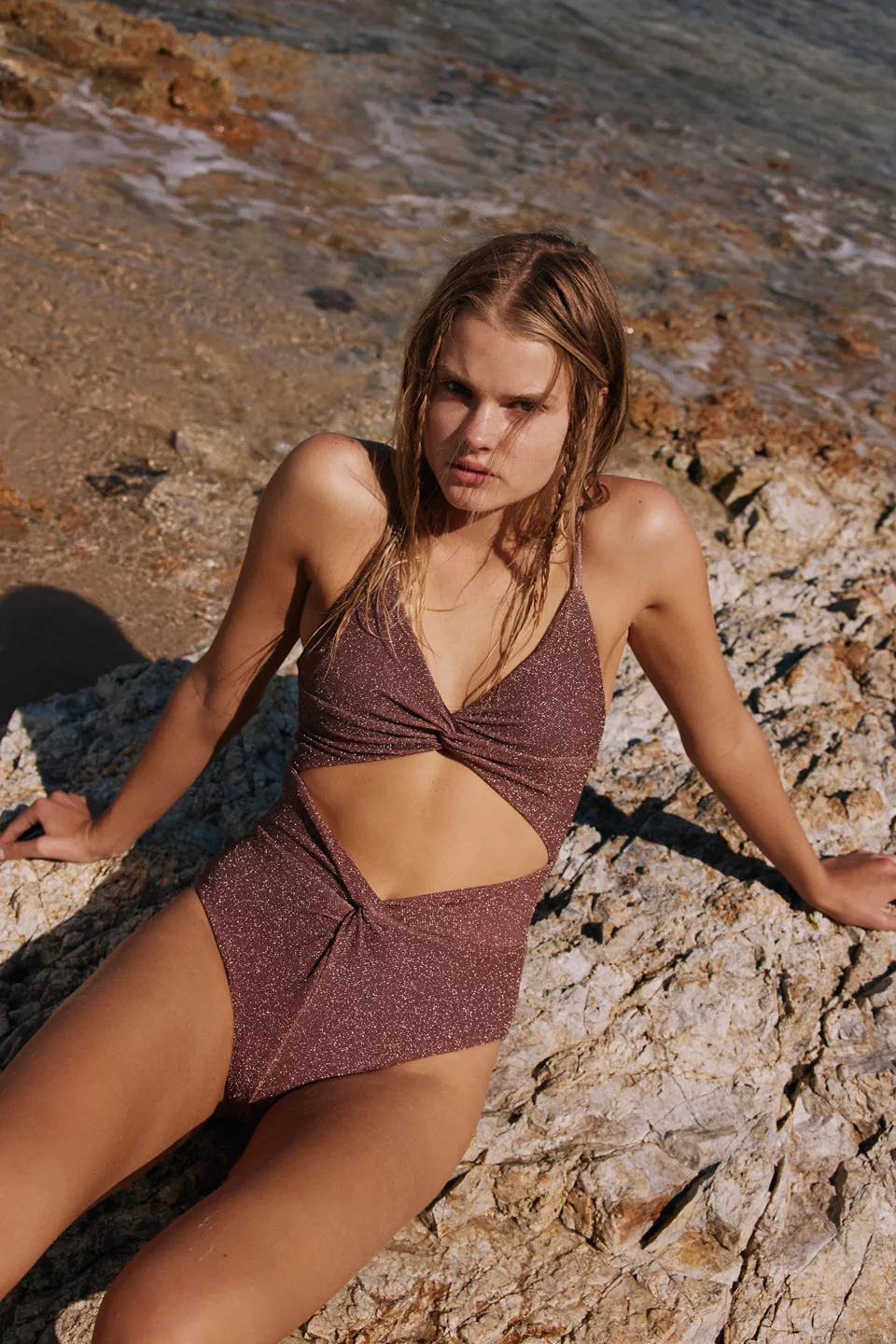 This swimsuit is designed to be a head-turner, with its glittery fabric and unique center cutout. Though it's form fitting, it's designed for comfort, thanks to its stretchy fabric made from nylon and spandex and adjustable shoulder straps. The only drawback to this suit is that its sizes are limited—it only comes in five sizes ranging from XS to XL.
Specifications:
Sizes: XS-XL
Material: 71% nylon, 24% metallic, 5% spandex
Pros: 
Eye-catching center cutout is on-trend
Adjustable shoulder straps 
Cons: 
Metallic fabrication can wear over time
Limited sizes
Beach Riot Aviva One-Piece Swimsuit by Beach Riot at Free People, Chocolate Opal, XL
How to choose the best swimsuit 
While style matters, you'll want to invest in quality swimwear that fits well and is comfortable to wear. Of course, as with all types of clothing, swimsuits vary significantly in all areas, including material, sizing, price, and performance. 
How we selected the best swimsuits for women
To help you weigh your options, we've compiled a list of the best swimsuits on the market designed for women. We combed through customer reviews and relied on first-hand opinions about which swimsuits were the most comfortable, flattering, and stylish for all body types, with individual preferences in mind. 
Frequently asked questions (FAQ)
What style of bathing suit is the most slimming?
Since everyone's body is different, what might look slimming on one person might not look quite as slimming on the next. However, there are a few features in a swimsuit that can be flattering for most body types and that includes swimsuits with tummy control—built-in shapewear that helps smooth and flatten the stomach area. High-waisted bikini bottoms, too, can help make the legs appear longer and tuck in the tummy. 
How many swimsuits should a woman own?
There's no golden number when it comes to how many swimsuits a woman should own, but 3-5 can help you get through the summer season without feeling like you're wearing the same swimsuits on repeat. 
What swimsuit is best for a straight body shape?
The best swimsuit is one that makes you feel your best. According to stylists, swimsuits that are most ideal for individuals with a straight body shape are those that have plunging necklines and high-waisted bottoms, as well as side ruching, to enhance the look of curves. 
How do you hide belly fat in a swimsuit?
Swimsuits with tummy control, that help hold in the mid-section, can be useful for hiding belly fat in your swimsuits. Ruching can also help to create texture in areas that are bulging. 
How do I take care of my swimsuit to make it last longer?
To enhance the longevity of your swimsuit, be sure to rinse it out after each use to get rid of any sunscreen, chlorine or sweat buildup. You may also want to wash your swimsuit by hand and hang it to dry to prevent the fabric from losing its shape. 
How can I ensure proper support and comfort in a swimsuit?
To ensure proper support and comfort, be sure to shop your size and pay attention to the cut of the swimsuit. Comfort is key, so you should be able to move freely in your swimsuit and wear it for long periods of time. 
How do I determine the right size for a swimsuit?
As with any type of clothing, sizing varies when it comes to swimsuits. It's a good idea to take recent measurements of your body and check the size chart provided on the website to make sure that you're getting as close as possible to the best size for you.
The information presented here is created independently from the TIME editorial staff. To learn more, see our About page.