Our evaluations and opinions are not influenced by our advertising relationships, but we may earn a commission from our partners' links. This content is created independently from TIME's editorial staff. Learn more.
Sweatpants are no longer just something you throw on to cover up at home or wear in winter months. With the right fit and style, they can be worn around town or be the perfect travel companion. If you're looking for the perfect pair of pants to wear on a coffee run or an athletic pair of sweats to wear on a 10K run, we've compiled the list for you. From vintage-inspired fleece to trendy, luxe joggers, here are the best sweatpants for women you can find online. 
How to choose sweatpants
Choosing sweatpants comes down to just three factors: Fabric, weight, and fit. Sweatpants can be light-weight, medium-weight, and heavy-weight; they can be capri-length or ankle-length, and they can come in a variety of fabrics and finishes. Choose your perfect pair by considering if you want cotton fleece, a polyester blend, or newer fabrics like Spandex or Elastane that add breathability and stretch. Sweats made from a blend of cotton and polyester tend to be the most popular and also have great durability. There are usually two camps of fit for sweatpants: classic, with an elasticized waist and closed ankle, and open-leg, with an open pant bottom at the calf, ankle, or heel. An oversized fit is baggy and boxier like boyfriend jeans. A slimmer cut goes straight down from the hip to the ankle with just enough room in the seat. Find the perfect sweatpants by choosing the length, weight, and fit according to your needs. Additionally, make sure to double-check the brand's size chart (and know how to measure your waist for pants, along with your inseam, to find the right fit) before you purchase.
Our top sweatpants for women picks
Garment-dyed and washed with a special technique for incredible softness, these high-rise fleece joggers are meant to be softer than a vintage sweatshirt. They're designed to be your new essential. 
Specifications:
Size range: XXS-XXL
Fabric: Fleece made with 77% cotton and 23% recycled polyester
Style details: High rise, elasticized waist and cuffs, and slim through the hip and legs
Price: $40
What we like:
The banded slip pockets at the front
The comfy, high waist
The classic cut
What we don't like:
Some reviewers mention fading in bright colors
They often sell out in plus sizes
Most comfortable sweatpants for women
GAP High Rise Vintage Soft Joggers
When I randomly surveyed my Instagram followers on the best sweatpants, my DMs got overwhelmed with one word: Vuori. The Vuori Performance Jogger sweatpants might very well be a cult classic with over 28,000 reviews and a 4.85-star rating. Liz Wexler, an event producer and yoga lead for Elevated Experiential, stated, "These sweatpants are perfect for street-to-studio. They're super soft with just the right amount of stretch. And I always appreciate pockets."  Shopping tip: Vuori designs also made our lists for the best leggings for women, best yoga pants, and the best joggers for men.
Specifications:
Size range: XXS-XXL
Fabric: DreamKnit™, made with 89% recycled polyester and 11% elastane
Style details: Capri length, jogger-style sweatpants with pockets and drawstring waist
Price: $94
What we like:
The DreamKnit™ fabric, which is their softest premium stretch fabric
A variety of color options with a fun contrast drawstring
What we don't like:
That we can't wear them everyday
Softest sweatpants for women
Vuori Performance Jogger Sweatpants
There's a reason these have been a fan favorite for decades. They're a loose and comfortable, classic sweatpant with a timeless look that can last you for years. At under $20, these give you the quality you want from those high school track pants you wore for 13 years. 
Specifications:
Size range: S-XXL
Fabric: Fleece made of 65% cotton and 35% polyester 
Style details: Side seamed pockets, metal grommets drawstring, cinched ankle cuffs, and signature Hanes logo twill loop 
Price: $18
What we like:
The price 
The pockets
The longevity
What we don't like:
The softness-factor matches the price
Most affordable sweatpants for women
Women's Hanes Luxe Collection Lightweight Fleece Sweatpants, Size: XL, Blue
These classic-cut sweatpants are available in eight sizes, all the way up to 4x. The vintage style, with a drawstring cord at the waist and elasticized ankle, is a crowd pleaser. One reviewer stated, "Flattering sweats is not an oxymoron here! Comfort without looking too comfortable! They fit really well and are actually flattering. These sweatpants were an absolute must."
Specifications:
Size range: XS-4X
Fabric: Fleece made of 55% cotton and 45% polyester 
Style details: High-waisted drawstring cord, straight leg, and classic elasticized ankle 
Price: $35
What we like:
The extended size range
The ability to be machine washed
The higher waist, which is meant to sit one-inch above the navel
What we don't like:
Some reviewers stated the leg length was too long
Sells out quickly, selection can be slim online
Best size offerings in sweatpants for women
Old Navy Extra High-Waisted Vintage Sweatpants for Women
When I need to find anything for tall women, I lean on my Rockette friends. Some of them are as tall as six feet and they recommended the Athleta Venice Jogger. They're not the only ones who think this: This pant currently has 3,447 five-star ratings on Athleta's website. The tall length gives a whopping three inches extra in the inseam, so should fit even the tallest Rockette.
Specifications:
Size range:  XS-XL in Tall (30.5-inch inseam), XXS-3X in Regular (27.5-inch inseam), XXS-XL in Petite (25.5-inch inseam) 
Fabric: Sculptek Light™ fabric, which is a mix of Nylon and Spandex
Style details: Semi-fitted with a mid-rise waistband, two front slip pockets, and two back zippered pockets
Price: $98
What we like:
The range of sizes and lengths to fit almost anybody
The soft Sculptek fabric will last you years
Zippered back pockets keep your items secure
What we don't like:
Some reviews mention the waistband running large, so consider sizing down
Best sweatpants for tall women
Alala is already known for the best workout shirts and leggings, so we're glad they've added athleisure to their lookbook. One online reviewer said: "Unparalleled design and construction of these garments. As someone who has been in women's activewear design for 15+ years, I'm rarely impressed." We couldn't agree more. 
Specifications:
Size range: XS-XL
Fabric: 94% Modal and 6% Spandex
Style details: A soft fleece sweatpants with an elastic waist and flatlock seaming
Price: $145
What we like:
The lightweight, buttery-soft fabric
The easy pull-on fit
What we don't like:
The price point
Limited colors
Best quality sweatpants for women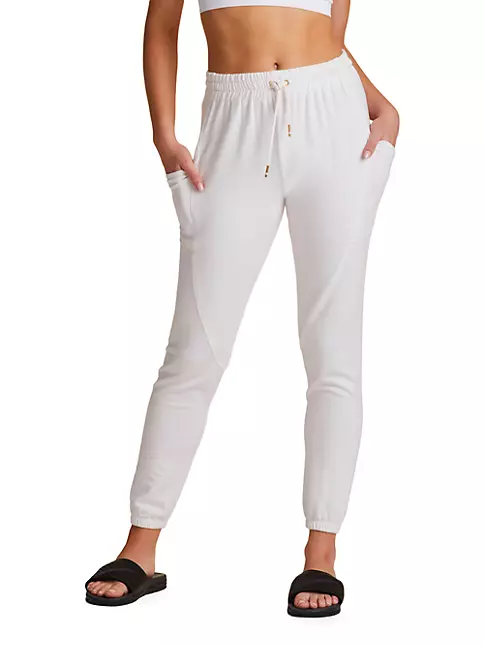 Women's Off Duty Sweatpants - Bone - Size XS
If you love the ultra-baggy look to your sweatpants, pick up these stylish sweats from Nike. With a classic Swoosh at the left pocket and a very generous fit in the hips and thighs, these are ready to be your favorites for home or on the move.
Specifications:
Size range: XXS-XXL
Fabric: Brushed fleece made of 80% cotton and 20% polyester
Style details: A ribbed waistline sits a bit higher on the hips, roomy legs, and seat 
Price: $70
What we like:
The loose fit can be used for athletics or athleisure
What we don't like:
While many online reviewers said they buy these in several colors, they also say the fleece can shed after washing
Best oversized sweatpants for women
Nike Sportswear Phoenix Fleece High-Waisted Oversized Sweatpants
Lululemon loves to create trends, not follow them. That's why women have been typing "Best Lululemon leggings" into internet search engines for years. You can walk around with that famous Ohm logo with Lulu's Scuba High-Rise Joggers, The carefully-crafted pants come in many sizes and two lengths (although, we say the full-length is our favorite) and a color range that changes every season.
Specifications:
Size range: 0-20 in 25-inch and 28-inch lengths
Fabric: Fleece made of 70% cotton and 30% polyester 
Style details: Drawstring waistband can be worn for a high-rise effect or folded over for a low-rise look
Price: $118
What we like:
They're the perfect match to the iconic Lululemon Scuba hoodie, so you can finally have a matching set
The thick fleece will keep you warm in the coldest climates
What we don't like:
Color drops tend to sell out quickly
Of course, you'll pay a premium for lulu. The  $118 price point leaves us wanting… less.
Most trendy sweatpants for women
Scuba High-Rise Relaxed Joggers Full Length
The sweatpant gods have smiled down upon those in their second and third trimesters. The supportive belly band in these high-waisted maternity sweats has been bragged about from mom to mom across the internet. One online reviewer said, "These are the perfect pants. They came highly recommended to me by other moms, and they did not let me down."
Specifications:
Size range: XS-XL
Fabric: Spacedye, their buttery-soft performance fabric made with 87% polyester and 13% elastane
Style details: Slim-fit, midi-length with side pockets
Price: $120
What we like:
Made in the USA  
The supportive waistband you can use through all three trimesters and beyond
The super soft fabric
What we don't like:
We wish these were offered in more lengths
Price is high for something you may only wear for a few months
Best maternity sweatpants
Beyond Yoga Spacedye Beyond the Bump Maternity Jogger
The PopFlex line was made by fitness instructor, Cassey Ho, who couldn't find cute workout clothes that also had the technology she needed. These Cloud Rollover sweatpants have a streamlined cut that makes them perfect for workouts. When your sweat sesh is done, just unroll the waistband for a more casual fit. 
Specifications:
Size range: XXS-3X
Fabric: Cloud fabric, made with 85% Cotton and 15% Polyester
Style details: Elastic waistband, cuffed ankle hem, two side pockets at front and 2 pockets at back 
Price: $70
What we like:
The ability to go hi-rise or low-rise
Ample room for lunges and squats
What we don't like:
These are perfect for running in the winter or cool A/C, but we wish they were a bit lighter weight for other seasons
Best sweatpants for women for working out
PopFlex Cloud Rollover Sweatpant
Travel gurus across the globe trot around in the Alo Accolades. The cozy seat and roomy pockets mean you can keep all your essentials on you (passport, earbuds, phone) while still having room to move around the plane. We love the chrome Alo Yoga logo at the front pocket, a nice little detail that makes them feel a bit fancier than the usual sweatpant. 
Specifications:
Size range: XXS-XXL
Fabric: French terry fleece
Style details: Oversized fit for street style—consider sizing down if you prefer a fitted look
Price: $118
What we like:
These are a super soft, leveled-up classic with a roomy hip and thigh area
The trendy array of colors
The ample size range
What we don't like:
The price point is steep, even for a luxury athleisure brand
These run big and long—petites might have to use the in-store hemming service
Best sweatpants for women for travel
Alo Yoga Accolade Sweatpants
We get it. You might have spent several years stealing your boyfriend's/husband's/brother's/ friend's sweatpants since Hanes has been known to make the best sweatpants for men. Now you want a pair all your own. These wide-leg women's sweatpants have got you covered. They not only provide you with living-room-level comfort, the wide leg makes them presentable for taking outside the house. 
Specifications:
Size range: S-2X
Fabric: Fleece made of 50% cotton and 50% polyester
Style details: Open leg, no pockets, and an elasticized waist
Price: $10-14
What we like:
The price point can't be beat—most retailers offer them for under $20 
The stylish silhouette allows you to take them out of the house
They come in several colors  
What we don't like:
The wide leg won't keep your ankles warm in cold weather
Best wide leg sweatpants for women
Hanes Women's Sweatpants with Open Bottom Legs
Our favorite non-fleece sweatpant comes in a jogger style. The CloudKnit fabric on these bad boys proves to be soft, flexible, and comfortable all day. These are a great lightweight jogger that can be used for casual wear or active runs.
Specifications:
Size range: XXS-XXXL
Fabric: CloudKnit made with 94% polyester and 6% Spandex
Style details: A tapered fit with side pockets and a soft waistband that lies flat against your body
Price: $88
What we like:
The super soft fabric
The slim-cut leg
What we don't like:
Limited color selection
Thigh and seat area can be clingy
Best jogger sweatpants for women
How we selected the best sweatpants for women
We take several considerations when choosing our list for the best sweatpants for women in 2023. Fit, style, price point, and online reviews are all monitored. 
Frequently asked questions (FAQs)
What is the most comfortable fabric for sweatpants?
The most common fabric is fleece made with a mix of cotton and polyester, but some sweatpants also come in Lycra, Spandex, and Elastane for extra stretch.
Should sweatpants be tight or loose?
Both! How you style your sweatpants is completely up to you. Choose a slim cut for the most streamlined profile, a wide leg or classic cut for a little more room and oversized or foldover sweatpants for a baggy fit.
Can I wear sweatpants for pajamas?
While sweatpants can be some of the best pajamas for women, today's culture welcomes them outside the bedroom. Nowadays, you can wear sweatpants for errands, yoga class, traveling, lounging, and sleeping.
How to look expensive in sweatpants?
Match your sweatpants with a matching sweatshirt to create a monochromatic set, add a luxury crossbody bag or fanny pack, and your favorite designer sunglasses.
The information presented here is created independently from the TIME editorial staff. To learn more, see our About page.