Our evaluations and opinions are not influenced by our advertising relationships, but we may earn a commission from our partners' links. This content is created independently from TIME's editorial staff. Learn more.
As hard as it is to imagine, there was once a time when sweatpants were considered to be only suitable for the gym or lounging around at home. Now, though, sweatpants (and track suits) have become a common sight no matter where you are. Work from home and Covid may have exacerbated the trend, causing some previously suit-wearing and business casual types to rediscover their love of staying comfy, but there's a whole swath of the population who has been embracing the athleisure trend. This is at least in part because sweatpants are no longer just baggy, gray, shapeless garments: There are dozens of styles, materials, and functions to choose from.
How to choose sweatpants
With so many choices, it may be difficult to decide just which pair (or two) of sweatpants you should invest in. To help you decide, consider the following things. 
Where do you plan to wear them?
In general, and sort of by definition (they are supposedly pants to sweat in, after all) sweatpants have a loose fit, though there are slimmer cut options available. Slimmer silhouettes made from sleeker looking fabrics will look more appropriate for casual occasions, as opposed to heavy, baggy fleece styles or super lightweight pajama types, which are considered better suited for home lounging.
Design features
Most sweatpants have an elastic waistband with either an inner or outer drawcord or drawstring to cinch them in. Some have a straighter, trouser type leg, while others feature a tapered leg that ends in a cuff, either a wide band or elastic. Elastic cuffs are considered more old school, while ribbed cuffs lean more toward the trendy. Which you prefer is all down to your own personal style and what you feel comfortable in.
Fabric type
Classic sweatpants are made from French terry knit cotton. Some brands blend the cotton with spandex to add a bit of stretch, or with nylon for moisture wicking properties. Some are manufactured completely with synthetic materials to make them lightweight and breathable. If you're actually going to be working out, you'll probably want a pair made from something that will wick the sweat away from your body while also being breathable (ie: not necessarily 100% cotton).
With all that in mind, here are our top sweatpants picks for men (some of which you might even find on a list of best sweatpants for women—if only because they keep borrowing them from their brothers, friends, and partners).
Top sweatpants picks for men 
For around $15, these cotton sweatpants from Hanes can't be beat. They're made from a thin, lightweight cotton and are perfect for gym workouts, summer, outdoor exercising, and even sleeping (they make excellent pajamas). These are the sweats to reach for when you don't plan on leaving the house for anything more than going for a jog or a walk to the mailbox.
Get yourself a few pairs!
Specifications:
Sizing: S - 2XL
Fabric: Cotton
Style details: Elastic waistband, tapered legs
Pockets: 2 side slash, 1 back
Colors: Navy, black, gray, oregano (taupe)
Pros:
Cons:
Hanes Originals Men's Joggers with Pockets, 100% Cotton Jersey
Adidas sweatpants have been around for a long time, recognizable by the 3 side stripes and the triangular Adidas logo. They're one of the brands, along with Nike, who first made sweatpants "cool" or, at the very least, acceptable and even sometimes fashionable to wear outside the confines of a gym or track. These are made from a warm fleece that makes them super soft on the inside. You can't go wrong with a pair of these. We even feel comfortable saying that they'll never really go out of style. Tip: Adidas sizing is often unisex, so make sure to double-check the size chart before finalizing your purchase (if you need a refresher on getting the best fit, check out our guide on how to measure your waist for pants). 
Specifications:
Sizing: XS – 3XL
Fabric: Cotton fleece, polyester, viscose
Style details: Elastic waist with drawstring, tapered legs with elastic cuffs
Pockets: Side pockets
Colors: Legend ink with white side stripes
Pros:
Extremely comfortable
Good quality; minimal color fading after multiple washings
Cons: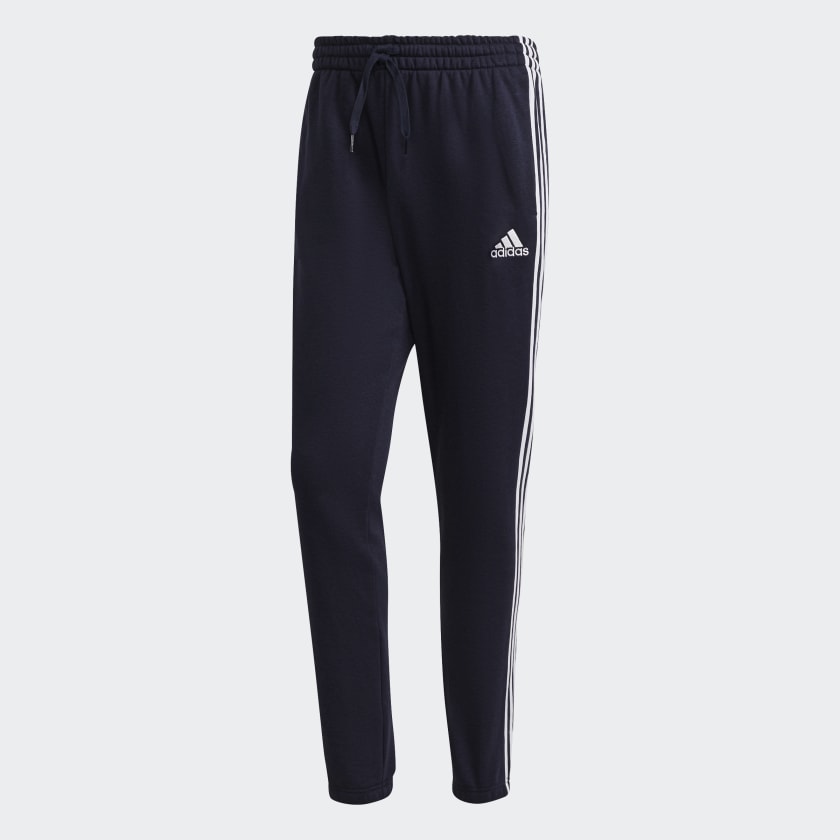 ESSENTIALS FLEECE TAPERED ELASTIC CUFF 3-STRIPES PANTS
The waffle weave, fit, and front button fly allow you to take these sweatpants directly from the trail to a lunch date. The cotton waffle weave gives them the luxurious look and feel of those white bathrobes you get at 5-star hotels and resorts. Dress them up with a sweater and a pair of loafers, or down with a hoodie and sneakers.
Specifications:
Sizing: XS - XXL
Fabric: Organic cotton with waffle weave
Style details: Elastic waist with drawcord, elastic cuffs, button fly
Pockets: 2 front slash, 2 back with button closure
Colors: Black cherry, navy, indigo, tan/cream, coal, charcoal
Pros:
Repair or replace guarantee
Waffle weave gives them a unique look
Cons:
Shrinks slightly after first washing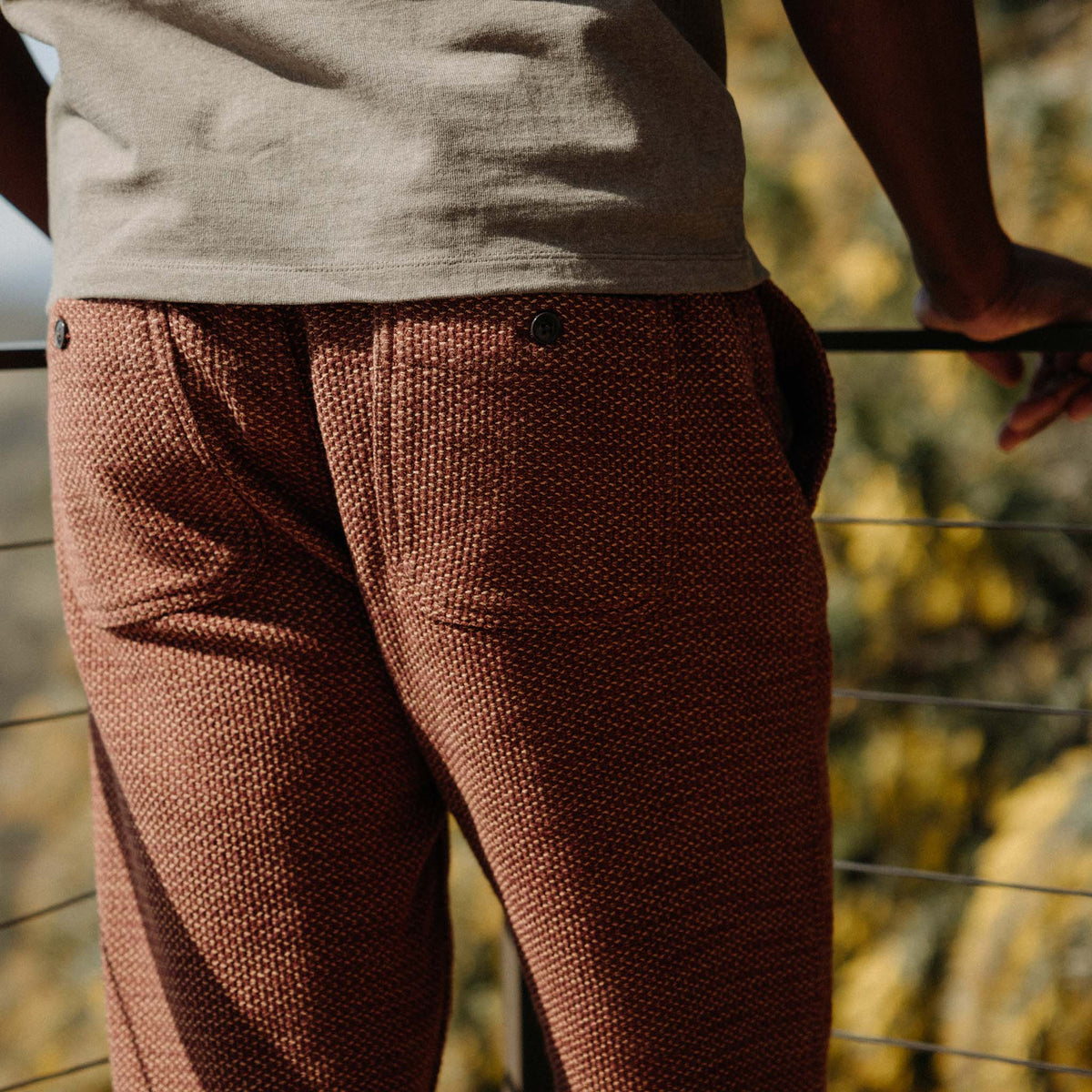 Taylor Stitch Apres Pant Waffle
Handcrafted in Vancouver, the Reigning Champ sweatpants feature a straight leg, jersey lined pockets, and flat-locked seams, all working together to give them a refined and stylish silhouette.
They have a relaxed fit while not being overly baggy, though they are cut slimmer than the average sweatpants.The brand is also known for manufacturing durable and long lasting garments, making these worth the higher price tag.
Specifications:
Sizing: XS - XL
Fabric: Cotton terry
Style details: Elastic waist with drawcord, cuffed legs
Pockets: 2 front slash, 1 back
Colors: Black, navy, white. Gray, rose, midnight, fir, teal, heather, green, crimson
Pros:
Flat locked seams mean no chafing or rubbing
Good color selection
Cons:
Reigning Champ Midweight Terry
Lands End has always made good quality clothing that lasts for years and their Serious Sweatpants are no exception. Crafted with a soft, fleece interior, these are as perfect to wear lounging around the house as they are at the gym.They have a classic, relaxed sweatpants fit that won't shrink with washing or stretch out with wearing. Which is good, because you'll likely want to wear them every day.
Specifications:
Sizing: XS – 2XL; also available in tall
Fabric: Cotton/poly blend
Style details: Elastic waist with drawstring, tapered legs
Pockets: 2 side
Colors: Evening blue, navy, black, charcoal, gray, moss
Pros:
Won't shrink
Durable
Good medium weight fabric
Cons:
Some may find them too baggy
Men's Serious Sweats Sweatpants - Lands' End - Red - L
These sweatpants from Alo feature a drop crotch, slim legs with fitted rib calf panels and, best of all, zippered side pockets. They're also made from a comfortable tri-blend fleece, meaning they're warm enough for going out on winter days and cozy enough for staying in, near the fire.Super sleek and stylish, you can wear your Triumph sweatpants to the store, coffeeshop, or out and about in town. Some may even wear them to dinner and completely pull it off. 
Specifications:
Sizing: S – 2XL
Fabric: Tri-blend fleece
Style details: Elastic waist with drawstring, drop crotch
Pockets: 2 invisible zippered side
Colors: Black, charcoal, bone, navy
Pros:
Zippered pockets
Soft and comfortable
Warm
Cons:
Other members of your household will be apt to "borrow" these
The Triumph Sweatpant in Grey Triblend, Size: 2XL | Alo Yoga®
Inspired by U.S. Marine Corp issue sweatpants, Buck Mason's Interloops are made from yarn dyed, brushed back, heavy cotton that will withstand extended wearings and intense workouts. There's nothing fancy or non-essential about these–they're simple, rugged, and timeless, perfect for anyone who doesn't much care about trends or frilly details and just wants a pair of sweatpants that looks like a pair of sweatpants.
Specifications:
Sizing: XS – 2XL
Fabric: Cotton
Style details: Elastic waist with drawcord, classic, baggy fit
Pockets: 2 side slash, patch back pocket
Color: Heather gray
Pros:
Heavyweight for cold months yet still breathable
Classic, loose fit
Cons:
A bit expensive for what they are
Buck Mason Turf Interloop Sweatpants
Long Jambys are the lightweight, no-sweat sweatpants of your dreams–and we mean that literally. Perfect for sleeping and lounging, these may be the most comfortable pair you'll ever own. The company even offers a 77-day guarantee that these will be the softest pair in your closet. If, after 77 days, you don't agree, simply return them.The sturdy elastic waist band even stays up when you shove your phone into one of the pockets. You may never want to take these off, so if your partner, family member, or buddy gives you a hard time, just get them a pair, too.
Specifications:
Sizing: XXS – 3XL (unisex)
Fabric: Modal, spandex
Style details: Drawstring waist, tapered legs
Pockets: 2 side slash
Colors: Black, navy, gray, and a range of colors
Pros:
77-day trial period
Many color options
Cons:
You may not want to take them off ever
Higher priced than typical sweatpants
Long Jambys No-Sweat Sweatpants
Made with a French terry fabric with Dri-FIT technology that wicks sweat away from your body, these are among the best workout sweatpants available. They're what we wear when we actually intend to get sweaty, as opposed to simply lounging around the house. Not that there's anything wrong with that.
Specifications:
Sizing: S – 4XL tall
Fabric: Cotton/poly blend
Style details: Elastic waistband with drawcord, tapered legs
Pockets: 2 side slash
Colors: Charcoal, black, navy, light gray, orange/red
Pros:
Wide size range
Moisture wicking
Cons:
Material may be too thin for some
Nike Dri-fit Tapered Training Pants
Made from a thin cotton material, these sweatpants from Champion are a great basic addition to your at home or gym wardrobe. Champion is another brand that's been around for a while, quietly and steadily making basic, quality garments at a reasonable price. While you won't necessarily win any style contests with these, they're a comfortable, dependable piece of clothing that's always there when you need them.
Specifications:
Sizing: S – 4XL
Fabric: Cotton
Style details: Elastic waist with drawcord, open bottom
Pockets: 2 deep side slash
Colors: Black, dark gray, navy, light gray
Pros:
Cons:
Some reviewers mention shrinkage
Men's Champion Everyday Open-Hem Sweatpants, C Logo, 32.5" Navy XL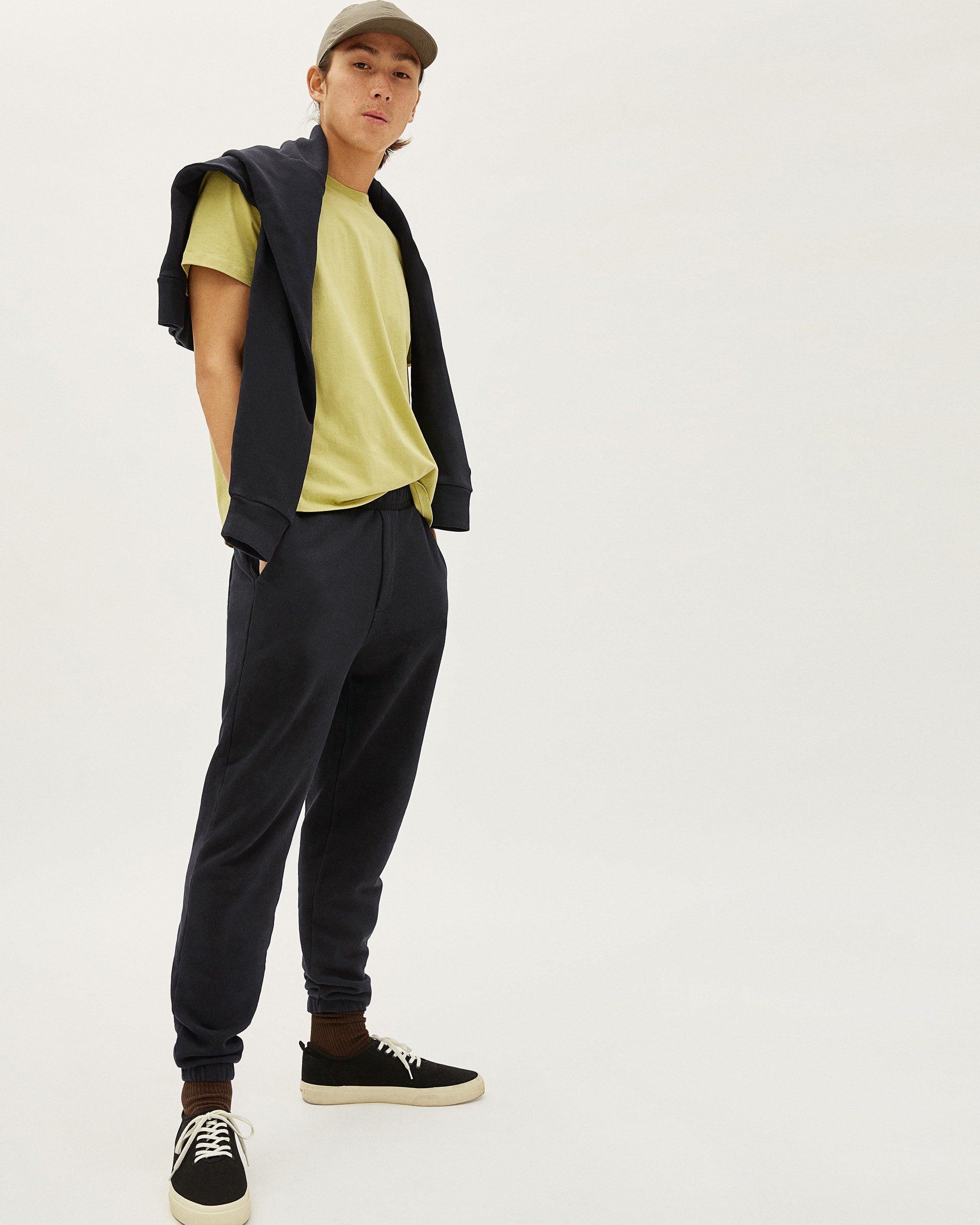 If you're about such things (and we all should be), these sweatpants from Everlane are fairtrade and sustainably made. The medium weight, French terry, organic cotton is soft, plush, and suitable for colder days as well as warmer ones (they're also breathable). They also hold up well over time with minimal pilling and snagging, maintaining their structure no matter how often you wear them. It seems as if Everlane is about to discontinue these so get them while you can. If you miss out, the ReTrack sweatpants are manufactured with the same sustainable practices and fit in a similar way.
Specifications:
Sizing: XXS - XL
Fabric: Organic cotton
Style details: Elastic waistband with drawcord, tapered legs
Pockets: 2 side slash
Colors: Black, blue, slate, gray
Pros:
Cons:
Almost sold out but the ReTrack (similar cut) is available
Men's Track Pant by Everlane in Black, Size XL
J. Crew is known for their classic, timeless styles and these sweatpants are no exception. Cut on the cross grain (as opposed to the straight or lengthwise grain, as is the norm), they resist shrinkage. The fleece is a comfortable medium weight that protects you from chilly winds while remaining light enough to be breathable.The classic fit means some may find their normal size a bit baggy, so you might need to size down.
Specifications:
Sizing: XS – XXL (plus tall sizes)
Fabric: Cotton/poly blend
Style details: Elastic waist with drawcord, tapered legs with elastic cuff
Pockets: 2 side slash, 1 back
Colors: Gray, forest, black, navy
Pros:
Medium weight fabric
Will not shrink
Warm
Cons:
Tall heritage 14 oz. fleece sweatpant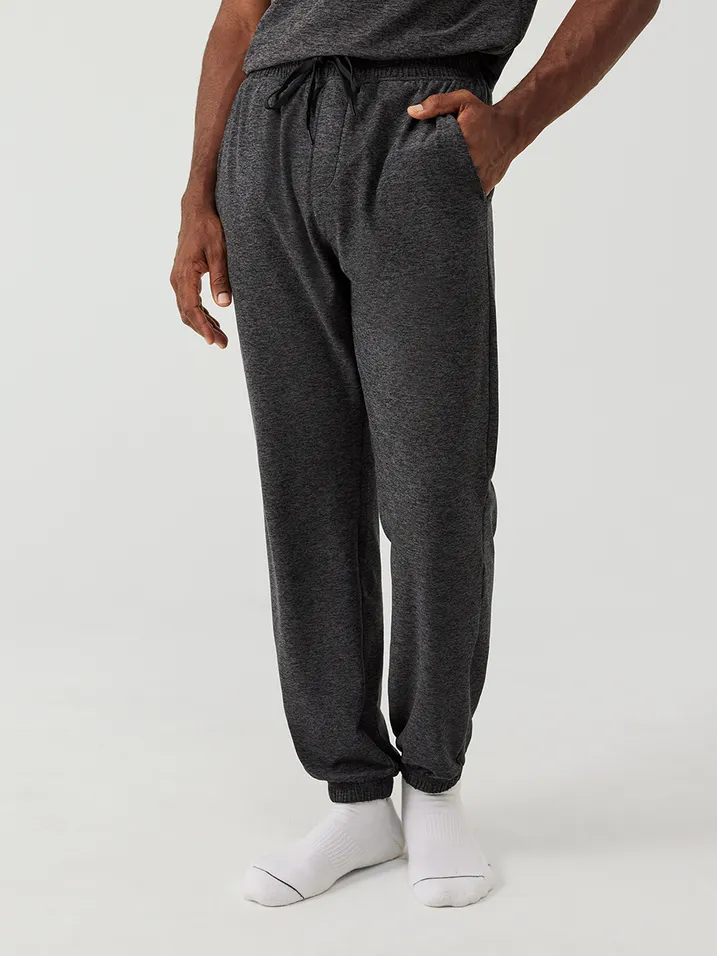 Made with work from home and lounging in mind, these sweatpants from Outdoor Voices are your perfect indoor companion. The CloudKnit fabric is lightweight, breathable, wrinkle resistant, and incredibly soft. These run small, though, so size up to achieve a roomier, baggy fit. Tip: If you're also in the market for the best sweatpants for women, Outdoor Voices' women's collection also has excellent quality options.  
Specifications:
Sizing: XS – 3XL
Fabric: Polyester/spandex
Style details: Elastic waistband with drawcord, straight leg
Pockets: 2 side slash
Colors: Black, charcoal, navy, tea tree
Price: $44 - $88
Pros:
Bluesign approved fabric
Comfortable
Good price
Cons:
Some may find them too lightweight
CloudKnit Relaxed Sweatpant
Lululemon catapulted athleisure into the mainstream, making it socially acceptable and even stylish to wear your workout gear to the office, dinner, and anywhere else. These have a refined, sleek look that is at ease in most any situation. The four-way stretch allows you to move freely throughout your day's activities. We especially appreciate the zippered back pocket and the hidden media sleeves tucked into the front pocket. Good to know: If you're stocking up on gym clothes, Lululemon made our list of the best men's workout shirts.
Specifications:
Sizing: XS – 3XL
Fabric: Warpstreme, a 4-way stretch, synthetic performance fabric
Style details: Elastic waist with drawcord; classic, tapered fit
Pockets: 2 side/front with hidden phone and coin sleeves; discreet back
Colors: Black, coffee, charcoal, forest green, and more
Pros:
Stretchy fabric that dries quickly
Great color selection
Cons:
How we tested and selected the best sweatpants for men
We tested and selected these based on online reviews and research, as well as personal experience and the opinions of our friends, family members, acquaintances, and fellow commuters (I may have asked a few people on the train what brand their sweatpants were; most were happy to oblige and didn't think I was weird at all). I also have a second career as a tailor and pattern maker for film and TV, so I have pretty much seen the gamut of sweatpants available, whether they were a "costume" or something an actor wore to work.
Frequently asked questions (FAQs)
What is the best quality material for sweatpants?
The best quality material probably depends on who you ask, but you generally can't go wrong with a 100% cotton fleece for a classic sweatpants look and feel.
What is the softest brand of sweatpants for men?
The Outdoor Voices sweatpants included on this list are incredibly soft, as are the Long Jambys. Both are made from a synthetic fabric blend. If you prefer the feel of cotton, you'll probably consider something like the Everlane track pants to be the softest.
What's the difference between joggers and sweatpants?
Joggers have a tapered leg that ends in a stretchy or elasticized cuff of some kind, so your pant legs don't get in your way while jogging. Personally, I consider joggers a type of sweatpants. Sweatpants can have wide, straight, or tapered legs and they don't necessarily have to have cuffs on them.
Are sweatpants fashionable on men?
Sweatpants can be completely fashionable on men; it all depends on how you style them and what you wear them with. Darker colors (in a jogger cut) work better as an option for casual outings, especially when worn with a jean jacket or sweater and loafers. 
What brand makes the best sweatpants?
All of the brands on this list make excellent sweatpants. Which one is the absolute best is completely subjective—though Nike, Hanes, Adidas, and Champion tend to be the most popular brands when it comes to sweatpants.
The information presented here is created independently from the TIME editorial staff. To learn more, see our About page.