Our evaluations and opinions are not influenced by our advertising relationships, but we may earn a commission from our partners' links. This content is created independently from TIME's editorial staff. Learn more.
If you have a tough time falling asleep or getting the restful night's sleep you deserve, it may be time to upgrade your mattress with a new set of linen sheets. Unlike cheaper cotton and polyester sheets, linen naturally regulates your body temperature so you feel toasty in winter and cooler in the summertime. Linen is made from rugged, yet soft flax fibers that only get softer with each wash, and provide a luxurious feel that you must sleep  on to understand. While all linen sheets are resistant to nasty stuff (like mold, dust mites, and harmful bacteria), are breathable, and wick away moisture while you sleep, it's important to seek out a high-quality option that's made to last. After countless hours of research, testing, and snoozing, we selected the top 16 linen sheet sets available based on affordability, comfort, durability—and other important factors. Read on for key tips to help you care for your linen sheets and more info on why they make bedtime better.
How to choose the best linen sheets
First, save up. 
A quality set of linen sheets will cost far more than their cotton counterparts, often raging from $130 to over $400. This is primarily because flax fibers are more difficult to weave than cotton, but since they're designed to last, actively regulate your temperature, and are hypoallergenic, linen sheets are well worth the investment.
Consider sets for the best value.
While you can buy single sheets, this option is better for replacing a sheet from the same brand in your current bedding or if you want to mix-and-match colors. The best deals are in sets that come with cases for pillows, both a top and bottom sheet made to cling tightly to mattresses, and a variety of sizes to fit all beds.  
Go beyond "feel." 
Linen sheets are available in a range of thread counts. However, know that thread count isn't always the best indicator of quality—two sheets with the same thread count can feel very different. Additionally, know that how a sheet feels at first can be deceiving. That's because linen sheets soften over time, due to the flax fibers used. So, if your sheets initially seem a bit stiff or even rough, there's a good chance it'll soften even after one wash. Also, if you're not one to wait, look for linen sheets that aren't 100% linen and are woven with bamboo or cotton. 
One thing you can look for that often signals quality linen sheets is the GSM (grams per square meter) measurement. This number indicates weight—and the higher this number, the thicker the sheet. GSM ranges from 90-300+, with 90-150 indicating lighter weight sheets, 150-300 indicating medium weight, and 300+ indicating heavyweight sheets.  
Top Linen Sheet Picks 
No matter the size of your mattress or which colors match your bedroom, there's a good chance Parachute has you covered. At these low prices, they're absolutely worth your consideration. In addition, these linen sheets are Oeko-Tex certified (made without controversial chemicals that may have adverse health or environmental effects), arrive impressively soft and get even softer with each wash. According to verified buyer Samantha P., "These are more of a weathered linen, and absolutely perfect. Just a completely different texture than anything I've felt and because they have the weathered feel to them, they don't get wrinkled as easily as typical linen sheets." If you like these, you'll love that Parachute also offers matching duvet covers for your comforter for a coordinated look.
Specifications:
Material: Linen
Construction: Woven
Colors: White, Fog, Cream, Moss, Bone, Clay, Coal, Terra, Dusk
Sizes: California King, King, Queen, Full
Price on publish: $189-229
Pros: 
Good value for a 100% linen set
Rainbow of color options
Cons: 
You may have to wash them a few times if you prefer super-soft sheets
Linen Sheet Set | Parachute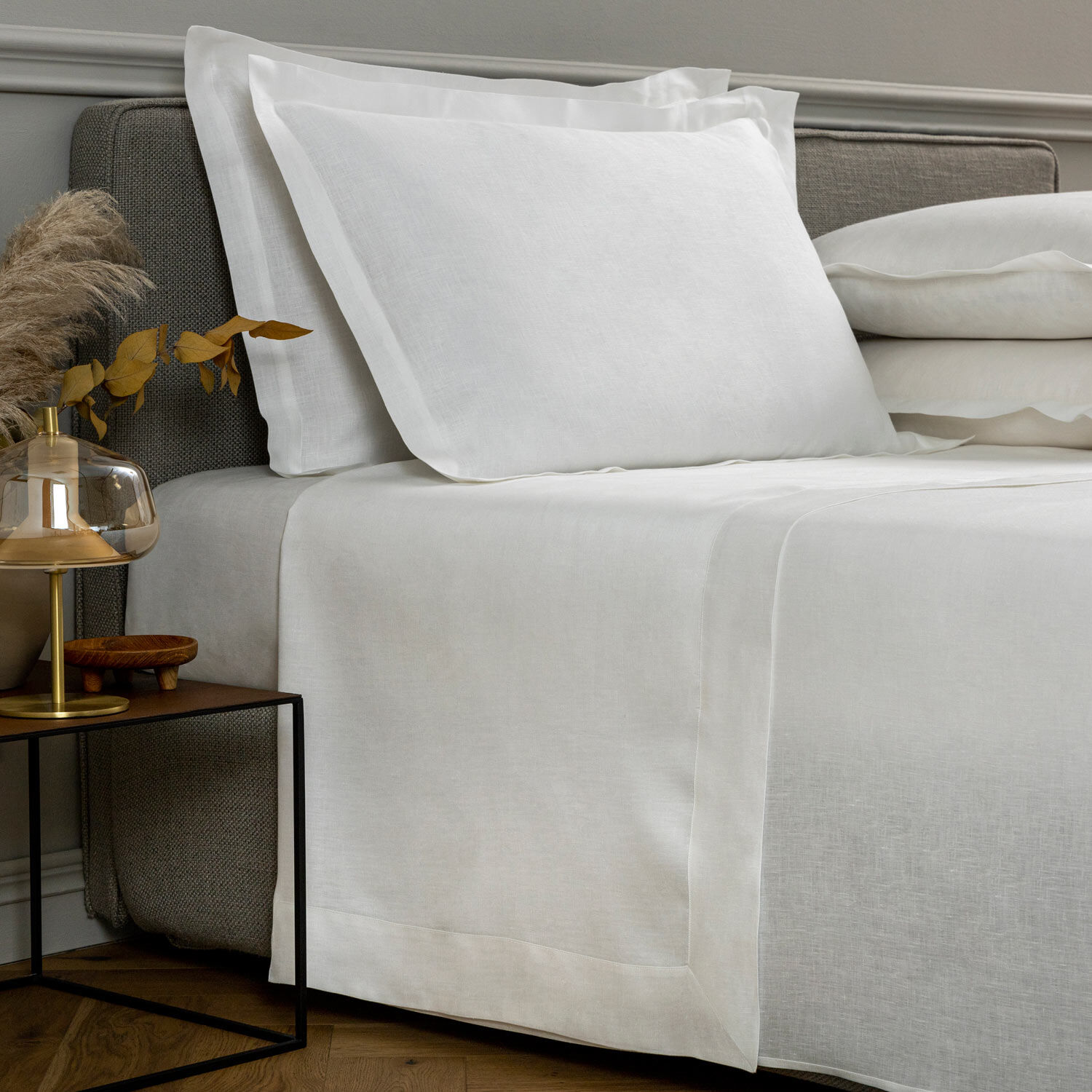 They're extremely expensive for most, and only available in white, but if you can afford this set, it's worth quickly nodding off in these particularly crisp, smooth, and breathable linen sheets. Soft, cool, and every bit as durable as you'd hope them to be at this high price, the Frette Divine Set is best served for those who want a sheet set to bring their bedroom's style up a notch with its fine Italian stitching, clean minimalist appearance, and matching silky pillowcases.
Specifications:
Material: Linen
Construction: Woven (Sateen weave)
Colors: White
Sizes: California King, King, Queen
Price on publish: $4,300
Pros:
Dependably cool
Premium construction
Modern design
Cons:
Especially pricey
Only available in one color
Surprisingly similar in feel and appearance to Frette, but at a lower price, Sferra's all-white Classico Collection is another high-end luxury sheet set that warm sleepers will deeply appreciate. This hypoallergenic collection of sheets are so smooth and strikingly crisp after a single washing, many wouldn't even know they were linen. If money is no object and you need sheets that feel fresh and cool no matter how hot it is outside, it's a good thing that white goes with everything.
Specifications:
Material: Linen
Construction: Plain Weave
Colors: White
Sizes: King, Queen, Twin
Price on publish (Flat Sheet): $579-641
Pros: 
Airy and cool feel
Moisture-wicking
Premium construction
Cons: 
Only available in white
Expensive
Sferra Classico Collection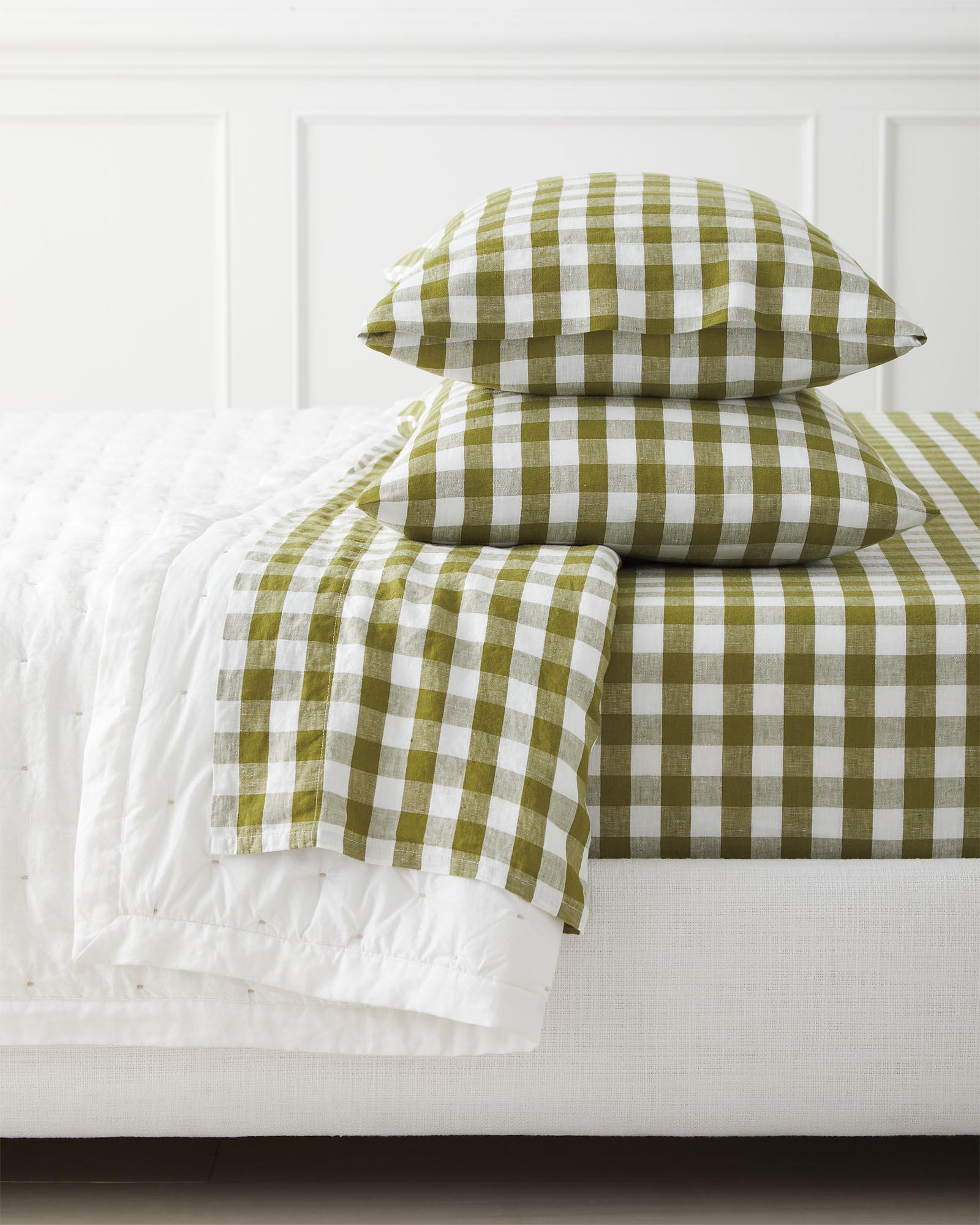 While some prefer thicker sheets, these breezy and lightweight linen sheets are a top pick for toasty sleepers. In addition to their genuinely soft and comfortable feel, these airy sheets sport a cheery and bold gingham pattern highlighted by a glossy texture that makes them look as fresh as they feel. With its timeless design and generous 60-day trial, Serena & Lily makes it easy to get hooked on these lightweight sheets.
Specifications:
Material: Linen
Construction: Woven
Colors: Grove, Mink, Coastal Blue
Sizes: California King, King, Queen, Full, Twin
Price on publish: $268-398
Pros: 
Featherweight and airy
Unique glossy appearance
Charming plaid patterns
Cons: 
More color options would be appreciated
Plaid pattern may not be for everyone
The charming striped patterns on Boll & Branch's linen sheets caught our attention, but after a few nights of beautifully chill and cozy sleep, they kept it. These sheets were one of the softest right out of the box due to their extensive pre-treating wash, and only felt softer over time. Between its airy and light feel and smooth texture, it's not just the best for preventing night sweats and staying cool throughout bedtime, it's a premium option for anyone who wants the benefits of linen but is sensitive to perceived "scratchiness".
Specifications:
Material: Linen
Construction: Woven
Colors: Shore, Natural
Sizes: California King, Split King, King, Queen, Full, Twin
Price on publish: $329-419
Pros:
Breezy featherweight feel
Reliably cool feeling
Exceptionally soft
Cons:
Stripes aren't for everyone
Boll & Branch Linen Airy Stripe Sheet Set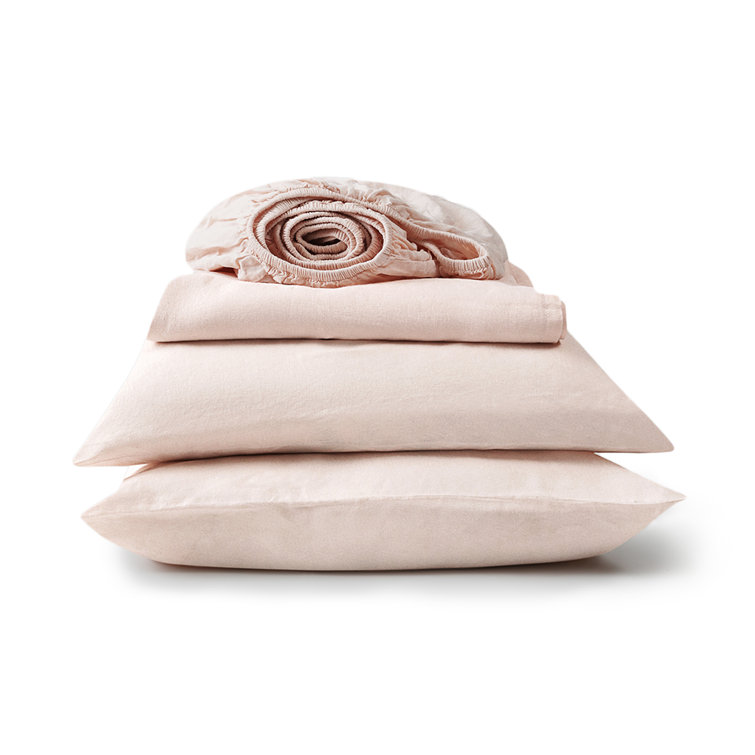 While the majority of the linen sheets we tested, and those that made our top 16 list were woven in Portugal, some may appreciate the extra durability and glossy sheen of pure Belgian linen. Not only are Wayfair's Belgian sheets airy and remarkably cool, they arrive soft even before the first washing, and are the most budget-friendly Belgian-made sheets we found. The only problem was that the unavailability of certain color and size combinations, but fingers crossed that stocking issue will be fixed sooner than later.
Specifications:
Material: Linen
Construction: Plain weave
Colors: White, Sky Blue, Natural, Blush Pink, Light Gray, Dark Gray
Sizes: Queen, King
Price on publish: $186
Pros: 
Affordable price
Smooth texture
Efficient at regulating body temperature
Cons: 
So popular that your preferred color and size combo may be temporarily unavailable
Blush Pink Belgian Flax Linen Sheet Set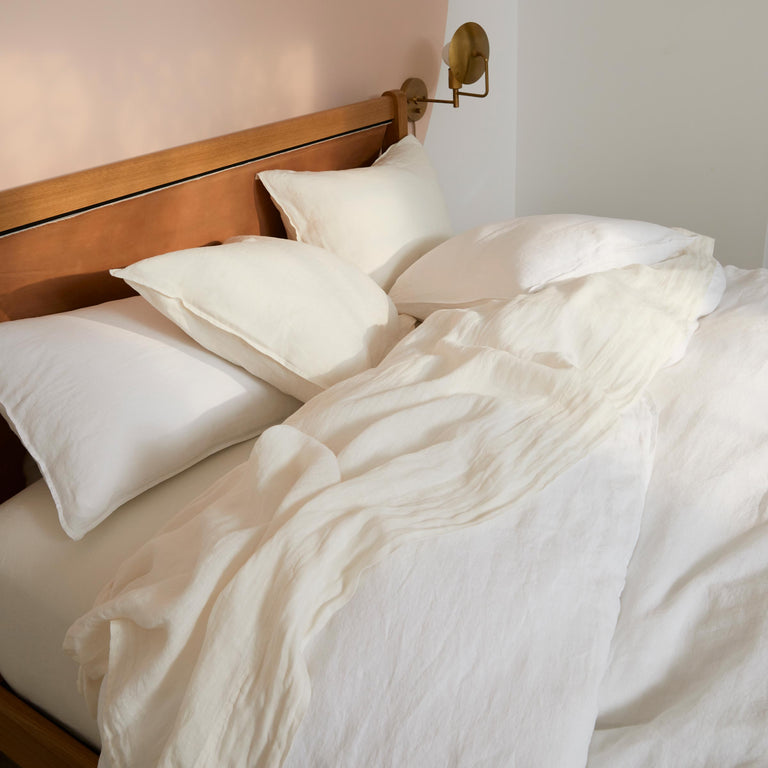 Some may be happy with the "safe" neutral colors of white, beige, and slate commonly offered by bedding brands, but if you need a pop of color in your bedroom, Brooklinen's vibrant lineup is worth your attention. Beyond the surface-level eye-catching hues like wild rose, indigo, and turquoise, these thinner sheets are smooth and soft upon arrival, are perfectly suited for warm weather, and the Oeko-Tex certification makes these sheets a top pick for sensitive skin. (Of course, they're also available in neutrals.) We weren't the only ones impressed with Brooklinen, as certified buyer Valeriya T. notes, "Husband was hesitant at first to spend over $300 on the bed sheets but now he recommends linen sheets to anyone who will listen!"
Specifications:
Material: Linen
Construction: Woven
Colors: White, Cream, Cloud Grey, Charcoal/Striped, Hydrangea Blue, Indigo, Wild Rose, Terracotta, Turquoise/Gingham, Khaki Chambray
Sizes: Twin, Twin XL, Full, Queen, King, California King
Price on publish: $259-359
Pros:
Wide assortment of color options
Arrives plush and soft
Featherweight
Cons:
Needs to be washed in a gentle cycle
Brooklinen Washed Linen Core Sheet Set size Twin in Terracotta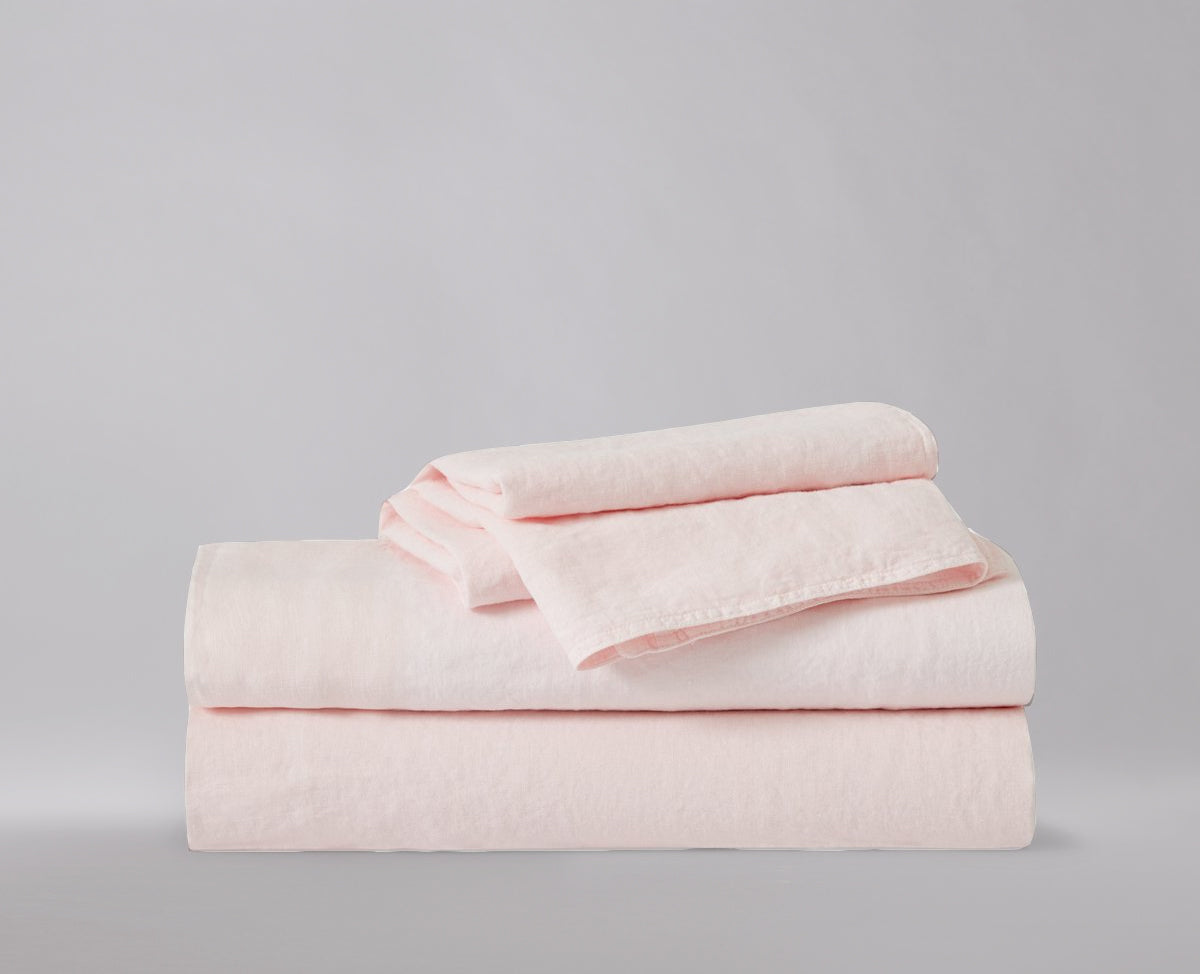 Since your bed sheets will be in contact with your bare skin far more than anything else you own, it's understandable that some sleepers will go well out of their way to find premium organic sheets. Sol Organics' delivered when it comes to a chemical-free linen sheet that is both featherweight and cooling, Oeko-Tex certified, and with a low price tag. It's a shame that these aren't available in more colors, but that's a small nitpick for the best organic sheets you can buy today.
Specifications:
Material: Linen
Construction: Woven
Colors: White, Blush
Sizes: Twin, Twin XL, Full, Queen, King, California King
Price on publish: $175-249
Pros: 
Completely organic linen
Lightweight feel
Affordable
Cons:
Only available in two colors
Not all linen sheets are made equally, and we completely understand if you're interested in the benefits of linen, but are concerned about the longevity of pricier sheets. After extensive testing, and many washings, Thuma's Okeo-Tex certified sheets held up the best with minimal wear, making them the best long-term value, in addition to their extreme softness, extensive color palette of design options, cozy temperature-regulating properties, useful tag noting which sheet side is up for quicker bedmaking, and an impressive mid-range price for what you get.
Specifications:
Material: Linen
Construction: Woven
Colors: Dune, White, Stone
Sizes: Twin, Twin XL, Full, Queen, King, California King
Price on publish: $235-295
Pros:
Soft and extremely durable
Tags show which sheet side is up for easier bed making
Offers comfortable sleep in all seasons
Cons: 
There was a little pilling after multiple washes, but nothing too bad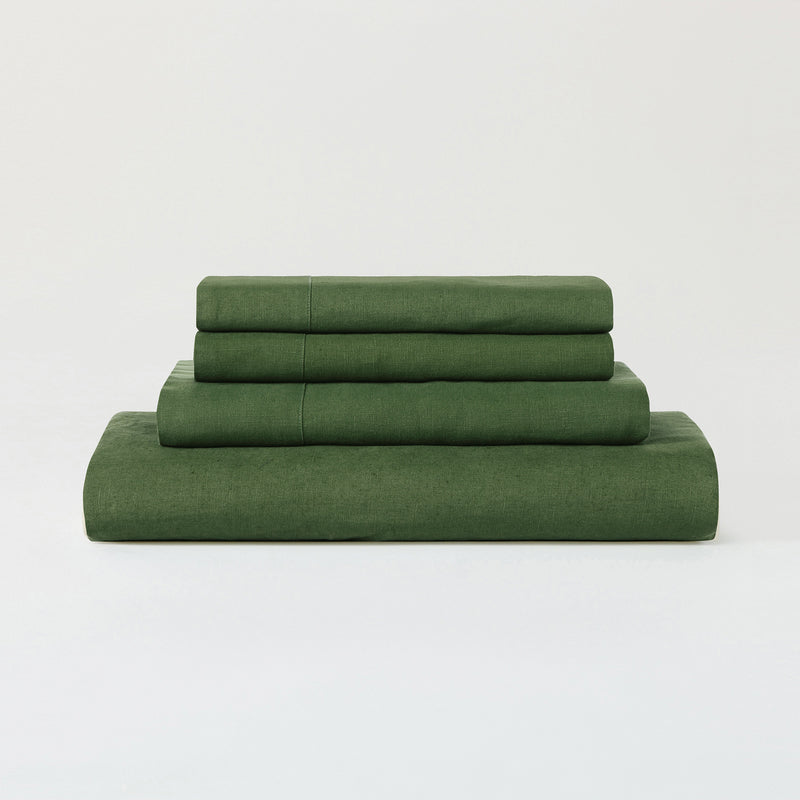 SIJO offers linen sheets for naturally warm and cool sleepers, but just as advertised, its LuxeWeave collection of French linen has that balanced feel that adapts to your natural body temperature without swinging too hard in either direction. In addition, we were pleased to see how sturdy these sheets were after multiple washings, that they arrived plush and snuggly and only got better over time. The budget-friendly price for what you get is also impressive. We're not the only ones who liked the LuxeWeave, as huge fan Sara R. noted, "I bought a set of these sheets a few months ago and instantly fell in love- just bought a second set. They feel so high quality. I'm also a hot sleeper and found these sheets do a better job of temperature regulating over all the other sheets I've tried."
Specifications:
Material: Linen (GOTS- and Oeko-Tex certified organic French flax fibers)
Construction: Weave
Colors: Forest, Pinstripe, Snow, Fog, Dove, Sky, Blush
Sizes: Full, Queen, King, California King
Price on publish: $175-205
Pros:
Especially affordable
Perfect balance of not too cool or too warm
More durable than you'd expect at this price point
Cons: 
SIJO LuxeWeave Linen Sheet
Although there are many genuinely soft linen sheets that manage to sidestep the common, but well-deserved complaint of feeling "scratchy," we were impressed at how plush and comfortable Magic Linen's sheets are at first, and how buttery smooth they get over time. They aren't just light and airy, they have an attractive range of color options to choose from, are clearly designed to last as they've held strong over many washings, and are Oeko-Tex Certified, which means they're as clean and fresh as they are soft.
Specifications:
Material: Linen
Construction: Woven
Colors: Matcha Green, Tan, Charcoal Grey, Cinnamon, Woodrose, Natural Gingham, Olive Green, Dusty Blue, Sandy Beige, Gray Blue, Light Gray, Blue Melange, Natural Stripes, Moss Yellow, White, Charcoal Grid, Clay, Natural Linen, Peach, Forest Green
Sizes: Twin, Full, Queen, King
Price: $272-388
Pros:
Soft upon arrival and gets noticeably softer with each wash
Huge assortment of colors
Durability
Cons:
Unavailable in California King size
Featuring a classic vintage look and a smooth, crisp feel that will swiftly cool down warm sleepers, Lulu and Georgia's Cultiver collection of European linen is a top pick for buyers who are wary of rough and scratchy inferior sheets. We also liked the variety of color options, stonewashed softness, and silky texture that reminded us of luxury hotel bedding. The only problem we had with Lulu and Georgia was that some color and size combinations are far more available than others.
Specifications:
Material: Linen
Construction: Woven
Colors: Bluestone, Pencil Stripe, Cedar, Sage, Forest, Smoke Gray, Navy, Olive, Blush, Pinstripe, Cedar Stripe, Slate, Natural, White
Sizes: Twin, Queen, King, California King
Price on publish: $325-420
Pros: 
Smooth and slick texture from day one
Plush and cozy feel
Large color and pattern assortment
Cons: 
For some reason, some design options are made only for certain sizes
European Flax Linen Sheet Set by Cultiver, Slate King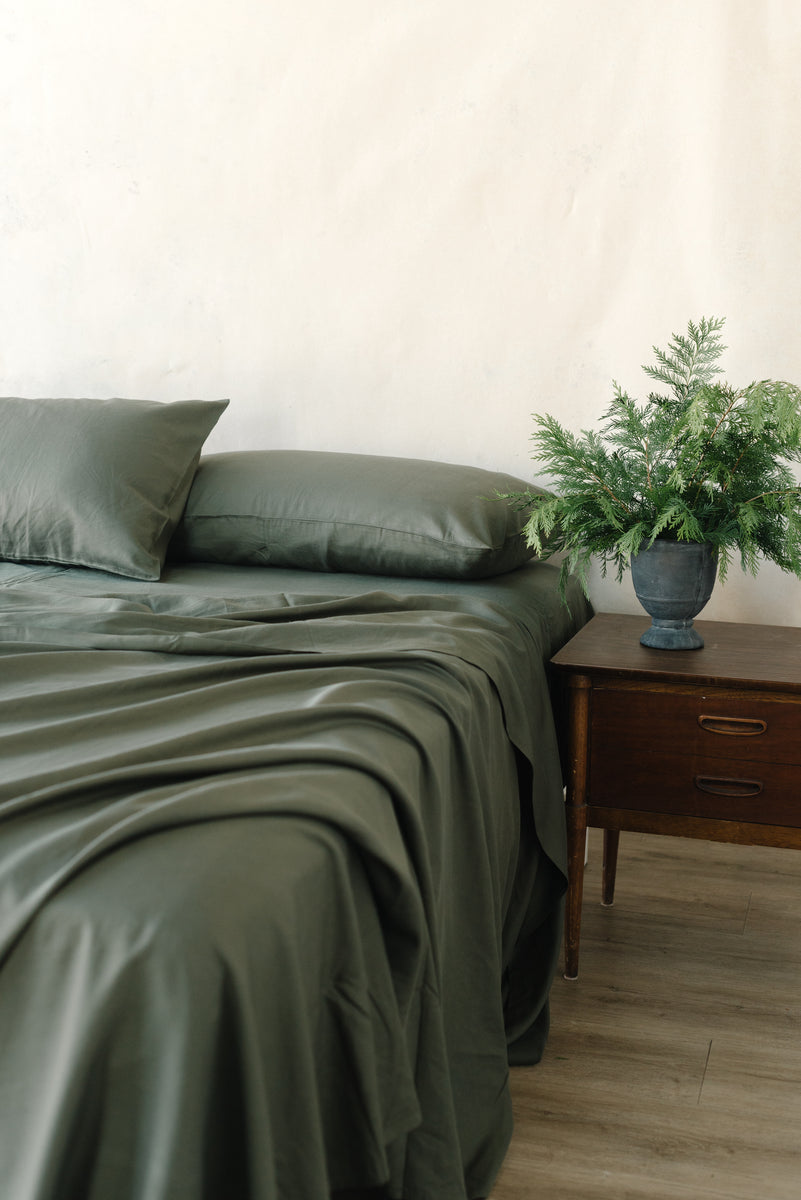 While it's understandable to be a bit leery about "blended fabric " linen sheets, as they are often inferior to pure woven linen, Cozy Earth's bamboo fiber-infused sheets are far better than we initially expected. These sheets retain the featherweight feel of traditional linen sheets, but the addition of bamboo fiber greatly enhances the overall durability of the sheets, making these an excellent choice for humid climates that would shorten the lifespan of normal linen. Sure, they do get a bit wrinkly after a run through the washing machine, but it's a small thing—-especially for those living in warmer climates like Cozy Earth fan Chad W., "They need to be washed first and really don't come into their own until the second washing. But living in North Carolina (and being a bit frugal with the AC), the heat and moisture wicking properties are amazing. The downside is that our cats love them too and have taken to burrowing under the covers after we've made the bed."
Specifications:
Material: 70% Viscose from Bamboo, 30% Linen
Construction: Woven
Colors: Olive, Light Grey, White, Navy, Natural
Sizes: Twin, Full, Queen, King, California King, Split King
Price on publish: $339-469
Pros: 
Designed with durability in mind
Airy and breathable material
Impressive 10-year warranty
Cons:
Needs a couple washes before getting the true "feel" of the sheets
Wrinkles a bit after a wash
Some sleepers may consider the enhanced durability and smoothness that hemp-linen sheets provide. Although the stronger hemp-blended fabric took a little extra washing to bring out its inherent softness than traditional linen, we appreciated the durability and lightweight feel, how they dry noticeably faster than normal linen sheets (saving money on energy costs), and the array of attractive colors Buffy has to offer.
Specifications:
Material: Hemp-Linen Fiber
Construction: Woven
Colors: Natural, Earth, Pimento, Shortbread, White, Shadow, Pebble, Natural, Rain
Sizes: Full, Queen, King, California King
Price on publish: $223-299
Pros:
Affordable
More of a cotton-like feel
Lightweight and breathable
Dries quickly
Cons: 
Needs a few washes to bring out the softness
Thicker, a bit heavier, and made to endure for years to come, Morrow Classic linen sheets have a beautiful retro appearance and feel. Not only will you get your money's worth from these sheets, they're available in an array of slick colors, run remarkably cool for warm sleepers, and are soft upon arrival, but continue to soften with each wash. These heirloom linen sheets will pay for themselves in a few years, making them the best value on our list.
Specifications:
Material: Linen
Construction: Woven
Colors: Apricot, Bone, Midnight, Sage, Stone, Terracotta, White, Willow, Mauve, Fawn, Cream
Sizes: Twin, Full, Queen, King, California King, Split King
Price on publish: $255-359
Pros:
Excellent for warm sleepers
Lightweight and smooth to the touch
Affordable
Cons: 
Not for those who prefer crisp sheets
Morrow Classic Sheet Set Heirloom Linen
How we tested and selected
Our wide-ranging research of obscure and well-known bedding brands and their offerings, many cozy nights of testing, a lot of time waiting for the washing machine, and previous experience with luxury bedding products led us to pick the best linen sheets on the market. Some of the many factors we kept in mind while putting these and other linen sheets to the test include comfort, durability, style, and value for your purchase.
Why should you choose linen sheets?
There are plenty of worthwhile reasons to adopt linen bed sheets over polyester or cotton, including:
Comfort
Linen sheets have moisture-wicking properties that will keep your body warmer in the winter and cooler in the summer as it naturally regulates your temperature. This makes it easier to fall asleep more quickly and stay in dreamland for longer for an all-around superior night's sleep.
Style
Some people appreciate the wrinkly and textured appearance of quality linen sheets, and with a gigantic array of colors and patterns to choose from, it's easy to match this classy look with your bedroom's style.
Cleanliness
Flax fibers naturally resist bacteria and fungus growth, and dust mites simply don't like living on linen sheets nearly as much as other materials, resulting in an all-around cleaner bed.
Sustainability
Linen is made from flax fibers, a plant that needs far less pesticides, water, and fertilizer than cotton, making it a particularly environmentally friendly option. Although premium linen sheets are designed to last a long time, they're biodegradable, so you can rest easy knowing that your outdated linens won't sit in a landfill forever.
The best way to wash linen sheets
The good news is that linen sheets and pillow cases are easily cleaned in the washing machine, but if you wash them the right way, they'll last for far longer. Only wash your linen sheets on their own without other laundry, and load it loosely to help prevent the formation of wrinkles. Use warm or cold water, as hot water may cause linen sheets to shrink. Either air-dry or toss them in the dryer on medium heat for ten to twelve minutes. Consider adding wool balls to accelerate the drying process while making them even softer.
Frequently asked questions (FAQs)
How are linen bed sheets better than cotton sheets?
While both cotton and linen bed sheets are breathable fabrics made from natural plant fibers, there are many ways linen is the superior material. For example, linen sheets are far more durable, feature hypoallergenic and antimicrobial properties and are dust mite resistant, making them a top pick for anyone with skin conditions. In addition, linen sheets wick perspiration away as you sleep, lowering the temperature of the sheets and your body at the same time for a cooler and more comfortable snooze.
Are linen sheets cool or hot?
Linen sheets naturally regulate your body temperature, for a cooler and more breathable sleep. In addition, linen sheets are particularly absorbent and quickly wick away sweat, making them a worthwhile investment for sleeping comfortably in warmer climates and to prevent sleepers from overheating under the covers in the cooler months.
How do you make linen sheets less scratchy?
The fibers used to create linen sheets are derived from flax, a coarse and starchy fiber commonly used in the production of ropes, rugs, and other durable items. Some people appreciate the natural feel of linen sheets, but others find them to be stiff and scratchy.
Sheets made with a cotton-linen blend will be noticeably softer than pure linen sheets at first, but all linen sheets will naturally soften up after multiple trips though the washing machine and drier. A little patience and a few washings will result in a set of smooth, soft, and snuggly linen sheets.
Are linen bed sheets worth it?
Linen sheets are far more expensive than their cotton counterparts, however between the long-lasting durability, ability to regulate your body's temperature to stay cool in warm weather while insulating you in the chillier months, and hypoallergenic properties, linen bed sheets are worth it.
The information presented here is created independently from the TIME editorial staff. To learn more, see our About page.