Our evaluations and opinions are not influenced by our advertising relationships, but we may earn a commission from our partners' links. This content is created independently from TIME's editorial staff. Learn more.
As much as most of us would love to live our lives in t-shirts and sweaters, some occasions call for dressing a little smarter. Enter the dress shirt, the average guy's signal to the world that, come on, we took off the sweatpants and made an effort, didn't we? If you're looking for something to blend in at work, stand out at the bar, or hold up through a long formal event, I've got you covered (your top half, at least—pants are up to you). Read on for our picks for the best dress shirts for men, across a range of styles and men's clothing brands.
What to consider when buying dress shirts for men
"When purchasing dress shirts for men, I take several factors into consideration that reflect my values as a clothing designer committed to ethical sourcing and using sustainable materials," says says Melony Huber, co-founder of ethical lifestyle collection La Peony, in addition to things like where you plan to wear it and your budget. Here are her suggestions for what to watch for:
Occasion
"Occasion is key when selecting an appropriate dress shirt, from weddings and black-tie events, to casual gatherings like Sunday brunch," Huber says. "For formal events such as weddings or black tie affairs, crisp and tailored shirts in classic colors like white or light blue are best; for less formal gatherings, subtle patterns can offer more relaxed yet stylish looks that give off just as much elegance."
Price
"While price can often be an important consideration when making investment decisions, investing in high-quality dress shirts that have been carefully constructed with attention to detail could prove wiser in both style and durability terms," says Huber. "Consider purchasing well-constructed garments as they tend to last longer and maintain their appearance over time. I like to think of it as an investment for both style and the long run." The picks on this list range from $22 up to $225, so there is something for every budget.
Fit
"Fit is so important. Look for a modern or classic fit dress shirt–these are the two primary choices when it comes to looking for a good fit and what fit will work best for you," Huber says. You can find more information on fit in the FAQ section that follows our best shirt picks.
Fabric
Huber suggests that those interested in sustainability choose dress shirts made of eco-friendly materials like organic cotton, linen or bamboo fabric. If you can't find something in those fabrics that works for you, though, look out for shirts that are either 100% cotton (for optimal softness and quality), or shirts that include a small amount of a material like Spandex or Lycra, which will make the shirt a little stretchier and more comfortable to wear.
Our top picks for the best dress shirts for men
"When searching for men's white dress shirts, you want to select a shirt that will stand the test of time, since you will most likely wear this piece over and over again," says Huber. "Look for high-quality styles made from luxurious materials, and pay special attention to details such as collar style and weight of fabric for lasting elegance and sophistication." She recommends this shirt from Emporio Armani, which has a stylish spread collar, a flattering cut, and just enough stretch added to its material that you'll stay comfortable, no matter how stiffly formal the event. "This one is a classic," Huber adds.
Specifications:
Sizes: 14.5-16.5", 18" neck
Fabric: 98% cotton, 2% spandex
Colors: White, black, pastel blue
Price on publish: $225
What we like:
It's simple yet elegant
Machine washable
What we don't like:
Expensive for a plain white shirt (although admittedly cheap compared to higher end designers)
The bottom line: 
A straightforward, timeless dress shirt from a trusted brand.
Best white dress shirt for men
Emporio Armani Trim Fit Solid Dress Shirt in Solid Black at Nordstrom, Size 15
When it comes to quality, "look for shirts with delicate stitching, reinforced buttons, and durable construction that ensure long-term quality," says Huber. With that in mind, Charles Fratto, style director for ILOE Studios, recommends this Calvin Klein offering. "WIth a brand that knows how to do basics and do them exceptionally well, Calvin Klein is an easy choice to make," he says.
Specifications:
Sizes: 14.5-18" neck, with half sizes, plus 32-37" sleeves
Fabric: 100% cotton
Colors: Black, smoke, white, blue
Price on publish: $52
What we like:
Moisture-wicking
Machine washable
Wrinkle-resistant
What we don't like:
A minority of customer reviews say it fits a little too large
The bottom line: 
A great, easy-to-care-for shirt at a reasonable price.
Best quality dress shirt for men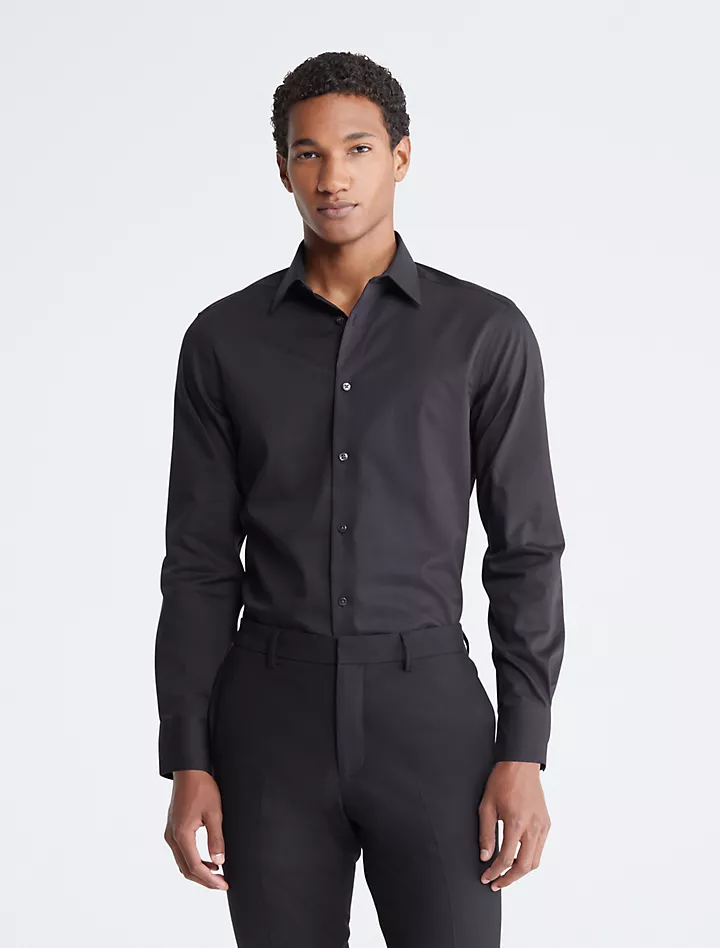 Calvin Klein Slim Fit Steel Solid Herringbone Dress Shirt
While "casual" and "dress shirt" might not sound like they belong together, anyone who's gone to a destination wedding by a beach can tell you differently. In terms of what to look for, Huber suggests you, "look for versatile dress shirts featuring relaxed patterns such as checks or plaids in soft hues like ivory." Fratto's choice is this comfortable shirt from Tommy Bahama. "The pinnacle of beach time cool, this dress shirt is casual in all the right ways and polished enough for just about any occasion," he says.
Specifications:
Sizes: XS-3XL, plus big and tall sizes
Fabric: 56% cotton, 39% COOLMAX EcoMade polyester, 5% Lycra Spandex
Colors: Blue, silvery blue, hummingbird blue I don't see this one, white
Price on publish: $148
What we like:
What we don't like:
A small number of customer reviews say it runs large
The bottom line: 
A travel-friendly shirt, perfect for formal occasions in more informal places.
Best casual dress shirt for men
Tommy Bahama Men's Sarasota Stretch Ventura IslandZone Stripe Stretch Button-Up Shirt in Micro Chip at Nordstrom, Size Xlt
Unless you're a regular at the opera, or still trying to live that Wedding Crashers lifestyle, most of us don't need to wear a tuxedo shirt very often, which is why it's nice to find one that doesn't cost a fortune. "With a reputation for being the destination for all things suit dressing, Jos. A. Bank offers the perfect dress shirt for a formal occasion without breaking the bank," says Fratto.
Specifications:
Sizes: 14.5-17.5", or 16-18" (big and tall version) neck, plus 32-35" sleeves
Fabric: 100% Egyptian cotton
Colors: White
Price on publish: $59
What we like:
Wrinkle- and shrink-resistant
Machine washable
What we don't like:
A handful of negative reviews say the shirt was too baggy
The bottom line: 
A black tie event shirt without the black tie event prices.
Best formal dress shirt for men
JoS. A. Bank Men's Reserve Collection Tailored Fit Spread Collar French Cuff Formal Dress Shirt, White, 16 1/2x33
Just to be clear, it's only movie magic that allows James Bond to have a three-way fist fight while falling off an exploding zeppelin and still have his shirt tucked in neatly at the end of it. If you're planning on doing something a little energetic, though—cutting it up on the wedding dance floor, say—a performance dress shirt will go a long way. Fratto prefers this Bonobos option, saying that, "with fully functioning stretch built in, this dress shirt allows for peak performance while staying effortlessly stylish." It will feel as good as your favorite workout shirts.
Specifications:
Sizes: 14.5-17.5" neck, plus 33-37" sleeves
Fabric: 76% cotton, 21% nylon, 3% lycra
Colors: 34
Price on publish: $139
What we like:
Loads of color and pattern options
Stretch fabric
Machine washable
What we don't like:
A small number of negative reviews say the shirt was ruined when they tried to iron it
The bottom line: 
A forgiving, comfortable shirt with a ridiculous number of color and pattern options.
Best performance dress shirt for men
Jetsetter Stretch Dress Shirt
If you need a smart shirt but don't want to pay a lot for it, you're unlikely to find a better quality/price ratio than Van Heusen's dress shirt, recommended to us by interior designer, brand ambassador and fashion guru Chantelle Hartman Malarkey. Available in a ton of colors—and even in multipacks—this wrinkle-free, point-collar shirt has a classic fit and an extremely attractive price tag.
Specifications:
Sizes: 14.5-18.5" neck, 32-37" sleeves
Fabric: 65% reprocessed polyester, 35% cotton
Colors: 21
Price on publish: $22.35
What we like:
Extremely inexpensive
Loads of color options
What we don't like:
A handful of customer reviews complain that they don't last very long
The bottom line: 
An inexpensive shirt with few frills, but will get the job done.
Best value dress shirt for men
Van Heusen Men's Dress Shirt Regular Fit Poplin Solid, White, 17.5" Neck 34"-35" Sleeve
I'll get more into the differences between classic fit and slim fit later on in this article, but if slim fit is what you're looking for, Fratto recommends Perry Ellis' Very Slim Fit option. "Cut just right and contouring where it's needed, this dress shirt is perfect for those wanting that slimmer fit, he says."
Specifications:
Sizes: 14.5-17.5
Fabric: 100% cotton
Colors: Black, blue, white
Price on publish: $39
What we like:
 this feels redundant
Wrinkle-free
Machine washable
What we don't like:
Not great for bigger guys
The bottom line: 
A sleek, fitted shirt for the more wiry gentleman or those looking for an ultra tailored look.
Best slim fit dress shirt for men
Perry Ellis Men's Very Slim Fit Non-Iron Solid Dress Shirt in White, Size 16.5/34-35, 100% Cotton
If you're mostly wearing dress shirts to work, not having to iron them will certainly save you some time in the mornings. That's where UNTUCKit's Wrinkle-Free shirt comes in. "Designed with wrinkle-resistant fabric, this dress shirt will see you through the day while still keeping that freshly pressed crispness," says Fratto. It's also available in five different fits–slim, regular, tall regular, tall slim, and relaxed–so you can find the exact right shape for you.
Specifications:
Sizes: S-3XL
Fabric: 100% cotton
Colors: White
Price on publish: $89
What we like:
Lots of fits available
Machine washable
Perfect length to wear untucked with jeans
What we don't like:
Only available in one color
The bottom line: 
A super easy option for a busy work day–provided you need it in white.
Best no-iron dress shirt for men
UNTUCKit Wrinkle-Free Las Cases Shirt
How we selected the best dress shirts for men
My selections were made after consulting with three fashion and menswear experts, who all gave their considered opinions on which shirt worked best for each category. I also factored in personal experience with various brands, and conducted thorough research to ensure all of my picks have overwhelmingly positive reviews, especially as pertains to comfort, fit, and style.
How to wear men's dress shirts
You have your shirt and you're ready to hit the town. Here are a few things to watch for when wearing a dress shirt:
Pairing
"Pairing it with your wardrobe is the next step!" says Huber. "Dress shirts can be versatile garments to help create various looks with your style. For formal events, pair one of your crisp white dress shirts with a well-fitted suit and tie. For more relaxed ensembles, try leaving one button open while rolling up its sleeves slightly and pairing with tailored trousers or even dark denim, for an impressive smart-casual ensemble."
Tucking
"Unless you're wearing a shirt designed to be untucked, always tuck it in and always wear a belt," says Fratto. "This singular styling point will elevate any look from too casual to always presentable."
Accessorizing
"Don't forget accessories," says Malarkey. "You'll want to pair these shirts with a nice watch, bow tie or tie or even cuffs. You can wear the shirt on its own or under a blazer or tux, depending on the occasion." And don't forget shoes: A stylish pair of loafers for men goes a long way toward completing a look.
Frequently asked questions (FAQs)
What is the difference between modern fit and classic fit dress shirts?
"Modern fit dress shirts feature slimmer cuts for a more tailored and contemporary appearance," explains Huber. "Classic fits boast looser cuts with more relaxed silhouettes that may suit different body types better."
What's the right dress shirt for my body type?
"Finding a dress shirt to flatter your figure requires taking proportions into account and finding one with an ideal fit for you," advises Huber. Here are her suggestions:
If you have an athletic build
"For individuals who possess muscular physiques, slim fit dress shirts with darts or tapered cuts may provide the optimal choice in highlighting their physique without becoming restrictive," she explains. "These options help accentuate your upper body while remaining comfortably fitting."
If you have a slim build
"Dress shirts tailored specifically towards slim builds are an effective way of creating a more defined silhouette," says Huber. "In general, select slim fitting shirts which snug closer around the torso while eliminating unnecessary fabric from excess draperies and cuts. You don't want to be swimming in your shirt!"
If you have a fuller build
"A classic fit dress shirt provides more room through the chest and waist for those with fuller frames," Huber says. "You don't want to feel restricted or, even worse, have your shirt pulled too tight. This fit lets you enjoy wearing this type of shirt and can also be really flattering."
Which is better, classic fit, or regular fit?
"Neither is better than the other," insists Fratto. "It's entirely dependent on who is wearing it and where they are wearing it. This is why I love personal style, because it's so completely personal in every way. What may look good for one person might not look good on another even if they have the exact same body type. Why? Because the story they tell in the clothes that they wear determines everything."
The information presented here is created independently from the TIME editorial staff. To learn more, see our About page.