Our evaluations and opinions are not influenced by our advertising relationships, but we may earn a commission from our partners' links. This content is created independently from TIME's editorial staff. Learn more.
Updated
September 11, 2023
With so many work bags for women on the market, it can be difficult to determine which is best for your individual needs. We've spoken with female professionals and style experts located across the country who share their top picks for work bags that will serve you well for years to come. 
What to consider when buying a work bag for women
When shopping for a work bag, it's important to keep practicality top of mind. "My best advice is to buy a bag in a neutral that matches most of your wardrobe," says Meghan Donovan, the founder of wit & whimsy and Paris, Perfected. "This ensures you'll be able to rely on it going with any outfit." Taking a bag's shape into account is also key. "I also always look for a tote that has some structure to it," Donovan adds. "I want it to hold up to lots of wear but also not look overly slouchy or run down no matter how much stuff I have packed into it." 
Below, we've divided up experts' favorite bags into 12 subcategories to help you develop a better sense of their specific strengths. 
Top work bags for women
Best budget (and best large) work bag for women: L.L Bean Boat And Tote 
Available in four sizes and six hues, L.L.Bean's boat and tote is a preppy staple that first made its debut as an ice carrier nearly 70 years ago. Content creator and designer Clare Sullivan cites the extra large canvas tote as a versatile, capacious pick that can accommodate more than just her workday essentials. "Even with a laptop and iPad inside, I can still use it after a long day to hold groceries on my way home," Sullivan says of the bag, which can accommodate a whopping 500 pounds of items. Sullivan appreciates the many customization options L.L.Bean offers, too. "You don't have to do your initials, which is the fun part," she explains. "Mine says 'MORE IS MORE,' as it's usually stuffed to the brim with samples, art supplies, or even decor I've picked up." Nan Philip, lifestyle blogger and founder of Nan Philip Consulting, echoes similar sentiments. "I seem to never be able to travel light—even just for a day of work—as I might have my laptop, an extra pair of shoes, a jacket, and more, and I love that I know I can always fit everything in this big canvas tote," she says. Built to last for decades on end, the tote is made to withstand wear and tear—Philip simply tosses hers in the washing machine and lets it air dry when it's in need of a refresh. 
Materials: Heavy-duty 24-ounce canvas
Colors: 11 color options
Sizes: Various
Maintenance: Spot clean
Waterproof: No
Style and design: Classic, preppy
Price: $30-45
What we like:
Double-layer base
Handles tested to hold up to 500 pounds
Overlapped seams are double-stitched with nylon so they won't rot or break.
What we don't like: 
It may be too casual for some offices
Can feel a bit heavy
The Cuyana System Tote, which comes in seven leather colorways and two sizes, offers an array of customization options, too. It's Julia Dzafic's "number-one recommendation for a work bag." Adds the lifestyle influencer and founder of the website Lemon Stripes, "You can snap in their large pouch and their laptop sleeve to keep everything organized." Plus, Dzafic says, "You're able to add a strap as well to make it a cross-body bag for an easy, hands-free commute."
Materials: Leather
Colors: Seven (Black, Caramel, Cappuccino, Dark Olive, Stone, Stone/Pebble, Navy/Storm)
Sizes: 2 options
Strap length: 9.5 inches
Weighs 1.9 pounds for 13-inch and 2.3 pounds for 16-inch
Waterproof: No
Style and design: Classic
Maintenance: Wipe clean with a very slightly damp (or dry) cloth, follow Cuyana's care instructions for leather maintenance
What we like: 
It's fully customizable
Made from soft Italian leather
It's simple, but chic
What we don't like: 
It's a bit spendy for a plain leather bag
For years, Nora Massey, executive assistant and creator of the blog Purely Nora, has sworn by another Cuyana offering, the Classic Structured Tote, for everyday purposes as well as travel. "It fits a laptop, water bottle, breastmilk cooler, and daily essentials, holds up super well—it is still structured—and has survived all of New York City's seasons as well as being shoved under the seat on airplanes," Massey comments. "I like the open top for easy access—plus the interior leather is lighter in color, which makes everything easy to see/find." This tote can be customized to include an organization insert and can be kept up to snuff with Cuyana's leather spot cleaner. 
Materials: Leather

Colors: Four (Black/Blush, Caramel/Blush, Cappuccino/Blush, Stone/Blush)

Sizes: 

13.25 inches x 19.5 inches x 6 inches
Handle drop: 8.875 inches
Leather tie Length: 14.25 inches
Weight: 2.2 lbs

Maintenance: Wipe clean with a very slightly damp (or dry) cloth, follow Cuyana's care instructions for leather maintenance

Waterproof: No

Style and design: Classic
What we like: 
The roomy interior that's ideal for commuters. 
The high quality Italian leather
The classic, never-goes-out-of-style appeal
What we don't like: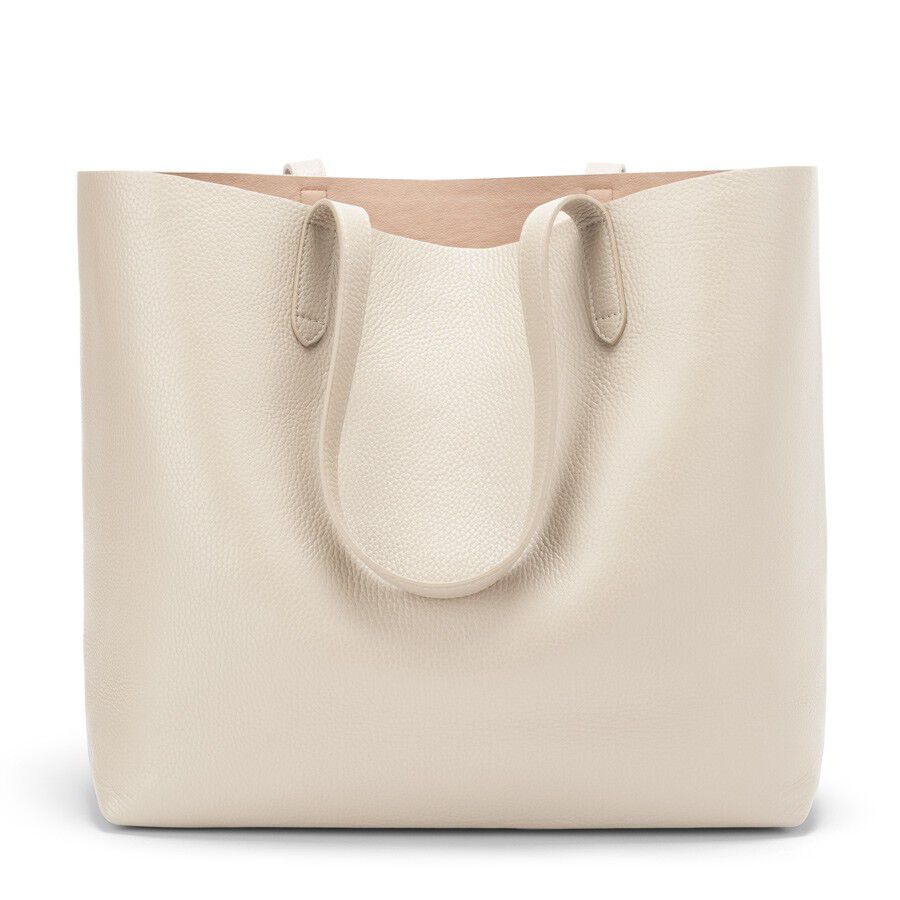 Featuring both double handles and crossbody straps, this medium-sized bag from Black-owned brand Telfar is both "colorful and classic," according to LIBBY & MY owner Libby Rasmussen. The faux leather bag—which comes in practically all of the colors of the rainbow, and beyond—is substantial enough to hold a laptop and features a magnetic snap closure. A small zippered compartment inside comes in handy for storing keys, hand sanitizer, and other small goods. 
Materials: Vegan Leather
Colors: Red, White, Drab (Green)
Size: 11.25 inches x 15 inches x 5 inches
Strap Drop 21 inches 
Handle Drop 5.5 inches
Maintenance: Wipe clean with damp cloth
Waterproof: No
Style and design: Bold, modern
What we like: 
The bright red hue
The chic T logo
The fact that it's sustainable if you buy it used
What we don't like: 
There's no dust bag or box if you buy on StockX
Ailsa Emmel, a certified nurse midwife and lifestyle influencer swears by her Alem Backpack from Able, a luxe looking leather bag that contains plenty of interior and exterior pockets, adjustable straps, and padded shoulder support. "I love that it has two big compartments to fit my notebooks, computer, and iPad," Emmel states. "I love how inclusive it is and it grows with you," she adds, noting that the backpack could serve as a diaper bag, too. Customers can select among three hues: cognac, black, and whiskey. Emmel reflects, "I never leave home without my backpack, and I love that it adds a little edge to my style." 
Materials: Leather
Colors: Three (Cognac, Black, Whiskey)
Size: 16 inches x 12 inches x 5.5 inches
Maintenance: Avoid contact with dark denim and water. Condition bag regularly with a leather conditioner, and in case of damage, enlist the help of a professional cleaner well-versed in leather  care.
Waterproof: No
Style and design: Modern
What we like: 
It comes in three neutral colorways
You can personalize your bag
It's handcrafted in Brazil
What we don't like: 
The water bottle pocket is for smaller sized water bottles
Carly Ritt, a digital marketer, author, and mom, appreciates MZ Wallace's Metro Tote Deluxe, while traveling or simply taking a short journey to the office. "I have yet to master the art of packing lightly… because of that, I need a bag that's lightweight and durable with a flexible silhouette," she comments. The tote can be worn over the shoulder but also comes with a crossbody strap, making it an excellent convertible option. A zipper closure keeps items safe and sound, and the bag also boasts a grand total of 11 different pockets. It's a versatile bag that can be used for work, but also as a gym bag. 
Materials: REC Oxford (a type of water-resistant oxford fabric made from pre-consumer materials leftover from from scraps from manufacturing) and natural Italian leather trim
Colors: 23 color options
Size: 11.60 inches × 9.40 inches × 12.70 inches
Maintenance: Wipe clean with damp cloth
Waterproof: Yes
Style and design: Contemporary
What we like: 
It comes in 23 color and print options
It's waterproof and big enough for commuting
It's very versatile 
What we don't like: 
MZ Wallace bags rarely go on sale
MZ Wallace Medium Metro Deluxe Tote in Peach at Nordstrom
For those who like to keep their belongings zipped up and secured, Emily Coyne recommends Tory Burch's Ever-Ready Zip Tote, which comes in six colorways and is made from coated canvas and faux leather. "After using so many open totes, I was tired of having my belongings potentially spilling out when traveling or on the go," the content creator and founder of emilyOandbows comments. "The purse also is a reasonable price point for a designer bag and most importantly looks good year round." Coyne also appreciates the bag's interior compartments, brass hardware, and removable zippered pouch, which can be carried on its own as a small clutch. 
Materials: Printed coated canvas with faux leather trim
Colors: Six (Mediterranean Blue, Sunset Glow, Winter Peach, Black, New Ivory, Zinc)
Size: ​​11.4 inches x 12.6 inches x 6.3 inches 
Maintenance: Wipe clean with damp cloth
Waterproof: No
Style and design: Modern
What we like:
It comes in six shades
The elevated print makes it look like a much more expensive designer bag
It's roomy enough for all your needs
What we don't like: 
There's only one interior pocket, so if you want a lot of storage options with organization, this may not be the bag for you. 
Tory Burch Ever-Ready Zip Tote
There are a lot of laptop bags for women on the market, but you don't necessarily have to buy one that's marketed as a laptop. Samantha Sheinson considers Banana Republic's Vida Bag, sold in both brown and camel, to be "an absolute gem for laptop needs." Says the style blogger behind The New York Blonde, "Not only is it spacious with a chic design, it offers excellent protection and padding, ensuring my laptop stays safe and secure on the go." But the bag isn't just ideal for tech gear—it offers plenty of pockets to tuck away other small essentials while remaining chic looking. "It is truly a fashionable and functional handbag," Sheinson comments. The 100% leather bag (the interior is ultrasuede made from polyester) requires professional cleaning and has a polyester interior. 
Materials: Leather (exterior) and polyester (interior)
Color: Black
Size: 15 inches by 1.5 inches by 4.5 inches
Maintenance: Professional cleaning only
Waterproof: No
Style and design: Classic
What we like: 
It holds a ton of stuff, easily
The classic shape never goes out of style
The quality leather will last a long time
What we don't like: 
Only available in one color
Only has a buckle closure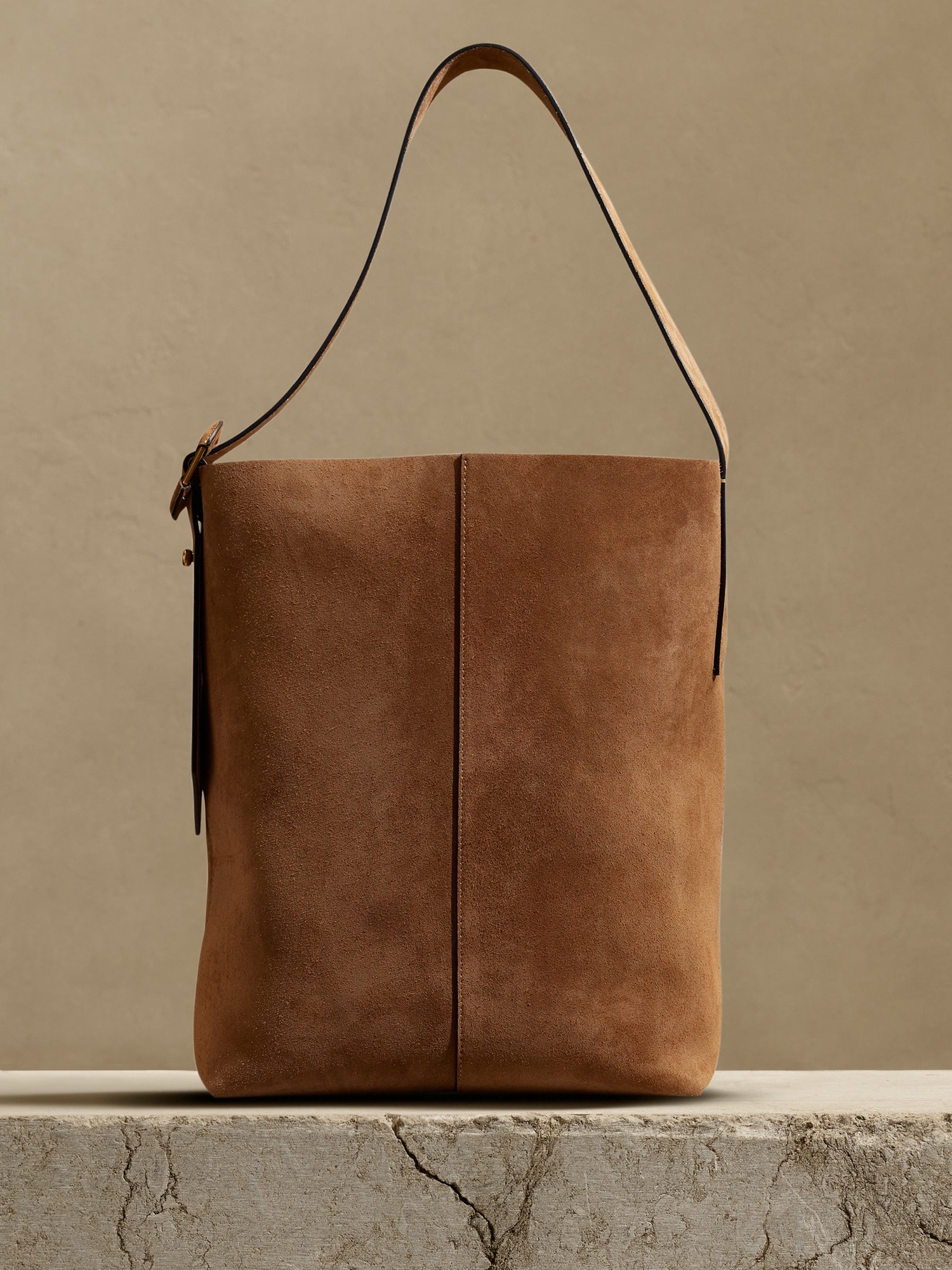 Coyne finds her Goyard Saint Louis GM Tote Bag—the larger of the two Saint Louis styles—"is the tote I reach for daily." She's relied on the bag, which is available in 11 colorways, to house her laptop, water bottle, books, and more, and has been impressed with its performance over time. "With its flexible canvas material and durable straps, the tote can hold so much weight and not even be affected," Coyne reflects. She is confident that the bag will continue to serve her changing needs well into the future, stating, "As I grow older, I know the purse will be there to shift for every new stage of life. It is an investment, but I love the consistency the bag provides." 
Materials: Goyardine Canvas & Chevroches Calfskin (reversible) 
Color: 11 colorways
Size: 11 inches x 5.9 inches x 5.9 inches
Maintenance: See Goyard's guidelines for extensive information about care
Waterproof: No
Style and design: Classic
Price: $1300+
What we like: 
It's a beautiful, recognizable designer bag that will elevate any outfit
It's made from cloth so it's light 
It comes in various shades
Buying from reputable resellers can save money
What we don't like: 
This one's an investment piece, so you'll spend a lot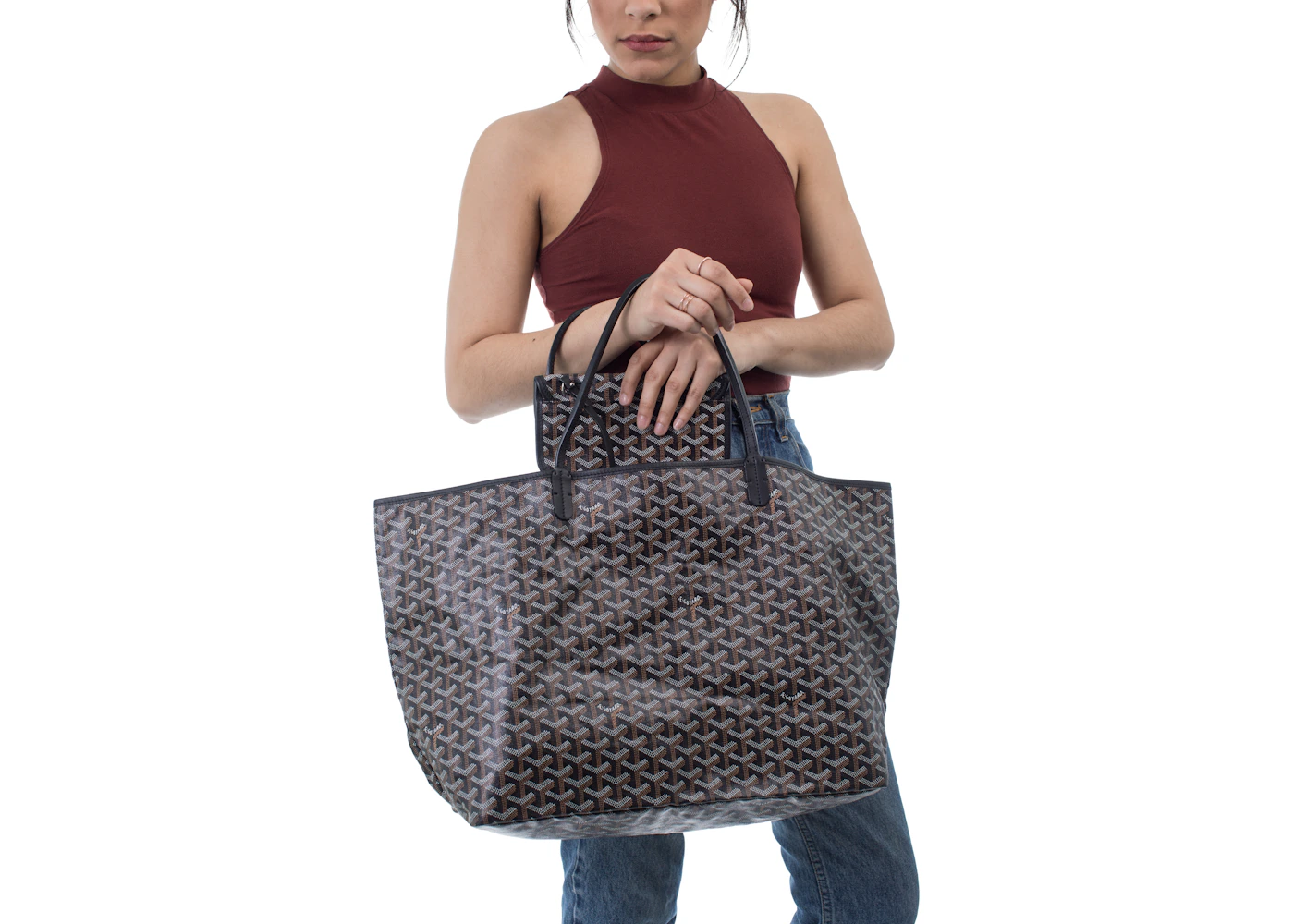 Despite having owned her Dagne Dover Signature Tote for seven years now, content creator and director of client development Emily Bell says that the bag is still in great condition. Bell relies on the tote for housing her items including her laptop and lunch and notes that it tucks under an airplane seat wonderfully, too. The tote comes in two sizes, which include the smaller Classic and larger Legend, both of which boast a coated canvas body and vegan leather trim that can be spot cleaned. Good to know: Dagne Dover also has a great line of wallets for women. 
Materials: Coated canvas and vegan leather trim

Colors: Three color choices (Onyx, Bleecker Blush, Graphite) 

Size: 

13.75 inches x 11 inches x 4.5 inches (bag)
13 inches x 8 inches x .75 inches (padded laptop sleeve)
17 inches (top opening)
9 inches (handle drop)

Maintenance: Spot clean as needed with mild soap, warm water, and a clean, soft cloth.

Waterproof: No

Style and design: Classic
What we like: 
It's 100% vegan
It holds a lot
The coated canvas makes it lighter than leather
What we don't like: 
Because it's made of coated canvas, it won't last as long as leather
Does not include crossbody strap (and not recommended for use as a crossbody due to its size/capacity)
As a mom of two herself, Ritt appreciates the Naghedi St. Barths Tote for weekdays and weekends alike. "Designed by a mom of three, this tote is timeless and durable throughout the seasons," she shares. Ritt has found the tote, available in a wide range of solid hues as well as some graphic options, to be lightweight, as well as wipeable and easy to clean. When Ritt isn't toting the bag to work, she'll use it as a diaper or beach bag during her days off. The bag also comes with a removable zip pouch that's excellent for holding cosmetics, loose change, bandages, and more. 
Materials: Neoprene
Colors: Five (Cocoa, Onyx, Ecru, Graphite, Poppy); additional options available at Naghedi
Size: 17 inches  x 7 inches x 9.5 inches
Maintenance: Spot clean with mild soap diluted in water
Waterproof: While neoprene had some water resistant properties, it is not a waterproof bag
Style and design: Bold, due to the unusual woven texture
What we like: 
It holds a lot, so it's great as a carry-on, beach bag or commuting purse
The woven detail gives it an extra special touch
Handles are designed to be short at first, to allow for "give"—they stretch when you add items to your bag.
Comes with a matching pouch
What we don't like:
There's no closure at the top of the bag
Naghedi St. Barths Medium Woven Tote
Photographer, writer, and brand consultant Emily Byrski relies on her Dagne Dover backpack for travel. "The material is neoprene, so it's lightweight, durable, and machine washable, plus it has a ton of pockets for organizing." The water-resistant backpack comes in three sizes. Byrski notes, "The large-sized bags are massive—perfect for a carry-on personal item!" Choose from a range of solid colored styles, which range from peppy to more subdued in color, and rinse away any stains or residue by hand washing the bag in cold water with a mild detergent. 
Materials: Neoprene
Colors: Six options (Onyx, Heather Grey, Dark Moss, Storm, Dune, Camel)
Size: The small size is 9.5 inches  x 5 inches x 13 inches and 8.5 inches x 7.25 inches for the Air Mesh Tablet Sleeve
Maintenance: Rinse away stains by hand washing in cold water with a mild detergent 
Waterproof: Water resistant 
Style and design: Modern
What we like: 
It comes in three sizes if you want more room in your backpack
Neoprene is easy to clean
It comes in eight great shades
What we don't like: 
It's a little pricey for neoprene, but the design is chic
How we tested and selected the best work bags for women
We solicited bag recommendations from female consumers located across the country. All of these women also create lifestyle and fashion related content and/or commute to an office or frequently travel as part of their work. 
Frequently asked questions (FAQs)
Which type of bag is best for the office?
A bag that can house a laptop and other day to day essentials and is comfortable to carry while commuting is best for those working in an office—basically, anything but a gym bag. 
What type of bag goes with every outfit?
Solid color bags are more likely to correspond with a wide variety of outfits, while printed bags may be more difficult to style. 
Which color office bag is best?
Many people prefer black office bags or those made from brown leather, as these hues are versatile and timeless. Something to keep in mind: Work pants for women tend to transfer color onto bags (and bags can transfer color to pants), so keep this in mind when pairing a boldly-colored bag with light pants, or darker-hued pants with a light bag.
The information presented here is created independently from the TIME editorial staff. To learn more, see our About page.