Our evaluations and opinions are not influenced by our advertising relationships, but we may earn a commission from our partners' links. This content is created independently from TIME's editorial staff. Learn more.
Updated
September 20, 2023
A piece of jewelry can be more than just a beautiful accessory. Instead, it can represent a powerful emotional connection to a person, symbolize a relationship, or simply remind the wearer of a cherished memory. While jewelry can be worn daily, there's a new category of accessories that never have to be taken off: Permanent jewelry. Here, we'll delve into everything you need to know about this trend.
What is the point of permanent jewelry?
Permanent jewelry refers to a piece (usually a necklace or bracelet) that's welded together instead of secured with a clasp. Just as there are many reasons people wear regular jewelry, there are different reasons they choose to wear permanent jewelry. "We developed Forever Bracelets on this idea of permanence and to add emphasis to the idea of 'unfussy luxury' by removing the clasp," explains Rony Vardi, founder of Catbird, a jewelry company that's been making permanent bracelets since 2017. "We find our customers love the Forever Bracelets to both mark special occasions and to add a seamless, easy piece of fine jewelry to their everyday." Whether you want a way to mark the birth of a child or simply want to avoid the hassle of clasping and removing your bracelet daily, a piece of permanent jewelry may be for you.
How does permanent jewelry work?
The process of getting a piece of permanent jewelry is surprisingly quick. "After you pick your chain and any charms, our expertly trained team of jewelers will measure the perfect fit and weld it to your wrist," Vardi says. It's that simple: Pick a piece, get it fitted, and weld. And considering that most chains used are quite small, the welding itself is the quickest part of the process. That said, especially since the piece does need to be fitted and adjusted by an expert, you will likely need to make an appointment ahead of time.
Types of permanent jewelry
Bracelets are by far the most popular type of permanent jewelry. They typically feature a gold chain with or without additional charms.
Anklet: Anklets are very similar to bracelets, though they usually need to be longer so will cost a bit more.
Necklace: The same goes for necklaces, which you can also get as permanent jewelry.
Rings: While plenty of people wear gold bands or lab-grown diamonds they never take off, a permanent ring is made from the same type of thin gold chain as other permanent jewelry pieces and precisely fitted the same way.
Poxtex Extra Large Anklets for Women Large Ankle, 14K Real Gold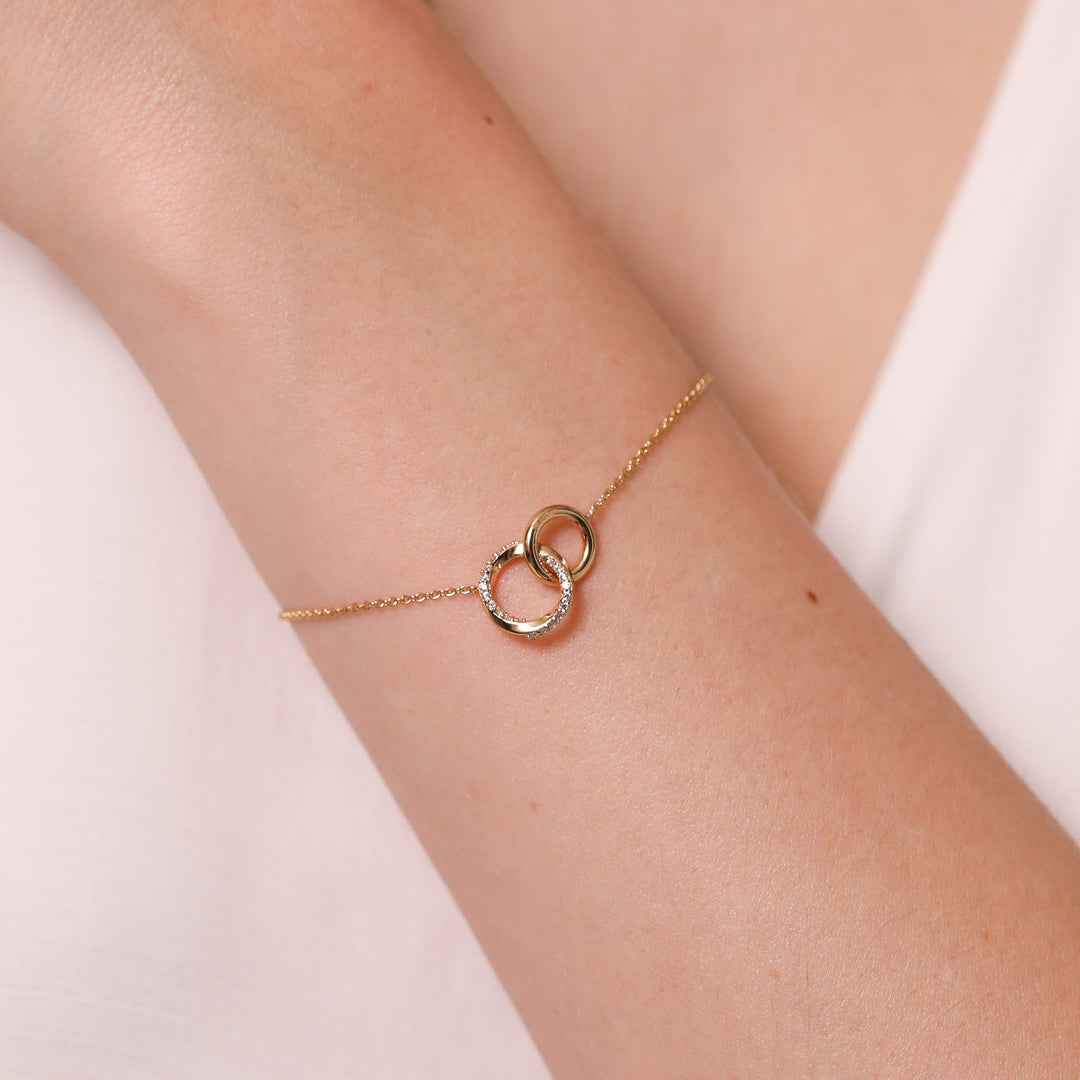 ORBIT CRYSTAL BRACELET IN GOLD
How much does permanent jewelry usually cost?
The cost varies depending on the type of piece you get and any charms you choose to add. Catbird's permanent bracelets start at $98 for a basic yellow or white gold chain and go up over $300 for the thickest woven chains or those with embedded diamonds. They also offer charms for an additional cost, which range from $34 to $118. Astrid & Miyu, a company that welds permanent bracelets and rings, offers rings for between $55 and $70. Prices for anklets and necklaces tend to be slightly higher than bracelets because the chains are longer.
Does permanent jewelry hurt?
The process is completely painless, assures Vardi. The piece is welded, which means there is some heat involved, but it only touches the jewelry and not your skin.
Can permanent jewelry be removed?
While indeed permanent, permanent jewelry is not as difficult to remove as a tattoo, for instance. "If you do happen to need or want to remove it, the bracelet can always be easily removed by carefully cutting with a pair of scissors," Vardi says. That removal doesn't have to be forever, either, as most permanent jewelers do offer re-welding for a small fee.  
How long does permanent jewelry last?
Assuming you never want or need to take it off, permanent jewelry will last as long as you want it to. Most permanent jewelry is made from 10K or 14K gold, which is not magnetic and is durable and resistant to the elements, so you shouldn't worry about damage or having to take it off in any specific situations.
Pros and cons of permanent jewelry
If you're the type of person who tends to wear the same bracelet and earrings every day, a piece of permanent jewelry can save you the hassle of putting it on each morning and taking it off each night. It's also an excellent way to mark a special occasion, milestone, or a relationship, sort of like a grown-up friendship bracelet.
On the flip side, it may not be the best choice for people who like to mix up their jewelry and tend to choose big, bold pieces over more subtle and classic picks. The same goes for those who get bored easily, aren't overly sentimental, or simply aren't into the idea of having something on their body that they can't take off for a day or two and then easily put back on. There's also the fact that you can't order a piece of permanent jewelry from an online jewelry store, as you need to be in person to get the piece welded on.
Permanent jewelry ideas we love
If it sounds like permanent jewelry could be for you, check out these beautiful options.
Catbird Forever Bracelet starting at $98
Astrid & Miyu Welded Bracelets and Rings, starting at $55
ROPE CHAIN BRACELET IN GOLD
Frequently asked questions (FAQs)
Does permanent jewelry have to be a bracelet?
Nope! While bracelets are the most popular form of permanent jewelry, you can also get an anklet, necklace, or ring.
How long do permanent bracelets take to put on?
The actual welding process only takes a few minutes, but you'll need to schedule additional time to select your piece and have it sized.
Can you fly with permanent jewelry?
Yes. Since most permanent jewelry is made from 10K to 14K gold, plus gemstones or diamonds in some cases, this means nothing about your piece is going to set off a metal detector.
Can you shower with permanent jewelry?
Sure thing. It's actually easier to shower with permanent jewelry than while wearing an engagement ring or earrings for example, as you don't need to worry about it slipping off in the soap.
Can permanent bracelets go in an MRI?
Yes they can. Since nothing about the piece is magnetic, it will not cause any problems for an MRI machine. However, if a medical professional insists you remove it, you can do so with scissors and then get it re-welded after your procedure.
Can I get permanent jewelry while pregnant?
"We haven't experienced any issues," says Vardi. "In fact, our Chief Creative Officer Leigh Plessner wore one throughout her pregnancy!" Even though pregnant people do experience weight gain, it typically does not affect the wrists or neck. However, some pregnant people have some swelling in the hands, feet and ankles, so if this is a concern you may want to avoid getting a permanent ring or anklet before or during pregnancy.
The information presented here is created independently from the TIME editorial staff. To learn more, see our About page.