Our evaluations and opinions are not influenced by our advertising relationships, but we may earn a commission from our partners' links. This content is created independently from TIME's editorial staff. Learn more.
Updated
September 19, 2023
Apart from maybe your wedding dress or outfit, jewelry, and shoes, there are few things from your wedding day that you will keep forever. But one other is the memories you make, memories that are often immortalized in the photos taken throughout the day. 
Indeed, it's the photos that you will return to over and over to relive the joy and love you felt while saying "I do" in front of all your family and friends, and there is no better way to hold onto them than by creating a keepsake-quality photo album.
To help you find the album you'll want to display proudly, we researched the best available to compile our list of favorites. Here are our top picks for the best wedding photo albums.  
Our top wedding photo album picks
This wedding album from Artifact Uprising is super popular for a reason: With six size options, 14 cover fabric colors, and other customizable elements, you can create the exact high-quality album you want. The pages are thick, the look is timeless, and it comes with a satisfaction guarantee. You can even add a handcrafted wooden box for storing additional wedding memorabilia. 
Specifications:
Starting price on publish: $140-254
Cover material: Fabric
Number of pages: 20-90
Design services offered: Yes
What we like:
Five charming wedding-specific cover text designs to choose from
Very reasonably priced with design services offered for a slight additional cost
What we don't like:
If you want to add pages beyond the standard 20, the price is going to increase quickly at $10-13.50 per added spread
Best classic wedding photo album
Wedding Layflat Photo Album
For a book that will elegantly display your wedding photos on good-quality paper and won't break the bank, look to the photo experts at Shutterfly. You can access one of their wedding-specific design themes, plus the option to design from scratch or use autofill, all for a steal. 
Specifications:
Starting price on publish: $20
Cover material: Soft cover (hard cover and premium leather also offered)
Number of pages: 20+
Design services offered: Yes
What we like:
If you decide while designing that you want to spend more, there are more luxurious covers and page types offered
All designs have a photo on the cover
What we don't like:
It might be tricky to make changes to the design if you don't make the whole thing from scratch
Best budget wedding photo album
Photo Books: Wedding Photo Album Photo Book, 12X12, Premium Leather Cover, Deluxe Layflat
Perfect for compiling photos that your guests took on their phones, either instead of or alongside any professional photos, Snapfish's wedding-themed albums start at 5x7 in softcover and 6x8 in hardcover. Whether you want to be able to travel with your album or you're looking for one that will fit your minimalist lifestyle, this is a quality and inexpensive pick. 
Specifications:
Starting price on publish: $13-16
Cover material: Soft or hardcover
Number of pages: 20-150
Design services offered: No
What we like:
Multiple wedding design themes to choose from
You can order other items, such as canvases or photo gifts, at the same time
What we don't like:
With a small album, you'll have true paper pages and a traditional binding 
Best mini wedding photo album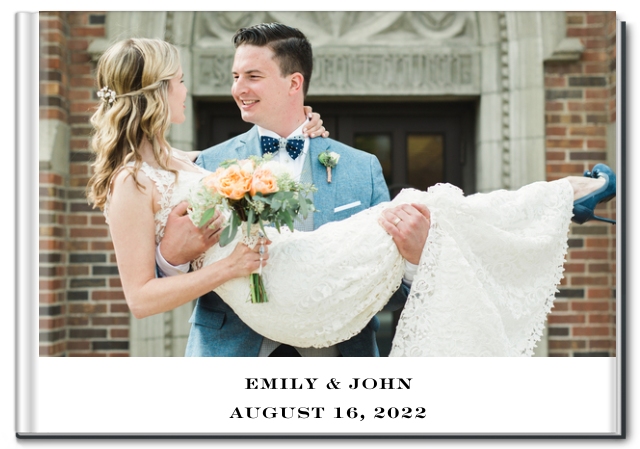 Hardcover Photo Book, 6x8, starting price: $17.99
Zola is one of the most popular sites for planning your wedding, designing a wedding website, and creating a registry, so it's no surprise that they also make elegant wedding albums. The Premier option, their middle type, comes in two timeless cover materials, 19 colors, and five different sizes. Plus, their design tool will arrange your photos for you to help you get started—from there, you can move them around yourself. 
Specifications:
Starting price on publish: $189
Cover material: Linen or vegan leather
Number of pages: 20-80
Design services offered: No
What we like:
If your wedding registry is on Zola, you can add the album to your registry
The website offers advice on the most popular covers, album sizes, layouts, and number of pages, plus the average album creation time, to help you get started
What we don't like:
The base price is for 20 pages, yet they say most couples use 30-40 pages, which would be an additional $50-100 
Best elegant wedding photo album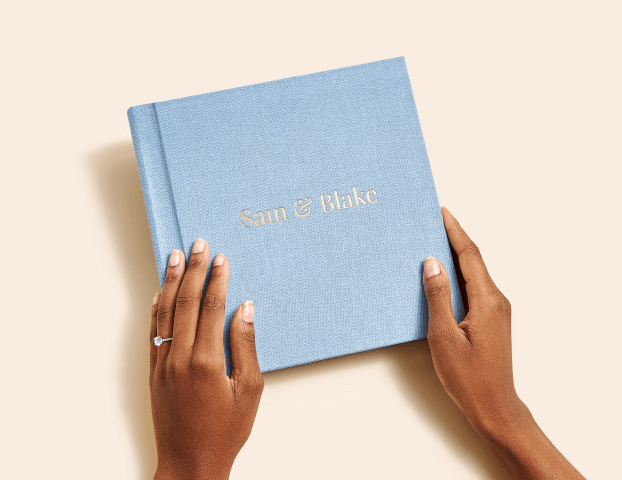 For the couple who wants to relive their big day over and over without flipping through an album, this digital photo frame is the perfect alternative. It displays portrait photos side by side as well as landscape photos, it looks more like a pretty picture frame than an actual electronic device, and it can even play music or the sound with videos to really take you back to saying "I do."
Specifications:
Price on publish: $149
Cover material: N/A
Number of pages: N/A
Design services offered: N/A
What we like:
You can add unlimited photos and videos
At 10.5 by 7.3 inches, you'll likely see your photos larger than you would have in an album
What we don't like:
It does need to stay plugged in and connected to WiFi
Best digital wedding photo album
Aura Carver Digital Photo Frame
While many companies do offer durable, classic leather as a cover option, none have quite as many color options as Printique. You can choose from 13 different colors of vegan leather or 12 different colors of genuine leather, in either a classic, metallic, or rugged finish. Add to that three different album shapes and four different sizes, and you can create the leather wedding album of your dreams. 
Specifications:
Starting price on publish: $138-186
Cover material: Vegan leather or genuine leather
Number of pages: 10-100
Design services offered: No
What we like:
Pre-designed wedding-themed layouts make designing a breeze
The different album shapes—portrait, square, and landscape—are a unique offering
What we don't like:
Starting prices are for a 20-page album, yet you can do as few as 10 pages, which is a little confusing
Best leather wedding photo album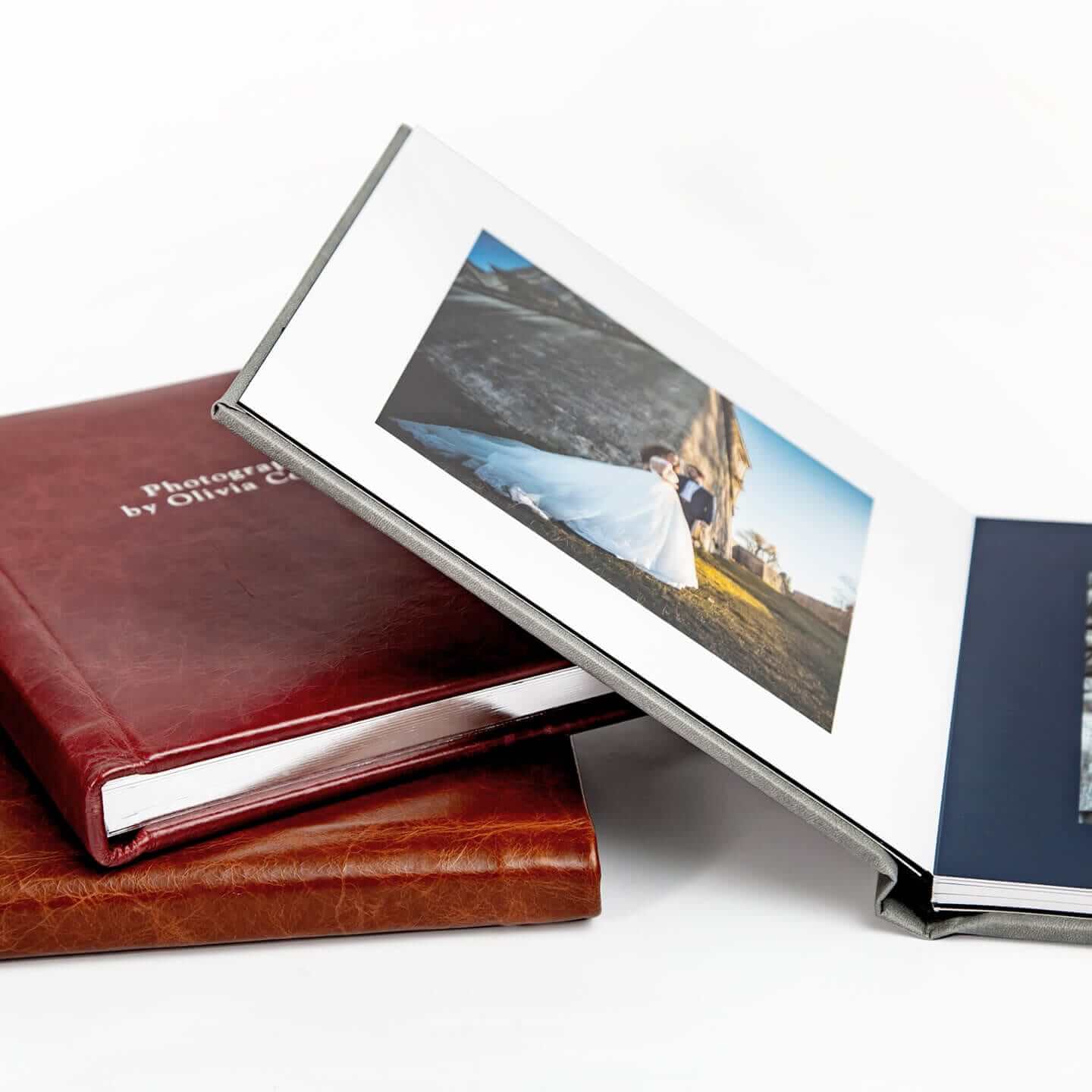 Printique Leather Photo Album, Starting price:$138
For the couple who wants to incorporate keepsakes from their wedding or record anecdotes and memories alongside photos, this scrapbook-style album is perfect. The velvet cover is able to be personalized, so the book will feel just as special and luxurious as a "fancier" album. Plus,  you can choose the number of pages and paper color you want within. 
Specifications:
Starting price on publish: $147
Cover material: Velvet
Number of pages: 10-100
Design services offered: No
What we like:
The seller will send a mock-up of your cover for approval before printing and shipping
There are 29 cover colors and numerous fonts and font colors to choose from
What we don't like:
It's just the album, so you'll need to print your photos and collect your scrapbooking tools separately
Best scrapbook-style wedding photo album
Arcoalbum Velvet Scrapbook Album
If you just can't imagine whittling your photos down to a curated set, consider this traditional-style photo album. At 13.2 inches tall, 13.6 inches wide and 2.4 inches thick, it can fit a whopping 600 photos in both landscape and portrait. This is an "old-fashioned" photo album, meaning you'll print 4x6 photos and then insert them into the pages, but you'll fit more in this album than in any other. 
Specifications:
Starting price on publish: $25
Cover material: Artificial leather
Number of pages: 120
Design services offered: No
What we like:
The pages have black lining between the photos, giving it a more polished and stylish appearance
There are 32 cover color options, many of which have one or more photo windows
What we don't like:
Remember that you will need to pay to print all those snaps separately
Best oversized wedding photo album
RECUTMS Photo Album 4x6 Holds 600 Photos Button Grain Larger Capacity Leather Cover Black Inner Page (White)
If you want to go big, there's no better place to do it than PikPerfect. Want to add a cameo window or acrylic glass to your leather cover? Go for it. Want to add a matching album box or additional smaller duplicate albums for your parents or friends? Can do. Want to include up to 250 photos? Yep, you can do that too.
Specifications:
Starting price on publish: $199-535
Cover material: Photo, linen, vegan leather, microsuede, linen velvet, velvet, or real leather
Number of pages: 24-80
Design services offered: Yes
What we like:
Three different types of photo paper to achieve the exact aesthetic you want
Gives design recommendations before requiring extra cost to work with the design service
What we don't like:
All the options can be a little overwhelming
Best splurge wedding photo album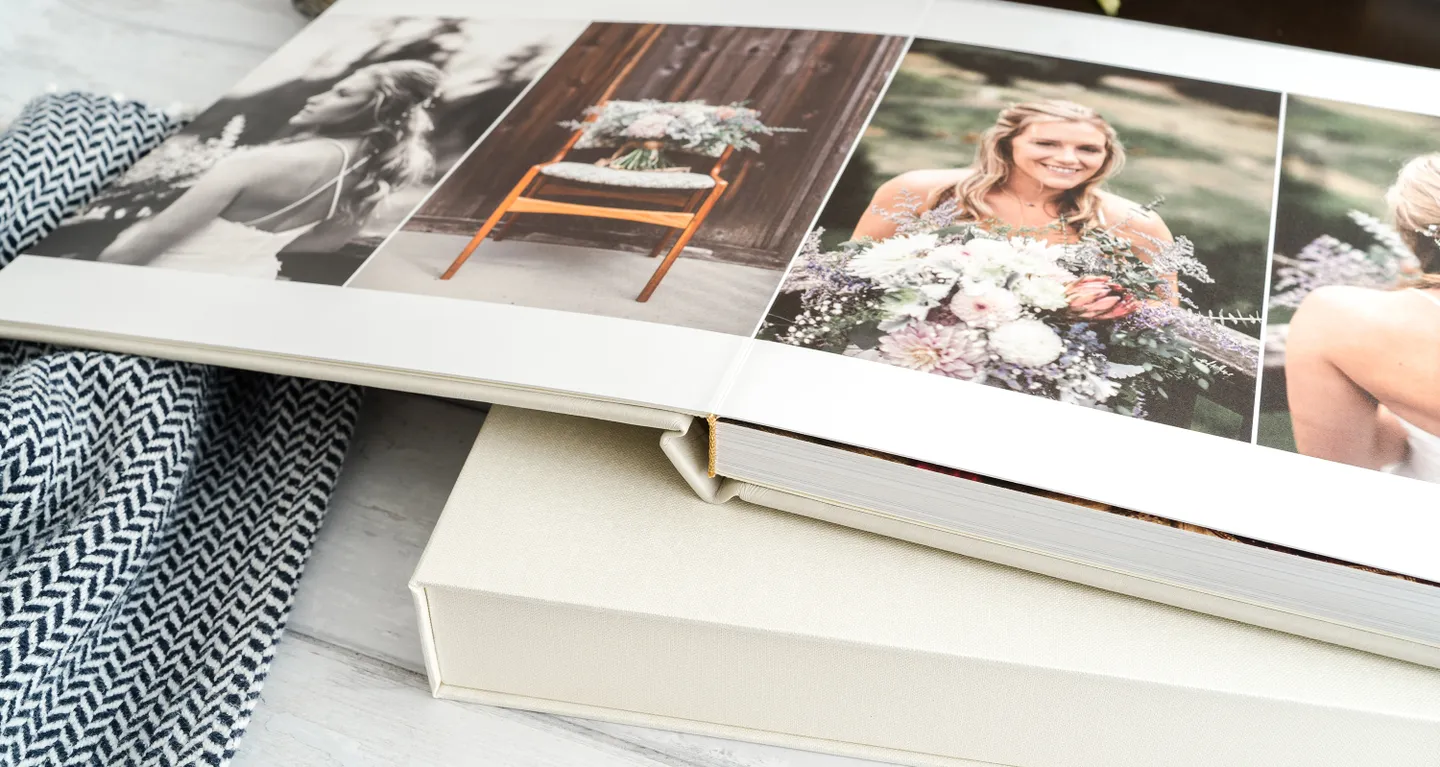 PikPerfect Premium Layflat Wedding Album
What to consider when choosing a wedding photo album
Photo orientation and size
Your wedding photo album should encapsulate everything you want to remember about your special day and those memories shouldn't be limited by the structure of your album. When choosing one, make sure you can add landscape and portrait photos and that your photos can be of different sizes. While you likely want to include some detailed shots of your wedding shoes or engagement ring, for example, they don't need to be as large as the snaps of your entire wedding party. 
Cover style
When you're not flipping through your album, the cover is what you will be looking at, so choosing a style that fits you is important. If you're planning to display the album somewhere visible, such as on a bookshelf or coffee table, you may want to consider the design style and aesthetic of the space as well. Likewise, many albums allow you to add text and/or a photo to the cover—if one or both of these is important to you, make sure you choose an album with them as an option. 
Paper style
Consider if you want the pages to be paper or a thicker material. If it is an option, always choose an album that can be opened up and lays flat as this will allow you to design pages with photos going across the gutter, or the inside of the book spine, which will give you much more flexibility in terms of layouts. 
Price
Some wedding photographers will offer an album as part of their package, so check to make sure you aren't already paying for one before you begin pricing one out on your own. Once that's confirmed, determine your budget, keeping in mind that this is a keepsake you'll have forever. 
How we selected the best wedding photo albums
To find the best wedding photo albums available, we scoured the market, looking for the companies that offer the highest quality products and tools that make it easy to design an album from scratch. Many of our favorites also offer design services for an additional cost, which earned them bonus points—we didn't want a lack of time or inexperience with design to stop any couples from finding the perfect album to memorialize their special day. 
We also leaned towards products that offered lots of options in terms of album sizes, cover materials, page templates, and the like. If a couple changes their mind about something halfway through a design, we didn't want them to have to totally abandon the project and start from scratch somewhere else. 
Frequently asked questions (FAQs)
How much should wedding photo albums cost?
The albums on this list span a wide range of price points, from under $20 to over $500. You can create a really high quality album for between $100 and $200; from there, the price is going to increase if you want a more expensive cover material, like leather, or if you want to add many more pages than are quoted in the base price of the album. 
Are wedding photo albums worth it?
We think so! It's one thing to have all your wedding photos in the cloud or on a USB drive, but it's another entirely to have a selection of them that perfectly encapsulates your special day in a physical album that you can pull out and look at whenever you like. 
How many photos are typically in a wedding album?
My wedding album has 55 photos in it and features a good mix of pre-wedding snaps, ceremony moments, poses with the family and wedding party, and candid shots from the reception. To get that variety without going overboard, shoot for 50-60 photos. That said, some of the albums on this list can hold hundreds, so it's up to you how many you'd like to include.
What is the best size for a wedding photo album?
The most popular sizes for wedding photo albums are 8x8, 10x10, 12x12, as well as rectangle sizes in a similar range. These allow for a variety of sizes of photos to fit on the pages without any getting too small that details are lost or too big that photo quality suffers.
The information presented here is created independently from the TIME editorial staff. To learn more, see our About page.