Our evaluations and opinions are not influenced by our advertising relationships, but we may earn a commission from our partners' links. This content is created independently from TIME's editorial staff. Learn more.
If you're still somehow wearing the multi-pack tighty-whities that your mom picked out for you in high school, it may be time to upgrade. (Look, you do you, but if nothing else, you might want some less frayed ones by now.) There's a whole world of styles, colors, and materials out there, so whether you're a new-fangled, performance boxer-brief guy or an old-school cotton briefs dude, you'll find something on our list of the best men's underwear you'll be happy to tuck yourself into.
Our top picks for the best men's underwear
"First and foremost, a shout-out to Calvin Klein," says fashion expert and retail executive Todd Hanshaw. "He and his brand were the first to bring fashion underwear for men to a mainstream audience. Multipack underwear of any kind tends to be the lower-priced of the underwear world and are made to be a value, but Calvin Klein boxers are probably the best in this category, and the individual styles still rule." Indeed, it's tough to go wrong with a pair of Calvins, which have served as hot guy shorthand for decades now (just ask Marty McFly's mom), remaining one of the top men's clothing brands.
 Specifications:
Style: Boxer briefs
Fabric: 95% cotton, 5% elastane
Size range: S-XXL
Price on publish: $30.40
What we like:
Classic style
Moisture wicking
Loads of different color-themed options
What we don't like:
A small number of reviews claim they're not very durable
Cotton Stretch 3-Pack Boxer Brief
When it comes to snagging yourself some new underwear without cracking open your piggy bank (and we should stress that this was not intended as any kind of euphemism), there are a few ways to go. "I highly suggest you find the brand that works best for you and stock up when it goes on sale," advises Hanshaw. "Every brand goes on sale at some point." Alternatively, grab Kirkland's signature boxer briefs from Costco: Soft, moisture-wicking, and extremely inexpensive, they'll get the job done and more. 
 Specifications:
Style: Boxer briefs
Fabric: 95% cotton, 5% spandex
Size range: S-3X
Price on publish: $16.99 at Costco, or for non-Costco members, $25.49 at Amazon
What we like:
Inexpensive
Moisture wicking
What we don't like:
Hand wash only (who has time for that?)
Only come in three colors
Kirkland Signature Men's 4 Boxer Briefs (Small, Assorted)
Just to be clear, these boxer briefs aren't 100% cotton. But being mostly cotton, they have all the softness and breathability you'd expect, with the added advantages of some stretchy lycra, plus a good helping of antimicrobial Ionic silver, which helps to keep them fresh and odor-free. If you like cotton, but sometimes find it a little too basic, these might be just what you're looking for.
 Specifications:
Style: Boxer briefs
Fabric: 84% Supima cotton, 10% Ionic polyester, 6% lycra
Size range: S-XXL
Price on publish: $38
What we like:
What we don't like:
Some customer reviews find them to be too heavy
Mack Weldon Silver HD Boxer Briefs in Wild Ivy at Nordstrom
If you find the hotter months to be a hell of sweaty, blotchy swamp crotch/swamp whatever-else-is-going-on-down-there, allow these boxer briefs to completely change your life. Speaking from personal experience, this barely-there underwear is incredibly lightweight, comfortable, and most importantly, cool and quick-drying, meaning sweat doesn't hang around long enough to become a problem. They're also thin enough that you can wear them under even the skinniest of skinny jeans (if, y'know, you're still doing that) without them being visible underneath.
 Specifications:
Style: Boxer briefs
Fabric: 88% polyester, 12% spandex
Size range: S-3XL
Price on publish: $9.90
What we like:
Breathable
Multiple color options
Extremely lightweight
What we don't like:
Can be a little snug, so it's best to go up one size from your regular underwear
Working out at the gym comes with its own set of underwear problems, ranging from sweat build-up to your undies riding up on you in all sorts of unfortunate ways. Choosing the right pair, then, is essential for regular gym-goers. "Lululemon men's support underwear is great for the gym," enthuses Hanshaw, and since it's lightweight, breathable, sweat-wicking, and quick-drying, it's easy to understand why. Good to know: Lululemon also made our list of the best men's workout shirts. 
 Specifications:
Style: Boxers
Fabric: 91% kodal, 9% lycra elastane
Size range: XS-3XL
Price on publish: $19
What we like:
Lots of color and pattern options
Soft
What we don't like:
Some customer reviews complain of tearing and rips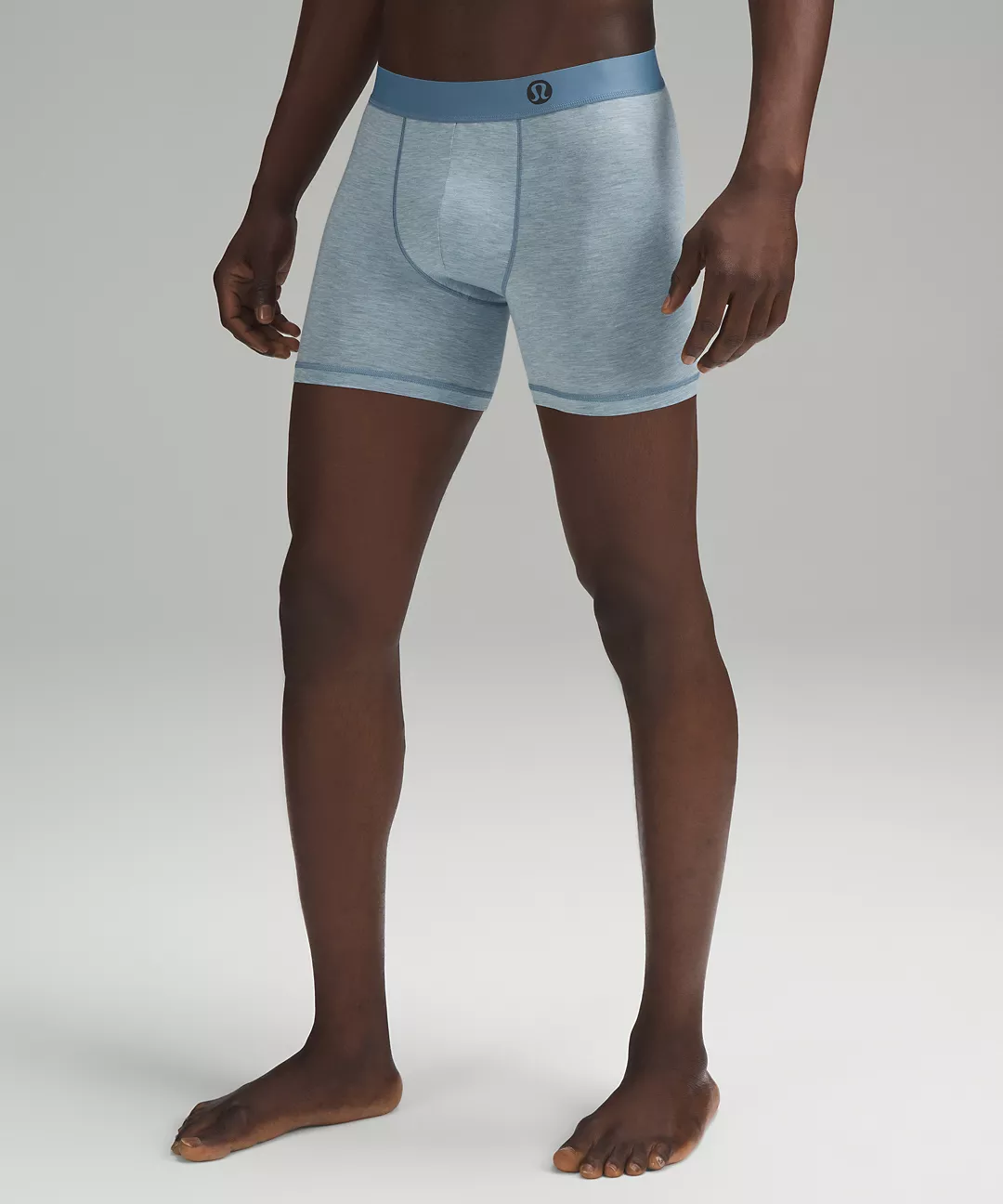 Lululemon Always In Motion Boxer
Bamboo might not be the first thing you think of when considering underwear fabric, but the increasingly popular material is extremely soft, breathable, and good at keeping you dry on sweaty days. It even has natural antimicrobial properties, which help to reduce any nether region B.O. that might be happening. These roomy, lightweight boxers take advantage of all of that, mixing in a smattering of spandex to keep things even more comfortable and stretchy. 
 Specifications:
Style: Boxers
Fabric: 95% bamboo viscose, 5% spandex
Size range: S-3XL
Price on publish: $24.95
What we like:
Some bright color options
Eco-friendly
Quick-drying
What we don't like:
A handful of reviews remark on their tendency to bunch up and give you a wedgie
Chill Boys Soft Bamboo Boxer
Those looking for a little extra support for their boys might want to try these fitted boxer briefs, which feature Saxx's trademark BallPark Pouch, a literal hammock that cradles your giggleberries while keeping them separated from your thighs with breathable mesh panels. Form fitting around the butt and legs, they're also moisture-wicking, quick-drying, and feature flat seams to help prevent chafing. Your quest for the perfect underwear might end here.
 Specifications:
Style: Boxer briefs
Fabric: 77% nylon, 14% elastane, 9% polyester
Size range: XS-XXL
Price on publish: $25.50
What we like:
13 color and pattern options
Moisture-wicking
Quick-drying
What we don't like:
A handful of reviews complain that the waistband folds up too frequently, especially when exercising
SAXX Men's Quest Boxer Briefs
Briefs aren't the most popular choice these days, but if you feel like going old school, aim for something that at least has the advantage of modern fabrics, rather than the thick, cotton dumpling steamers of yesteryear. With a Calvin Klein-esque look and made of a soft, breathable material, this underwear yanks briefs into the modern age, giving you the old school support you want while looking and feeling a little bit sexy.
 Specifications:
Style: Briefs
Fabric: 90% modal, 10% spandex (solid colors and prints), 47% modal, 43% polyester, 10% spandex (heather)
Size range: S-XXL
Price on publish: $34
What we like:
What we don't like:
Some reviews complain of inconsistent sizing
Tommy John Men's Second Skin Brief | White | XL
How to choose the best men's underwear
"Tighty whities are a thing of the past!" confirms Hanshaw. "When choosing underwear for men, fit and style go hand in hand. What will you be wearing it under? All of us have seen men with slim or skinny jeans and you see that mid-thigh ring from their boxers. So look for a fit that makes you feel good, and gives the support you need to be comfortable while remaining unnoticeable through your outside clothing. Color is really to your preference and to who might see it later, but one time when color does come into play is when wearing a light colored, thinner cotton or linen pant in the summer or dress pants for work—you'll either want to go with a traditional cotton boxer to act like a lining, or you could go with a lightweight brief to appear like there's nothing on underneath. Stay away from white and black, though, as they show through. Go with a yellow or neutral color that won't show through."
"Fit is key," insists Dave Ortley, VP of product at Municipal. "Every body is different, so it's crucial to find underwear that fits you well. A proper fit ensures comfort and support throughout the day. There are various styles to choose from, including briefs, boxer briefs, trunks, and boxer shorts, so consider your preferred style based on comfort and the intended use of the underwear. Some prefer wider, more secure waistbands, while others like softer and more relaxed options. Look for underwear with seams placed strategically for anti-chafe and a form-fitting design. Some may prefer seamless options for maximum comfort."
How we selected the best mens underwear
We made our selections through a mix of detailed research, expert advice, and personal experience, as well as making sure each pick had highly positive customer reviews.
Frequently asked questions (FAQs)
Which type of underwear is best for men's health? 
"When it comes to men's health, there isn't one type of underwear that is universally considered the best," says Dr. James Elist, inventor/founder at Penuma. "However, here are some factors to consider when choosing underwear for men's health." These are Elist's recommendations:
Comfort
"Choose underwear that fits well and provides comfort throughout the day. It should not be too tight, restrictive, or cause chafing."
Temperature regulation
"Opt for underwear that allows for breathability and helps regulate the temperature of the genital area. Avoid tight-fitting underwear that may lift up the testicles closer to the rest of the body, thus increasing scrotal temperature, which can impact sperm production."
Moisture management
"Look for underwear that wicks away moisture from the skin, helping to keep the genital area dry and reducing the risk of infections."
Support
"Consider the level of support you need. Some men prefer briefs or boxer briefs for better support, while others may find boxers or loose-fitting styles more comfortable."
Material
"Natural, breathable fabrics like cotton are often recommended for men's underwear. Cotton allows for better air circulation and helps to minimize moisture buildup. However, other materials like modal, bamboo, or moisture-wicking blends can also offer comfort and moisture management." 
What material is best for men's underwear?
"For me, cotton is king!" says Hanshaw. "Cotton is soft, lightweight, and absorbent. It's a natural fabric that breathes, and comes in a multitude of weights and styles while always comfortable. There are performance underwear fabrics that are great for sport, but not a great all-day option."
"Soft, luxury cottons are always a go-to for comfort in underwear," agrees Guido Campello, managing director for Cosabella (which offers a line of cotton underwear for women, as well as one for men). "Ultimately, you want something breathable, durable, and comfortable, especially in hotter climates."
Should guys wear tight or loose underwear?
"To promote fertility, it's generally recommended for men to opt for loose-fitting underwear made of breathable materials like cotton," advises Elist. "This allows for better air circulation, temperature regulation, and reduced moisture buildup. Tight underwear can potentially increase scrotal temperature by lifting the testicles closer to the rest of the body and affect sperm quality. However, it's important to find a balance, as excessively loose underwear may lack support and may not be suitable for certain physical activities. It's also important to note that the impact of underwear choices on fertility is not definitive, and individual factors such as overall health, genetics, and lifestyle also play significant roles. If you have concerns about fertility, it's best to consult with a healthcare professional or fertility specialist."
That's the medical advice, but of course, many of us consider how our underwear looks on us above all else. In terms of style, when it comes to choosing between loose or tight, Campello says, "Neither! Your underwear should fit properly—not too tight or too loose, so you feel supported but not cramped, comfortable and flexible but sturdy. Check your waistbands and don't kid yourself into a smaller waistband—feeling constricted with a belly hangover situation does not inspire confidence. Make sure you're in the right size for your current size—not too big, not too small."
Should men sleep in tight underwear?
"It's generally recommended to wear loose-fitting or no underwear during sleep," says Elist. "This allows for better air circulation and temperature regulation, which can be beneficial for overall genital health. However, personal preference and comfort should be taken into consideration, and there is no one-size-fits-all answer to this question."
The information presented here is created independently from the TIME editorial staff. To learn more, see our About page.