Our evaluations and opinions are not influenced by our advertising relationships, but we may earn a commission from our partners' links. This content is created independently from TIME's editorial staff. Learn more.
Updated
September 5, 2023
Even though they seem like an afterthought, makeup bags are important for keeping the products essential to your daily routine organized—whether on the road, at home or for quick bathroom touch-ups on a night out. Because there's nothing more annoying than digging through your purse trying to locate your favorite lip gloss when you're in a rush. 
"The best makeup bags provide a convenient and portable way to organize and carry your beauty essentials, making it easier to access and use them when needed," says LA-based Makeup Artist Amy Galloway. There's a lot to take into consideration when purchasing a makeup bag to meet your own unique storage needs. To help you narrow it down, we've done the research to round up the best makeup bags of 2023—from roomy cosmetic cases with all the compartments to small but mighty options for on the go.
What to look for in the best makeup bags
While it's easy to get caught up in what's trending on TikTok or how cute a makeup bag looks visually (and, of course, that's important too) what's more critical though is if it's functional for your life and fits your favorite tinted moisturizer, concealer, night cream, makeup brushes, and other essentials in a nice, neat fashion. 
Size and storage capacity
Size matters. You'll want to look at the dimensions of whatever makeup bag you're interested in to ensure the size works for you and your intended use—be it in your purse, suitcase or underneath the sink. If you plan to fill it up with toiletries, skincare products, makeup and more, you'll need to make sure it's big enough to house everything in an organized way. On the flip side, if it's intended for on the go, is it small enough to stash in your purse comfortably? And can you open it and easily see and access everything at a glance?
Built-in organization
Regardless of size, the best makeup bags should offer some level of built-in organization—be it separate compartments, different-sized pouches or internal zippered pockets—so you know where everything is and can find what you need fast.
Durability
Makeup bags can take a beating, so it's worth it to buy one that's well-made, will protect your products, and won't fall apart after a few months, especially if you're a maximalist known to pack in as much as possible. 
Ease of cleaning
This one's a biggie. Many modern makeup bags are waterproof to protect against spills or equipped with a machine-washable interior so when the inevitable makeup mess happens you can just throw it in the wash for quick cleaning. This is important for sanitary reasons too, as makeup bags can carry dirt and bacteria so you want to be able to wipe it down easily.
Our top picks for the best makeup bags
Whether or not you buy into the Glossier hype, the 400+ positive reviews speak for itself when it comes to this bestselling, budget-friendly Beauty Bag. Yes, it's tall enough to fit your full-size skincare bottles upright and compact enough to slip right into your gym bag, beach bag or tote for portability. 
It has a coated cotton material to protect against makeup mishaps and a removable snap-button interior pouch for your convenience. There's also lots of little pockets and compartments so you can organize everything to your liking—and actually find it when the time comes.
Specifications:
Dimensions: 9.5 inches x 7 inches x 3 inches
Material: Cotton exterior, polyester and rayon interior
Compartments: Removable snap-button pouch and two pockets 
Colors: 1
What we like:
Lots of built-in organization with a removable interior pouch
Fits some full-size skincare products upright
Affordable, especially for the quality
Coated cotton material protects against spills
What we don't like:
It's on the smaller side, so not ideal if you like to take a ton of products with you
Only comes in one color
Bring your entire bathroom with you with the Kusshi Vacationer. Okay, you probably shouldn't do that, but this luxe, surprisingly spacious makeup bag has the room for it. It can hold an impressive 25-35 products and still fit in your carry-on bag comfortably. 
It's machine-washable, making it easy to clean, and opens on all three sides for easy access and visibility. There are tons of fun color options to choose from too, and the inner linings on each bag come in bright or light hues so you can spot your stuff in a flash. Available in a premium leather or satin fabric, the Kusshi features two mesh pockets to stash your small stuff and a large interior zip pocket for even more organization.
Specifications:
Dimensions: 7 inches x 13 inches x 5 ¾ inches
Material: Premium soft calf leather exterior and nylon interior or luxury micro satin exterior and nylon interior
Compartments: One main, one zipper and two mesh pockets
Colors: 23
Care: Machine washable
What we like:
A unique flat bottom allows the bag to stand up on its own, which is a nice perk for travel
It's spacious, so you won't need multiple bags to take all your necessities and toiletries with you
The quality is exceptional and worth the investment
What we don't like:
An extra snap-in organizer, which is helpful for efficiency, has to be purchased separately, adding to the already expensive cost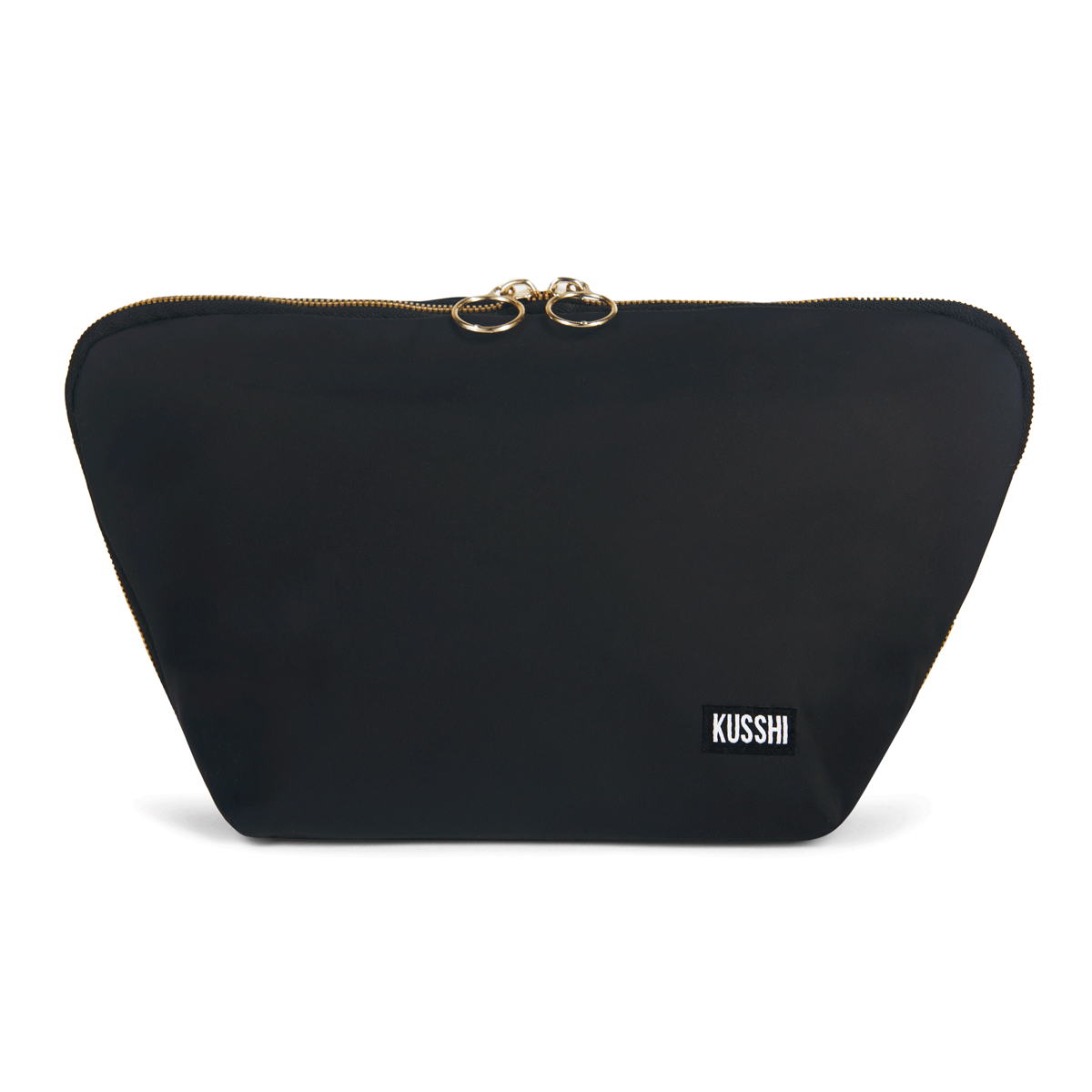 Made of durable and water-resistant nylon, this slim pouch packs a punch in color (so many fun and classic options to choose from), as well as space for all your beauty essentials on the go. We love the slim design, which makes reaching in and grabbing what you need fuss-free since nothing gets lost at the bottom. The best part? You can personalize it with playful patches—think glittery letters, hearts, smiley faces and more—for a custom touch.
Specifications:
Dimensions: 8 inches x 2.75 inches x 2.75 inches
Material: Nylon
Compartments: 1
Colors: 9
Care: Spot clean
What we like: 
It's super durable and easy to clean
It comes in a variety of fun and neutral colors to choose from
You can customize it with playful patches for a personal touch
What we don't like:
Only one main compartment so less opportunity to organize
Best waterproof and stain-proof makeup bag: Beis Cosmetic Case
The Beis Cosmetic Case is a must-have TikTok favorite that went viral for its ability to stand up to the toughest makeup stains, including nail polish spills, liquid foundation, crushed blush, and more. It's garnered a nearly-perfect 4.8-average star rating and racked up over 3,000 rave reviews from obsessed customers.
The Cosmetic Case itself is spacious, fitting plenty of products, and has a wipeable interior and easy-to-clean faux leather exterior. There's a removable brush holder with hidden magnets (so you can easily take it on and off), plus a PVC flap to protect your brushes when in storage. There's even a removable mirror for those necessary on-the-go touch-ups.
Specifications:
Dimensions: 9.5 inches x 4 inches x 7 inches
Material: Polyurethane body with a water-resistant poly lining
Compartments: One large compartment, removable brush holder, one long slip pocket & two small slip pockets  
Colors: 9
Care: Spot clean
What we like:
It's incredibly easy to wipe down and seriously stain-proof
The removable brush holder with a flap to protect your brushes is a really nice and convenient touch
We love a good stand-alone mirror and Beis' is big and removable with a slip pocket for protection
There are lot of gorgeous colors to choose from
What we don't like:
If you have thicker/bigger makeup brushes they may not fit in the brush holder
It's on the heavier side, which can be a con if you like to pack light
Best waterproof and stain-proof
An heirloom-worthy option with all the bells and whistles. This gorgeous Vanity Case is crafted from Smythson's signature Panama cross-grain leather and boasts two internal compartments to safely store all your stuff in a super stylish and organized manner. There are two internal zip pockets, an elastic divider in the top section and two ruched pockets on both the top and bottom for storing brushes, lip balms, eyelash curlers, tweezers, and more. A leather top handle makes for effortless transportation. This luxe makeup bag is made to last.
Specifications:
Dimensions: 10 inches x 7 inches x 6.5 inches
Material: Cross-grain calf leather
Compartments: Two with two internal zip pockets, an elastic divider, and two ruched pockets total
Colors: 3
What we like:
Superior, heirloom quality that will last forever
Loads of space with dual compartments
Plenty of pockets for extra organization and easy access
What we don't like:
It's expensive
Only comes in three colors
May be challenging to clean if any products spill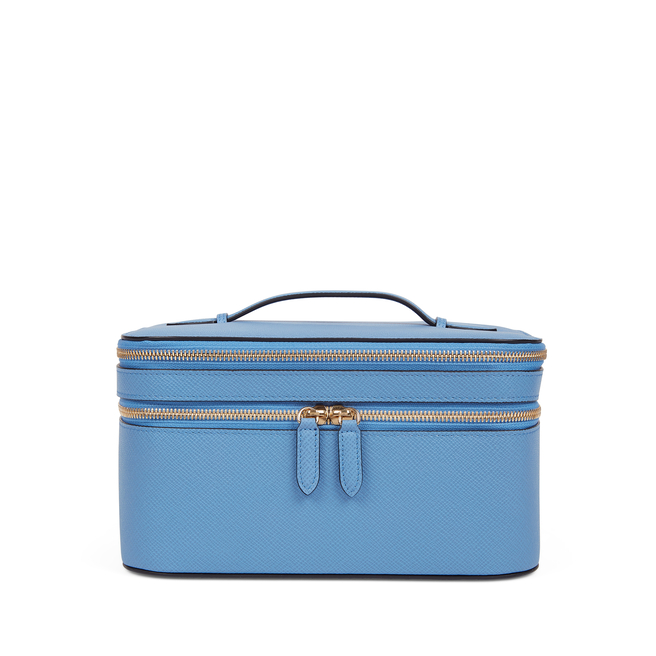 Cuyana is known for its luxe, signature leather totes, and you can expect the same expert craftsmanship and quality here. Responsibly handmade by skilled artisans in Argentina, the 100% sustainable Cuyana set comes with two separate zip bags—a bigger one for toiletries and skincare and a smaller bag for makeup and hair accessories—to accommodate all your storage needs.  
It features an easy-to-clean leather interior, which you can simply wipe down with a damp cloth and some soft soap or micellar water. There are nine core minimalist colors to choose from and four more fun shades if you prefer a splash of color (and to make it easier to spot in a weekender bag). For an extra $15, you can monogram it to make it your own, too.
Specifications:
Dimensions: Large: 7 inches x 12 inches x 3.5 inches; Small: 5 inches x 8 inches x 2.5 inches
Material: 100% sustainable, 100% Argentinian pebbled leather
Compartments: Two separate bags
Colors: 13
Care: Spot clean
What we like:
It's responsibly and sustainably-made by artisans and the craftsmanship/quality is excellent
Can be monogrammed
Easy to wipe down
Lots of color options
What we don't like:
It's expensive
No extra organization or compartments in each bag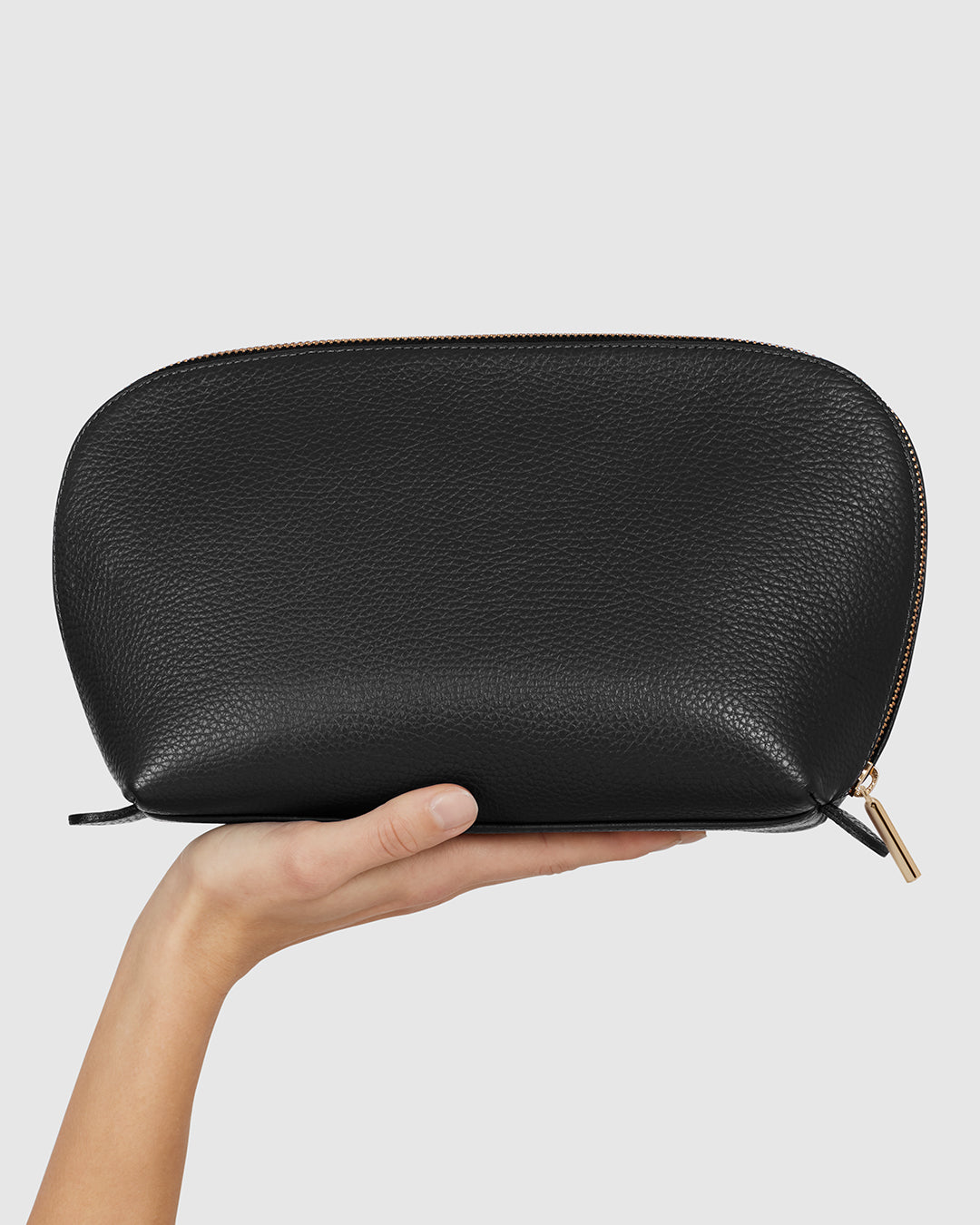 A classic cosmetic kit is equipped with elasticized pockets inside for extra organization and a mirror on the underside of the lid so you can apply your makeup anytime, anywhere. Adorned with so many Gucci signatures, including the gorgeous gilded hardware and red and green webbing, the Ophidia is a timeless cosmetic case with plenty of space to store your luxury beauty essentials. We love the two-way zip closure and flat base, which prevents your products from falling out when you open it all the way.
Specifications:
Dimensions: 4.7 inches x 6.7 inches x 4.7 inches
Material: Coated canvas and textured leather
Compartments: One, with elasticized pockets 
Colors: 1
Care: Clean with a soft, dry cloth
What we like:
Premium quality—this is a cosmetic case you'll pass down to your own daughter
A flat base prevents products from spilling out
Mirror included
What we don't like:
It's not waterproof and has to be handled with a lot of care (can't be stored in direct sunshine)
Could be challenging to clean
It's expensive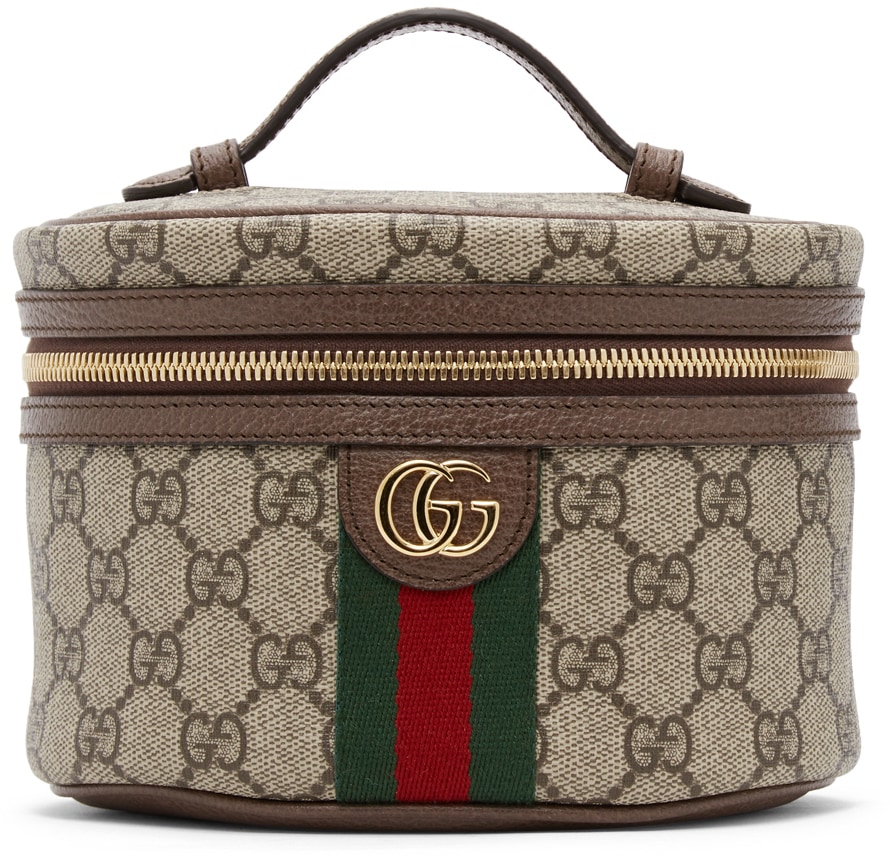 Gucci Beige GG Supreme Ophidia Cosmetic Case
If you're not the throw-everything-into-one-big-bag-and-pray kind of girl, this sizable Duo Vanity Case will be your BFF. This is one of the best makeup bags if you're a stickler for organization, as it features a high-bottom compartment to sit all your skincare products and foundations upright, as well as a wide-top compartment for larger palettes, and a compact mirror that folds out for touch-ups. We especially like the detachable flexible insert divider with pockets for the bottom compartment as it offers so much extra and, in our opinion, necessary organization. The nylon lining ensures any spills and makeup messes are quick to clean up.
Specifications:
Dimensions: 9.4 inches x 6.7 inches x 7.1 inches
Material: Faux leather exterior with nylon lining
Compartments: 2 plus a detachable flexible insert divider
Colors: 1
What we like:
Comes with a handy foldout mirror for touch-ups 
Dual compartments with a detachable divider offers lots of organization
Easy to clean
What we don't like:
Only available in one color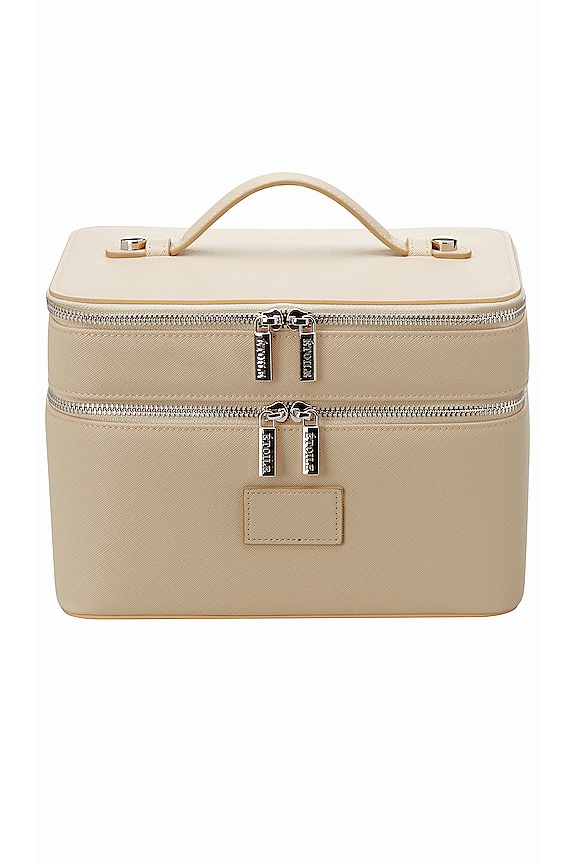 Etoile Collective Duo Vanity Case
While it's not a traditional makeup bag that can travel with you, the storage capabilities of this modular modern beauty organizer (which can live directly on your bathroom countertop or vanity table) made it a must for our list. It has rubber feet, so it'll stay in place and won't damage your counters or tabletops. Three drawers offer ample room for all your at-home beauty essentials, and there are customizable dividers for maximum flexibility and to help you keep it all tidy. Stack each drawer on top of each other to maximize space or use them separately, whatever you prefer. 
Specifications: 
Dimensions: 10.50 inches x 7.25 inches x 9.75 inches
Material: Plastic
Compartments: Three separate drawers 
Colors: White
Care: Clean with water
What we like:
Stackable design saves space
Customizable dividers offers lots of flexibility
It's made with recycled plastic for easy cleaning
What we don't like:
There's currently a waitlist (but it's worth the wait)
Plastic material can react to chemicals such as alcohol and acetone, causing cracks and discoloration 
If you're looking for a high-end, hanging makeup bag that'll go the distance (literally), the Tumi Cosmetics Case is our top choice. It features three transparent, interior zippered compartments to organize and protect your products when you travel, and fits nicely in your luggage. There's also a detachable pouch you can pop in your purse with all the daily makeup basics—or bring it over to the hotel bathroom countertop for even easier access as you get ready. You can hang the Madeline up at eye level to save limited counter space or lay it flat on the bed to get what you want.
It comes with a generous two-year warranty, TUMI tracer (in case your case gets lost or stolen) and has a high quality finish on the exterior fabric to enhance the bag's longevity. The lining is also wipeable with a water and stain-resistant coating. And the entire thing is made from post-consumer recycled plastic bottles and recycled nylon, which we applaud.
Specifications:
Dimensions: 8 inches x 11.25 inches x 2.75 inches
Material: 98% nylon/2% leather; lining: 100% polyester
Compartments: Three, plus one detachable pouch
Colors: 3
Care: Spot clean
What we like:
Built to last 
Wipeable water and stain-resistant coating
Sustainably made from recycled nylon and plastic bottles
Can be tracked down if lost or stolen
Several compartments for organization, plus a detachable pouch
What we don't like:
Limited color options
It's expensive
Tumi Voyageur Madeline Cosmetic Case
No more melted makeup or ruined medication with this genius, insulated standing makeup case that many celebrity makeup artists swear by for keeping all your beauty essentials protected from steamy bathrooms, hot cars and ice-cold airplanes. It features a luxury vegan leather exterior, signature aluminum lining that's easy to clean and protects against germs, as well as an ultra water-resistant zipper to keep the humidity out.
This beauty case even doubles as an insulated lunchbox (just add an ice pack) when you're not using it to store your makeup. It comes with a detachable and adjustable shoulder strap for hands-free carrying too.
Specifications:
Dimensions: 9 inches x 6.25 inches x 6.25 inches
Material: Vegan leather exterior with aluminum lining
Compartments: One compartment
Colors: 2
Care: Use a damp or dry soft microfiber cloth.
What we like:
It regulates the temperature of your beauty products, protecting them in any weather, which is great if you like to leave your makeup in the car or a hot bathroom
Doubles as an insulated lunchbox
Detachable and adjustable shoulder strap for hands-free carrying
What we don't like:
Limited color options
No interior compartments, though you can purchase a separate, smaller beauty bag to toss inside
WELLinsulated Performance Travel Beauty Case
There's room for everything in this extra large leather makeup bag. The interior is thoughtfully designed to maximize your storage needs with space to fit seven-inch full-size products, and plenty of pockets to organize it all. There's even elastic bands to secure your stuff when traveling.
For your most-used items, an interior mesh zippered pocket on the inside of the lid provides easy and convenient access. The dividers are removable too so you can take them out to pack in more stuff. The entire interior and pockets are lined with a water-resistant fabric so liquid spills are no problem.
Specifications:
Dimensions: 10.25 inches x 7.5 inches x 6.5 inches
Material: Full grain leather
Compartments: Two interior zippered pockets and four interior open pockets
Colors: 11
Care: Spot clean with a damp cloth
What we like:
Lots of color options to choose from
So much room and really clever organization, plus lots of storage pockets
Easy to clean/water-resistant
What we don't like:
It's expensive
A strap must be purchased separately though there are D-rings to attach it included
Leatherology XL Train Case
Minimalists will love this modern, hyper organized, and compact neoprene toiletry bag from Dagne Dover. It's constructed of durable, water-resistant, hand-washable neoprene with lots of clever storage to keep all your stuff tidy inside. While it won't fit your full skincare regimen, it's plenty spacious for toiletries and all your on-the-go makeup essentials—and it's a great size for a travel tote. 
There's a removable zippered compartment, side slip pocket for small makeup wipes or a contact lens case, and handy elastic loops to store your lip balm, razor, or tiny travel perfumes.
Specifications:
Dimensions: 7.5 inches x 4 inches x 4.5 inches
Material: Neoprene and performance air mesh
Compartments: 2
Colors: 6
Care: Hand wash with a mild detergent in cold water
What we like:
Sleek modern design perfect for minimalists
Packs in a lot of organizational solutions for being so compact
Made of durable, high-quality neoprene
What we don't like:
Won't fit all your full-sized products
Neoprene must be hand washed, so not as convenient as some other options on our list
Dagne Dover Hunter Neoprene Toiletry Bag
A clear choice when it comes to travel (it's TSA-friendly) and everyday makeup organization, too. The CALPAK Clear Cosmetic Case is a cult-favorite, TikTok viral sensation and it certainly lives up to the hype, with over 3,000 sold by the brand alone each month and an average 4.8 out of 5 star rating from over 500 enthusiastic reviewers. 
Some features to love, aside from the obvious being able to clearly see your stuff, are the lay-flat carrying handle to take it anywhere, two roomy zippered compartments for all the things and a water-resistant lining to stand up to spills. We also appreciate that it comes in four classic colors and six bold hues to suit every style. 
Specifications:
Dimensions: 8 inches x 4 inches x 6 inches
Material: Faux Leather and Transparent PVC
Compartments: 2
Colors: 10
What we like:
It's TSA-friendly, making it perfect for travel
The clear design allows you to easily see your stuff so there's no time wasted rummaging 
There's a variety of contemporary color options, from punchy and playful to modern neutrals
What we don't like:
Colors sell out quickly so you may have a hard time snagging your fave
CALPAK Small Clear Cosmetics Case in Mauve
This pretty puffy toiletry bag will quickly be your new favorite, thanks to its roomy, two-layer design that allows you to fit all the things without stuffing them in. It's made of lightweight, easy-to-clean nylon with a convenient collapsible handle for toting around. It also has a structured bottom and opens wide, so packing it with products isn't a pain, nor is getting them out to get ready at your destination.
An interior mesh pocket is the perfect place to store all your makeup brushes, lipsticks, eyeliner and more small stuff.
Specifications: 
Dimensions: 10.2 inches x 6.2 inches x 4.9 inches
Material: Nylon
Compartments: 2
Colors: 1
What we like:
Great price point for quality
Puffy nylon fabric is extra durable and soft/squishy for more efficient packing in your suitcase
Easy to wipe down and clean
Lots of space to fit all your makeup, toiletries and skincare
What we don't like:
Only available in one color
Sells out fast
How we chose the best makeup bags
We spoke with a seasoned makeup artist to discover what features to look for in the best makeup bags, from quality and portability to storage space, built-in organization and ease of cleaning, then used that criteria to curate a list of bestsellers and top-rated options (according to real reviewers) in each category. 
Frequently asked questions (FAQs)
What is the best fabric for makeup bags?
According to Galloway, nylon is a popular choice for makeup bags, especially the lining, as it offers several advantages. "It's strong and resistant to wear and tear, making it longer-lasting. It also protects makeup from water damage and is easy to clean," she says. Last, nylon is lightweight so your makeup bag won't weigh you down.
What is the difference between a makeup bag and organizer?
"A makeup bag is a portable case for carrying cosmetics, while an organizer is a stationary storage system to keep cosmetics organized in one place," notes Galloway.
How many makeup bags do I need?
Generally speaking, Galloway recommends two: "One that you can keep in your purse and use for travel and one for everyday organization." Some women may want a compact one for their purse, a larger one for longer vacations and an organizer for at home—it depends on your personal needs and whether you're a minimalist, maximalist or just like to be hyper organized for every scenario.
What is the best way to pack makeup?
The more you can pare down, the better, and consider packing multi-purpose products to save space. For organization, group like things together, such as all your makeup brushes in one compartment, liquids in another, powders in another and so forth. You may also have your own method of grouping cosmetics that works for you, such as makeup in one compartment and skincare in another.
What's the best way to clean makeup bags?
Always check the care instructions for your particular makeup bag. Generally, Galloway suggests using a damp cloth with soap—or even a makeup wipe or Clorox wipe—to wipe your makeup bag down.
The information presented here is created independently from the TIME editorial staff. To learn more, see our About page.