Our evaluations and opinions are not influenced by our advertising relationships, but we may earn a commission from our partners' links. This content is created independently from TIME's editorial staff. Learn more.
So you've got a brand new iPhone 14, and you're excited to see what it can do. But you're also concerned that—whether by accident or incident—it's going to slip from your grasp and crack itself into very expensive pieces on the nearest concrete floor. What you need, clearly, is a case to keep your precious safe. But while looking at cell phone cases in your favorite color is certainly a place to start, it's definitely not the only factor you should consider. 
According to Steve Greenberg, Host of YouTube's The Gadget Game Show: What The Heck Is That!? , you shouldn't grab the first cell phone case you see, and more expensive doesn't always mean you're getting a better case. "First, consider who you are," he says. "Are you very clumsy? Are you very adventurous? Do you spend a lot of time in or near water? The answers to those questions and others will help guide your cell phone case selection."
Besides protecting your phone from the occasional (or maybe more frequent) drops, newer cases also come with plenty of other features, like wireless charging, or doubling as a wallet. With all these options out there, we're here to help you find the best phone case for your iPhone 14, based on your style and what features are most important to you.
What to consider when buying iPhone 14 cases
Durability
Look for cases that are scratch resistant and have shock-absorbent properties. Depending on who is using the phone, you may want to opt for a case that offers more protection. "If you're especially clumsy, a thicker case with grips will give you the added protection you need," recommends Greenberg. "I would give that same advice for getting a cell phone case for a child. Children and teenagers tend to be easily distracted, so I would seriously consider getting phone cases with extra padding."
Material
Choose a case that matches your style and feels comfortable in your hand. Plastic cases tend to be lightweight and thinner, while leather cases are more resistant to scratches and scrapes and give your phone a sleek look. Silicone and hardshell cases tend to offer more protection and offer a grip when holding your phone. 
Fit
The case should fit snug and secure around the phone. "At a minimum you want a rubbery case with a 'lip' around the screen, so if the phone falls face down, the screen has some protection," says Greenberg. Also, the iPhone 14 comes in three different models—the 14, the iPhone 14 Pro, and the iPhone 14 Pro Max. Each model requires a different size cell phone case, so before buying, make sure your case is compatible with your model. 
Accessibility
Sometimes the features you're looking for in a case can override features on the phone itself, so you'll need to weigh up what's most important to you. "Thick cases that provide extra drop protection sometimes don't allow for the convenience of wireless charging, so read the features carefully before you buy," says Greenberg. Choose a case that allows you to access the buttons and charging port and doesn't require you to take the case off to use any features on the phone.  
Our top picks for the iPhone 14 cases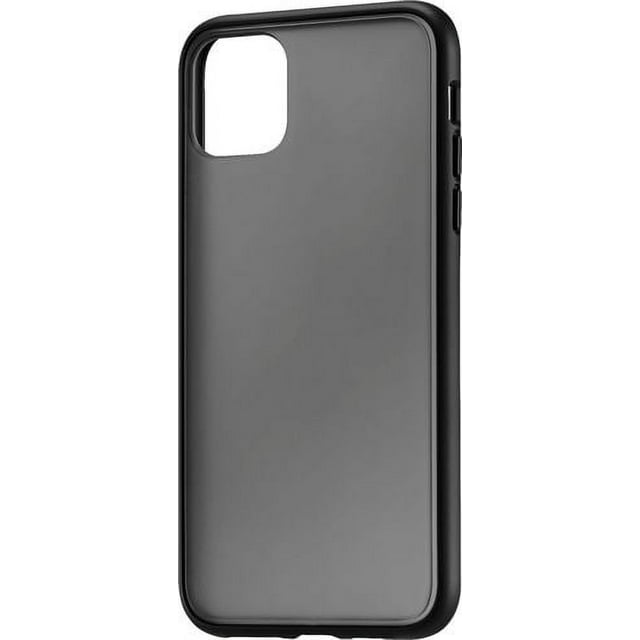 Just because you're shopping in the budget category of phone cases doesn't mean you can't find a case that shows off your personality and keeps your phone protected. The Insignia hard shell case comes in a wide variety of colors and patterns (we love the checker print and the dinosaurs), and receives high reviews from users for its snug fit and durability. This case has a maximum shock resistance height of six feet, but is lightweight so it doesn't add bulk to your phone. 
Price: $14.99
What we like:
Comes in a variety of colors and patterns
Lightweight
What we don't like:
Does not have a non-slip grip.
Insignia™ - Hard Shell Case for Apple® iPhone® 11 Pro Max - Transparent Black
Best basic iPhone 14 case: Apple iPhone 14 Pro silicone case with MagSafe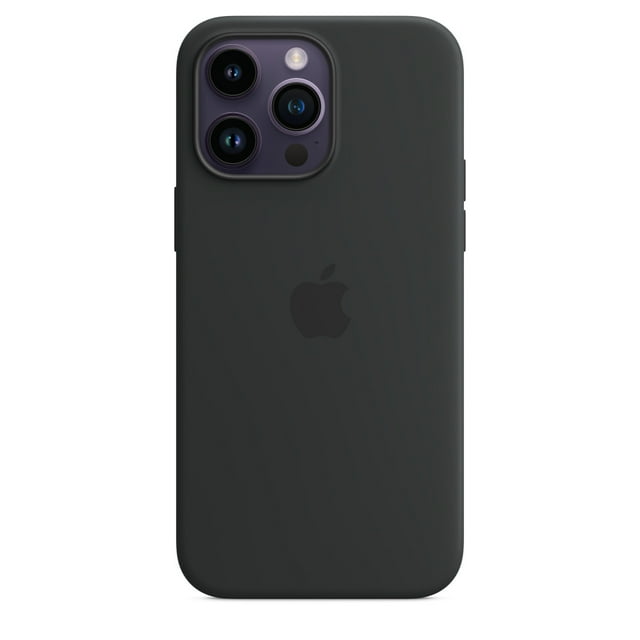 Since Apple makes this case, you know it'll  fit your iPhone 14 perfectly, and work with all of your MagSafe accessories. The silicone case wraps snugly around your phone, and reviewers say that it's soft, lightweight, and has the right amount of resistance in your hand. When you grab your phone from your pocket or your bag, you don't have to worry the phone will slide out of your grip and end up on the ground. Choose from 12 different colors (we're partial to the yellow case).
Price: $49.99
What we like:
Comes in bright colors
MagSafe compatibility
What we don't like:
If you drop your phone a lot, you'll want a different case.
Apple iPhone 14 Pro Max Silicone Case with MagSafe - Midnight
When a regular phone case won't do, try our pick for the best luxury option, the Lady Dior Case. Crafted in black lambskin, this case has a card slot and a pale, gold metal D.I.O.R. charm. The lambskin is soft and the quilting is plush. The case is available in black or gray, but if you really want to give your phone the ultimate upgrade, opt for the coordinating phone pouch. 
Price: $460
What we like:
The luxurious look of the case
The matching phone pouch (sold separately)
What we don't like:
The charms could get caught on other items.
There's plenty of reasons to get a rugged phone case: you live an adventurous lifestyle, you're clumsy and drop your phone a lot, or you have a toddler that plays with your phone and thinks the noise it makes when it bounces down the stairs is hilarious. Whatever the reason, you need a case that'll keep your phone protected. The UAG Monarch Series Case with Magsafe is made with five layers of protection and even more padding on each corner. According to the brand, the phone can be dropped from 26 feet without being damaged, and it comes with a ten year limited warranty.
Price: $74.95
Why we like it
Tons of protection
10-year limited warranty
Why we don't:
URBAN ARMOR GEAR UAG Designed for iPhone 14 Pro Case Kevlar Silver 6.1" Monarch Pro Built-in Magnet Compatible with MagSafe Charging Rugged Shockproof Dropproof Premium Protective Cover
Instead of carrying a phone and a wallet, combine the two with this case. The Smartish wallet case has an attached wallet that will fit your ID, some cash, and a few cards. The case is sleek, while the wallet surprisingly doesn't add too much bulk. The case comes in six different colors, and is scratch resistant, with extra padding around the corners to protect your phone when it's dropped. 
Price: $25
What we like:
The color selection
Let's you ditch your wallet
What we don't like:
If you need to carry a lot of items in the wallet, this won't work for you
Smartish iPhone 14 Wallet Case - Wallet Slayer Vol. 1 [Slim + Protective] Credit Card Holder - You re Just Jelly
If you're looking for something a little more sleek,, our pick is Apple's Leather Case with MagSafe. These cases come in five different colors and easily snap onto your iPhone, snug and secure.The leather feels soft to the touch and wraps around the entire back and sides of the case. There's a raised lip around the camera lens and the screen, which offers extra protection from scratches if the phone is dropped. This case feels great in your hand and the leather doesn't add any noticeable extra weight or bulk to the phone. However, if you're the type of person that drops your phone regularly, you may want a case with more protection.
Price:$59
What we like:
Beautiful, dark colors
MagSafe compatible 
What we don't like:
If you drop your phone a lot, you may want a more rugged case
iPhone 15 Pro Max FineWoven Case with MagSafe - Mulberry
Silicone cases are a great option for iPhone users who don't want to spend a ton of money on a case, but still want to protect their investment from the normal dings and scratches of day-to-day usage. Our choice for the best silicone case, the Onn Silicone, is affordable and comes in a variety of bright colors. One downside of silicone cases is that they get dirty quickly, soif your phone is jostled around in your bag, it may pick up dirt or stains that are hard to remove. 
Price: $12.99
What we liked:
What we didn't like:
Silicone cases can get dirty and stain quickly
onn. Silicone Phone Case for iPhone 14 / iPhone 13 - Lavender
If you love the color of your iphone 14 and don't want to hide it underneath a case, choose a clear one. Our pick, the Speck Gemshell, is an affordable option with a minimalist design. The case has raised ridges for added protection around the screen and the camera, and it's designed with a no-slip grip. The case is designed with anti-yellowing UV protection so your case keeps its clarity no matter how long you have it. 
Price: $49.95
What we like:
Lets the color of your phone standout
Easy to attach to your phone 
What we don't like:
Make sure you get the case that has MagSafe compatibility
Speck iPhone 14 GemShell Grip Phone Case in Clear
Our pick for the best case to keep your phone protected without adding extra bulk is the Otterbox Symmetry Series. According to the brand, cases are tested by being dropped up to 130 times from a distance of four feet for durability—and the company offers a lifetime warranty on all of their cases. With a sleek design that easily slips in and out of your pocket or bag, the case comes in plenty of colors and is MagSafe compatible.
Price: $29.95
What we like:
Not bulky
Great color choices
What we don't like:
Depending where you buy, colors may be limited
OtterBox Symmetry Series+ Case with Magsafe for iPhone 14 Pro Dark Night
Not only does this case have the quality and protection we love from Otterbox, but if you love a pop socket on your phone, why not get a case that already has one attached? The Pop Symmetry series is a one-piece case with an integrated pop socket. Pop it out when you want to use the socket and when not using, it lays flush on the case. While other pop sockets can easily fall off a case, this one stays put, no matter how rough you are with your phone. From taking pictures or using the socket as a tripod while watching a show on your phone, this small accessory comes in handy more often than you'd think. The case is available in plenty of patterns and solids and has great reviews in terms of durability. 
Price: $59.95
What we like:
The attached popsocket
Durability 
What we don't like:
Some reviews had issues with using the side buttons
Otterbox Pop Symmetry Series
How we found the best iPhone 14 cases
To find the best iPhone 14 cases, we researched multiple brands on the market and looked at durability, materials, and price of each case. We also sought out expert tips from Greenberg on the features we should look for when choosing the right case. While choosing a case that matches your budget and keeps your phone protected are major considerations, he says there are other features to consider as well. 
"There are some cases with features such as built-in extra batteries for charging on-the-go, and other cases have a side pocket for credit card, ID and cash storage," he says. "Consider getting a tempered-glass screen protector with a 9H hardness rating—it's thick enough to protect your screen and doesn't distract from the screen's image."
Frequently asked questions (FAQs)
Will iPhone 13 cases fit the iPhone 14?
While the iPhone 14 is slightly bigger, an iPhone 13 case will fit the iPhone 14. However, iPhone 13 Pro and iPhone 13 Pro Max cases will not fit the iPhone 14 Pro and iPhone 14 Pro Max.  
Does iPhone 14 need a MagSafe case?
MagSafe is a ring of magnets embedded into the back of the iPhone 12, iPhone 13, and iPhone 14 models. MagSafe allows you to magnetically stick accessories to the back of the phone, like wireless chargers or tripods. Not all iPhone 14 cases support MagSafe. If you want to use the MagSafe feature, you'll need a MagSafe case. 
Are all iPhone 14 cases the same?
No. The different models of the iPhone 14 all require different sized phone cases. The iPhone 14 and the iPhone 14 Pro both have 6.1-inch displays, and the iPhone 14 Plus and the iPhone 14 Pro Max have 6.7-inch displays. When choosing a case, make sure you know which model of iPhone 14 you have and check which phones are compatible with the case.
Is the iPhone 14 waterproof?
While not completely waterproof, according to Apple, the iPhone 14 can be submerged in 6 meters or around 19 feet of water for up to 30 minutes. If your phone gets wet, start by drying off your phone, gently tap it against your hand with the Lightning connector facing down to remove excess liquid, and leave your phone to dry in an area with some airflow.
The information presented here is created independently from the TIME editorial staff. To learn more, see our About page.