Our evaluations and opinions are not influenced by our advertising relationships, but we may earn a commission from our partners' links. This content is created independently from TIME's editorial staff. Learn more.
If you have a dog that needs to shed more than their winter coat, there are pet foods specifically designed for weight loss. Extra weight can be a potential health hazard for your dog, possibly leading to a shorter life span, so it's important to notice if your beloved pet has packed on some extra pounds and take action.  
Although it's recommended to add exercise to your pet's daily routine and be more thoughtful about when you dole out treats, there are also dog foods specially formulated for weight loss. 
How to choose the best dog food for weight loss
My family has a 2-year-old lab mix, and when she started gaining weight, we went straight to my local vet—the best thing to do before you take any actionable steps to reduce your pet's weight. "You should always check with your vet when your pet is gaining weight to make sure there isn't an underlying metabolic issue," says Dr. Mike Greenberg, a veterinarian based in New Orleans and a GoDog Veterinary Advisor. 
"A vet will likely perform a body condition score ranking, also called BCS (similar to a BMI for humans) assessment on your dog. Essentially, we will look at the shape of the dog, if you can feel their ribs and things like that. The BCS charts will show how much the dog needs to lose," Greenberg explains. "We start with that score and work from there." 
If your vet decides it's time for specialized dog food, the most important factor for a weight-loss option is that it's specifically formulated for the task.  
After talking to your vet, visit the Association of American Food Controls Officials (AAFCO) to further research the dog food you're interested in feeding your furry friend—which is best practice whether they have a weight issue or not. 
It's important to consider the following factors before feeding your dog a new brand of food: 
Age
The best dog food for puppies may not be the same as the best senior dog food. If you are buying an option for weight loss, make sure to read the labels carefully and pick food that's appropriate to your pet's age. My 2-year-old lab, for example, eats adult food, but check with your vet for the correct amount according to your pet's age and stage of life.  
Breed
A toy poodle is going to need different food than a large labrador. If you're going to purchase weight-loss dog food, make sure you're feeding the recommended amounts and types of food specific to your pet's size.  Some dogs are also more likely to gain weight or become obese simply based on breed; these include labradors, beagles, and basset hounds, to name a few. 
Food labels
Look for foods labeled "weight management" or "weight control," says Greenberg. These options have fewer calories than your dog's regular maintenance food. "They have greater fiber content, which makes the dog feel more full. It's a lot like a person eating a salad instead of a piece of pizza," he adds. And according to veterinarians at VCA Animal Hospitals, weight-loss foods are specifically designed to make sure your pet gets the nutrition it needs, so don't simply feed your dog less of its normal food if you want your pup to drop pounds. 
It's important to note that some dogs may require prescription weight-loss foods, says Greenberg. He shares that these foods are specifically formulated for weight loss and are only available with a veterinary prescription. 
The best dog foods for weight loss
Offering some of the best dry dog food, Blue Buffalo is a reputable brand for many kinds of kibble, and its weight-loss option is affordable and provides the high-quality protein important for shedding pounds. It also contains vitamins for optimum health, including calcium, along with fatty acids Omega 3 and 6. The latter are believed to help keep your dog's coat gleaming, and the food's added supplements—glucosamine and chondroitin—may aid with joint health and mobility, two things that overweight dogs may struggle with due to their extra pounds. 
Specifications:
Life stage: Adult 
Available flavors: Chicken and brown rice
Sizes: 5-pound to 34-pound bags
Main ingredients: Deboned chicken, chicken meal, brown rice and barley
What we like:
Affordable
Trusted brand
Made in the U.S.
What we don't like:
Some customers say it doesn't agree with their dogs' digestion, so it may not be the best dog food for sensitive stomachs
The bottom line:
This food is affordable kibble that's made in the U.S. and formulated specifically for weight loss and control
Best dry dog food for weight loss
Blue Buffalo Life Protection Formula Healthy Weight Chicken & Brown Rice Recipe Dry Dog Food, 30-lb
Hill's Science Diet is considered one of the best dog food brands for its research-based approach to nutrition. This particular wet food formula has a low fat and caloric content. Hill's also offers its diet-related formula in both wet and dry options, so you can mix and match. Like most dog food, it contains vitamins and minerals, and this recipe includes prebiotic fibers to help with digestion. My dog loved this brand, and I liked that it was easy to order and tasted like a treat versus a meal. 
Specifications:
Life stage: Adult 
Available flavors: Chicken-and-vegetable entree and hearty vegetable-and-chicken stew
Sizes: 12.5-ounce or 12.8-ounce cans
Main ingredients:  Chicken broth, chicken, turkey giblets and green beans (stew version) 
What we like: 
Affordable
Made in the U.S.
Low calorie 
What we don't like:
Not a ton of flavor combinations 
Not as much protein as some competitors
The bottom line: 
This trusted brand offers a no-prescription-necessary dog food in a low-calorie can for easy feeding
Best wet dog food for weight loss
Hill's Science Diet Adult Perfect Weight Hearty Vegetable & Chicken Stew Canned Dog Food, 12.5-oz, case of 12
Best senior dog food & best subscription dog food for weight loss: The Farmer's Dog
Some dogs may have digestive problems or develop intolerances to some ingredients as they age. It may be trial and error with your graying pet, but I recommend The Farmer's Dog (a meal subscription program) as one of the best senior dog foods since it's made from human-grade food. It's also gentle on elderly stomachs, and you can serve it with peace of mind, knowing that Board-certified American College of Veterinary Nutrition (ACVN) nutritionists formulate all the recipes. While not specifically a weight-loss marketed food, it wins my vote of confidence because you can formulate your food for specific portion sizes based on your dog's profile, as well as reduce the calories in each meal. 
This brand also wins my recommendation for the best subscription option for all of the reasons above, plus the ability to adjust your dog's food as they grow and change (and lose weight). This is a great subscription brand for all ages and stages due to nutritious food, flexible delivery options, and 24-hour customer care. 
Specifications:
Life stage: Adult 
Available flavors: Varies depending on your pet's profile
Sizes: Varies
Main ingredients: Varies, but often includes fresh vegetables, chicken, beef and turkey
What we like:
Fresh ingredients
You can request particular portion sizes
What we don't like:
Expensive, and the prices aren't entirely clear
You cannot buy it in a store, and it's subscription-based
The bottom line: 
This option offers fresh ingredients in formulas for all ages and stages, plus a no-fuss and reliable subscription box, making this dog food a top choice in two categories.
Best senior dog food & best subscription dog food for weight loss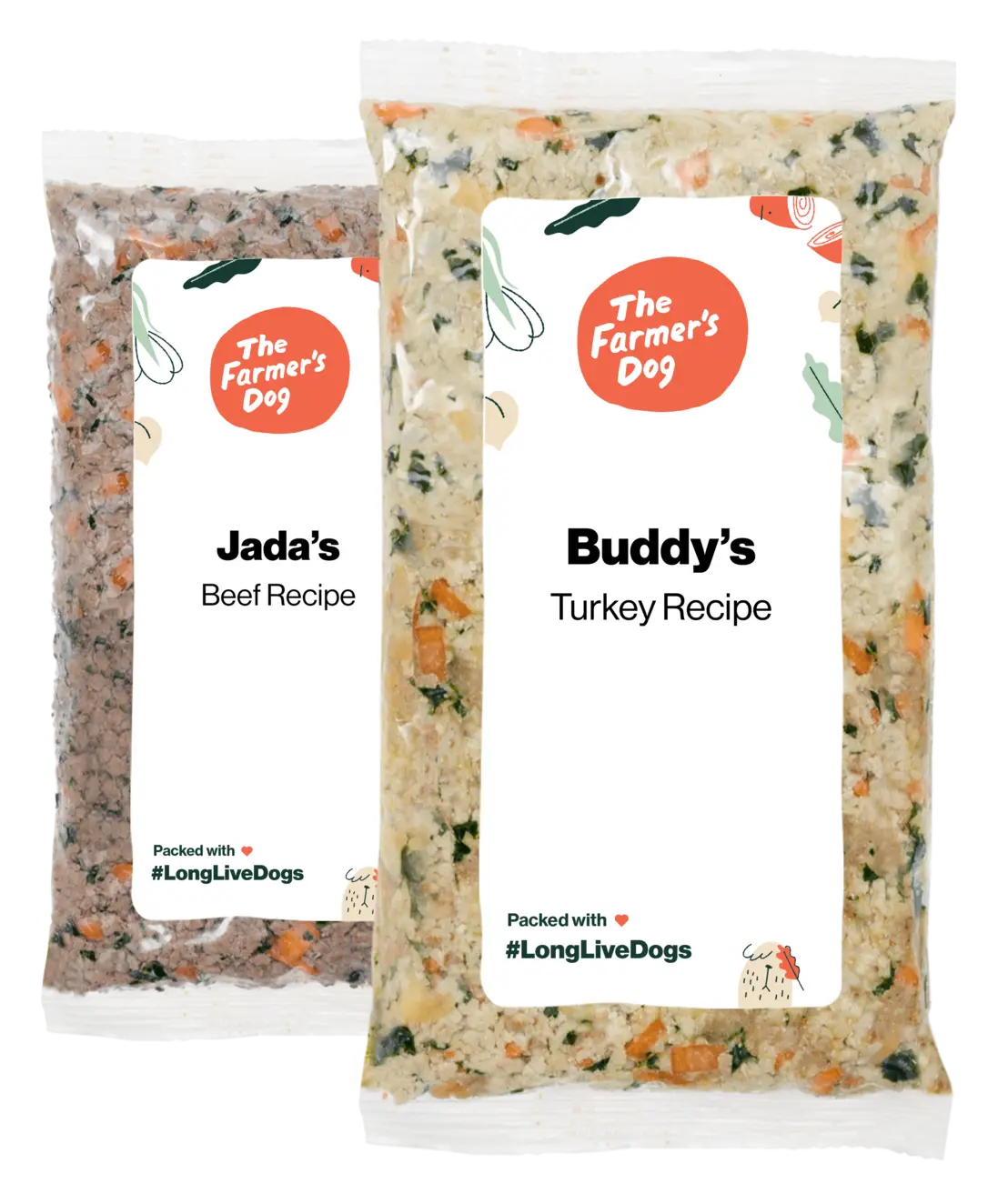 Purina is perhaps one of the most famous dog food brands, as it's available in nearly every supermarket, big-box retailer, and brick-and-mortar pet store. They have an accessible and affordable (at about $2/pound when bought in a 34-pound bag) formula specifically for large-breed dogs 50 pounds or above, which has 15 percent less fat than other Purina dog foods. This formula may be a good option for dogs transitioning from other big-market brands, for its familiar flavor profile and ingredient list. However, I should point out that it's not a guarantee—my dog did not love this dry food. 
Specifications
Life stage: Adult 
Available flavors: Chicken and rice
Sizes: 34-pound bag
Main ingredients: Chicken, rice, whole-grain wheat, poultry by-product meal (a source of Glucosamine, which may support healthy joints)
What we like: 
Affordable 
Made specifically for large breeds
What we don't like:
Could offer more flavors
My dog didn't enjoy this option, but she's picky
The bottom line: 
Purina is a household name and offers an affordable and nutritious formula to help large dogs lose excess weight.
Best weight-loss dog food for large breeds
Purina Pro Plan Adult Large Breed Weight Management Dry Dog Food
I love this food for all breeds, but if you have a small dog, this is an excellent choice since it's only 26 calories per ounce. Plus the food arrives frozen, and once they're thawed, these meals can stay fresh for up to five days in the refrigerator. Smaller dogs mean smaller portions, so this is one way to stretch your dollar on fresh food for your tiny breed. 
Simply serve what you need and save the rest. I love the wild-caught Alaska Pacific cod as the main ingredient, bringing essential Omega-3 fatty acids to your dog's diet. This brand offers an online vet-recommended feeding calculator on the website to help you gauge the amount of food your pup needs. 
Specifications
Life stage: Any
Available flavors: Fish and sweet potato
Sizes:  Small (7.8 pounds), medium (23.6 pounds) or large (31.5 pounds) boxes 
Main ingredients: Wild-caught Alaska Pacific cod, sweet potatoes, russet potatoes, green beans and broccoli
What we like: 
Fresh food
7 percent protein
Low calorie
Extremely informational website
What we don't like:
Expensive
There's not a lot of variety in weight-loss options
The bottom line: 
Just Food for Dogs sells whole food and treats for your pup that are fresh but come frozen and offer a high protein content.
Best weight-loss dog food for small breeds
Just Food for Dogs Fish-and-Sweet-Potato Dog Food
Although the best weight-loss treats for dogs are vegetables (like green beans and carrots), canned pumpkin (in moderation) and fruit (like blueberries), there are still treats made with your pet's wellbeing in mind. These low-calorie, six-inch sticks of delicious chicken, rice, and spices are flavorful and chewy. They're also made in the U.S. (as are the main ingredients) and can be served one at a time or broken up into pieces. My dog ate these very quickly, so I broke them up into little bites when she was a pup. 
Specifications
Life stage: Any
Available flavors: Chicken
Sizes:  16-ounce bag
Main ingredients: Chicken, rice and spices (like garlic powder)
What we like: 
This jerky is relatively soft, so it's easier on puppies and senior dogs 
Made in the U.S.
What we don't like: 
The bottom line: 
If you're in the market for a dog treat that's relatively healthy, this chewable, low-calorie chicken jerky is appropriate for all ages and stages
Best weight-loss treats for dogs
ROCCO & ROXIE SUPPLY CO.- Jerky Dog Treats Made in USA - Puppy Training Treat - Slow Roasted Snacks for Dogs - Natural Grain Free Soft Chews – Delicious, Healthy Jerkey Sticks - All USDA Inspected Chicken
How we selected the best dog food for weight loss
I asked Dr. Greenberg for his advice and researched weight-loss dog food, referring to other recommendations by the Pet Food Institute and the Association of American Feed Control Officials. In addition, I spoke to pet owners and combed through customer reviews of dozens of brands. Plus, my dog (whose vet recommended she lose a few pounds) also had the pleasure of trying out several different brands.
Frequently asked questions (FAQs)
Do vets recommend food that's grain-free? 
No. According to Greenberg, most vets don't. "Vets don't typically recommend grain-free diets. There's no real evidence that they benefit dogs—for weight loss or anything else. In addition, there have been reports of grain-free diets being associated with heart disease (dilated cardiomyopathy) in some dogs." So, talk to your vet if you want to implement a grain-free diet before you serve it to your pet. If you are also concerned about suspected allergies, it's best to first get a definitive answer from your vet, and then follow their recommendations for the best dog food for allergies.
Does rice help dogs lose weight?
Rice is a carbohydrate found in some dog foods, including those designed for helping them lose weight, but it isn't specifically a weight-loss tool. "Rice is sometimes used as a carbohydrate source in weight-management dog foods, but it does not specifically help with weight loss in dogs by itself," shares Greenberg.
Is wet or dry dog food better for weight loss?
The most important factor for a weight-loss food is that the meal is specifically formulated
with  weight control or loss in mind, such as offering a lower caloric content and a higher fiber content in the ingredients. However, according to Greenberg and other vets, wet versus dry dog food doesn't make a specific difference, although your pet may prefer one over the other, so you may want to go with your dog's taste preference. 
How many times a day should a dog eat?
It's typically recommended that dogs eat twice per day, and that their daily food requirements be divided between these two feedings. However, you should always speak to your vet and consider your dog. "I've seen dogs who do well with three feedings per day (for example, dogs who benefit from small, frequent meals), and some who seem to like eating only once per day," says Greenberg. 
"The important thing is that no matter how many times they're fed, they should always get the same total amount of food over the course of the day," he adds. And don't forget, anytime you reward your dog with a treat, unless it's a carrot or other low-calorie vegetable, that counts toward its daily calories. 
How long does it take for a dog to lose weight?
Just like for humans, losing weight takes time and hard work, and it depends on the dog. "This varies a lot from dog to dog and is very influenced by how much exercise the dog gets
and underlying health conditions (like hypothyroidism, for example)," says Greenberg. "But if I had to put a number on it, I'd say that when I see dogs go on a weight-control food and get regular exercise, I'll typically see noticeable weight loss within eight to 10 weeks." 
So thankfully for pet owners, dogs can respond fairly quickly to an uptick in exercise and a low-calorie or specialized weight-loss diet. 
Bottom Line
If your dog is overweight, it can potentially lead to serious health issues. Visit your vet to rule out any metabolic or other medical causes before starting a weight-loss diet. Also read the labels of any new food carefully to make sure you feed your pet the correct portion for optimal nutrition and weight loss.
The information presented here is created independently from the TIME editorial staff. To learn more, see our About page.