Twenty One Pilots made a brief but memorable appearance at the Grammy Awards on Sunday by dropping trou while accepting the prize for best pop duo/group performance.
Announced as the winners for "Stressed Out," the tuxedo-clad rap-rock duo promptly removed their pants while making their way to the stage, thus fulfilling a years-old pledge.
As frontman Tyler Joseph explained in his speech, the idea for the stunt originated years ago when he and and drummer Josh Dun were two struggling musicians watching the Grammys at home in their undies.
Joseph recalled that "Josh turned to me — and we were no one at the time — and he turned to me and he said, 'If we ever go to the Grammys, if we ever win a Grammy, we should receive it just like this.'"
Turning slightly serious, he added, "Not only is this amazing, but I want everyone at home to know that you could be next. So watch out, okay? Because anyone from anywhere can do anything, and this is that."
A few minutes later, while coming back from a commercial break, host James Corden also appeared sans-pants and quipped, "An odd coincidence, I always told myself that if I ever hosted the Grammys, I would also do it in my underwear. It's quite an amazing coincidence."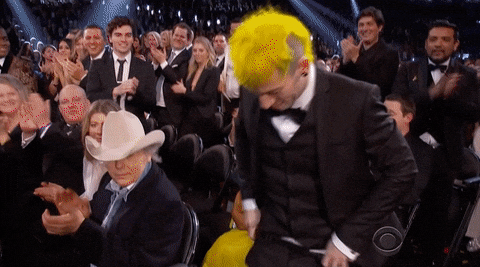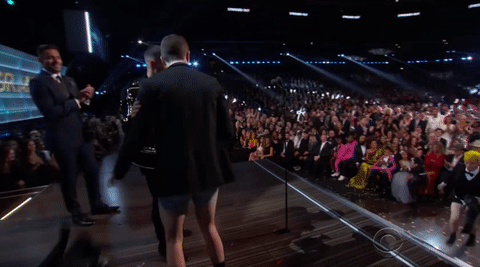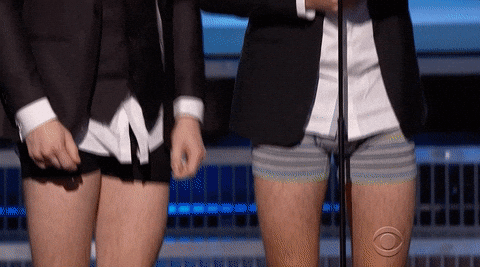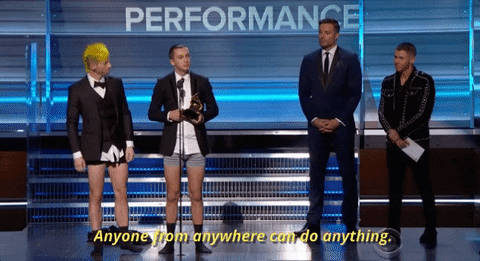 This article originally appeared on Ew.com
More Must-Reads From TIME
---