Violent crime increased in many of the nation's largest cities in 2016, the second year in a row that metro areas saw jumps in homicide, robbery and aggravated assault.
According to the Major Cities Chiefs Association, which collected data from 61 metropolitan police agencies, U.S. cities saw 6,407 homicides in 2016, an 11% increase from the year before. Dallas, Las Vegas, Louisville, Memphis, Phoenix and San Jose all saw rises in killings last year, as did some smaller cities that typically have very low murder rates. Arlington, Texas, for example, had 4 homicides in 2015 but 18 in 2016; Salt Lake City saw 6 in 2015 compared with 14 last year.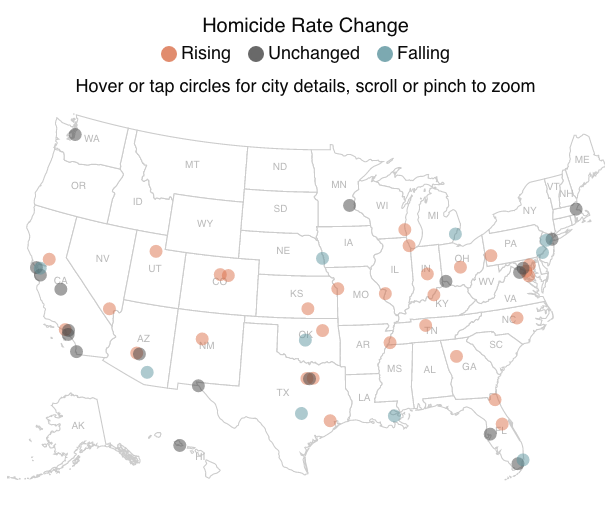 Darrel Stephens, the MCCA's executive director, cautions that it's too early to know whether increases seen over the last two years are mere blips or the beginning of a sustained increase in overall crime rates around the country. Criminologists often say it takes at least three to five years of data to show true trend lines.
President Donald Trump routinely portrays crime in the country's inner cities as out of control. Last week, he tweeted a vague threat to "send in the feds" in Chicago if the city didn't lower its crime rates. But even with the recent increases, crime remains near all-time lows.
"We've had at least two years running now where there's been an increase in 35 to 45 major cities," Stephens says. "It's a major issue and should be in the cities where it's taking place. But it's not anywhere near the kind of violence that we had in the 1990s."

Stephens says many departments cite similar problems: gang violence and retaliation, violence associated with drugs, the overwhelming number of guns in many U.S. cities, and even problems related to conflicts originating on social media. Another consistent factor is that violent crime is often concentrated in just a handful of neighborhoods. In Chicago, for instance, most of the homicides occur in a few areas on the South and West sides.
In Dallas, officials often cite domestic assaults and drug-related offenses as factors in the increasing crime rates, leading the department to create a 170-member violent crime task force made up of K-9, narcotics, and gang units. Memphis, meanwhile, is struggling with domestic violence and gang-related violence.
"We are going to put more focus in the police department on the gangs and the gang units, because they are really driving a lot of the homicides," Memphis Mayor Jim Strickland told local NBC affiliate WMC earlier this month.
The raw numbers, however, often don't fully reflect the circumstances behind the increases. The city with one of the biggest spikes last year was Orlando, where 85 people were killed compared with 32 in 2015; 49 of those, though, were from the Orlando nightclub shooting in June.
Read more: See Chicago's Deadly Year in 3 Charts
About a third of the cities noted in the report either remained steady or saw declines in the number of homicides, including Baltimore, which had a record number of murders in 2015 but reported a decrease last year.
As for this year, Stephens says he believes the crime rates will largely be similar to 2016. "I don't think that's going to substantially change this year," he says.
More Must-Reads From TIME
---