Click or tap the arrows to see which cause of death is disproportionately high in your state compared to national mortality rates.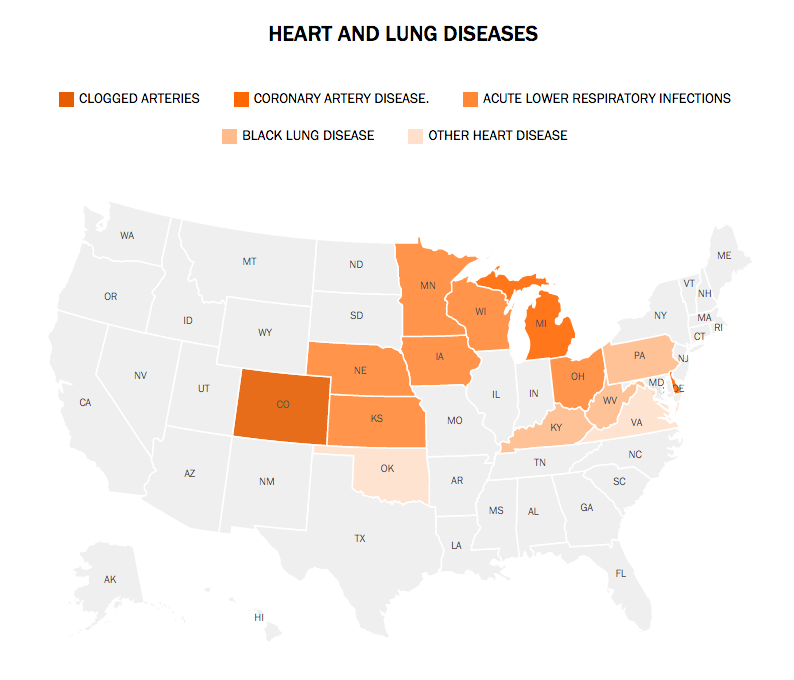 Accidental gunfire claimed 348 lives from 2001-2010 in Alabama, and gunshots of undetermined intent killed 147 in Arizona. And while both resulted in far fewer than 1 death per 100,000 people, the rates are unusually high compared to rates nationwide, according to a new study released by the Centers for Disease Control and Prevention (CDC). By comparing the mortality rate of 136 causes of death at state and national levels, the CDC found the most common atypical ways people died in every state.
In Michigan, for example, coronary artery disease killed 35 out of 100,000 people, while nationwide only 20 of 100,000 people perish from the condition. Because of the way these calculations are done, most of the diseases in the CDC report are obscure, from "unclassified lab findings" (Georgia) or highly associated with certain industries; "black lung disease" is the most disproportionate killer in coal-rich West Virginia, Kentucky and Pennsylvania.
Head west and deaths from law-enforcement intervention were atypically high in three states. The CDC refers to law enforcement intervention as "deaths due to injuries inflicted by police or other law enforcement agents, including military on duty, in the course of arresting or attempting to arrest lawbreakers, suppressing disturbances, maintaining order, and performing other legal actions." These interventions killed 0.12 people out of 100,000 nationwide from 2001 to 2010, but that rate tripled in Nevada and Oregon, and was nearly four times higher in New Mexico.
The flu mortality rate was abnormally high in colder states like Maine, Wyoming and the Dakotas, but the coldest state–Alaska–had atypically high deaths from boat and motor transportation accidents. In the District of Columbia, HIV killed 35 out of 100,000 people, over eight times the national rate of four. Other sexually transmitted diseases caused relatively high number of deaths in Florida, New York, Connecticut and Louisiana.
Included in the last category are thousands of deaths of unknown cause, listed by the CDC as "unspecified events of undetermined intent." These were unusually common in six states, like Maryland with 6,588 mystery deaths.
More Must-Reads From TIME
---