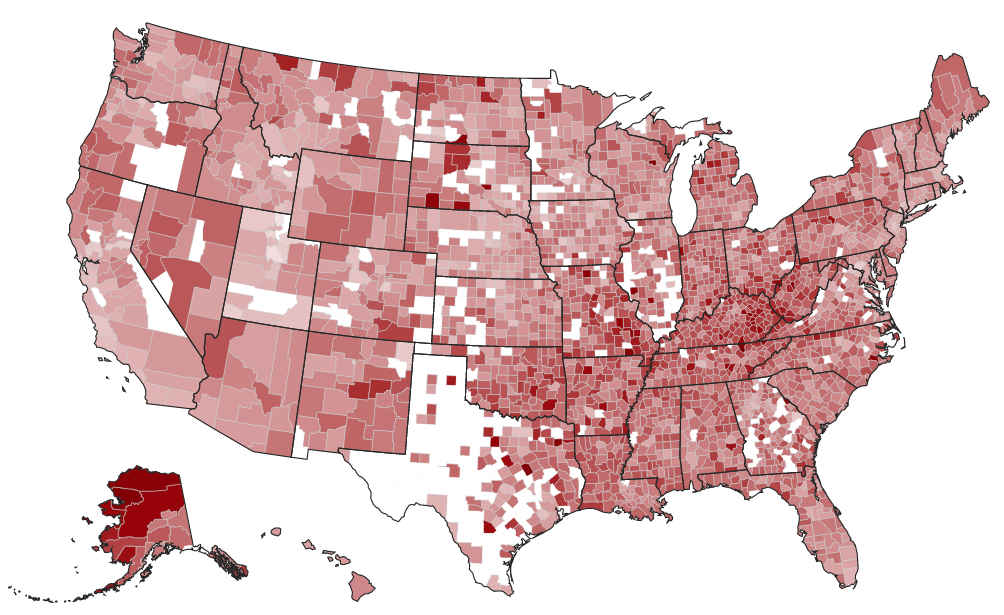 At 12:01 am, Wednesday morning, it became illegal to light up a cigarette in a bar in New Orleans, a city famed for its nightlife. Orleans Parish, where New Orleans is located, had an adult smoking rate of 19.9 percent in 2012, the most recent year for which nationwide data is available. The median rate for all counties was 20.8 percent, according to CountyHealthRankings.org, which is published by the University of Wisconsin Population Health Institute. The tables below show the counties with the highest percentage of adult smokers and those with the lowest percentage of smokers in the United States for which numbers are available.
Counties With Highest Percentage of Smokers in 2012
Scott, Tennessee
51.1
Limestone, Texas
49.2
Northwest Arctic, Alaska
48.2
Ripley, Missouri
47.1
Upshur, Texas
46.8
Calhoun, West Virginia
46.2
Greene, Illinois
45.7
Menominee, Wisconsin
45.6
North Slope, Alaska
45.3
Gallatin, Kentucky
45.1
Counties With Lowest Percentage of Smokers in 2012
Madison, Idaho
3.1
Cache, Utah
4.6
Utah, Utah
5.4
Davis, Utah
6.3
Nicollet, Minnesota
6.6
Summit, Utah
7.5
York, Virginia
7.5
Wasatch, Utah
7.8
Washington, Utah
7.8
Montgomery, Maryland
7.9
Read next: New Orleans Smoking Ban Takes Effect
Listen to the most important stories of the day.
More Must-Reads From TIME
---