We don't know who will replace Barack Obama in the White House, but we do know what kind of home he or she will be leaving behind. We've charted them below, using data from real estate sales tracker Zillow. Not surprisingly, the only former Fortune 500 executive on the list, Carly Fiorina, tops it with her $6.7 million mansion in Virginia.
Next up is the presumptive candidate from Chappaqua, N.Y., Hillary Clinton, with her $5.6 million Washington, D.C. home —a long way from Hope but just a hair above the former Arkansas governor turned commentator Mike Huckabee, whose Santa Rosa Beach house in Florida is valued at $5.5 million. Scott Walker, the Wisconsin governor, lives in the least expensive home among those whose information is available on Zillow.
To compare the homesteads of presidential timber, click a column header in the chart below to sort by category. Scroll right to see them all.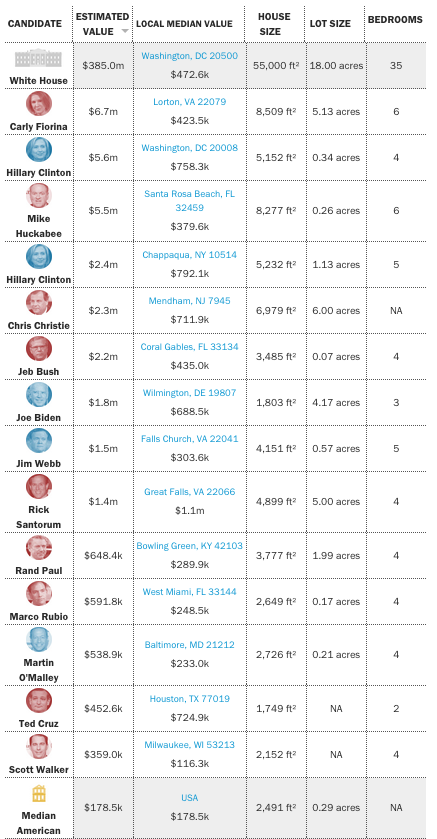 The median home of the more than a dozen likeliest presidential candidates is worth $1.5 million. That's more than eight times the value of the median American home, worth $178,500 today, according to Zillow. (The average candidate home is worth $2.3 million.) But it's still a long way off from the address many have their eye on: 1600 Pennsylvania Ave. Zillow estimates the White House would be worth $385 million were it to ever go on the market.
Candidates' homes have a way of becoming campaign fodder during presidential campaigns. John McCain was lampooned for being unable to say how many homes he owned in 2008. In 2012, Mitt Romney was mocked for building a car elevator in his La Jolla, Calif., residence. And this past June, Hillary Clinton drew guffaws when she said she and President Bill Clinton left the White House in 2000 "dead broke" and had to increase their earnings to "pay off the debts and get us houses." As the 2016 campaign heats up, you'll likely be hearing more about one or two of these homes.
This article has been updated to include Clinton's residence in Washington, D.C.
Methodology
The listings above reflect only the candidates' residences available in public records. Some own multiple homes. All estimated home values are from Zillow.
More Must-Read Stories From TIME
---