Senators wishing for a long career in Washington would do well to root against their party when it comes to presidential elections.
A two-term president commonly loses seats in Congress in the sixth year of his presidency. In fact, pretty much any election is bad for the president's party, at least as far as the Senate goes. Even with only a third of the seats up for election every cycle, the president's party is about twice as likely to lose seats in the upper chamber as it is to gain them.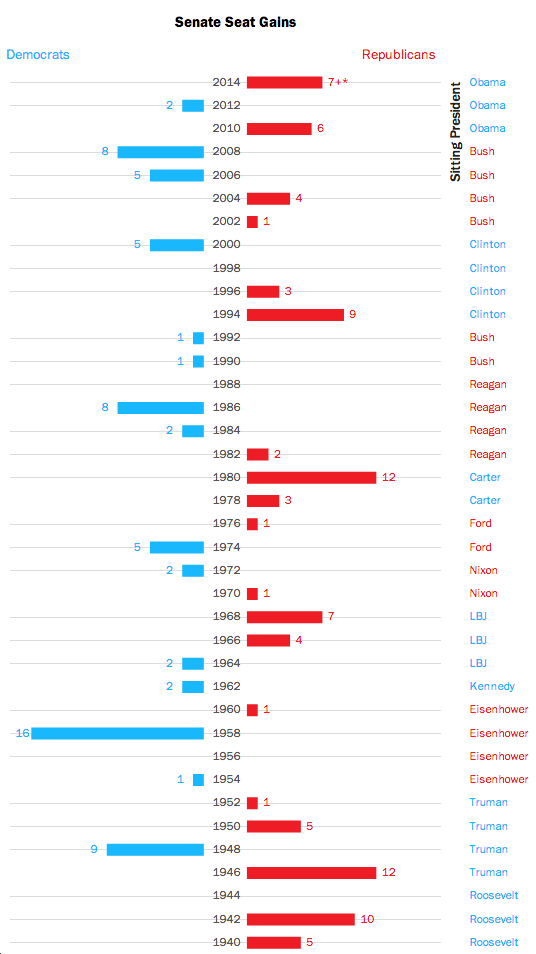 Tuesday's elections were no exception to the rule. Even if Republicans take Alaska and Louisiana this year, for a 9 seat gain, seven elections in the 20th century saw higher seat turnovers. In 1980, Republicans picked up 12 seats to take control of the Senate as Ronald Reagan won the presidency–only to lose it again six years later. In 1866, Republicans saw the largest gain in history with 18 seats, but this was largely due to Southern states rejoining the Union. Democrats came close to breaking that record when they picked up 16 seats in 1958, by snagging 13 from Republicans and gaining three seats with the addition of Alaska and Hawaii.
For all the hand-wringing over partisan gridlock in Washington, Americans seem intent on preventing one party from controlling both ends of Pennsylvania Avenue.
Source: Senate.gov
More Must-Reads From TIME
---