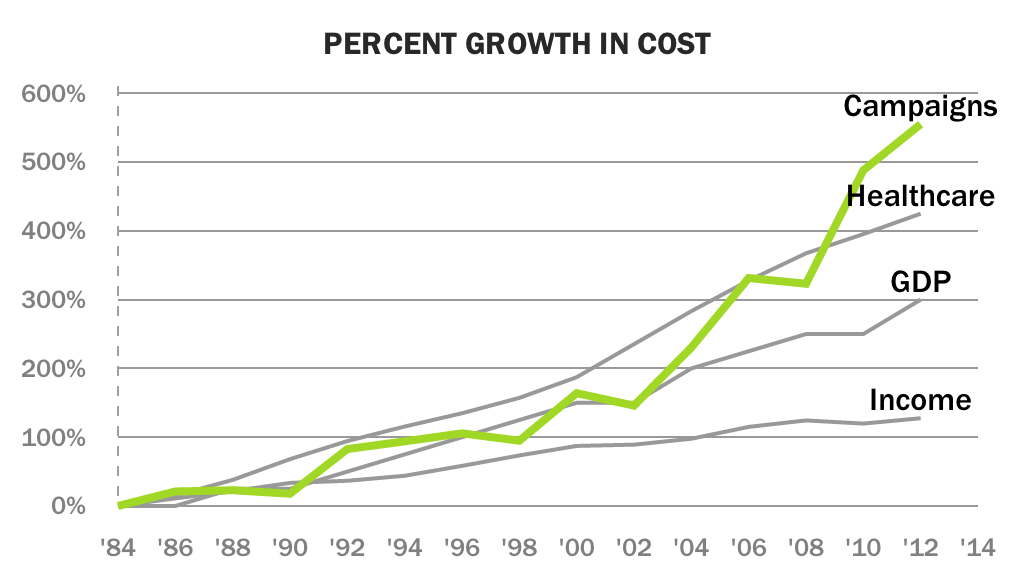 The NBC affiliate in Des Moines, Iowa, added an hour to its nightly newscast this year to profit from all the political ads ahead of the Nov. 4 midterm elections, but demand was still too great. "There is only so much inventory I have," explains WHO-TV station manager Dale Woods. It is the same in tight races all across the country. Nearly bottomless campaign and super-PAC bank accounts have been unloaded on airtime, mailings and get-out-the-vote efforts. And in recent years, the spending growth has accelerated.
Since the mid-1980s, the amount dumped on elections by campaigns and outside groups, as measured by the Federal Election Commission, has grown 555 percent—faster than even the alarming increases in the costs of health care and private college tuition. The reasons, say political scientists, include growth in the national economy, the razor-thin margin determining congressional control and changes to campaign-finance rules. Expect the trend to continue. Senate races in North Carolina and Kentucky this year could cost more than $100 million, and the estimated spending on TV ads in Alaska and Iowa already tops $11 per eligible voter.
Methodology
Sources for interactive: Federal Election Commission summary files; Centers for Medicare and Medicaid Services; U.S. Census Bureau; St. Louis Fed; National Center for Education Statistics. Outside spending data for the years 2006-2012, which are missing from FEC summary reports, are courtesy of the Center for Responsive Politics.
The total value of an election is calculated in two parts: Campaign spending and outside spending. Campaign spending consists of all expenditures except authorized transfers of funds to other committees, as well as party-coordinated spending, and includes primary elections. Outside Spending encompasses third-party expenditures that are made without the knowledge or consent of the candidates, but only includes transactions that are explicitly used to advocate for or against a candidate.
More Must-Reads From TIME
---