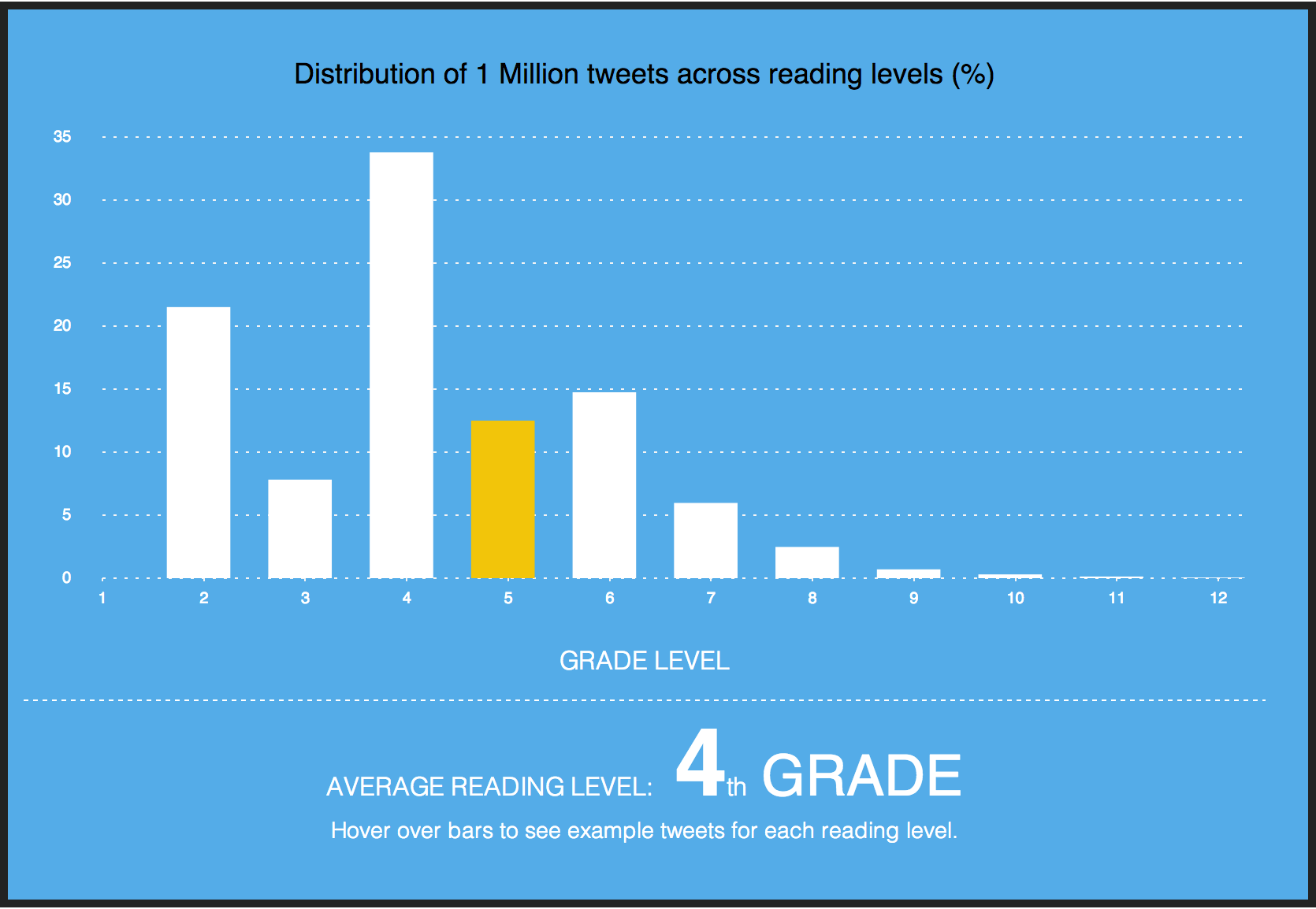 Justin Bieber may have celebrated his 20th birthday this spring but on Twitter, he isn't smarter than a fifth grader. The rebellious Canadian pop star shouldn't be embarrassed: Lady Gaga is also tweeting at fifth grade level, while President Barack Obama doesn't score much higher: he tweets like a seventh grader.
According to TIME's analysis of 1 million public tweets, 33 percent of tweets test at a fourth grade reading level. The test relied upon a commonly used reading comprehension survey known as SMOG, or Simple Measure of Gobbledygook (really), to assess the complexity of messages sent on the social network. "Gobbledygook" is defined as a word of three or more syllables.
Who uses the most gobbledygook? You guessed it: politicians. Search for lawmakers like @NancyPelosi and @SpeakerBoehner to see how they measure up, or use the tool to find the reading level of any public twitter account.
SMOG results show that most tweets require no more than a fourth grade education to comprehend. Of course, a tweet's limit of 140 characters makes it difficult to compose a message at a higher reading level. But not impossible. This test did pick up a handful of 12th-grade tweets, like this one from a senior curator at the Museum of Modern Art: "Design and violence: Nivedita Menon's powerful essay on the mini-revolver marketed to women by the Indian government."
Methodology
Tweets were downloaded with the Twitter API and run through a version of the SMOG test written for JavaScript. A search of a public account returns the 20 most recent tweets from that account. The page considers all of those tweets together as one long paragraph, which leads to higher accuracy than average the score for each tweet.
More Must-Reads From TIME
---