We want to help you make more informed decisions. Some links on this page — clearly marked — may take you to a partner website and may result in us earning a referral commission. For more information, see How We Make Money.
Gemini Credit Card Full Review
Card Type
The Gemini Credit Card is one of several new crypto credit cards to hit the market recently. Instead of earning cash back or points and miles, you'll receive rewards on your spending in the form of cryptocurrency.
Annual Fee
This card does not have an annual fee.
Welcome Offer
The Gemini Credit Card does not have an introductory APR or welcome offer of any kind, which can be a drawback if you're looking to maximize first-year rewards value.
Rewards
With the Gemini Credit Card, you'll earn:
3% back on up to $6,000 in restaurant spending per year (then 1% back)
2% back on groceries
1% back on other purchases.
You'll earn your rewards in cryptocurrency, and you can change your preferred type of crypto at any time through your account. A benefit of Gemini's reward structure is that you'll automatically accrue your rewards as you make purchases, rather than waiting for your statement to post each month. This can be useful for crypto rewards specifically because of how quickly crypto values can change.
When you accrue rewards, they'll be deposited into your Gemini Exchange account. As far as crypto exchanges go, we do like Gemini for its security measures and educational hub. Plus it has wallet options if you prefer to keep your crypto off the exchange. However, Gemini does have many features and tools that can be complicated for true beginner investors.
Fees
The Gemini Credit Card does not charge an annual fee or any foreign transaction fees. Fees that can apply include a 3% cash advance fee (minimum $10), a late payment fee up to $20 and a returned payment fee up to $35 (as well as a possible penalty APR up to 32.24% for late or returned payments. It has a variable APR between 15.24% and 26.24%.
Jf you plan to trade or sell your crypto rewards, make sure you understand any fees you may incur through your Gemini Exchange account.
Other Benefits
Beyond crypto rewards, this card doesn't come with a ton of perks. It is a World Mastercard, which comes with benefits like Mastercard ID Theft Protection and benefits from DoorDash, HelloFresh, Lyft and ShopRunner. You can also choose your design, between black, silver or rose gold stainless steel.
Benefits of Gemini Credit Card
If you're a crypto enthusiast looking for an alternative to traditional cash back or travel points, the Gemini Credit Card's crypto rewards could be a benefit. This crypto credit card lets you earn rewards in bonus categories automatically as you spend, and you can choose to receive your rewards in Bitcoin, Ethereum or more than 50 other cryptocurrencies this exchange offers.
Plus, you'll get some increased flexibility over other crypto credit card options. There are no exchange fees to acquire your rewards, and you have total control over your rewards balance. Once your crypto rewards are deposited to your Gemini exchange account, you can sell your crypto back into U.S. dollars, hold it long-term, or trade if you prefer.
Drawbacks of Gemini Credit Card
The biggest downside of the Gemini Credit Card is its lack of a welcome offer or added benefits. By contrast, many cash back credit cards offer bonuses worth hundreds of dollars right off the bat, which you could use to invest in crypto if you wanted to.
The bonus categories on the Gemini Credit Card are also somewhat limited considering you only earn 3% back on the first $6,000 you spend on dining within a year, then 1% back. Earning 2% back at the grocery store is certainly nice, but the best credit card for groceries offers 6% cash back on up to $6,000 spent at U.S. supermarkets each year (then 1% back).
For some people, the rewards structure itself could also be a downside of this card. The value of your cryptocurrency rewards can go down just as easily as they go up. Cash rewards and even points and miles valuations, on the other hand, are much less volatile.
How to Use the Gemini Credit Card
Right now, the Gemini Credit Card has a waitlist, from which Gemini is just starting to invite users to apply. If you're interested in the card, you'll need to apply for the waitlist, and wait until you're notified that you're eligible to apply.
Once you're off the waitlist, make the most of the Gemini Credit Card by using it for everyday spending and bills, and maximize the restaurant and grocery bonus categories.
It could also be useful to pair this card with other rewards cards that offer more cash back in different everyday spending categories. Especially since after you reach the $6,000 annual cap on dining out, you'll only earn 1% at restaurants. In that case, you may want to consider switching to another card that earns more rewards on dining until the cap resets the following year. Even if your primary goal is crypto rewards, you can redeem your cash rewards from another card for a check in the mail and use your rewards to invest in crypto.
Once you earn your rewards, also consider the best way to maximize your crypto. For crypto-curious investors, the best strategy is to hold onto your crypto as a long-term store of value, rather than participating in frequent trading. Experts recommend crypto investors looking to gain long-term value stick to Bitcoin and Ethereum over other, even more volatile altcoins.
And as with any credit card, you should make sure you always pay your bill in full and never carry a balance. If you wind up with long-term debt on this card, the high APR for spending could wipe out even the best crypto gains.
Gemini Credit Card Compared to Other Cards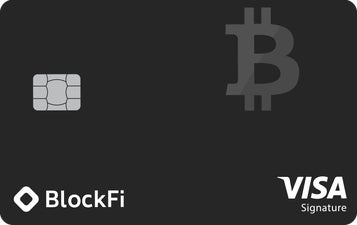 BlockFi Rewards Visa® Signature Card
Intro offer:

N/A

Annual fee:

$0

Regular APR:

15.74% – 25.74% (Variable)

Recommended credit:

670-850 (Good to Excellent)

Apply Now

At BlockFi's secure site See Rates & Fees, Terms Apply.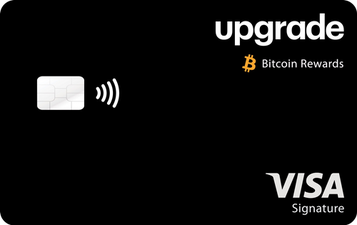 Upgrade Bitcoin Rewards Visa®
Intro offer:

$200 bonus

Annual fee:

$0

Regular APR:

14.99% – 29.99%

Recommended credit:

670-850 (Good to Excellent)

Apply Now

At Upgrade's secure site See Rates & Fees, Terms Apply.
Is the Gemini Credit Card Right for You?
Editorial Independence
As with all of our credit card reviews, our analysis is not influenced by any partnerships or advertising relationships.
Cryptocurrency is very volatile, and choosing crypto rewards over cash back or travel rewards could mean sacrificing guaranteed value for the potential to gain value with crypto. But if you like the idea of earning crypto using a credit card, the Gemini Credit Card is a straightforward option with rewards in everyday categories. Plus, you'll have control and flexibility over the crypto you earn, including the option to sell or trade if you want to.
That said, also consider cash back credit cards that could add more value to your spending before you apply. There are many more options available that may better align with the categories in which you spend most. While cash back credit cards don't earn crypto directly, most let you redeem for a check or statement credits on your account, which you could turn around and invest in crypto if that's your goal.
Frequently Asked Questions (FAQ)
Is the Gemini Credit Card a metal credit card?
The Gemini Credit Card is a metal credit card made of stainless steel.
What credit score do you need for the Gemini Credit Card?
The Gemini Credit Card requires good to excellent credit.
Does the Gemini Credit Card charge foreign transaction fees?
The Gemini Credit Card does not charge foreign transaction fees.
Who issues the Gemini Credit Card?
The Gemini Credit Card is issued by WebBank.
Does the Gemini Credit Card require a hard pull on your credit?
You can get pre-qualified for the Gemini Credit Card without a hard inquiry on your credit report. However, WebBank will do a hard pull on your credit report if you move forward with a full application.
*To qualify for the $200 bitcoin welcome bonus, you must open and fund a new Rewards Checking Account and make 3 debit card transactions within 60 days of your Upgrade Card account opening. The value of the $200 bonus will be based on the value of bitcoin at the time it is purchased (within 1-2 statement periods from the date the bonus is earned) and may change in price by the time you choose to sell it. Refer to Program Terms. Your Upgrade Card must be in good standing to receive a bonus.