We want to help you make more informed decisions. Some links on this page — clearly marked — may take you to a partner website and may result in us earning a referral commission. For more information, see How We Make Money.
Terms apply to American Express benefits and offers. Enrollment may be required for some American Express benefits and offers. Visit americanexpress.com to learn more.
Whether you're getting your very first credit card or adding another rewards card to your collection, getting a new credit card can be an exciting experience. It usually takes a few days for your new card to arrive in the mail, but you might not have to wait that long to use it.
In some instances, you may be able to use a new credit card before you've received the physical card. Although not all cards offer this option, it's worth looking into if you need to use a new card quickly. Whether you want to fund a big purchase or get a head start on earning cash back or free travel, here's how you can use your new credit card before it arrives in the mail.
How to Use Your New Credit Card Before it Arrives
Using a credit card before it arrives is possible — but only with certain cards. If you want to use a credit card early, you must have either an instant use card or a credit card that offers virtual account numbers.
Instant Use Cards
With an instant use card, you can apply and get approved in a matter of minutes, which gives you instant access to the account. One of the most common types of instant use cards is retail store cards, which you can apply for in-store and use to pay for a transaction right after.
Customers who sign up for a retail credit card in-store may receive a copy that they can use right away, says Ranjit Sarai, vice president of digital banking product at Credit Sesame, a credit monitoring service. This can be done by printing the card information on a receipt to capture that first in-store spend, he says. Often, these cards will offer discounts or rewards to encourage customers to use the card immediately.
In addition to retail credit cards, here are some of the most popular instant use cards: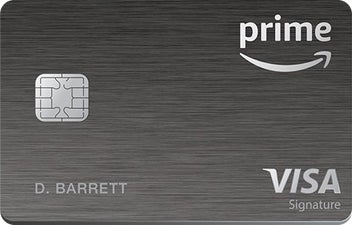 Amazon Prime Rewards Visa Signature Card
Intro offer:

$150 Amazon Gift Card

Annual fee:

$0

Regular APR:

14.99% to 22.99% Variable

Recommended credit:

670-850 (Good to Excellent)

Learn more

At our partner's secure site See Rates & Fees, Terms Apply.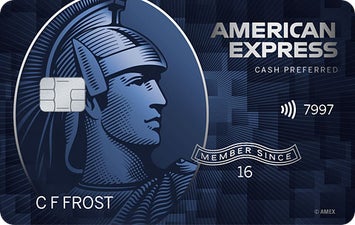 Blue Cash Preferred® Card from American Express
Intro offer:

$250

Annual fee:

$0 intro annual fee for the first year, then $95.

Regular APR:

17.74%-28.74% Variable

Recommended credit:

670-850 (Good to Excellent)

Learn more

At our partner's secure site See Rates & Fees, Terms Apply.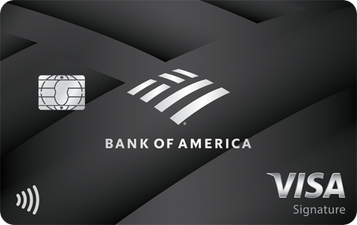 Bank of America® Premium Rewards® credit card
Intro offer:

50,000 points

Annual fee:

$95

Regular APR:

19.74% – 26.74% Variable APR on purchases and balance transfers

Recommended credit:

670-850 (Good to Excellent)

Learn more

At our partner's secure site
Virtual Account Numbers
Virtual account numbers or virtual card numbers, not to be confused with digital wallets, are another way to use your card online before it is delivered.
Virtual account numbers work differently compared to physical credit cards. When you get a virtual account number, you receive a one-time-use credit card number each time you make a transaction. When you buy something, you'll be prompted to enter a personal identification number (PIN) to verify your identity.
The main draw of a virtual account number is that it can be more secure than a regular credit card with a single, reusable number. They can also be easily used online, just as you would a regular credit card.
"A virtual credit card can be used to shop online, which has become increasingly common during the pandemic," says Sarai. "Additionally, a virtual card can be added to a digital wallet like Google Pay, Apple Pay, or Samsung Pay," he says.
Because virtual account numbers are less common than traditional credit cards, fewer financial institutions offer them. Here are some offerings available:
How To Add a Credit Card to a Digital Wallet
Whether you have an instant use credit card or a virtual account number, it's a good idea to add the card to your digital wallet of choice. That way, you can use your stored card information before the physical version arrives.
Here are the steps to add a credit card to a digital wallet:
Choose your digital wallet: There are dozens of digital wallets available, so the first step is to choose the one you want to use. The easiest way to choose a digital wallet is to see which app is most compatible with your device. For instance, Android users may choose Google Pay, whereas most iOS users will choose Apple Pay. Other digital wallets include PayPal, Venmo, and Cash App.
Download the wallet app: Once you've chosen your digital wallet app, download it through your device's app store. Most digital wallets are free, but make sure to read the terms and conditions to avoid any hidden costs or transaction fees.
Add your payment method: After you've downloaded the app, you'll likely be prompted to create a new account (if you don't already have one). The final step is to add the credit card number and your billing address to your digital wallet. You'll typically receive a confirmation that the card was successfully linked.
Using a digital wallet to make purchases is also very simple. When you visit a store in-person, check to see if the retailer accepts digital wallets. Most point-of-sale (POS) terminals — what a store uses to process credit card payments — have a small sticker indicating if contactless payments are allowed.
Then, just hold your phone to the terminal and wait for a beep. You may see a pop-up notification on your phone screen asking you to verify the transaction with a PIN or a biometric login.
Why You Would Want to Use Your New Card ASAP
There are many reasons why someone would want to use their new credit card ASAP. "Whether it's a replacement for a previous card that was compromised, or someone's very first credit card, they should have the option to start using it right away for expenses," says Sarai.
Pro Tip
The only credit cards you can use early are instant use cards and virtual cards. You can also add these cards to your phone's digital wallet for contactless payments.
One of the biggest reasons to use a card before the physical version arrives is to make a big purchase. This is especially true if you've applied for a rewards credit card and want to start using the card ASAP to earn points on your purchases or meet the spending requirement for a sign-up bonus.
Risks Involved
Generally speaking, using a virtual account number or digital wallet is very safe. "There are security features within this process to ensure that the phone belongs to the cardholder to help minimize the risk of fraud," says David Shipper, senior research analyst at Aite Group, a financial research and consulting firm. And once a card is added to a digital wallet, the information is encrypted so it can't be stolen or hacked.
However, one thing to consider is that using a new card before it arrives might lead to poor spending habits. Just like credit cards make spending money feel less "painful" than physically handing over cash, using a credit card you can't see may make it even easier to overspend. Ultimately, whether you have a physical card or a virtual one, the keys to responsible credit card usage remain the same: never charge more than you can afford to pay off, pay your bills on time and in full, and try to use less than 30% of your total credit line.